Roommates + Landlords
No heat in your NYC apartment or radiator too hot? Here's what you can do
NYC heat season officially begins October 1st and runs through May
When daytime temps fall below 55, indoor temps must be at least 68
At night, the temperature in your apartment must be at least 62 degrees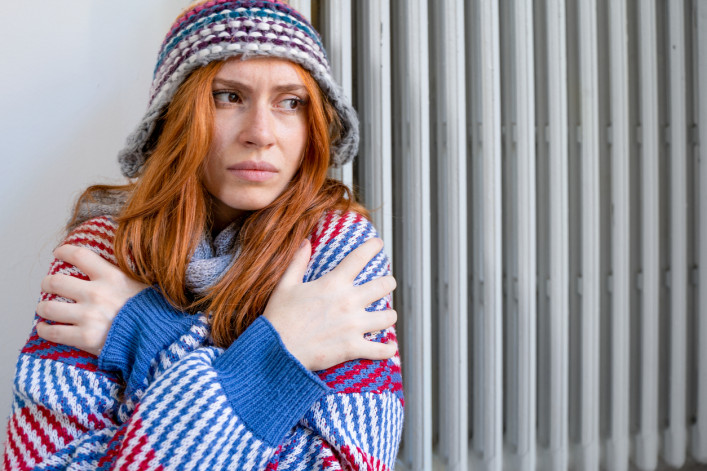 When the temperature drops below 55 degrees, your building's heat is supposed to be on. Making your apartment a comfortable temperature is not something landlords can ignore. That's because New York City's heat season officially begins tomorrow—October 1st—and runs until the end of May.
During this period, if the outdoor temperature drops below 55 degrees during the day (6 a.m. to 10 p.m.), your landlord has to turn up the heat so your apartment is at least 68 degrees. At night, the temperature inside your apartment must be at least 62 degrees, regardless of the temperature outside. Building owners are legally required to provide hot water at 120 degrees year-round.
---
[Editor's note: A previous version of this article was published in October 2021 and has been updated with new information for September 2022.]
---
If your heat is on, great. Your building is compliant with the city's housing laws. But if your radiator is cold, and you are not able to resolve the situation with your landlord, super, or building management, you may need to file a complaint. So if you're looking for solutions because your place is too cold, or even too hot, read on.
What to do you don't have heat in your NYC apartment
If you don't have heat, contact your building owner, managing agent, or super, and let them know that it's time to turn up the temperature. 
If they don't honor your request or otherwise fail to respond, you can call 311, submit a complaint online, or use the app 311Mobile. Hearing-impaired tenants can register complaints via a Touchtone Device for the Deaf at (212) 504-4115. Filing a complaint can get the Department of Housing Preservation and Development involved. HPD may come to the building and stick your landlord with a costly violation. 
In 2022, HPD issued over 4,800 heat violations and 8,000 hot water violations, and initiated more than 750 heat cases in Housing Court.
If you're not getting any response from the management company, the agency will send a contractor to fix the problem. This is a cost your landlord will likely want to avoid. In 2022, HPD completed a total of $4.4 million in heat-related emergency repairs. These are costs that are billed to the property. 
If the issue is a broken boiler or other problem with the heating system, you may be entitled to a break on your rent for the days you spent shivering, since landlords—under the warranty of habitability—are required to provide heat to tenants. 
It's not advisable to automatically withhold rent in these situations. In a worst-case scenario, you could wind up in housing court for failing to pay, and even if you'd likely win, it could cost a lot in legal fees. A better option is to negotiate with the landlord for a rent abatement for the following month, and get the agreement in writing. 
What to do you have heat in your NYC apartment, but you're still cold
If your radiators are on but you still want to boost the temperature, consider getting an electric space heater, but be sure to take the necessary safety precautions. For example, space heaters should never be kept near anything that could burn, such as furniture and rugs; don't set them up in bathrooms or kitchens because of the proximity of running water; and don't place them on uneven or raised surfaces because they might tip over. 
Also, avoid overloading your electrical outlets—plug space heaters into a dedicated outlet, not a power strip.
Space heaters suck up electricity that will push up your utility bills. There are plenty of creative and affordable ways to stay warm at home, including insulating the windows with bubble wrap and cooking with a crock pot (the warmth will permeate the room). You can also put down rugs if cold air is coming up through an uninsulated basement. 
If you want to see exactly how much power an electrical appliance is pulling there's smart home technology that can track and display power usage and help you save money. 
If your air conditioner is still in your window, it could be letting the cold seep in, so it's worth taking it out and storing it until next year. 
What to do if it is too hot in your NYC apartment
Most prewar buildings in NYC use a steam heating system and this typically doesn't allow you to individually control the heat in your apartment. This means units on different floors and of different sizes all experience the same temperature and renters can often get tropical levels of hot air blasting out of their radiators even when it's quite warm outside. 
There are two types of steam heating systems—one pipe and two pipe. With a one-pipe system you can install a thermostatic radiator valve on the radiator that will essentially let you regulate the heat by trapping air in the system. When steam stops coming through the system, the radiator stops working. Radiators need to be retrofitted with this equipment so you may need to ask a super or plumber to install it for a few hundred dollars. (They may also require maintenance every so often and replacing every five to 10 years.) 
If you want to regulate a two-pipe system, you need a different valve that stops steam from coming in. When installed, along with a thermostatic control valve, it produces the same effect as the valve on the one-pipe system—it regulates the heat—but it can be more expensive to put in. 
There are also wifi-enabled, thermal radiator covers that let users regulate their own heat through an app—although this option is currently only available for full-building installations.
—Earlier versions of this article contained reporting and writing by Lucy Cohen Blatter and Donna M. Airoldi. 
Brick Underground articles occasionally include the expertise of, or information about, advertising partners when relevant to the story. We will never promote an advertiser's product without making the relationship clear to our readers.