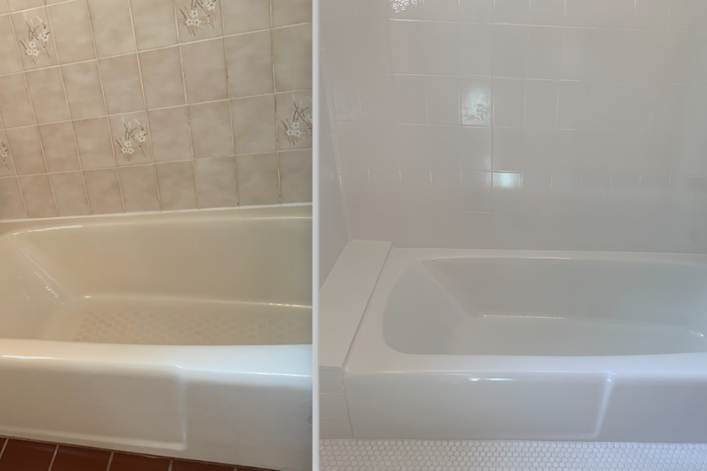 The tub and tile in my sister's bath were bugging her to distraction. Now that she's spending so much time at home these days, like everyone else, flaws in her Westchester house were becoming hard to ignore. The tile—a pale, mottled tan color, decorated here and there with a tiny bouquet motif—and tub in a matching shade—felt annoyingly old fashioned. She wanted an all-white bath that would feel brighter and fresher.  
I told her about tub reglazing, which gives you a new look for a fraction of what it costs to replace the tub and can be used to cover tile as well. My sister, Amy White, was eager to save money on sprucing up her bathroom. She contacted Westchester Refinishing, which quoted her a price of $925 to reglaze the tub and tile.
The process has been covered extensively by Brick Underground. Writer Mimi O'Conner warned readers about how smelly it is: "The toxic fumes released during the process not only make your apartment smell bad, they're dangerous if not dealt with properly," she writes.
Of course, as luck would have it, the only available date for the contractor was during the same week I was visiting for a working vacation. I had set up my office in my niece's pink bedroom, near the bathroom. Now I would have to meet deadlines while inhaling fumes.
"Well it's your fault for telling me about this," Amy said, using sisterly logic.
As it turns out, it was not so stinky (more on that in a moment) and it was fast—making it a quick pick-me-up for a NYC apartment or house on the market. Need some other fast or relatively inexpensive (or both) renovation ideas for a resale? Read on.
Tub and tile reglazing to refresh the bath
Reglazing involves spraying a new topcoat on your existing tub and tile, if you want, and is much cheaper, easier, and less time-consuming than replacing a tub—which can cost thousands to install. It took Westchester Refinishing about three hours from start to finish—including extensive prep work—which is crucial to prevent the glaze from peeling later, plus overnight drying time.
And about the smell: Not so bad, I can report. I retreated one floor down to the dining room, and positioned a large fan in front of me, but was not bothered by the fumes. The contractor vented the fumes out the bathroom window while he worked, and this kept the smell largely at bay.
If you're prepping a home or bathroom for sale and the bathroom is looking dated (band aid-pink bathroom tile is a tough sell) this is a quick fix. For more intel, read "Tub reglazing: What you need to know about this affordable but stinky bathroom upgrade."
Mini split AC units for the comfort of central air
Let's face it: New Yorkers can expect to spend much more time at home now, and window air units are not always up to the task of cooling a place off. Central air (which involves creating ducts) may be out of your budget, but wall-hung units (aka mini splits) are gaining in popularity fast. They get the job done and can help make your townhouse more competitive on the sales or rental market.
As writer Evelyn Battaglia explains, these are easier and quicker to install than central AC—they don't require ductwork and also provide heat. Brands include Mitsubishi,  Daiken, and LG and multiple units can run off a single condenser. According to Home Depot, it would cost $1,000 to $2,000 for the equipment to heat and cool 800 to 1,200 square feet.
Another bonus? Ductless units are as much as 30 percent more efficient than central systems, according to the U.S. Department of Energy. Want to know more cool info? Check out "Here's what you need to know about installing central AC."
Pressurized walls for a new home office
More New Yorkers expect to be working from home now because of the pandemic—either for an extended time or permanently, but that can be a tall order when you don't have a separate, enclosed space to take your Zoom meetings. Enter the pressurized wall.
Pressurized walls, which are not permanently attached to walls or the floor, are good option for adding a small office to an apartment—an amenity buyers want these days.
Donny Zanger, project manager for All Week Walls, told me he is getting lots of requests for home offices. He says that adding one wall can cost under $1,000, with add-ons like pocket doors, seamless finishes—and sound-proofing—bringing the total to about $3,000. L-shaped walls range from $1,000 to $2,000, on average, Zanger says.
To get more information, check out "Working from home in the Covid era? Here's how to use pressurized walls to make an office."
A designer hack for your kitchen
Your kitchen may look dated but putting in a new one is not always recommended when you are selling. Some owners decide they don't want the stress or the strain on their budget, and it's not recommended for moderately priced apartments, like a $500,000 studio. But if you have a higher-end apartment, then you are facing competition from newer condos, in which case an upgrade is in order.
One designer tip is to swap out the fronts and hardware only, and if you have an IKEA kitchen, you are in luck. As Mimi O'Connor writes, there are numerous companies that offer doors, drawer fronts, panels, handles, pulls, and more for new look to refresh an IKEA kitchen (some companies work with non-IKEA kitchens too).
They take advantage of IKEA's kitchen planner tool—which offers standardized dimensions to simplify the process. To get started, check out, "Hack your IKEA cabinets with these custom pieces for a more upscale look."
Paint it the right white
Giving an apartment a fresh coat of paint is of course at the top of most sellers to-do lists—and going with white is a no-brainer to create a clean, spacious look, but it's not easy to choose the right white, not with so many brands and finishes out there. Plus, you need to factor in the windows, the light, and more.
Pro Tip:
Paintzen makes quality painting easy, convenient and affordable. Click here for an instant online quote—and begin transforming your space in as little as 72 hours . With Paintzen you get a guaranteed quote, not an estimate, and the cost includes the paint and its delivery to your home. No surprise fees! Fully insured and local NYC painting professionals.
As Mimi O'Connor writes, "Brokers and stagers typically recommend creating a neutral, clean look to attract buyers. But there are dozens of whites to choose from, some cool, some warm, with undertones across the spectrum. Some whites will make your apartment look fresh and bright. Others can give it the look of a dingy dish rag."
To make your choice easier, Brick Underground got tips on the best brands and paint shades to go with. Brush up with "What's the best shade of white to paint your NYC apartment if you're trying to sell?"
Brick Underground articles occasionally include the expertise of, or information about, advertising partners when relevant to the story. We will never promote an advertiser's product without making the relationship clear to our readers.