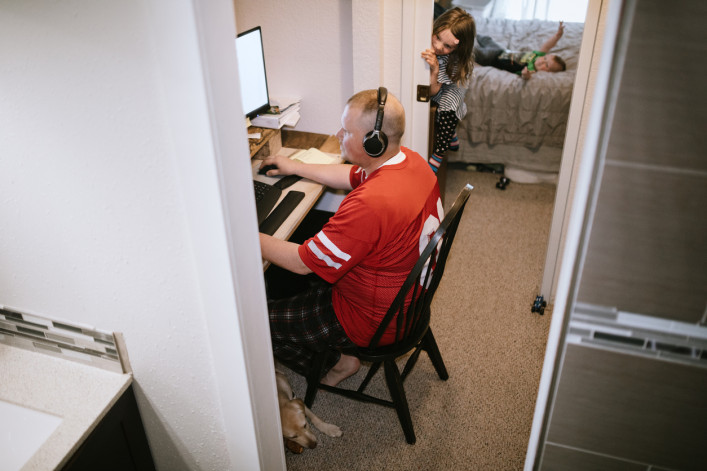 Using a temporary pressurized wall has long been a way for New Yorkers to add a bedroom and divide the cost of an expensive apartment among two (or more) people. Now these walls are coming to the rescue of New Yorkers who are struggling with working from home without a suitable space.
Pressurized wall companies say they are getting lots of inquiries from New Yorkers who want to use temporary walls to create an office and make the layout of their place more functional for working from home in the Covid era.
A temporary pressurized wall, which is not permanently attached to walls or the floor and doesn't interfere with the ventilation or sprinkler systems, or block exit routes also makes sense for renters who will need to take them down when they move. They also work for owners who might want to revert to the original layout in the future. Brick Underground has a round-up of companies that provide and install temporary walls.
---
Click here for more of Brick Underground's coronavirus coverage.
---
If you're interested in using a temporary wall to create a home office, there a couple of steps you need to take. Brick Underground reached out to wall suppliers, as well as Keith Steier, owner and general manager of Knockout Renovation Services, and an architect Steier works with regularly, Bojidar Kadiev of Kadiev Studio, for tips on creating a home office.
Steier expects home offices to be a popular renovation project prompted by the coronavirus. "Anything that will expand the interior space or make more use of the existing space," will be requested, he says. Sliding doors and folding panel systems to close off spaces are alternatives to using pressurized walls.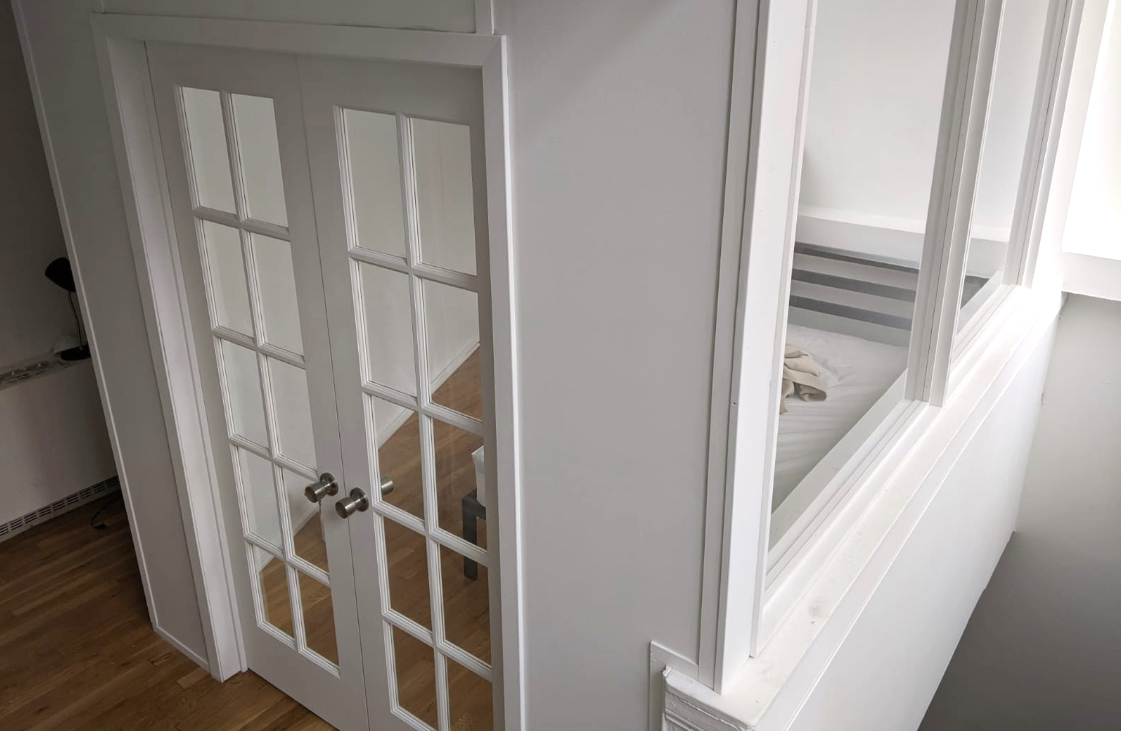 How much do temporary walls cost?
Donny Zanger, project manager for All Week Walls, is receiving lots of requests these days, particularly from New Yorkers who have moved out of the city. Covid has transformed his business, he says.
Adding one wall can cost under $1,000, he says, with add-ons like pocket doors, seamless finishes—and of course sound-proofing for those Zoom calls—bringing the total to about $3,000. L-shaped walls range from $1,000 to $2,000, on average, Zanger says.
1 Day Walls is also received lots of requests for temporary walls for home offices. They offer temporary walls that range from about $875 to $1,600, including walls that are only three inches thick, helpful in especially tight spaces. 
'Stealing' space or misrepresenting an office
One interesting consideration is that creating a home office is a lot different from creating a bedroom from a legal standpoint and there are fewer hoops to jump through.
"A home office is not considered 'habitable' space and does not have to comply with the light and air provisions, and minimum size and dimensions requirements" for a bedroom, Kadiev says.
That being said, he doesn't recommend shortchanging another part of your apartment to create an office.
"Even if the space labeled 'home office' has a window, you must be certain this window, which is 'stolen' from the adjacent space—in most cases a habitable living room—does not diminish the adjacent room's light and air," Kadiev says.
He warns New Yorkers from trying to get away with adding a home office with the intention of using it as a bedroom. "In some cases, DOB plan examiners are skeptical if your home office has dimensions large enough to furnish it with a bed that you will be using it as an illegal bedroom," he says.
There are some "no brainer" rules to follow, for example, you must not affect the egress, i.e. no cutting off access to fire escapes.
NYC zoning rules about home offices
Home offices are allowed under section 12-10 of the NYC Zoning Resolution, as long as they represent a fraction of your overall space and are used by one or more occupants, says Andrew Rudansky, press secretary for the Department of Buildings.
They can't occupy more than 25 percent of the floor area of the unit or exceed 500 square feet.
"You can't just completely turn a home into a commercial business, the building still needs to be a 'home,'" Rudansky says. "Any changes to the use of the residential building beyond what the Zoning Resolution permits for home occupations would require an updated Certificate of Occupancy indicating the updated use of the property."
Home office tax deductions
When you create a dedicated space to use exclusively as a home office, you may qualify for a deduction on your taxes. This deduction is calculated based on the square footage of the space being used for business, divided by the total square footage of your house or apartment, Brett Perkins, managing partner of TPRF CPAs, previously told Brick Underground. The resulting percentage ordinarily ranges from 12 to 20 percent.
To qualify for the deduction, the term "exclusive use" means you can't use the space as an office during the day and a den to watch TV at night.
Brick Underground articles occasionally include the expertise of, or information about, advertising partners when relevant to the story. We will never promote an advertiser's product without making the relationship clear to our readers.