Brick Underground supports our readers with product recommendations specifically curated for New Yorkers. If you buy something through our links, we may earn an affiliate commission.
There are many things one can say about IKEA. Going there is a time suck and potential relationship destroyer. Its paper napkins are surprisingly nice. And yeah, the furniture can be less than robust, to say the least.
However, as anyone who's explored a budget kitchen renovation will tell you (or installed a kitchen from the Swedish retailer), IKEA kitchens are actually really well-made, with solid cabinets and European Blum hardware. However, the company doesn't offer a huge amount of options when it comes to doors, fronts, etc., especially if you want to create a more custom or higher-end look.
Several companies have responded to the call to help consumers improve the look of a solid, but uninspired IKEA kitchen. You can order doors, drawer fronts, panels, handles and pulls and more for a completely new kitchen, or for your existing IKEA kitchen if it's time to switch things up. (One thing to note: IKEA phased out the AKURUM line in 2015, and now offers the SEKTION design.)
The numerous players in the market offer a variety of options, including ones with serious designer cred and style. (Some also outfit other types of IKEA furniture, such as dressers and vanities.) Below are companies that will help you IKEA hack your way to the kitchen of your dreams.  
Creating a quasi-custom kitchen
First, some basic tips. Word to the wise: IKEA cabinets need to be assembled and that's not an easy task. Hire professionals to build and install. To make things easy, use IKEA's kitchen planner tool. All of the companies listed here can work with it. Part of the reason this works, is because the dimensions are consistent and standardized, so use that to your advantage. Don't skimp on the details like finishing strips or a valance for under cabinet lighting.
"That's one place you see people try to cut corners, but you end up with a much more finished, custom-created look with them," says Sarah Meskimen, director of sales for The Cabinet Face.
Similarly, Jeff Streich of Prime Renovations advises buying panels to frame appliances to get a bespoke look.
Don't place an order before seeing samples in person. You can get or buy samples and some, such as semihandmade, have showrooms you can visit. (semihandmade's New York location is in midtown.)
One of the industry's pioneers, semihandmade is an offshoot of founder John McDonald's company Handmade, which makes fine custom furniture and cabinetry. Launched in 2011, and based in Duarte, California, the company has created doors, drawers, and more for over 10,000 IKEA kitchens. semihandmade offers more than 40 options to choose from, including wood veneers,  super matte thermafoils, textured melamine, as well as unpainted shaker and slab pieces; they also make components for IKEA's Godmorgon bathroom pieces and Besta media cabinets, and sell affordable and handsome hardware, as well as open shelving. Pricing varies by size of project, and finishes; customers can get an estimate on the semihandmade site.
Things are happening at semihandmade; the company did a collaboration with designer Sarah Sherman Samuel; recently announced they were transitioning to vertical grain for their wood veneers (more sustainable, economical, consistent), and just launched its Kitchen Shop, where customers select the components they need on their own and buy online. (Heads up: semihandmade is offering 20 percent off as a promotion for the new online option.)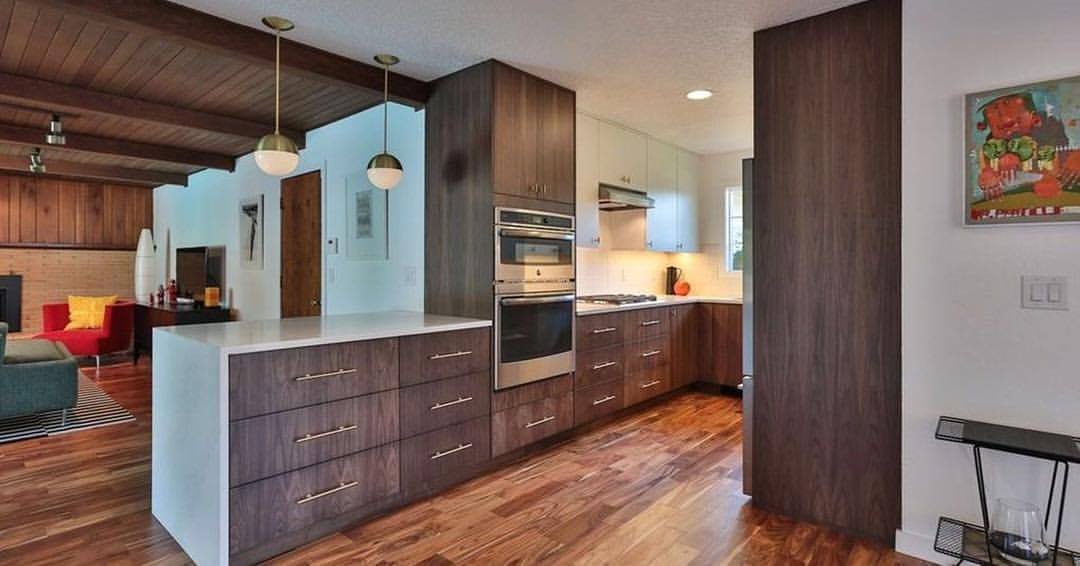 Based in Portland, Oregon, and launched in 2012, Kokeena (named for the Latin word coquina, meaning "of cooks") was largely inspired by founder Aaron Gray's experience installing IKEA cabinets in his own home. He loved the bones of the kitchen, but didn't feel the selection of IKEA doors and fronts enabled him to create a kitchen that looked and felt right for him.
The company offers three collections (Paint, Grain, and Laminate) compatible with the IKEA Sektion, Akurum, Pax, and Godmorgon lines. Custom paint colors are available, as are doors with glass, or even bare components if you want to paint them yourself. The company is committed to sustainability, using low-impact paints and finishes, enlisting practices to reduce waste, and employing wood and adhesives products that contain no added formaldehyde. The company offers a five-year warranty and has a minimum order of $2,000. Pricing models, which serve as a rough guide to cost, can be seen here.
A relative newcomer to the IKEA-enhancing game, Swedish Door was founded by Paul St. Germain, a 35-year veteran of the carpentry business and owner of a 16-year-old custom design and manufacturing business. The Ottowa, Canada-based business will make pieces for IKEA's Sektion, Akurum, Pax, Besta lines (and more). Kitchen clients use IKEA's kitchen planning tool to create the design they want, and send Swedish Door the plans; those with non-IKEA kitchens can also send dimensions to get pieces for their existing kitchen as well. Swedish Door uses High Density Fiberboard, and paints pieces in zero contaminate booths for the smoothest finish possible; they will also custom match paint. Currently, its most popular option is Standard Shaker doors in Lacquered Chantilly Lace.
Three-year-old Denver, Colorado-based The Cabinet Face provides custom doors for IKEA's Sektion, Pax, and Godmorgon furniture. Clients can upload their IKEA kitchen design to the site to get a customized estimate; sample pricing for kitchens of different sizes and materials (including a full IKEA kitchen for comparison) can also be found on the site. For those in need of some design help, a $299 design package is available, but design services are free for clients who spend over $2,700 (which is common). Customers can elect the value DIY option and paint cabinets themselves, or if they like, specify any paint from any manufacturer for a custom paint job. The company offers options such as solid wood, scratch-resistant acrylic in matte and high-gloss finishes (also dry-erase certified!), textured melamine, and more. Meskimen says a popular look now is a kitchen with lower cabinets in a dark wood and acrylic uppers.
Reform is based in Copenhagen, has its New York showroom just outside the Brooklyn Navy Yard, and its products look like it (in a good way). Founded in 2014 by Jeppe Christensen and Michael Andersen (who have backgrounds in engineering, architecture, economics, and carpentry), Reform collaborates with internationally acclaimed architects and designers to make high-style fronts and countertops that are also compatible with IKEA kitchen, bathroom, and cabinet products. It's Basis design is a minimalist style inspired by 1960s architect kitchens (a thing, apparently); Chelsea is a collaboration with Christina Meyer Bergtsson in warm metallic rose, gold and grey, and Fold is a powder-coated design with folded handles by Sigurd Larsen. An average-sized kitchen in its latest design Degree by Cecille Manz would be in the $8,000-$11,000 range.  (There are many other styles. All of them are pretty stunning.) The company's 4,000-square-foot showroom is open by appointment Monday through Saturday. (You can also visit them in Copenhagen, Berlin, and Aarhus, if you're in the neighborhood.)
While not really in the kitchen overhaul game, Pretty Pegs provides quick and easy IKEA upgrades in the form of alternate feet and legs (those are the "pegs"), knobs, and yes, fronts for IKEA's BESTA cabinets. A little more DIY, the fronts are actually adhesives you apply over the existing door. Depending on the size and the style, prices range from about $25 to $50, and with new feet and knobs it's conceivable you could end up investing as much as you spent for the original piece of furniture, but it may be worth it to make your ho-hum BESTA unrecognizable and unique.