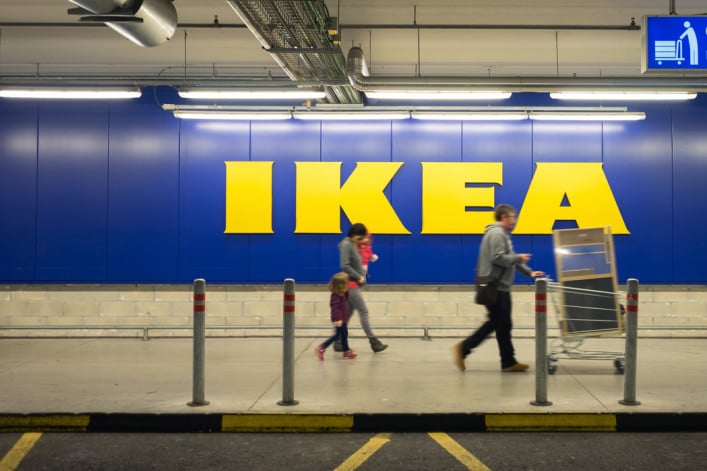 It started with wanting to avoid an all-day trip to IKEA just to buy a few pieces of furniture. T, a New Yorker who asked to remain anonymous, went to IKEA's website, filled her online shopping cart, and proceeded to the scheduled delivery page. The first available delivery date was more than a month out.
A representative told T that going into the store and placing the order again might give her an earlier delivery date. So she did that, and waited.
Weeks passed. T received an email confirming that her order had been received by the delivery company—in this case, a third-party shipper named XPO Logistics. Her delivery window was between 9 a.m. and 9 p.m. on a Wednesday. The day before the scheduled delivery, T received an automated phone call saying her items would arrive between noon and 4 p.m. the following day. And when that didn't happen, T called IKEA, who told her XPO had her order. When T called XPO, she was greeted with an outgoing message saying that no information was available.
More time passed. A subsequent call to XPO revealed that the order had been canceled—but not the reason why. Emails to IKEA's customer support went unanswered. Calls to the retailer's phone number met busy signals. Eventually, T was able to determine that the order was canceled because deliveries for the area were 4-6 weeks behind schedule—information that frustratingly had not been communicated to XPO.
Does this sound familiar? Other furniture buyers say they have had similar experiences.
"I would expect to see this type of debacle from a budding company in the midst of expanding, not a multinational brand," says Kirsten Brand, a virtual assistant who has bought furniture online from IKEA for many clients. "But I have never seen an order for furniture from IKEA go smoothly. IKEA itself is great—it's what happens after the sale that makes them a nightmare."
Why is IKEA so bad at delivery?
That's complicated.
"IKEA was built on the very premise of do-it-yourself, self-service stores where you're the designer, you figure out what works together and it's your problem how to get this stuff home to assemble it, not our job," says Warren Shoulberg, a longtime writer and editor who covers the home furnishings and retail industries.
"Their entire company and culture is based on this premise, and the idea of providing a service-like delivery just runs totally counter to IKEA's core strategy and strengths," he says.
In a statement, IKEA's U.S. press office said that the company is "committed to delivering customer service excellence across all touch points," but declined to answer detailed questions or offer specific advice to customers.
However, IKEA has acknowledged its problems with delivery in the past; former chief marketing officer Leontyne Green talked about her own "very frustrating" delivery experience in a Ad Age profile in December 2011, which also described the company's ongoing efforts to improve delivery and customer service.
T eventually got her furniture by taking a screenshot of the original online order and hiring a TaskRabbit with a truck to shop for it in-person, which cost almost $300 for pick up from the Red Hook, Brooklyn store with delivery to Midtown Manhattan, about half the cost of the furniture being purchased. Getting IKEA to agree to a refund for the canceled order required over a dozen more phone calls and emails over several weeks. Six weeks after her credit card was charged for an order she never received, T has still not been issued a refund.
Here are a few things you can do to avoid IKEA furniture delivery headaches.
1) Order via Click & Collect
One of the main reasons to have furniture delivered is to save yourself time navigating your local IKEA locating every item. The company's Click and Collect service helps alleviate some of that pain.
For a $5 surcharge, you can do all your shopping online, select Click & Collect, and then IKEA will send you an email or text when your order is ready to be picked up. You even get a $5 gift card to use toward a future purchase, offsetting the surcharge. It still requires a trip to the store, but you can designate another person to pick up your order. According to IKEA, they must bring "a forwarded copy of your proof of purchase with your written consent, including the full name of the designated person that matches their government-issued photo ID."
But there are no guarantees here. You might log in, as T did, and find that IKEA is too busy to accept Click & Collect orders.
2) Hire a TaskRabbit to shop for you
Another option for avoiding delivery entirely is to use TaskRabbit, an online marketplace that matches freelance workers to people who need tasks done like cleaning, moving, furniture assembly, and delivery.
IKEA actually purchased TaskRabbit in 2017 and has integrated it into their services strategy, but customers can only book an assembly and mounting task through TaskRabbit's IKEA assembly program.
To set up a delivery task that requires a truck you should go directly to TaskRabbit's website or app. Do it early enough in the day that a same-day pick-up is feasible. Then get as specific as possible with the furniture you want picked up: item numbers, and colors. Have the TaskRabbit go to IKEA, do the shopping, pay, and bring the items back to you.
But fair warning: this is a more expensive option. Large-item shipping for online orders starts at $39 from IKEA, while TaskRabbit delivery requests generally run in the $100/hour range. Another option is combine tips 1 and 2 and send a TaskRabbit to pick up a Click and Collect order.
3) Rent a truck and do it yourself
If lack of a vehicle, and not time, is your primary reason for ordering IKEA delivery, it may be worth it to simply rent a van or truck, shop the old-fashioned way, and bring your items back yourself.
This DIY method reduces the margin for error and it may be comparably priced to delivery, depending on rental rates and how many items you order. It's also in keeping with the IKEA experience.
4) Set up delivery from the store
Anecdotally, some customers have a better delivery experience shopping at the store and then setting up a home delivery after checkout. This way, you can ensure that the items you want are in stock. IKEA claims that it offers same-day, next-day, and future deliveries in most locations, but this wasn't the case for T, who experienced major difficulties because of a delivery backlog in NYC. 
Home delivery from the store starts at $59, if you can get it, with the price varying depending on demand and distance from the IKEA store to your shipping address.
Brick Underground articles occasionally include the expertise of, or information about, advertising partners when relevant to the story. We will never promote an advertiser's product without making the relationship clear to our readers.