Best of Brick
IKEA vs. Home Depot: Which should you choose for a NYC kitchen renovation?
Home Depot kitchens run about $30,000 to $35,000, while IKEA kitchens range from $10,000 to $15,000
Prices at Home Depot depend on whether you go with ready-to-assemble or pre-assembled stock cabinetry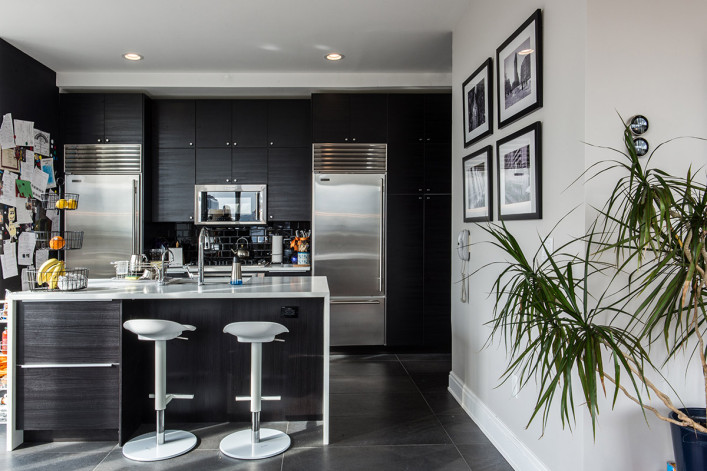 I'm thinking of renovating my NYC kitchen and I am hoping to stay within a budget by using IKEA or Home Depot. Any thoughts on which retailer offers the best value?
If you're trying to keep to a budget with your New York City kitchen renovation, you probably already know that using Home Depot or IKEA will save you money. What you may not know is that a lot of designers go this route with high-end projects—and then (usually) add their own custom touches.
Jeff Streich, founder of Prime Renovations, used IKEA cabinets in a $500,000 project on 54th Street in Manhattan and even a $5 million renovation on Hudson Street. (Want to take a similar mix-and-match approach? Read: "Hack your IKEA cabinets with these custom pieces for a more upscale look.") 
Here's how he and other experts rank IKEA and Home Depot on price, durability, style, service, and installation.
---
[Editor's Note: This article was updated with new information in March 2023. We are presenting it again as part of our summer edition of Best of Brick Week.]
---
How do prices compare for IKEA vs. Home Depot?
According to Dan DiClerico, a renovation consultant, most Home Depot kitchens will be in the $30,000 to $35,000 range (installed), while you can have an IKEA kitchen for $10,000 to $15,000 (plus installation), not including the flooring. 
Prices at Home Depot depend on whether you go with ready-to-assemble (RTA) options or their pre-assembled stock cabinetry, which can range from less than $100 to over $3,000 per cabinet. Custom options will cost even more. IKEA cabinets start at around $50 and top out at over $1,300, with the bulk falling in the $200 to $300 range.
When Jorge Fontan, founder of Fontan Architecture, previously did work for clients who were on a budget, he went with IKEA, though his focus is now on higher-end projects. He explains his preference was for IKEA over Home Depot was primarily because of its affordability.
Pro Tip:
At Mammoth, we know you want to live in a home that speaks to who you are. "We make designing and building bespoke home renovations simple for those looking for custom design and quality construction, under one roof," says Maryana Grinshpun, Mammoth's founder. "Clients boast about the transparency and ease of working with us. As an independent, woman-owned, design-build company, we will be your partner in delivering a stunning home and streamlined service. You'll spend less time worrying about your renovation, and wake up in a home that inspires you." 
See what our clients are saying >> 
What do the experts say about durability?
Even though the quality of stock cabinets from IKEA and Home Depot is not the same as custom work, DiClerico says they're surprisingly sturdy and durable. 
All IKEA cabinets are made with medium-density fiberboard (MDF); same for many of Home Depot's RTA products, while others are made of plywood. 
Only a couple of the experts interviewed had enough (or any) experience with Home Depot products to speak to how well they hold up over time, though you can read reviews on the website to get a sense of what customers have to say. 
On the other hand, all experts agreed that IKEA kitchens are built to last, at least when it comes to the "box" or core components and the hinges and inner hardware. Having installed some 60 to 80 IKEA kitchens over the past seven years, Streich says his clients have never had an issue, unlike with other types of cabinets. That's saying something.
The IKEA fronts—which Yaiza Armbruster, founder of Atelier Armbruster, describes as "a little flimsy"—are the exception to the rule. 
For starters, they are five-eighths of an inch thick compared to the standard three-quarters of an inch you'll find with most Home Depot brands (and the standard in the industry). They are also prone to dings and scratches.
That's why most experts often go with other options for IKEA fronts. "Just be sure to account for that extra thickness in your countertop," advises Meret Lenzlinger, founder of Lenzlinger Architecture. (More on fronts below.)
For her, the biggest drawback is that since 2014 (when SEKTION replaced the AKURIUM system), IKEA's upper cabinets have a 15-inch depth compared with the standard 12-inch depth. Home Depot's cabinets on the other hand range from 12 to 18 inches.
And buyer beware: The warranty is 25 years for IKEA cabinets and fronts (and only 10 years for faucets and five years for appliances). Home Depot offers a limited lifetime warranty—be sure to read the fine print.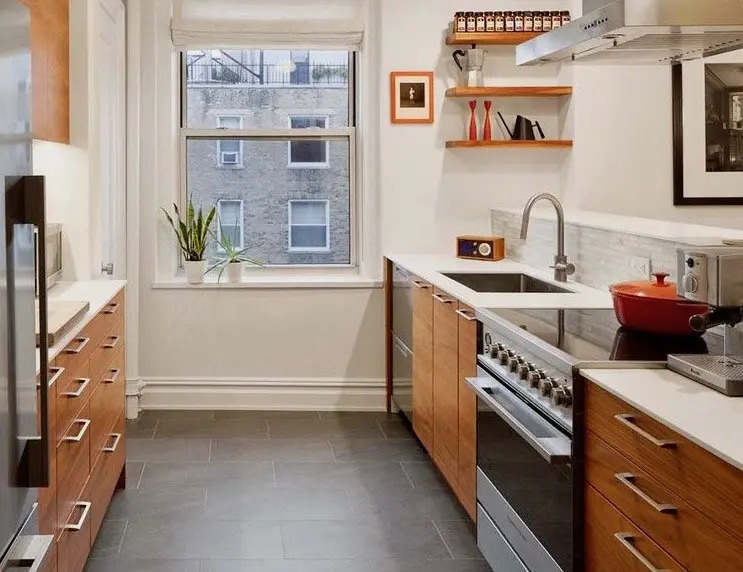 Which one has more selection?
Home Depot definitely has more options. "That's because IKEA primarily sells its own branded products, while Home Depot carries a bunch of different brands," DiClerico says. 
Having fewer choices can certainly ease the decision-making process, especially now that IKEA has consolidated its former kitchens under the SEKTION umbrella. All the cabinet and drawer components work together and can even share interior space. They have also been expanding options for the fronts, including the most recent introduction of BODARP (made partially from recycled plastic bottles).
With Home Depot, you have to evaluate each of the different brands. That can be a plus or minus depending on your patience and perseverance. Having lots of options isn't always the end-all-be-all either. Armbruster once inquired about a Martha Stewart kitchen at Home Depot and decided against it because the components wouldn't arrive in time for the small project's work schedule.
On the other hand, she finds IKEA to be much more customizable since companies like Semihandmade and Reform make IKEA-compatible fronts in a range of finishes and styles—and you can paint them any color you want, Armbruster says. 
Lenzlinger has used fronts by Dunsmuir Cabinets and Cabinet Face in various projects. (Read: "Hack your IKEA cabinets with these custom pieces for a more upscale look.")
Even when using IKEA fronts, there's the option of shopping elsewhere for exterior hardware. Armbruster added brass pulls from Schoolhouse Electric. (Rejuvenation is another favorite source) and repurposed a brushed-brass corner guard that would typically used on a wall to hide under-cabinet strip LED lighting.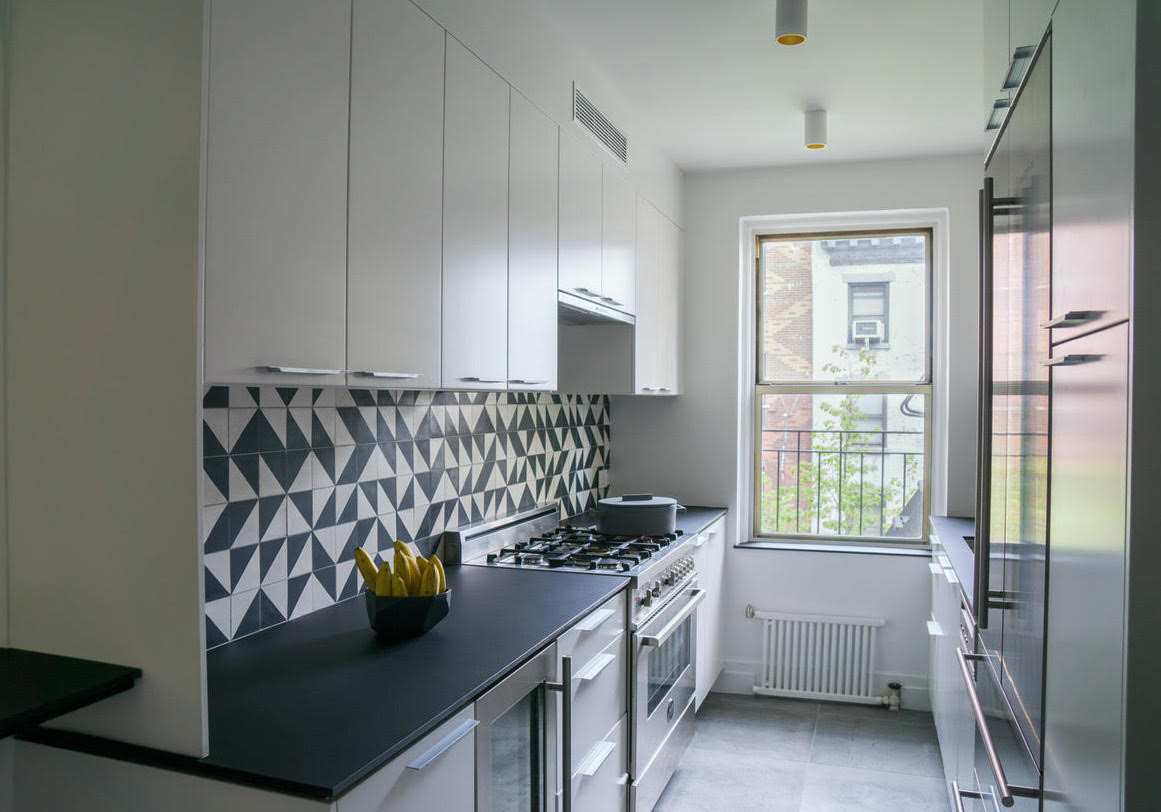 All experts here opted to source the countertop and backsplash from other sources, as IKEA only has two options—wood veneer and laminate. Same for when using Home Depot cabinets. Here Armbruster used a high-tech matte black countertop from FENIX (it is scratch- and fingerprint-resistant); the backsplash was designed with tiles from Town and Country Surfaces.  
One final style point: Home Depot offers a "cabinet makeover" service where they refinish the existing fronts, and some are easy enough to repaint on your own. IKEA cabinets cannot easily be repainted without some major stripping, preferably by taking them to a mill worker. Of course, you can always buy new fronts, but that might not be something you want to do.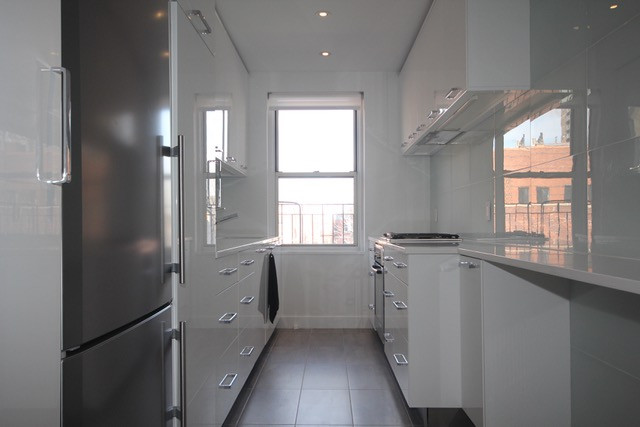 Which retailer gets better marks for delivery?
While IKEA's delivery has traditionally been quicker—less than seven weeks as opposed to as long as 12 weeks for Home Depot—the company's website now cautions that due to supply chain issues "some items could take up to six (6) months or more to receive." 
Custom fronts for IKEA cabinets may take longer. Reform for instance lists 14 to 18 weeks as the standard time for delivery; Semihandmade has a three-to-five-week lead time. 
Streich for one says "you can't beat the quickness of delivery" of IKEA. 
However, some other customers may not agree at all with that assessment. (Brick Underground has written about the headaches of getting IKEA furniture deliveries in NYC—think delayed deliveries, canceled orders, and credit card charges for products never delivered. Read: "How to get IKEA furniture delivered to your NYC apartment without losing your mind.")
The experts here have some complaints about Home Depot's delivery process too, it seems. Lenzlinger says she never willingly uses Home Depot kitchens, not because of the products because of the process. "They changed my designs so that once installed the cabinets cannot open without banging into the range," she says. 
A similar "snafu" happened on a project where Fontan said things were somehow just a few inches off. "They ended up shuffling the layout of the cabinets so it all ended up working but we did have to re-order one cabinet," he says.
How does IKEA vs Home Depot installation compare?
Home Depot cabinets are relatively easy to install, especially the pre-assembled ones—but even their RTA models have much fewer pieces and more standardized instructions.
Not so with IKEA, as anyone who has tried to assemble one of their simple desks or bunk beds knows, much more so an entire kitchen system. 
"IKEA's biggest issue is that there are so many bits and pieces and you may not know what to look for in terms of what might be left out," says Guy Kohn, founder of Kohn Architecture. A typical scenario means your contractor has to deal with 100-plus flat-pack boxes and might not even know what has been ordered. "But when I used an IKEA-recommended installer the process went fairly smoothly," he says.
Streich too hired someone who was very familiar with them (and has now installed more than 60 systems).
Nowadays there are also companies that help New Yorkers with their IKEA installations, and some even handle pickup and delivery.
What are other good kitchen cabinet brands?
In case you don't find what you want with IKEA or Home Depot, the experts suggest turning to other companies with good quality, reasonably priced cabinets in both standard and custom sizes.
Kohn particularly likes Pennsylvania-based Wolf Home Products (especially the Wolf Classic line) that you can see in their Brooklyn showroom. "You wouldn't know the difference between those and a very fancy brand, even if you open them up," he says. 
Armbruster worked with Intelligent Kitchen New York on a couple projects. "It's slightly more upscale and more customizable and their product is really good," she says. 
For the most part, Fontan finds semi-custom cabinets end up feeling cheap considering their steep price tags. "A lot of contractors will say they are just more expensive versions of IKEA," he says. So he would suggest custom (or truly high-end companies like Henry Built) over expensive semi-custom. 
If RTA is more in line with your budget, Lenzlinger has used Conestoga systems on two projects with just one quibble: These cabinets (and Home Depot brands) use the American cabinetry system, which eats up a little space thanks to a small frame inside the door. This is unlike IKEA products, where the hinge attaches directly to the door. On the plus side, you have greater flexibility in designing the layout and can get what you like delivered with a painted factory finish in either their own range of colors or your own shade, she adds.
Lenzlinger has recently discovered Cabinets.com, "the first budget company to sell a frameless ('full access') cabinet, which thrills me. And it's very inexpensive." She just used these cabinets in a kitchen renovation, putting them in the L-shaped main part, and then had Conestoga make an island "because we wanted a custom color!"
The final verdict on IKEA vs. Home Depot
There are plenty of good reasons to get kitchen cabinets from IKEA and Home Depot, despite the service snags of both.
Whichever you end up using, be sure to visit the stores to see, touch, and test the cabinets in person—preferably avoiding weekends and other high-traffic times (usually right after work). 
—Earlier versions of this article contained reporting and writing by Sarah Wormser
Brick Underground articles occasionally include the expertise of, or information about, advertising partners when relevant to the story. We will never promote an advertiser's product without making the relationship clear to our readers.