Small Projects + DIY
What's the best shade of white to paint your NYC apartment if you're trying to sell?
Brokers and stagers recommend a clean, neutral shade to attract buyers
Consider the undertones and finish when choosing a color for your walls
Benjamin Moore, Behr, and Valspar are go-to brands for white paint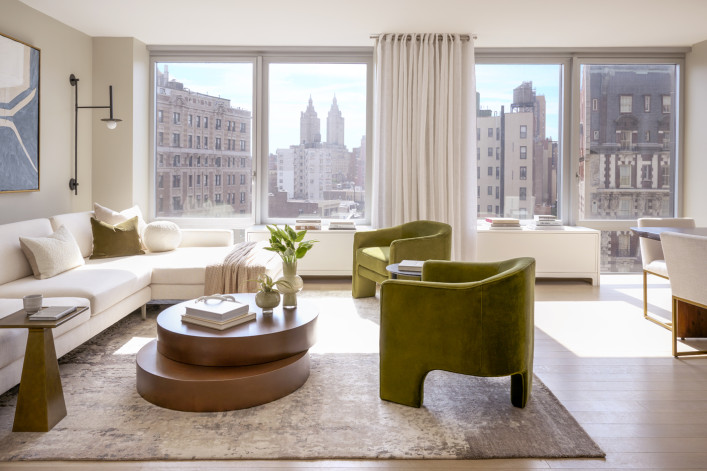 At first blush, the idea of painting a room or two in your apartment might sound fun or exciting. However, as anyone who has gone on to tackle the job themselves will tell you, the process is its own exquisite form of hell, beginning with perhaps the most challenging part: picking the color. Why is it such a difficult task? After all, we make choices about colors all the time when it comes to picking out clothes. 
"So much affects how you see and feel color in each space," says Jennifer Morris, founder of JMorris Design. For example, poor lighting "can make one color cold or too dark...or too stark. Where windows are facing, the time of year or even the hour, and the location geographically all play big roles in how natural light will affect color."
It only gets more mind-boggling when you decide to paint an interior white, which many sellers do since brokers and stagers typically recommend creating a neutral, clean look to attract buyers. But there are dozens of whites to choose from, some cool, some warm, with undertones across the spectrum. Some whites will make your apartment look fresh and bright. Others can give it the look of a dingy dish rag.
---
[Editor's note: An earlier version of this post was published in December 2018. We are presenting it with updated information for November 2023.]
---
We checked in with designers, stagers, and brokers to find out their tried-and-true white hues for selling apartments in New York City. Here's what they had to say.
Think about the finish
"I advise clients to use Benjamin Moore Aura paint in Super White. We do flat paint on the walls and semi-gloss on the crown moldings. If appropriate, staining hardwood floors an ebony color makes the white really stand out, making an apartment look and feel bigger." —Evan Rosenfeld, Corcoran
"After painting apartments white for decades, I have found the Behr brand has the best assortment for shades of white. I've discovered that the critical issue is to use the eggshell finish as it is good at masking flaws and easy to clean without harming the paint." —Tim Winters, Corcoran
To make fixtures and finishes pop
"Gallery White by Behr is the best in my eyes. It's crisp and clean and makes the surrounding fixtures, finishes, and wood floors pop. I had to convince a building owner who had been using a bed linen-like shade of white for years to finally switch over, and I swear his rental units move faster than they ever did before." —Rental agent
For traditional apartments
"For older apartments or those with more traditional architectural features, I like Benjamin Moore's Simply White. It is bright and crisp with a touch of softness, but it never reads yellow." —Meridith Baer, Meridith Baer Home
Pro Tip:
If you're unsure how much time and money to spend updating your apartment before selling it, or you'd like to test the waters to see what it's worth in its current condition, consider "pre-marketing" your co-op, condo or brownstone before you publicly list it. The pre-marketing platform at New York City brokerage The Agency is a no-risk way to quietly test your asking price and marketing strategy among actual buyers shopping for a place like yours. There's no charge to participate and no obligation to sell or enter a traditional listing agreement if you haven't found a buyer by the end of the pre-marketing period. To learn more, click here. >>
If you don't want undertones (or even if you do)
"My favorite white wall color is Benjamin Moore Swiss Coffee OC-45. Don't be put off by the name. The reason I like it is that it has no yellow, blue, or pinkish undertones. It is a warm white. My other favorite white wall color is Benjamin Moore Cloud Cover OC-25. It also has no undertones and is a little cooler than Swiss Coffee. I would pair Benjamin Moore Decorator's White on trim with Swiss Coffee walls and Benjamin Moore Super White on trim with Cloud Cover walls." —Donna Dazzo, Designed to Appeal
"All whites are not equal. My go-to is Benjamin Moore. While White Dove is the most popular, I like Simply White. If I want a bit of undertone, I use OC-19 Seapearl! I just had a client do her whole house in OC-20 Pale Oak. It is beautiful. Remember, lighting is key. All shadows read differently on different walls and spaces. But these are all safe and good colors."—Vickey Barron, Compass
"I like cooler whites over creamy yellow tones typically, but in the right space, I love Benjamin Moore White Opulence CO-69, which has a touch of pink, and is great on skin. I am also seeing and using warmer paints. I still shy away from overtly buttery tones, but I find Benjamin Moore Super White has the right touch of warmth." —Jennifer Morris
If you find white paint too cold
Creamier whites are part of the whole "quiet luxury" aesthetic trending for 2024. 
"I worked as a fashion designer for 20 years, and am constantly updating my home. My go-to white paints are Valspar Ultra White for ceiling and trims and Valspar Bistro White for walls. I love Bistro White as it has a creamy, warm undertone. I choose the Valspar brand because they have a lot of great options, including one-coat paints and primer/paint combos. I also live near a Lowe's, so it's super convenient in case I run out." —Linda Nader, Compass
"Cream tones offer a warm and inviting ambiance, effortlessly creating a sense of comfort and tranquility. These hues provide a softer alternative to stark white while still maintaining a neutral palette. In the model units at 212 West 72nd St. [shown at top], some of the colors we used were Benjamin Moore Dove Wing 960, Classic Gray 1548, and Inner Balance 1522. Other IMG favorites are Vanilla Milkshake 2141-70 and Glacier White OC-37." —Melison St. Claire, senior designer at Interior Marketing Group
Brick Underground articles occasionally include the expertise of, or information about, advertising partners when relevant to the story. We will never promote an advertiser's product without making the relationship clear to our readers.