Staging + Open Houses
How much does it cost to stage your NYC apartment or brownstone?
Stagers may base fees on square footage or number of rooms with $5,000 as a general entry price
Full-service companies include the cost of moving while others outsource this for an additional fee
Some brokerages front the costs of staging and then deduct that amount from the sale proceeds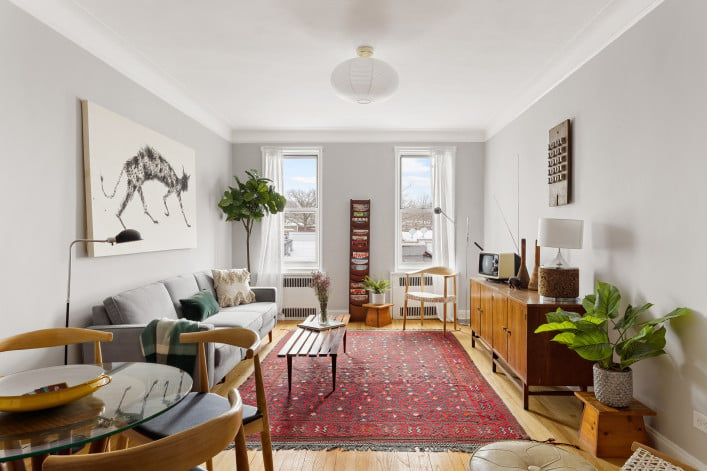 Haley Day of DDreps courtesy of Compass
 
When selling your apartment or brownstone, one increasingly popular way to get it to stand out from the pack is to hire a pro to stage the property. This is especially helpful in a buyer's market with sluggish sales, which is where New York City has been idling for months as potential buyers wait for mortgage rates to decline. 
"Staging is very helpful in a slow market," says Julia Boland, an associate broker at Corcoran. "Making a home more tantalizing with great staging that suggests a dream lifestyle can help create more demand." She adds that staging can be effective in a hot market too by pushing the sales price up.
Indeed. "Selling real estate is a numbers game—you need volume and to get buyers in the door. And to achieve that you need a 'scroll-stopping listing,'" says Cathy Hobbs, a celebrity interior designer and founder of Cathy Hobbs Design Recipes, a NYC-based staging company that also offers video marketing. "That's what staging generates because the properties photograph better and present better online and in person." 
And these days, staging is not just for luxury listings, nor does staging have to cost a fortune. The brokers and stagers Brick spoke to handle the full gamut, from tiny studios to glam penthouses and spacious brownstones. They also offer sliding-scale fees that fit these different scenarios and budgets. 
What's more, a 2023 study by the National Association of Realtors shows that staging bumps the price point and reduces time on the market—the twin goals of any sales transaction.
Read on to learn about the different costs and services available when you hire a pro to stage your NYC home—and get the most ROI.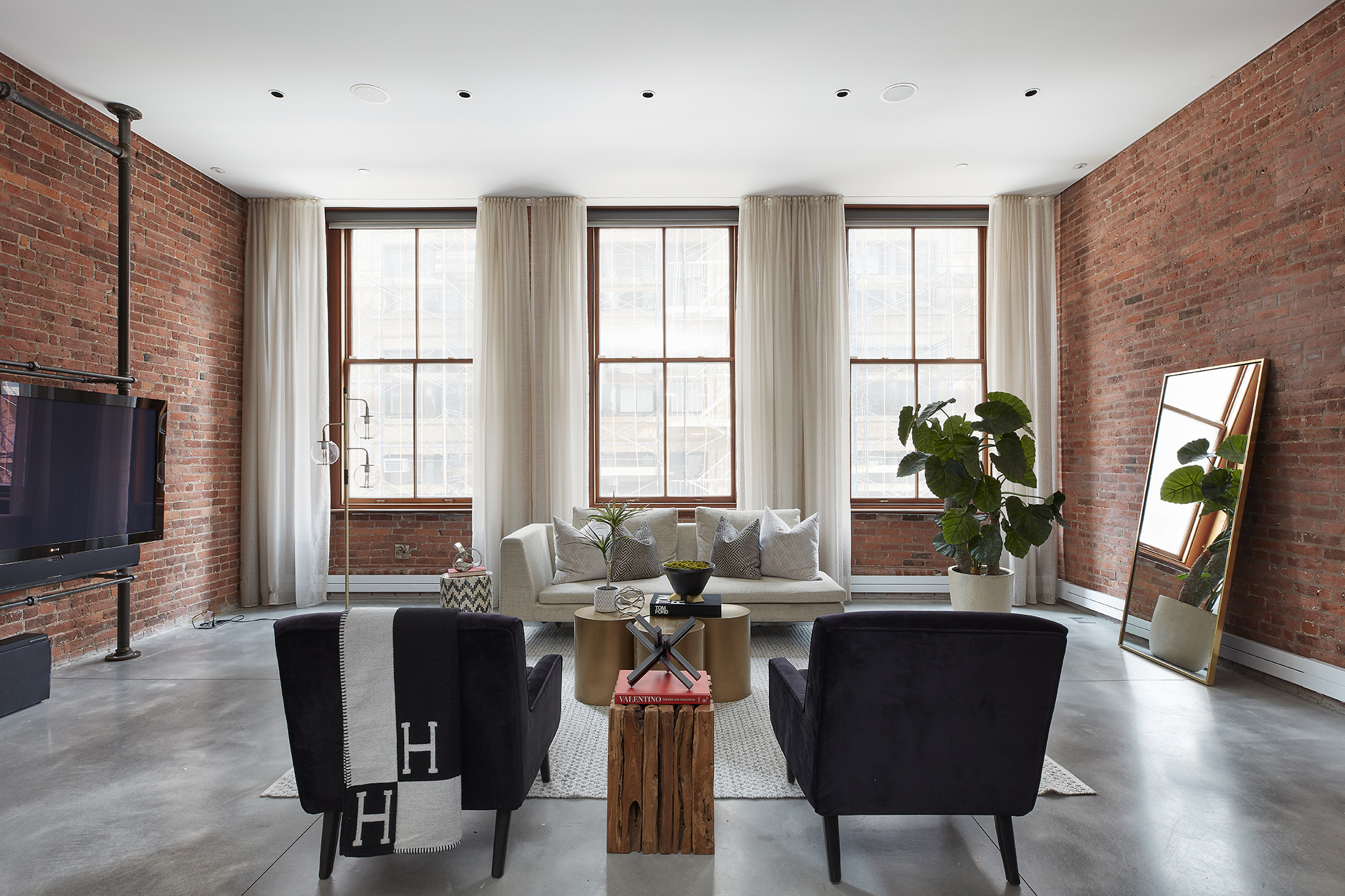 How do staging companies charge?
The stagers Brick spoke to base the cost of their services on either the square footage or number of rooms.
Robert Sablic, principal and co-founder of Quadra, a full-service staging company in Manhattan, says they use square footage and try to cap fees at or below 1 percent of the asking price.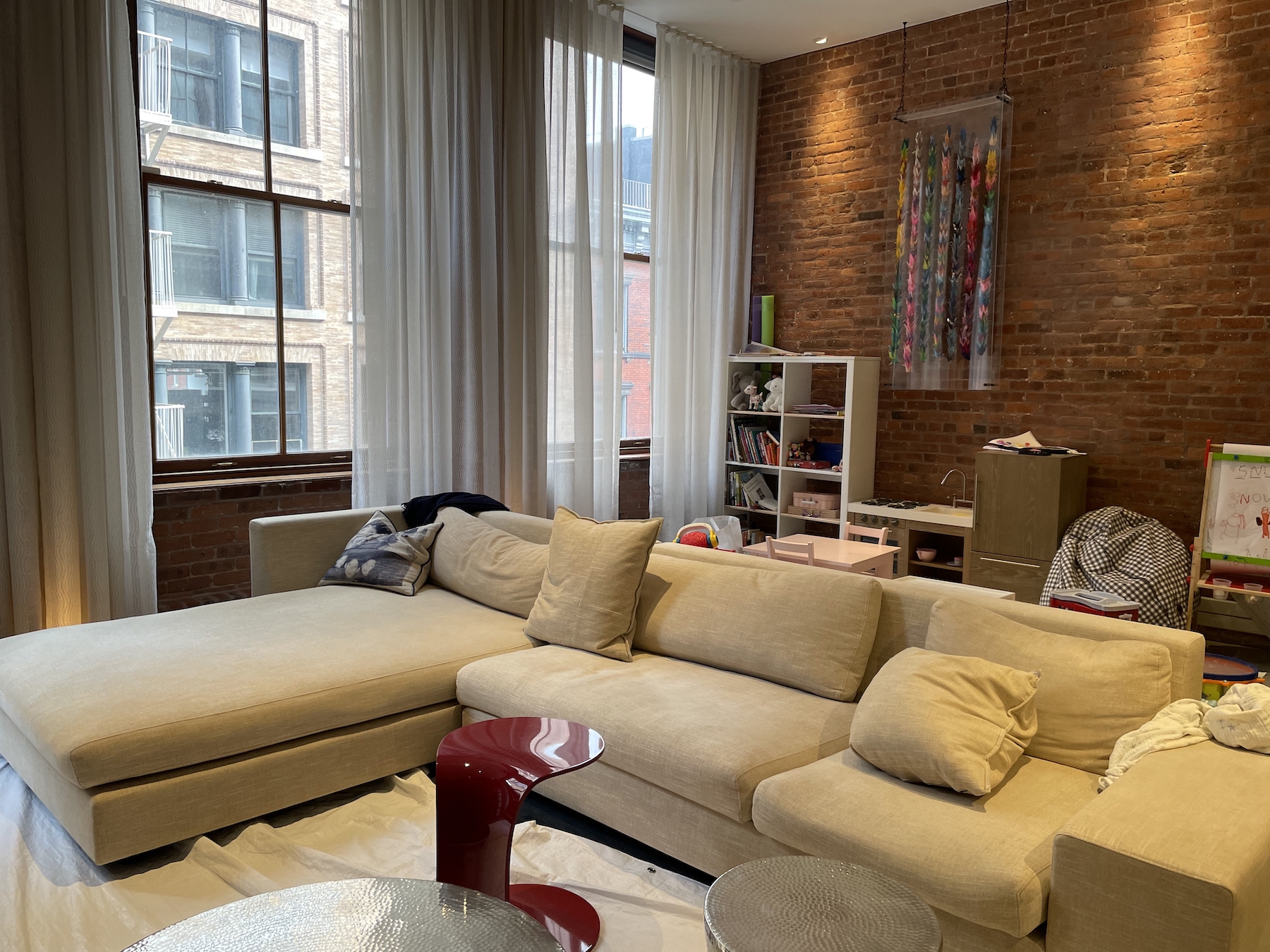 Hobbs, who also uses square footage, says you can expect to pay $5,000 for a studio, between $8,000 to $12,000 for a one bedroom, $15,000 to $20,000 for a three bedroom, and $25,000-plus for anything bigger. 
Other companies base pricing on the number of rooms. Einat Bar, founder of NYC-based UpStager, offers tiered packages with starting prices of $5,000 for a studio, $6,000 for a one bedroom, $7,000 for a two bedroom, and $8,000 for a three bedroom. "A full multi-level townhouse can range from $10,000 to $15,000, including outdoor spaces."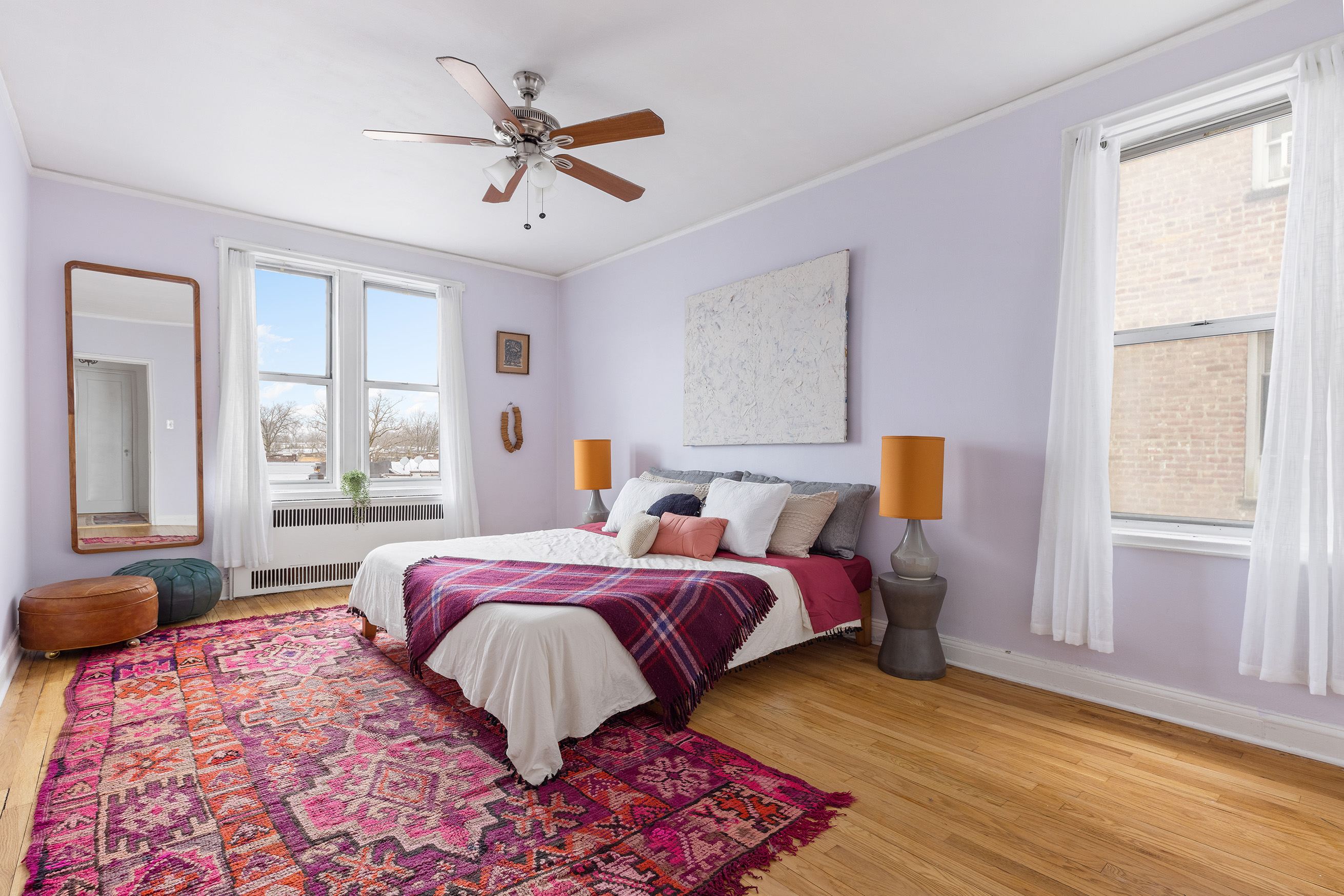 What's usually covered in the costs? 
Full-service companies like Cathy Hobbs Design Recipes and Quadra charge a flat rate for the whole shebang. "An all-in-one staging includes design, furniture and rentals, installation and setup, hanging of artwork, accessorizing, and then de-staging," Hobbs says. 
Both Hobbs and Sablic say their fees also cover the logistics of moving in and out—though that is hardly a given. Lots of staging companies, including UpStager, outsource the trucking at an additional cost. Bar explains moving costs vary depending on location, size of the job, type of building and number of stairs if it's a walkup building. 
Another consideration is whether the company owns the rental inventory, as that can impact the cost as well as the outcome. "We have enough furniture to stage 63 three-bedroom residences at once," Hobbs says. "This also allows us to adapt to various looks." 
Sablic says they have a big warehouse in New Jersey plus trucks to haul the goods. "We own the whole process, from A to Z, which allows us to adjust whenever necessary—even in the best-planned projects, sometimes the furniture ends up not working once it's in the property and we need to replace it." He says it costs them $1,500 per delivery to and from NYC.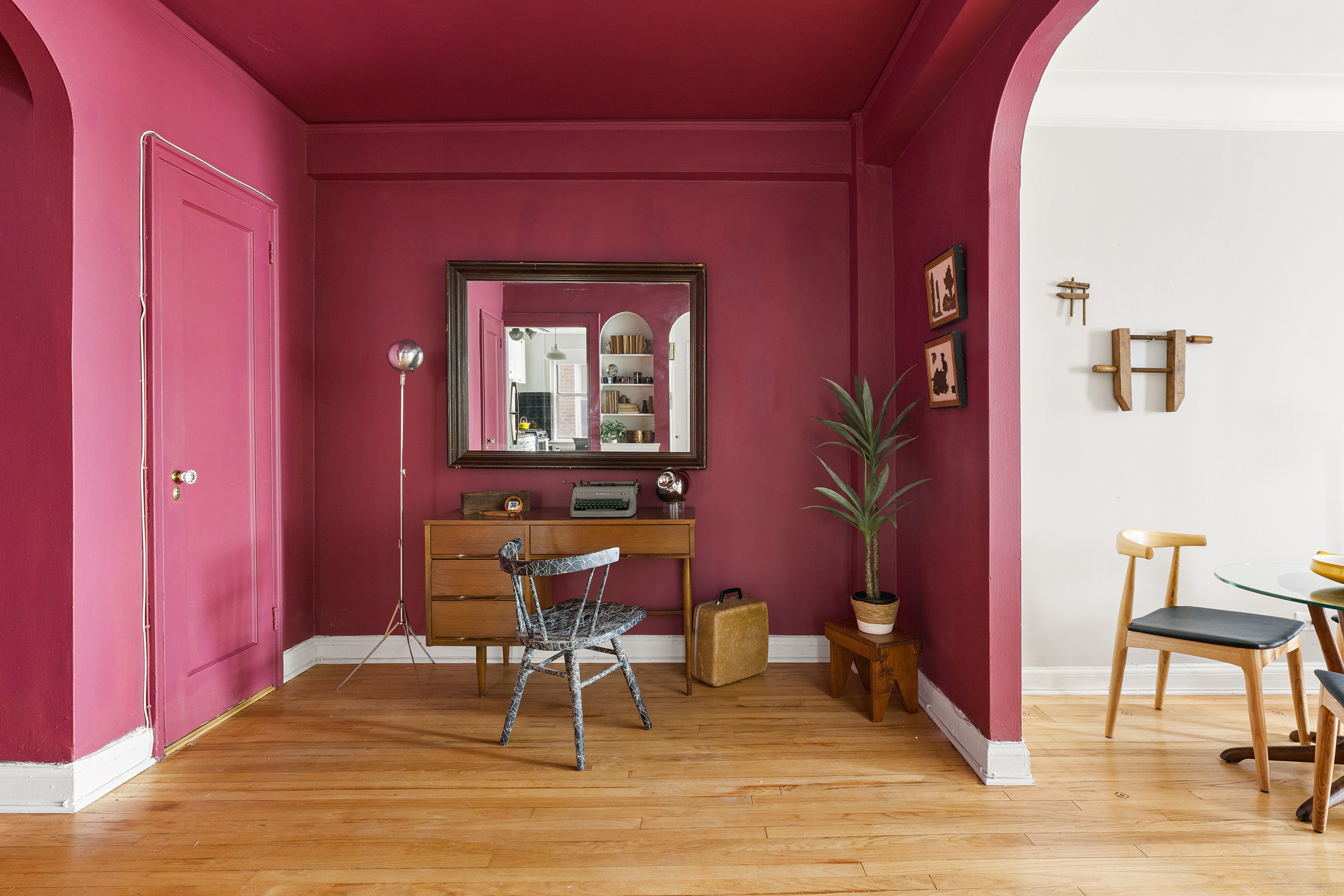 When in the selling process is the best time to stage?
Buyers of all budgets (particularly in the younger demographic) expect pitch-perfect photos—and to be able to project themselves into the space. So ideally, you would stage before putting your home on the market.
"The best scenario is when the broker contacts us before any photos are taken," Hobbs says. "We look to create our staging to be in tandem and on message with what the broker is marketing."
That said, if you've already listed your home, "better late than never" also applies. 
Take the case of a small one bedroom at 601 79th St. in Bay Ridge (shown at top and above), which had been languishing for six months without any offers despite a couple of price drops. Then the sellers ditched their discount brokerage and reached out to The Jane Advisory team at Compass.
"After meeting with the sellers in their space, we realized that the original listing photos did not reflect the experience when walking through the door," says Allison Sprouse, the lead agent on the project. "The unit had an appealing layout with a dramatic foyer, quirky eat-in kitchen, and king-size bedroom," she says, though you wouldn't know it from the "bare-bones listing with messy photos." 
Sprouse told them the unit was well priced at $315,000 for the building and neighborhood—the real problem was the presentation. So she proposed a full staging strategy––including removing the rest of their personal items (they had vacated by now), patching the walls, and painting the entire living room. "But these conversations can be daunting: Who wants to hear, after six months on the market, that the solution is to hire a full-service team of agents and spend money on staging?" 
Flash forward to a happy ending: After the sellers paid $7,350 on staging by UpStager (inclusive of moving), Sprouse advised the sellers to re-list at $325,000. "We had an incredible turnout for our first open house, which resulted in multiple offers and an accepted offer over the asking price," she says. 
The moral of that story is it's never too late, though in a buyer's market, it pays to come out with your best shot from the get-go. 
Do sellers ever hire stagers directly? 
Sure, though it's not common. Hobbs says she is open to sellers contacting her directly but that 95 percent of the time she is approached by the broker or referred to a seller through their broker. 
Sablic also says they are mostly sourced through brokers "We are a relationship company and are willing to take on smaller jobs because that broker gives us so much other business." (He adds that those jobs are mostly about covering their own costs.)
Michaela Morton, an agent at Compass and head of marketing for The Jane Advisory, points out another reason to go through your agent: "We work with a lot of different stagers and can vet and present staging proposals to sellers based on what we think will be most effective (including cost-effective) in their specific market," she says. Even when you go through your agent, "we are only facilitating the connection; it's the owners' ultimate choice who to work with and if a professional stager is needed."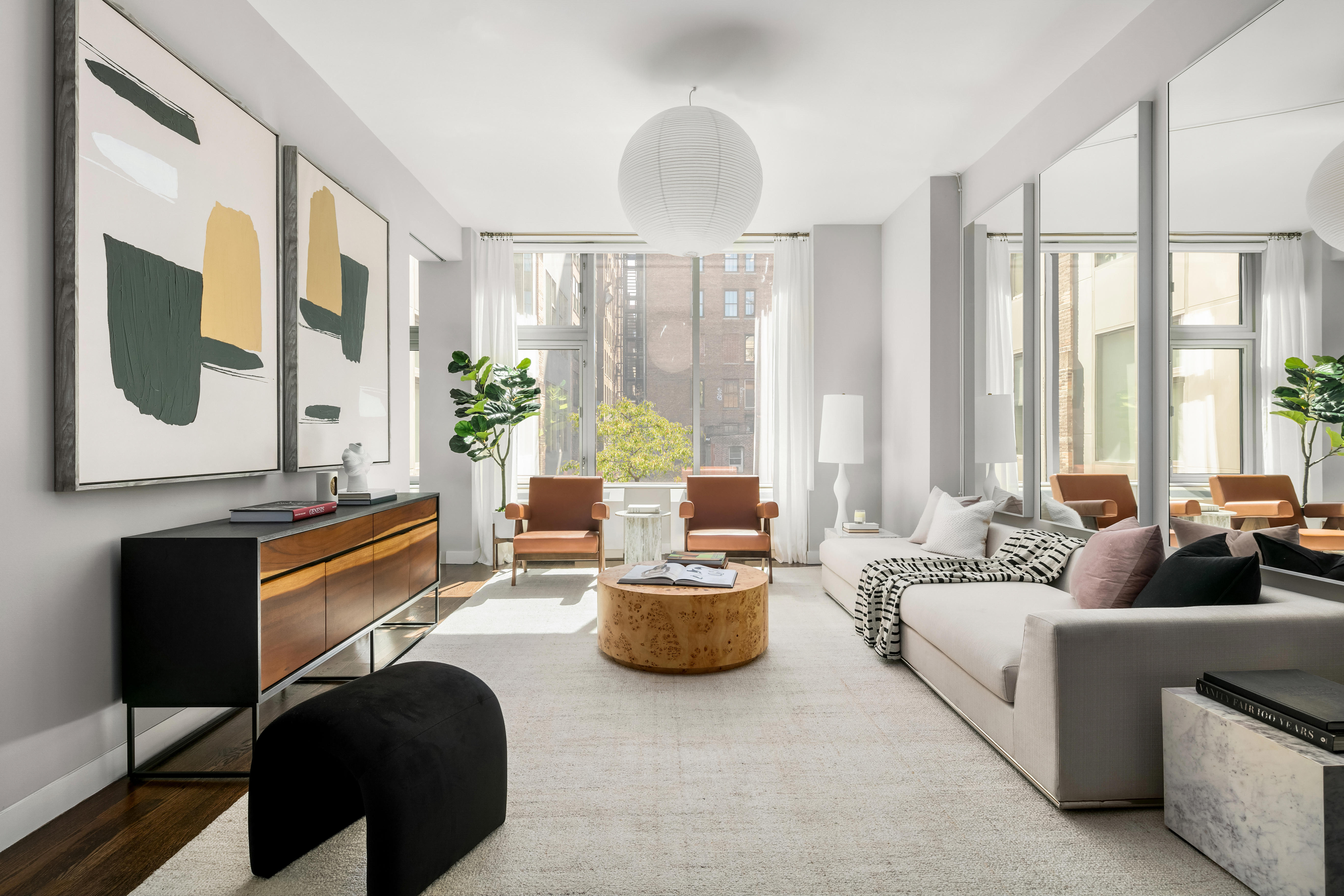 Is it worth paying for staging if your home is empty? 
Absolutely—everyone agrees on this point. 
"There is a common challenge when presented with empty spaces, which is the absence of a clear layout that seamlessly blends form and functionality," says Nicole Haworth, design director for Quadra. "In all these cases, furniture not only helps buyers to be able to envision how they can live in the space but also elevates the architecture as a whole." 
Hobbs says that empty properties are the most difficult to sell because there is nothing else to look at other than the view of the brick wall or the repair that is glaring at you. "So when we stage, we are creating a vision of what it will be like to live there." 
"Space can be a tricky thing, and it is often hard to imagine a room's full potential when it is void of furniture and design," Sprouse says. "This is why we believe in the importance of being intentional with the staging of your home, whether professionally or with your own items."
And contrary to the popular misconception that furniture makes a space feel smaller, Bar says "It's all about how you use the space and the scale of the furniture."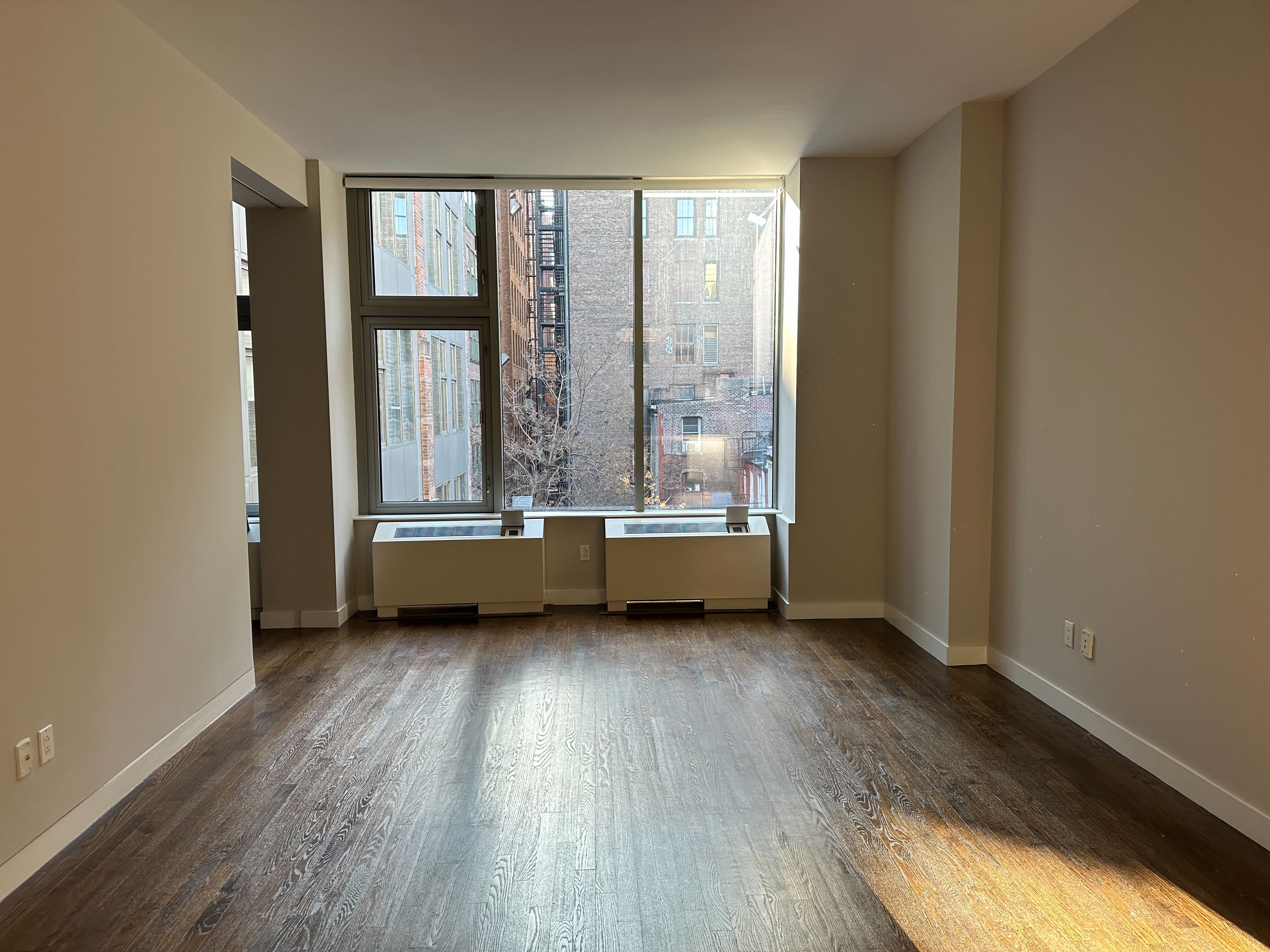 Seplic agrees, recounting how a friend recently purchased a studio that had been staged. "When he was moving in, he couldn't believe it was the same property because it felt so tiny now that it was empty." 
Note that all the staging companies Brick spoke to require you to empty the property before staging, while others will try and integrate at least some of your belongings. 
What about virtual staging? 
This depends on who you ask. 
"Virtual staging confuses buyers, as the reality of a space all too often falls short of the simulation and results in disappointment," Bar says. 
Morton says The Jane Advisory does not use virtual staging (or list empty spaces): "It disappears when the buyer walks into the home, and in the home is where the decision gets made!" 
On the flip side, Boland says virtual staging has come a long way by offering better furniture and accessory options. "For a property priced at $2 million or below, the time and expense of moving furniture into the home can be too expensive, so virtual staging is a cost-effective means of achieving a similar result online." She does, however, say that for properties over $5 million, staging with furniture may be necessary to create a luxury vibe. "There are also times when hybrid staging comes into play—eliminating a few outworn home accessories and unnecessary pieces of furniture to create a greater sense of space is another way that staging can be quick, yet impactful."  
What are ways to save on staging costs?  
Some stagers will limit their focus to one or two rooms—common areas like living and dining areas make the biggest impact, as does the primary bedroom. 
Other companies might agree to create a design plan that you can execute by renting the furniture and doing the setup yourself. (Be sure to avoid these DIY staging mistakes.)
It's also worth asking your broker if they do their own staging—or if they are willing to split the costs of hiring a company (their payoff being the higher commission on the sale). 
"If full staging doesn't make sense for some reason, I put together a punch list for self-staging, often with shoppable links," Morton says. She will in some cases stage a full project herself, integrating the seller's furnishings with new items. "It's quite a heavy lift and not something every agent or team offers—but it's something we prioritize to make sure our listings shine."
Depending on the project, Boland says her team will sometimes handle the staging in-house. "In other scenarios, I'll engage the services of an outside firm—but I'll always be the point person." 
Mary Barbrack, an agent at Compass, says they look to present a property to appeal to the broadest audience/buyer population, which depending on the property might mean a simple decluttering or depersonalizing or (recommended if the sellers have vacated) a full staging strategy. For instance, she might suggest bringing in an organizer to do a partial staging, purging certain items and then bringing in simple pieces to complement their belonging; or it might be a matter of making "low-cost, high-impact" changes the seller can buy directly—namely hotel-like bedding, fluffy white linens, throw pillows, new area rugs, updated window treatments, and decoratives such as plants or art.
Some full-service brokerages offer programs to help you manage staging expenses by fronting the costs and then deducting them from the proceeds of the sale, like a zero-interest renovation loan. For example, the owners of the Bay Ridge one bedroom were able to cover the costs associated with patching and painting through Compass Concierge. 
According to Morton, Compass Concierge can cover the projects they might recommend to prepare a property for market. "The problem has always been that these projects, which can make such a big difference in the sale, require an investment from the seller right when they're likely to be most strapped. There's no interest or charge for the program, so it's literally just a rearrangement that creates a little more breathing room and makes it easier to make choices that will benefit the sale."
Similar programs include Curate by BHS (Brown Harris Stevens) and RealVitalize, which partners with Angi and is used by Coldwell Banker Warburg, Corcoran, Century 21, and other Anywhere Real Estate brokerages.
Parisa Afkhami, an agent at Coldwell Banker Warburg, says RealVitalize will advance expenses such as for staging, decluttering, and more. (Takeaway: If you know you want to stage before selling, look for a brokerage with this financing tool.)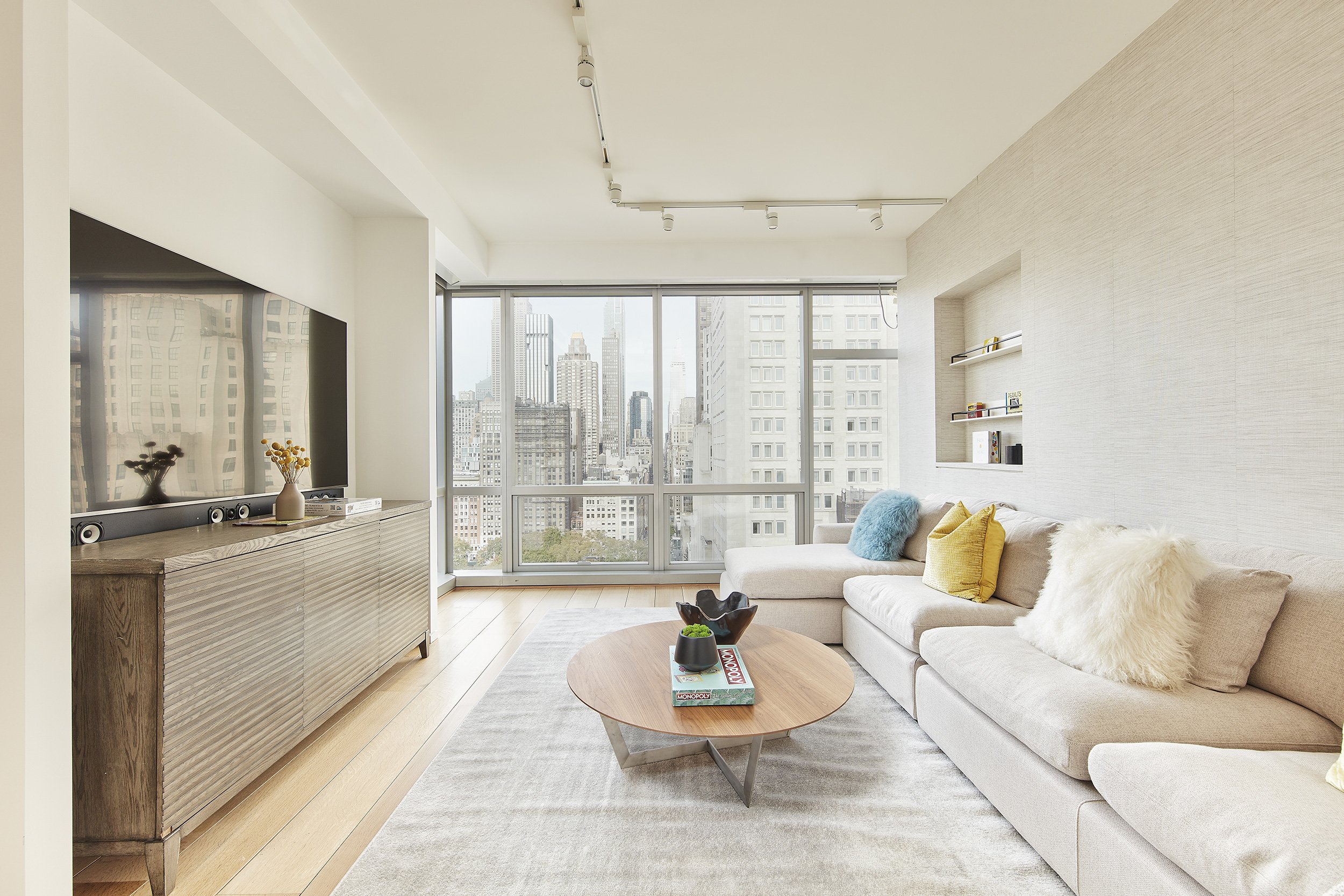 Is staging really worth the investment? 
As Boland puts it, "Every seller wants their property to sell as quickly as possible for the highest price. How a property looks and the list price are the two most important factors that will determine the success of the sale. Staging can play a large role in positioning the property ahead of the competition." 
Julia Hoagland, a broker at Compass, says staging is critical to give buyers a vision. "When buyer focus is transitioned from that of price ("How much of a discount can I get on this deal?") to that of desire ("I want this property no matter what the cost"), sellers win." 
Anecdotally, staging is credited with helping to boost the price—take the Bay Ridge sale, which Spouse says sold for above asking (and was listed for $10,000 more than when it was not staged). 
Sablic says a realistic bump is between 5 and 15 percent, though he admits it's hard to substantiate—it's not like you can easily compare two similar properties, one staged and one not, that are listed in the same market conditions. 
But a 2023 study by the National Association of Realtors showed that 20 percent of agents surveyed said staging increased a home's value by 1 to 5 percent; 14 percent saw an increase of 6 to 10 percent; and 5 percent saw an increase of 11 to 15 percent. Two percent of agents even said that staging resulted in price increases of more than 20 percent.
And in a 2023 national survey by the Real Estate Staging Association, 73 percent of sellers saw a greater-than-7 percent return after investing 1.3 percent of a home's value in staging.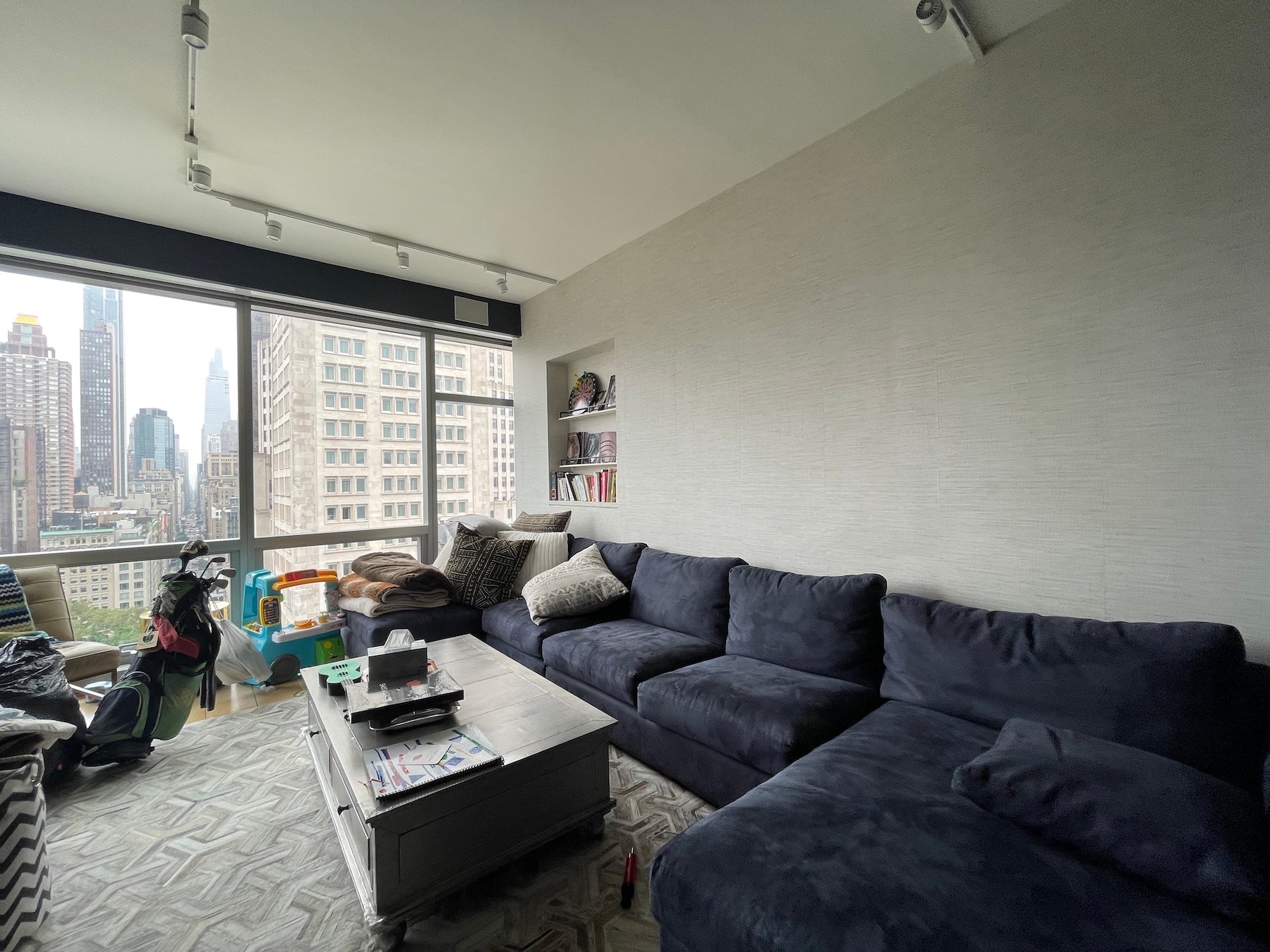 Of course, selling quickly—even if the price stays the same—is also money in your pocket. Hobbs says she recently "turned a no into a yes" by acknowledging that the cost of staging can at first seem daunting but that if you end up having to hold onto the property—and pay the mortgage and maintenance—for one or two (or more) months longer than you anticipated, that will outweigh the cost of staging. 
"That's really the value proposition that convinces most sellers to stage because when you put your property on the market, it's no longer your home, it's a product that will be compared to other properties," Hobbs says. "How does your property stack up?" 
Brick Underground articles occasionally include the expertise of, or information about, advertising partners when relevant to the story. We will never promote an advertiser's product without making the relationship clear to our readers.