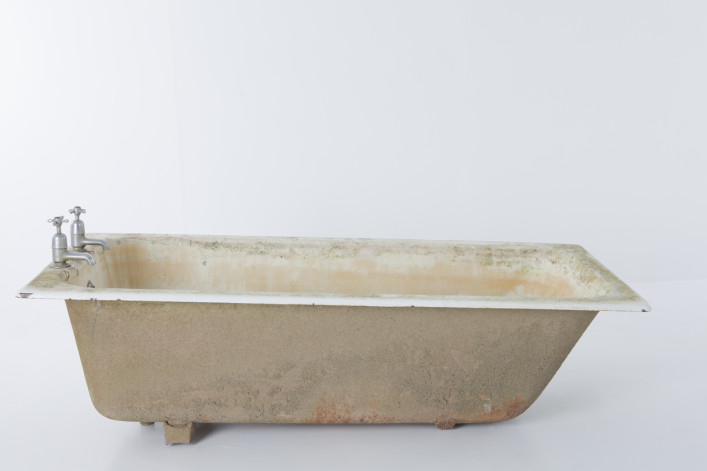 If you've got an old bathtub (or bathroom) and you're investigating your options for giving it an upgrade, you've likely come across the term "reglazing"—also known as refinishing or recoating, which can revive a tired tub or even old bathroom tile.
Why? Because this process, which involves spraying a new topcoat on your existing tub and/or tile, is significantly cheaper, easier, cleaner, and less time-consuming than actually replacing a tub. (Removing a tub and installing a new one can cost thousands, and if you're in an apartment building, it might even require getting your downstairs neighbor involved as it may impact plumbing beyond your apartment.)
"[It's] a great way to make a grimy, stain-ridden bathtub look new again," says Dan DiClerico, HomeAdvisor's smart home strategist and home expert. "Refinishing is also the best option with antique tubs that don't lend themselves to relining. For example, if you have a beautiful clawfoot tub made from heavy cast iron, refinishing is absolutely the way to go. That's why we see it a lot in historic neighborhoods."
HomeAdvisor's True Cost Guide puts the average cost to refinish a bathtub at about $450, while installing a new one runs about $3,000.
What's involved
Reglazing a tub doesn't actually take that long to do. Jimmy White of Staten Island-based Custom Spraying and Reglazing, who has been doing it for more than 30 years and is considered the reglazer to the stars—he worked on Faye Dunaway's and Candace Bergen's bathrooms—says it can be done in a few hours, plus 24 hours of dry time. Note that humidity affects both dry time and how well the topcoat bonds to the surface, so the cool, less-humid seasons of fall or spring provide the best conditions for this type of work.
It's a multi-step process that involves cleaning the tub thoroughly and sanding it to remove any soap scum or other particles, and repairing cracks or worn areas—all of these imperfections will affect the quality and durability of the final finishing coat. Acid is then applied to deglaze the tub and/or tile, followed by a bonding agent or primer, and finally, a urethane topcoat is applied. (Fun fact: You can make it any color you want, so if you've ever wanted a purple bathtub, that dream can be realized.)
"What separates a good job from a not-so-good job is not so much how it looks, it's the prep. The prep is the most important part of the job," says White.
But it's not just about looks. Thorough prep and and cleaning can prevent big headaches down the road. "If the job is not done right it starts to peel," he says.
When tub reglazing goes wrong
Brooklyn resident (and Brick Underground contributor) Donna Airoldi recently had her tub reglazed, and she even scrubbed it before her contractor cleaned it.
"My glazing lasted three weeks before it began to peel from a tiny spot in the center of the tub," she says. She and her contractor agreed to wait until the weather cooled to remedy the situation. "[The problem area] now takes up about a third of the bottom of the tub, because every time the water runs, more comes off," she says.  
It's worth looking into how long a company has been in business and its rating with the Better Business Bureau to get a sense of their track record before commissioning a job.
Leave toxic chemicals to the pros
The toxic fumes released during the process not only make your apartment smell bad, they're dangerous if not dealt with properly. That's perhaps the number one reason trying to DIY it is not advisable (kits are available, but just leave it to the professionals).
"Qualified pros will have all the necessary protective gear, including coveralls and masks with HEPA air filters. They'll also ensure adequate ventilation during the project, if necessary deploying powerful fans with duct extensions to exhaust hazardous vapors to the outdoors," says DeClerico.
White uses a portable fume exhauster, and HVLP, or high-volume, low-pressure sprayers, which produce less overspray. If you're nervous, leaving your apartment for the duration of the job is always an option. (Airoldi's contractor brought a fan and blew air out the bathroom window, and she was home during the job, but didn't find the smell intolerable.) 
Care and longevity
Provided your surface was prepped correctly, you can expect your reglazed tub and/or tile to be good for about seven to 10 years, and the more you take care of it, the longer it will last.
White advises keeping away from cleansers like bleach or even Soft Scrub. "They take the dirt out but also take part of the glaze," he says. 
His go-to is Scrubbing Bubbles. You also want to keep shampoo bottles and other products off the surface, as well as a mat with suction cups. "If you just bought a Mercedes, would you put a rubber mat on the roof?" White asks. (Obviously, no, but you get the idea.)
Brooklyn resident Emily Gilbert had her family's tub and part of the bathroom wall reglazed four-and-a-half years ago (read more about that here), and overall, is pleased with the results.
"We were told when we did it that it only lasts about five years and I'm finding that to be true," she says. "We're starting to see chipped areas...They're more in the tub than on the walls. We do not tread lightly, so I think we are a good example to work off of in terms of durability."
Of the overall aesthetic, particularly the walls, she says: "If you look closely, it's a little weird as you see the indent of the grout lines, but it's all one texture. It took me a little bit to get used to, and while it doesn't look super cool, it's clean and an upgrade from the '90s pink tile for sure."
Brick Underground articles occasionally include the expertise of, or information about, advertising partners when relevant to the story. We will never promote an advertiser's product without making the relationship clear to our readers.