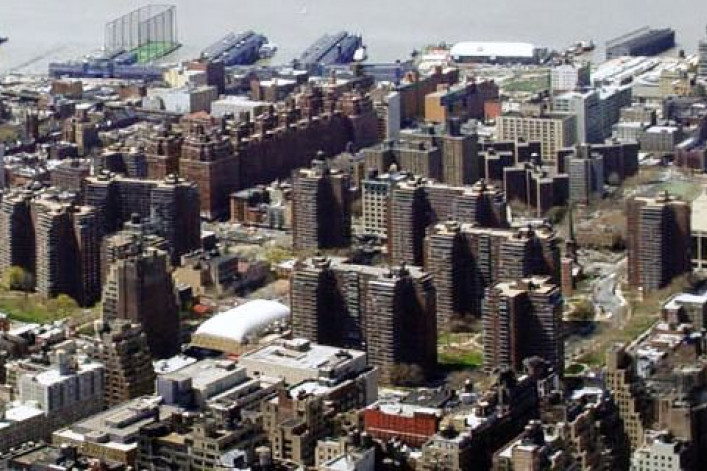 New Yorkers know that when you find a great building, you stay put—which makes the prevalence of NORCs (Naturally Occurring Retirement Communities) not all that surprising. Typically, NORCs are apartment complexes—or occasionally, entire neighborhoods—where residents have "aged in place," meaning they've lived there for decades, well into senior citizenship. The massive Co-Op City complex in the Bronx is one such example; another, Penn South in Manhattan, was the first in the city to have a NORC program, and still does to this day. 
The word NORC is a demographic description, but many NORC communities receive funding from city and state agencies to provide programming for their senior residents. There are currently 45 NORCs offering support services in the five boroughs. Getting a NORC designation in NYC entails submitting a proposal—typically, this is initiated by residents, who then partner with stakeholders who might include building management and healthcare providers—proving that 40 percent of households in a complex are headed by seniors; the building must also demonstrate that its population is above 350, and that residents are primarily low or moderate income. (Some NORCs instead rely on grant money from private foundations, or conduct their own fundraising drives.)
Fredda Vladeck, director of the Aging in Place Initiative at the United Hospital Fund, pioneered the NORC program model back in 1986. She saw a need to develop programming because as a community not built specifically for seniors ages, "it puts some strain on management," she says. "It may put pressure on neighbors to be neighborly beyond, 'Do you need a quart of milk?' That's where services help augment what the neighbors are doing."
Furthermore, she says, the vision for NORCs also included other support programs to stimulate intellect and creativity in seniors. "We know that's a major predictor of the impact on memory," Vladeck says. "As your community narrows and people stay closer to home, it's a challenge to make that community as engaging and stimulating as possible."
Ron Bruno, executive director of Morningside Retirement and Health Services, which serves the Morningside Gardens NORC, says that when a community receives NORC status—and the funds that come with it—it must provide specific healthcare and social services to its constituents. Residents of Morningside Gardens, for instance, have access to a nurse five days a week; social workers conduct home visits, and help seniors communicate with doctors and pay their bills. If an elderly tenant goes to the hospital, NORC staff assists with their discharge.
Bruno says the majority of residents who require such services are over 80, whereas younger people are typically more independent. By the time a person in the apartment complex reaches an age at which they need more assistance, "the NORC has gotten to know that person very well," Bruno says. "It's a familiar face."
The goal of NORCs is to help people remain at home, which is only possible through intensive case management, he says. And in addition to providing oversight of residents' healthcare, NORCs also offer the kinds of social services that help build a sense of togetherness. "There's an advantage to living in an intergenerational community," Bruno says. "For kids, it's nice to have older people around, especially if their grandparents don't live close by."
At Morningside, NORC activities like exercise programs, holiday parties, and movie nights are open to everyone. "People have this sense of idealistic living in a community looking after its older people," Bruno says—plus, the assurance that as they age, they'll be cared for well.
When Jesse Reiswig bought an apartment in a building near Lincoln Center, he didn't know much about NORCs—until he found out he was living in one. "I did get the impression even when looking around at the place that there were a number of elderly people in the building," he says, "but quite frankly, I didn't give it much thought at the time."
He's now lived there for a little over four years, and though he's much younger than many of the tenants, Reiswig recognizes the value of the services available to them. He says the NORC staff have proven to be very attentive to his elderly neighbors, and likes the fact that as a non-senior, he slips under the radar.
That said, he finds the prospect of "aging in place" and ending up in a NORC unappealing. "Still, if I were old, had no one living with me who could tend to me, and were well enough that I could still take care of my most basic needs, I think my NORC would be a pretty good place to live," he says.
On the other hand, he has noticed elderly neighbors who have become feeble and appear to have no company aside from home health care—and "that seems to involve mostly wheeling the elderly woman around while talking on a cell phone," Reiswig says. And on a somewhat morbid note, there's a rapid turnover of apartments in his NORC as residents pass away, which "seems to drive down the market price of apartments in the complex," Reiswig notes.  
Vladeck acknowledges that while the goal of NORC programs is to support older people for as long as possible, "there are individuals and times when it's not possible," she says. "We'll always need nursing homes, and it will always be important for some individuals to be cared for in a home because they can't get the right kinds of support elsewhere."  
Plus, she says, NORCs come and go as demographics shift, and each one is different. With this in mind, the United Hospital Fund developed a blueprint for communities that want to help their residents age in place as safely and successfully as possible. As Vladeck says, "over the last 50 years, there hasn't really been a change in seniors' preferences. They prefer to stay where they are. So we want to rebuild communities so their needs are better served." 
Related:
New York City as the worst place to retire? Not so fast 
One reason you should buy instead of rent: New  York is a great place to grow old in
Brick Underground articles occasionally include the expertise of, or information about, advertising partners when relevant to the story. We will never promote an advertiser's product without making the relationship clear to our readers.