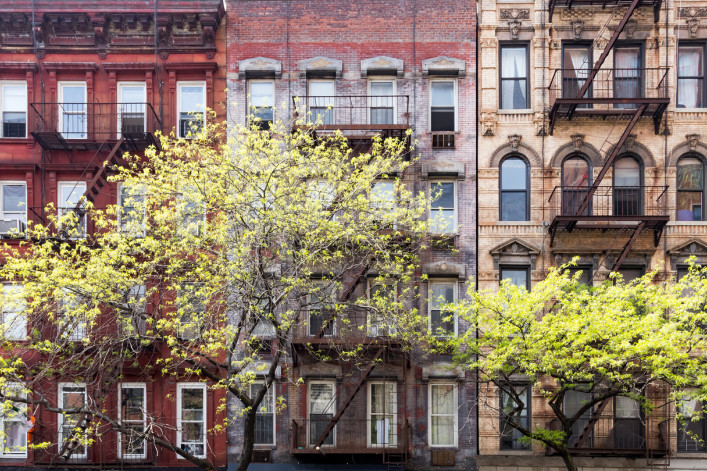 A typical rental broker's fee in New York City is 12-15 percent of a year's total rent, paid when a tenant agrees to lease an apartment the broker has shown them. The steep fee can feel like one last insult after slogging through an arduous apartment search. 
Or you can look at it as compensation to your broker for his or her diligence in finding you a great place to live in one of the most complicated and expensive real estate markets in the world.
However you slice it, the broker fee is difficult, but not impossible to avoid. These days we're seeing an increase in the number of no-fee apartment listings. Not that the broker isn't getting paid—the landlord is covering the cost. When apartments are taking awhile to fill, landlords do this to entice would-be renters. But these concessions are typically offered for more expensive, new development apartments. You're more likely to have to pay a fee for a more affordable apartment, even though you're in the group that can least afford it.
All the more reason to know the ins and outs of the complicated rules and etiquette in NYC. Here is Brick Underground's best advice on broker's fees.
Pro Tip:
To rent an apartment in New York City, most landlords require you to earn an annual salary of at least 40 to 45 times the monthly rent. If you don't—or if you're an international employed person, self-employed, non-employed with assets, retired, or an international student or US student—you'll need to find a guarantor for your lease who earns at least 80 times the monthly rent and lives in New York, New Jersey or Connecticut.  Or you can turn to Insurent Lease Guaranty.  Accepted at more than 9,000 buildings across the city representing over 825,000 apartments, Insurent Lease Guaranty is a quick and easy way to get the apartment you want. Click here to learn more.
Breaking down the numbers
What can you expect in terms of services for your money? Can you negotiate the fee? What does a split commission mean? A veteran broker breaks it all down and explains why New York City broker fees are so high.
Sometimes paying a broker's fee doesn't seem fair
Here's a common question: Why do you have to pay a broker's fee when all the broker did was email you a listing? Typically the terms of a broker fee agreement will state that the agent is entitled to a commission if you rent any apartment the broker introduced you to, and that includes sending you an email. If you have questions, it's best to ask them before you sign any agreement, and be sure to read why you have to pay a broker's fee.
There are exceptions to the rule
Here's an interesting scenario: You're working with a broker who shows you an apartment that's out of your price range. Later, the building's management company reaches out to you directly to let you know there's another apartment available in your price range and you take it. Is your broker entitled to a fee even though he didn't show you the apartment you're taking?
Hear it from the other side
In their defense, brokers explain that they walk their clients through the rent process and weed out disreputable landlords and management companies, and that effort, among other reasons, it something they should be compensated for. Here 6 agents explain why they're worth the fee.
Best time for negotiating the broker fee
If an apartment has been on the market for awhile, or there's less competition, such as in the current market, brokers can be open to negotiating their fees. Winter, when there are fewer people out apartment hunting (and also fewer apartments on the market) can be another prime time to ask for a discount. Check out what our rent coach had to say about when brokers are more willing to negotiate their fees.
Pro Tip:
Looking for the perfect apartment while saving money on the broker's fee?  Put your search into the capable hands of The Agency, a tech-savvy real estate brokerage that's helped hundreds of Brick Underground readers find their ideal NYC apartments. Smart, efficient, and a delight to deal with, the agents at The Agency will charge a broker's fee of 10 percent of a year's rent on open listings instead of the usual 12 to 15 percent if you sign up here
When the management company collects the fee
It might feel uncomfortable when the property manager expects a commission, but it is common for them to be licensed real estate salespeople and collect a fee. But they need to be properly licensed, and you should expect to pay the fee when you sign the lease, not before. Read on for why sometimes you really do have to pay a broker fee to the management company.
Know the terms upfront
Don't assume there's no broker's fee if the topic doesn't come up, but do know that in order for a broker to collect a fee, there needs to be an agreement signed by the future tenant and the agent that includes a description of the fee. Here's what happened when a broker didn't say there was a fee until after the lease was signed.
Brick Underground articles occasionally include the expertise of, or information about, advertising partners when relevant to the story. We will never promote an advertiser's product without making the relationship clear to our readers.