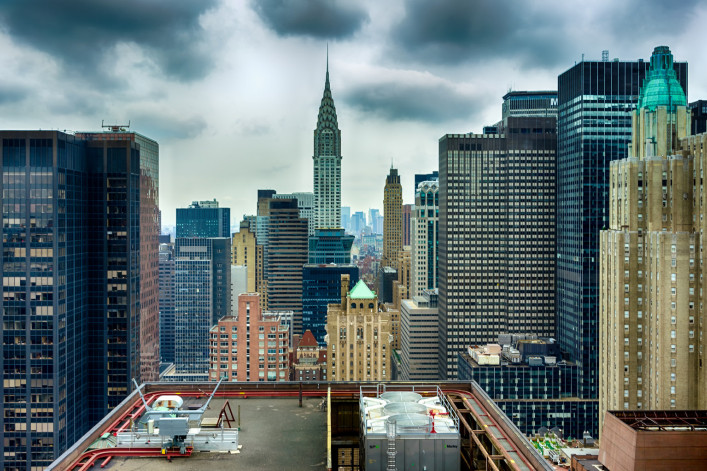 If you're a renter about to embark on an apartment search in New York City, you're entering some choppy waters. More landlords than ever are offering a break on rent to new renters in Brooklyn and northwest Queens, but at the same time there's a severe lack of inventory for lower-priced apartments.
That's according to Douglas Elliman's April rental market report, which shows that about half of all apartments in Brooklyn, Manhattan, and Queens are renting with some sort of concession, i.e. the landlord offering a month or a few months' rent free, and/or offering to pay the broker's fee. The deals are landlords' way of trying to fill higher-priced apartments without actually dropping rents, but some rent decline may be inevitable, according to the report's author.
Concessions "clearly have the potential to rise even as we transition to a stronger rental season, but at some point, it doesn't seem to matter," says Jonathan Miller, president and CEO of Miller Samuel, a real estate appraisal and consulting firm and author of the report. "Overall rental price trends are sliding in what should be called a 'slow grind.'"
Rents have already actually dipped in all three areas covered by the report. But that's if you can find an apartment: listing inventory is down over 13 percent in all three boroughs as well.
Still, Miller calls that figure "unreliable" as an indicator, because lots of new apartments have come on the market in recent years, so perhaps some have filled up leading into this spring, but also people aren't exactly lining up to rent at the price point owners are asking for, hence the concessions. Lower-rent apartments, meanwhile, tend to always fill up the fastest, with the fewest breaks on rent.
Miller explains that there are a couple of reasons why landlords offer concessions, as opposed to a straight rent discount.
"Landlords that are subjected to rent stabilization laws are trying to keep the 'legal rent' as high as possible, and that is calculated off the 'face rent,'" which is the rent before concessions, he says. Also, "Lenders that provided financing want to see a minimum level of rents maintained to protect their loan as some sort of base level. Concessions don't seem to be factored in or disclosed."
Read on for more details from the report.
Manhattan
In April, the percentage of new rental transactions that come with rent concessions was 44.3 percent, up from 28.6 percent. That's the third biggest share in seven and half years.
The average size of the concession is holding steady at 1.3 percent months of free rent. Median rents for apartments where landlords offer concessions fell 2.2 percent, to $3,236.
Brooklyn
Landlords are increasingly offering deals in Brooklyn. The percentage of apartment rentals with concessions hit the highest share for the fifth consecutive month, 51 percent, up from 14.7 percent a year ago.
The average concession was 1.8 months of free rent, up from 1.4 months a year ago. The median net effective rent, which includes concessions, declined 2.9 percent to $2,686.
Queens
The northwest part of Queens also saw a new record set for the proportion of new rental deals with concessions—65 percent of apartment transactions, up from 46 percent last year, with the average size of the concession at 1.6 months, up from one month.
Median rents for apartments with concessions were down 11.7 percent, to $2,992.
Also noteworthy in Queens: new development apartments make up a greater share of rentals, 47.4 percent, up from 35.4 percent a year ago, as new projects like The Forge in Long Island City open their doors.
 
Brick Underground articles occasionally include the expertise of, or information about, advertising partners when relevant to the story. We will never promote an advertiser's product without making the relationship clear to our readers.