Rent
If you recently paid more than $20 for a rental application fee, these tips will help you get a refund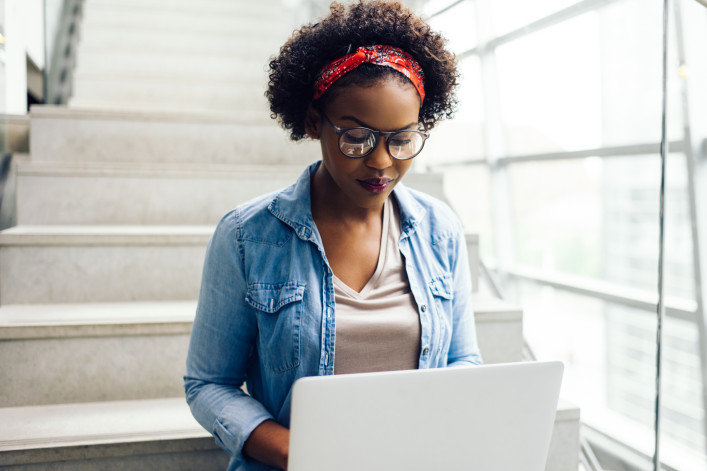 Landmark rent reforms earlier this year capped the application fee for a rental apartment in NYC to $20. If you've been apartment hunting since June and paid more than $20 for an application fee to a landlord, leasing agent, or broker, then you may be entitled to a refund.
That's what 23-year-old Jo Ellen Pellman figured out when she tallied up how much she had spent in multiple application fees after searching for an apartment over the summer. She tells  The New York Times she paid $1,200 in dubious fees. With some well-crafted emails, she managed to get much of it paid back to her. 
A renter's rights
If you think you've been overcharged it's worth spending some time to see if you're entitled to a rebate. Keep in mind the $20 application fee is separate from a broker fee and covers the cost of a background or credit check.
Confusion about this fee recently prompted the Department of State to issue guidelines confirming this is the only fee a landlord, leasing agent, or broker can charge a tenant as an application fee. There's one exception: If you end up renting in a co-op or condo building, you may be asked to pay a fee to the board, which will likely be more than $20 and is entirely legal. 
The law goes further to say the $20 application fee for a rental is only valid if the potential tenant is given a receipt and copies of the paperwork (which can be digital files) so if you don't get these you shouldn't be charged. If you do the legwork yourself and provide current copies of a background or credit check, issued within the last 30 days, the fee must be waived. 
It is possible to use the background or credit check documents paid for as part of one application fee to waive the fee for another, if the documents are issued within the required 30-day time frame. That can be a real benefit if you find yourself in a competitive market, paying multiple application fees, as Pellman did. However, in a competitive market, most renters don't have time to wait to receive the files before applying for another apartment.
Gary Malin, president of the brokerage firm, Citi Habitats, which complies with the new law, says he understands the frustration surrounding application fees. "It's just like someone applying to college, you send in multiple applications. You have to pay all the costs but you don't know until after the fact whether you are getting in." 
What to include in your correspondence
In Pellman's letters to the brokerage firms she claims overcharged her, she shows knowledge of the law, states how much she was overcharged, references reporters she is in contact with at the New York Times and The City. She also mentions the negative press the brokerage will get by acting unlawfully and includes quotes from lawmakers on the legislation. She posted a sample letter based on her own correspondence as a Google Doc to her Instagram account.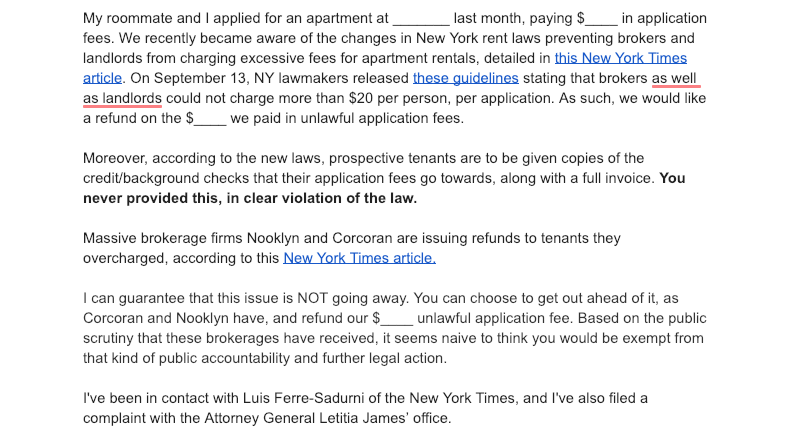 Ellen Davidson, a lawyer with NYC Legal Aid, says that if you're writing a letter looking for a refund it makes sense to include: a reference to the law, a reference to the Department of State guidance, the amount you paid and proof of payment.
In fact, the Department of State provides a form you can download to make a formal complaint against a broker or salesperson, so you could also point out that you intend to file an official complaint in this way. 
Brokers remain unhappy
Meanwhile, brokers and landlords say the $20 cap means they are not being fairly compensated for their work. Jordan Barowitz, vice president of public affairs at The Durst Organization, a major firm that owns and manages residential buildings in NYC, is compliant with the law but adds the $20 fee "does not come close to covering the costs of a credit, criminal, sex-offender, or background check, which is about $100, not including the internal costs of processing the application." 
Likewise, Malin asks, "Why should a broker or owner be responsible for covering this cost for someone who is voluntarily applying to live somewhere?" He says the cap is arbitrary and wasn't properly thought through.
Brick Underground articles occasionally include the expertise of, or information about, advertising partners when relevant to the story. We will never promote an advertiser's product without making the relationship clear to our readers.