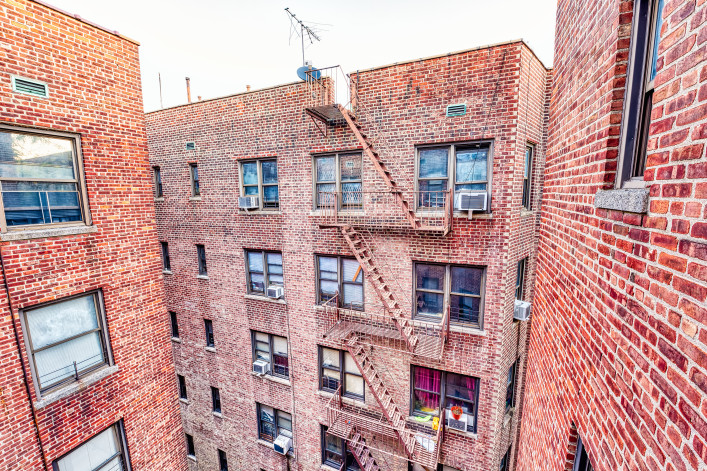 My boyfriend and I thought we mastered living in a small studio with our two hyperactive cats, but that was before the coronavirus pandemic. Now that we've been sheltering-in-place for two months in a 500-square-foot apartment—I can officially say we're experts on co-habitating in a small space.
At first, I thought it would be nice to spend more quality time together, since I work full time and my boyfriend bounces between grad school and multiple freelance jobs. And, yes, it has been nice (at times), but I have never wanted to live in a one bedroom more.
Of course, living in a studio means there's no way for one of us to be isolated if sick—and that's what happened. I came down with a cough, headaches, chills, and stomach issues. I wasn't sick enough to go to the hospital, but my doctor said to assume that I had the coronavirus, and that my boyfriend would get it too. It wasn't long before he showed symptoms and we both lost our sense of smell and taste. It lasted just over two weeks, and because we both had very low energy, not having much space to move around wasn't much of a problem.
Now we're healthy, and working, eating, sleeping, and watching TV, all in the same small place, is rough. I often sit on one side of the couch or at the dining table to work, then switch to the opposite side of the couch to watch "The View" when my day ends. It's amazing how the change of scenery of just a couple of feet can do you good these days.
---
Click here for more of Brick Underground's coronavirus coverage.
---
I'm still working, so I maintain a normal(ish) schedule. I set an alarm everyday, shower (sometimes longer than usual since it's the only privacy I get right now), hairspray my unruly hair, and start my day. But, my boyfriend only has grad school work right now, so he sleeps in until 10 or 11 a.m. most days.
That's where technology saves us. I set our Hue lights to a cool blue tone to help me concentrate on work while my boyfriend sleeps. I keep the brightness at 80 percent, and when he wakes up, I increase them to 100 percent. It's like a technological sunrise—the closest we get to natural light these days because our only two windows bring in very little light.
When he's up late doing homework (or playing "The Sims"), he uses a dark purple or blue light so I can get my much-needed beauty sleep. Who knew smart light bulbs could be a life saver?
To stay sane, my friends and I have FaceTime Happy Hour at least once a week. Occasionally, our rowdy conversations interrupt my boyfriend's family Zoom prayer circles going on at the same time. Thank god for Airpods.
We're learning to schedule around each other. At first, I would lock myself in the bathroom if I needed privacy for an important call. Now, my boyfriend heads to the shower while I make my calls, so I'm not talking to someone while sitting on the pot.
We've always cooked, but we're using our tiny kitchen a lot more these days. To make it more functional during the quarantine and create a space for my KitchenAid mixer, we moved some things from the counter into an underused drawer. We also got an extension cord so that we can use our Keurig without having to unplug our toaster oven. It's the simple things that make life smoother right now.
Our studio has a decent amount of storage, but you can never have enough. So, we're using our dining chairs to hold the cases of Pellegrino and La Croix that my mom sent us (at least we're well-hydrated during these strange times). It's not like we'll be hosting a dinner party soon anyway. And, we've tossed out some clothes and other things to make room for our cats' supplies and our toilet paper.
Our lease ends in July, but since my boyfriend is out of work and our rent is cheap, it makes sense to renew during these uncertain times. I don't think I could move during a pandemic anyway—I have too much anxiety these days. I can barely go to the grocery store without losing it because I hate wearing a face mask and some people just don't get social distancing. 
We thought briefly about finding a short-term lease somewhere outside of the city, so we could escape the insanely noisy kid upstairs and get more fresh air (and space). But, that's only wishful thinking—we can't afford the areas we like. And my boyfriend needs to be close to the city in case he gets work. So we will stay here with our two cats, smart light bulbs, and extension cords—and make the best of sharing a very small space.
Brick Underground articles occasionally include the expertise of, or information about, advertising partners when relevant to the story. We will never promote an advertiser's product without making the relationship clear to our readers.