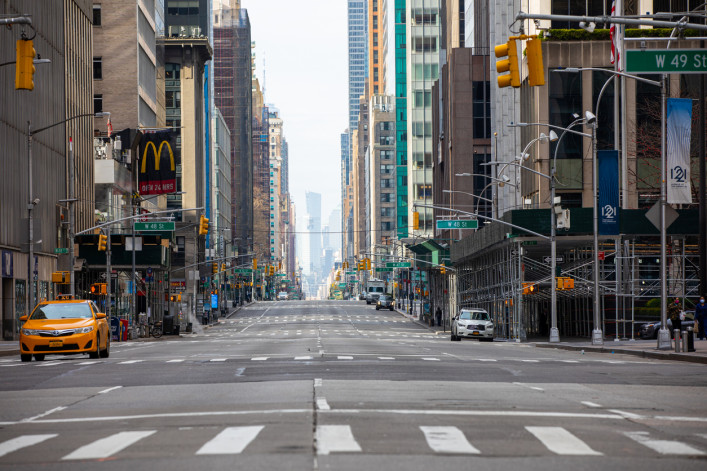 It's much harder for New Yorkers to find roommates in the coronavirus pandemic. Molly Wareham, who asked that we use a pseudonym, is stuck—her roommate left, her lease is up, and her landlord stopped responding. Wareham wants to stay in her Manhattan two bedroom but can only pay half the rent. Here's her story.
It's been a rollercoaster. My roommate decided months ago to relocate to D.C. for her job. At the time it wasn't a problem to find someone to replace her. When March rolled around, two months prior to my lease renewal, I began looking for someone to share with, but by the second week of March, things came to a screeching halt. 
People started getting really concerned [about the impact of the pandemic]. A lot of people do not want to sign a lease any time soon because they want to stay with family or are concerned about their job. People don't want to sign a lease if they don't know if they are going to have a job. So those safety and financial decisions are two challenges that have really affected my ability to find a roommate.
---
Editor's Note: Brick Underground's Inside Stories features first-person accounts of dramatic, real-life New York City real estate experiences. Have a story to share? Drop us an email. We respect all requests for anonymity. Click here for more of Brick Underground's coronavirus coverage.
---
I am still seeking a roommate but my hands are really tied. People are scared. They don't want to move. Anyone who moves right now is really moving out of necessity. When my roommate moved out, it was intense. I really love my home and don't want to move. [The apartment] is sunlit and quiet. I do educational videos, and the lighting is probably the best I've seen. I can't imagine finding a better situation. I also feel right now it's more important than ever to feel secure and "home" means a lot more than it ever has.
I reached out to my landlord two weeks before the end of the lease to say that I've been actively seeking a replacement and that I want to stay in my home. I'm very happy in the apartment and hope we can work something out. I told my landlord, "I'm happy to pay my half of the rent and I'm happy to work with you." I got an acknowledgment of my email from the property manager but have not heard a peep since. 
I have already sent my rent check for May in the mail and I've been reading up on my rights as a tenant and feel confident they could not evict me within 90 days so I will continue to pay my portion of the rent but I have not signed a new lease. 
My best leads for a roommate have been friends who I have known through [co-working space] The Wing or through Facebook. I would rather sign a lease but I can't manage the full rent on my own. I am keen to find a roommate and stay. 
The same day my roommate moved out, there were two other apartments where people were moving out at the same time. The building owner has a lot of properties. Maybe they are looking to wait and see before they take up a formal position. I would be glad to continue to pay what I'm paying and move into a one bedroom. I told the owner that I'm happy to explore a way to work together but I'm not sure what more I can do. 
Brick Underground articles occasionally include the expertise of, or information about, advertising partners when relevant to the story. We will never promote an advertiser's product without making the relationship clear to our readers.