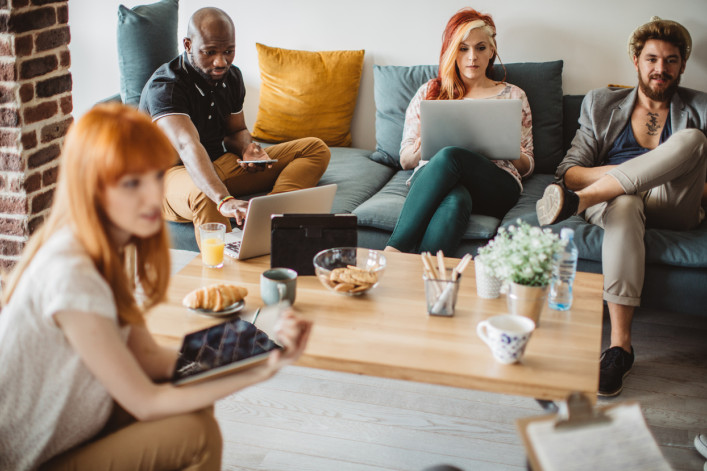 One of the rites of passage of being a New York City resident is living with someone else, and we don't mean your significant other. Unless you're well-to-do, or really lucky, having a roommate at some point is pretty much an inevitable part of life in the big city.
Before you begin your search for the best person to share your space, check out our collected advice on how to find the perfect roommate. 
Make the most of apartment-hunting resources
Don't go into this important phase of living in New York unprepared. There is no shortage of online tools and apps to help you find a match. To showcase the most useful, we rounded up the 13 best websites for finding a roommate in NYC.
Be sure to ask the right questions
Living with someone is different from being that person's friend. Vet your candidates carefully, looking beyond first impressions, with our 20 best questions to ask potential roommates.
Know what you want
It's important to be clear on what "ideal roommate" means to you, and to be on the lookout for any red flags, like being late for the interview. We talked to two clinical psychologists with real estate backgrounds about how to pick the right roommate, and lay the groundwork for domestic harmony.
Consider applicants' potential downsides
Some types of roommates have the potential to be more problematic than others, like couples or pet owners. Consider this list of 5 roommates to avoid. 
Learn from the experience of others.
Heed the wisdom of those who have been to the roommate rodeo many, many times. Here's advice from someone who has found 17 roommates in 11 years.
Be a savvy Craigslister
If you're going the Craigslist route for filling a room or seeking one, note our best practices. Here's how to find a room (and a roommate) on Craigslist—and avoid the freaks
Consider a novel approach
Sometimes you have to think outside the box. "Speed-roommating," the real estate equivalent of trying to find your soulmate in a hurry, is one route. Another New Yorker tried to kill two particularly elusive birds with one stone and took out and ad seeking a roommate/live-in boyfriend. 
Be a healthy skeptic 
You don't have to be tin-foil-hat paranoid, reality/gut check your dealings with people whether you're seeking a spot or looking to fill one. Here are 8 ways to avoid roommate scams in NYC.
If you've found the person but not the place
First off, congrats! Now read our 5-step guide to renting an NYC apartment with roommates. And good luck!
Brick Underground articles occasionally include the expertise of, or information about, advertising partners when relevant to the story. We will never promote an advertiser's product without making the relationship clear to our readers.