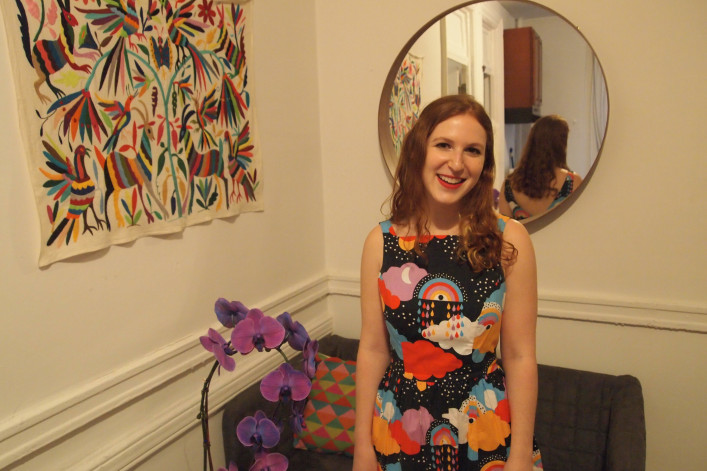 Dating and apartment hunting in New York City have become something on the order of Olympian contests, and they have a lot in common, if you think about it. New York has a large reserve of options, as far as both apartments and potential dates go, especially if you're willing to cross borough lines. You can download apps that help you navigate the landscape, of love and of lofted bedrooms, or third-party fixers will take your money, promising to find you the perfect setup. And unless you were born rich and powerful, the most conventionally desirable options are probably out of your reach.
But what if you combined the searches?
Casey Schneider decided to give it a try. The 28-year-old toy designer was tired of the dating scene and the endless swiping of Tinder, while also growing frustrated by the tiny two-bedroom apartment with no living room that she shared with a roommate in Williamsburg. She went to Craigslist earlier this month and posted an ad seeking the ultimate double commitment:
"LOOKING FOR A BOYFRIEND FOR IMMEDIATE MOVE IN," the subject line reads.
She didn't include a selfie, but described herself as a "cute, petite, red head and I wear a lot of dresses."
"I'm ready to take the next step and get my own place," the ad says. "I want to settle down and buy really cool dishes and curtains. I want to put my hand soap in a separate container than the plastic one it comes in. I have a job and enough money to regularly reach the minimum on seamless —just not enough to live alone."
The ad was borne out of her frustrations with the dating scene in the city. She moved here three years ago from New Orleans, her hometown, for a job. She was quickly shocked by the busyness of life in the city and the fickle nature of men here.
The dating scene was overwhelming, so she figured she would offer something no one else is. The ad is an end-run around casual hookups toward straight commitment. She knows she wants to have a family some day, and is ready to settle down with someone, but New York has given her her first extended bout of singledom since she was 16.
"It is really hard to settle into a real apartment and a real relationship. Everyone is so career-driven and doing a million things," she tells me over lunch at a beer hall in Fort Greene. "You aren't doing the regular things that an adult should be doing."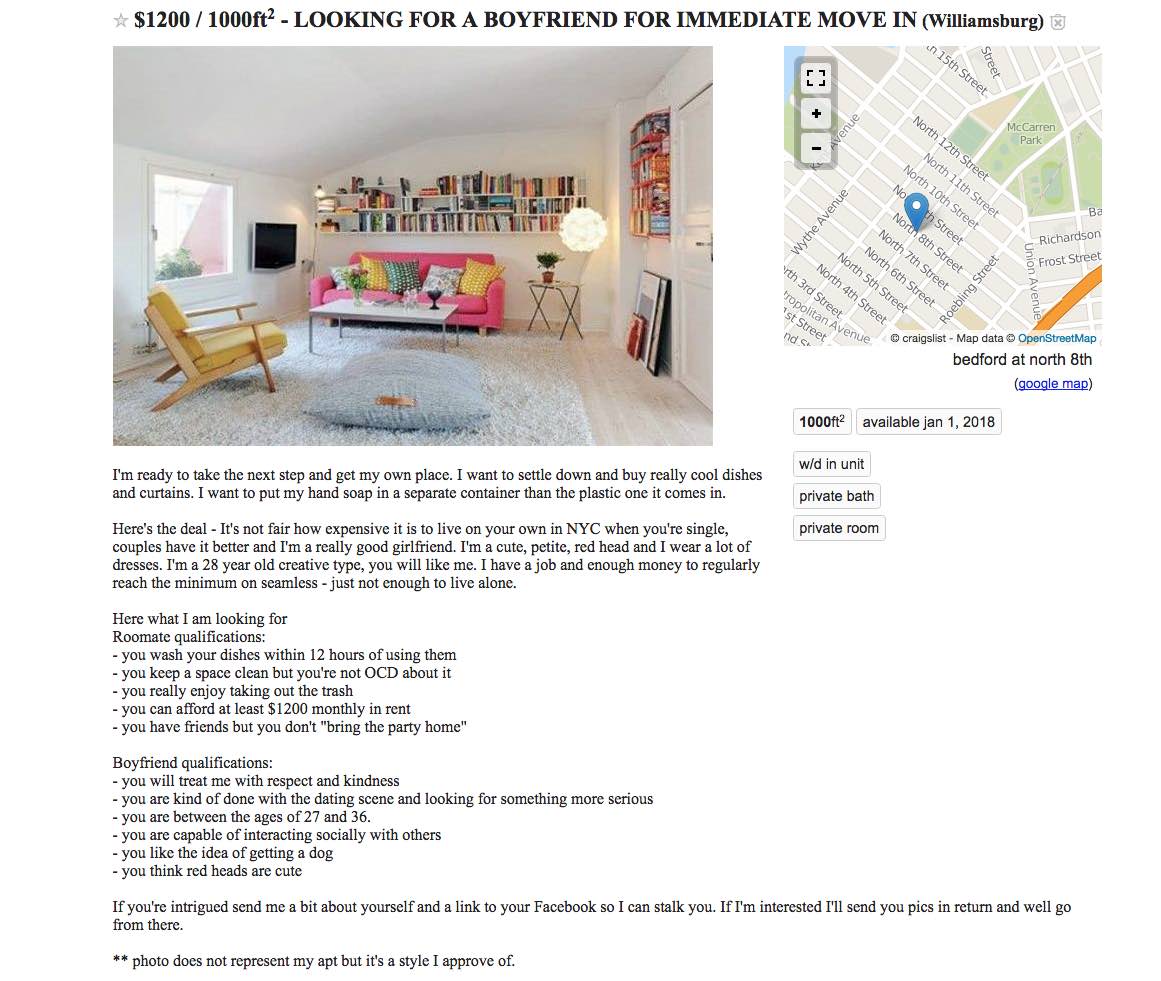 The ad is exaggerated for effect: she's not actually looking for a potential boyfriend to move in right away. Her lease is up in July so she's looking for someone to start dating now who is serious about commitment and would be ready to move in with her in a few months.
"I feel like six months is enough to know that it's real," she says. "I don't think living with people should be such a heavy thing. If you live with someone [and you don't like it], you move out. It's not the end of the world. You're definitely financially better off cohabitating."
Schneider's gambit is a risky one, but she's not alone in thinking she could fix her situation by trying to tackle these two fundamental New York problems at once.
The number of people who are living together but not married is on the rise in the United States: about 18 million adults cohabited with their romantic partners in 2016, up from 14 million in 2007, according to the Pew Research Center. Roughly half of those people were younger than 35 years old. The data don't drill down to just New York City, but it's easy to imagine the rates of cohabitation are higher here. Once couples start spending all their nights together, not moving in together can seem like a waste of a perfectly good rent payment. Also, New York being a capital for lawyers as well as lonely hearts, cohabitation prenups are now a thing.
The question of when to move in together is something lots of couples ask Manhattan relationship therapist Meredith Shirey. She cautions that the allure of saving rent money can often blind partners to problems in their relationship.
"I try to get people to realize on their own that maybe doing this out of convenience is not a good idea," she says. "You're not giving yourself time and space to process what this change is going to mean. It's a step down from basically being married."
Couples who move into a big, suburban house might have better odds than cramped New Yorkers, Shirey says.
"When people outside of New York City move in together, it might not be so big a deal to establish a safe space and a space that's solely yours," she says.
She encourages couples in New York to at least look for a one-bedroom place, so they can shut a door for a small amount of privacy. Some couples think that a good real estate trumps all, and that even if they break up they can keep living together. But she warns that emotions have a habit of sneaking back into even the best real estate deals.
Schneider's job pays her enough to cover her $1,150 share of the rent on the rent-stabilized apartment in Williamsburg, but she doesn't feel like she's getting much for it. She described the apartment, where the shower is so small she can't extend her arms fully in either direction, as like "dorm life."
"The idea of someone coming over and someone having to sit on your bed seems very young to me," she says. "It's something that's so typical here."
She's open to moving a partner into her current apartment, or ideally, moving into a new place with more space around the same price point.
For her, the fast track to adulthood lies on the other end of that Craigslist ad, if she finds her adult starter pack, that is.
She's actually gotten responses from promising people, rather than the full-on flood of creeps one might expect. Since posting the ad on Dec. 10th, she's received about 16 messages. Only one was a dick pic, from a couple looking for a third, a whole other ballgame as far as cohabitation goes. She's responded to a few of the other messages and started back-and-forth conversations, but she hasn't gotten an official date, or roommate, yet.
One email with the subject line "to future gf" read: "Your CL post legit made me lol. I normally wouldn't respond to something like this... however i do I have a thing for red heads.. williamsburg, not paying $10k for rent, etc etc."
Another read: "Dear cute/petite/redhead, I have to say that this might be the best apartment ad ever written. It's not only intriguing but BOLD. I don't have Facebook so you can't stalk me, sorry. Good luck with the boyfriend search."
One person emailed to say her ad was amazing, but that he lived in Nashville; maybe she had single friends there she could set him up with?
One respondent from Connecticut was into the dating part but not the living together. He emailed: "hey ur ad sounds great and I'm a fit but …I don't have any money right now. Maybe we can still be friends?"
Shirley offered Schneider some advice: take the ad down. After all, she points out, she might not even save money in the long run.
"Ask yourself, 'If this doesn't work out and I have to move out and find roommates and replace my own furniture,' did you really save anything?" she says. "Is it worth the emotional toll it's going to take moving out?"
If Schneider doesn't meet her soulmate through the ad, she'll return to the old dating scene, using apps and trying to meet people doing improv. She's aware that her expectations for a long-term relationship and finding someone to "buy really cool dishes and curtains" with may just be incompatible with dating in New York City.
"You have to treat dating like a job," she says. "You have to be aggressive about it without being an aggressive girl, which I've learned is not attractive to people."
It's easy to look at New York as a Peter Pan city, where settling down doesn't offer as much fun as exploring the endless supply of diversions around every corner. But the domestic quest clearly works for some people. While we're talking at the beer hall, a group of parents with babies enters to take over three tables in the back. Schneider eyes them keenly.
"I mean," Schneider says, "where did all these people meet?"
Tim Donnelly is a Brooklyn-based freelance writer. Find him on Twitter: @timdonnelly. 
Brick Underground articles occasionally include the expertise of, or information about, advertising partners when relevant to the story. We will never promote an advertiser's product without making the relationship clear to our readers.