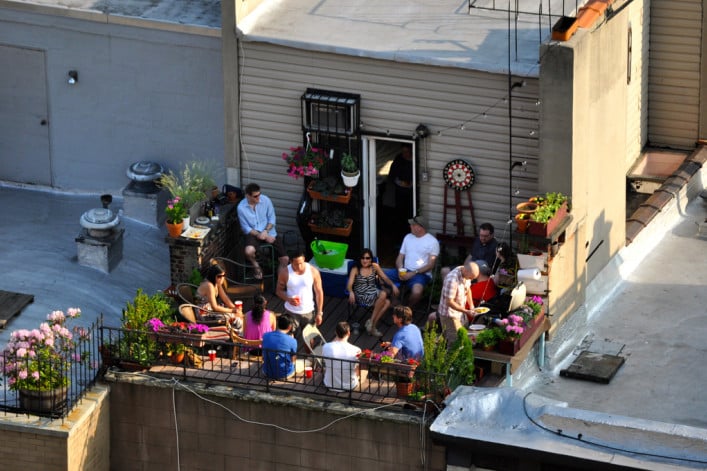 If you're new to the city and not making a huge salary, you're probably looking for an apartment with roommates who can help bear the burden of sky-high rents (and, hopefully, keep you company and enrich your living experience, too).
In a typical scenario, real estate agent Adam Mariucci of Nest Seekers says he'll get a call from someone who wants to find his or her own Manhattan studio for $1,700. Such options being few and far between, he suggests they share a flex- or convertible one-bedroom—which tend to be cheaper than full one-bedrooms but have room to carve out an extra room—in a building loaded with amenities for about the same rent each person.
[Note: This post was first published in March 2013 and was updated in May 2017.]
Real estate agent Rory Bolger of Corcoran will occasionally connect his clients with an apartment and roomates at once. In fact, he recently found a three-bedroom penthouse in Midtown and put three of his clients together as roommates there. Their total rent was $6,250. 
If it's your first time to the roommate rodeo, here are a few pointers to keep in mind.
1. Managing your search with roommates
When two, three, or four people are looking for an apartment to share, there are lots of moving parts to coordinate. That's why it may be best for one person to take the lead on the actual search and be the one who talks to the broker if you are using one. And because decent apartments tend to rent with the speed of light, all roommates should be present at showings unless they've delegated decision-making power—along with all essential application information, including employment information and verification letters, prior landlord contact information or references, several recent monthly bank statements, last two years' tax returns, and photo IDs.
If you don't have a potential roommate lined up yet—or need to recruit another to make the numbers work—you might try dropping in on a Speed Roommating evening which takes place every week, alternating between Williamsburg and Union Square.  The free mixer events are hosted by SpareRoom.com, a website that helps people find or advertise shares in existing apartment. 
"Most people come looking for a room, but as there are always more people looking than rooms available, people will often hit it off and decide to rent an apartment together," says Matt Hutchinson of SpareRoom.com. "Sometimes they'll come back to the next event looking for a third or fourth roommate."
"When you live with roommates, the people you share with are every bit as important as the apartment - if not more so," says Hutchinson. He advises:  "Don't spend all your time focused on the space, make sure you get the mix of people right too. That's the key to a long and happy apartment share."
There are also several websites dedicated to helping connect you with a roommate. For a list, read here.
2. How to find the flex-friendly buildings
Not all buildings are "flex-friendly." Some landlords and management companies are opposed to the extra wear and tear on both the apartment and—when repeated on a widespread scale—on the building itself that occurs when, say, four adults squeeze into an apartment that's big enough for a couple. Others are wary of their building taking on a post-college dorm atmosphere.
If the listing description says "shares welcome," that's a good sign. Another indication of whether a building looks favorably on roommates is its policy on the use of temporary walls to subdivide and reconfigure a space. While pressurized walls are much less prevalent than they were many years ago—a fire in an apartment divided by pressurized walls led to fatalaties, which led the Department of Buildings to crack down on them —  and landlords generally prefer bookshelf walls or other less-permanent options, there are still lots of management companies and landlords that allow room dividers in some way or another.
Neighborhood-wise, the Financial District is among those with a more roommate-friendly reputation. Specific buildings there include 63 and 67 Wall Street and 100 Maiden Lane and 20 Exchange, 200 Water, says Mariucci of Nest Seekers. "Murray Hill,  Kips Bay, and Midtown West are also really popular," he says. Large buildings like these also often offer concessions like free months' rent, and owner-paid broker fees.
In general, "high-rises are often more amenable to sharing than walk-ups. That said, certain management companies, like Glenwood, are out of the picture because they won't allow temporary walls," says Phil Lang, the co-founder of TripleMint, an upstart, tech-savvy real estate brokerage (and Brick Underground partner) started by Lang and fellow Yale graduate David Walker in response to the post-graduate apartment search travails of their own classmates. (Brick Undergrounders can sign up here to take advantage of TripleMint's corporate relocation rate on rental broker fees—typically around 10 percent of a year's rent versus the standard 12 to 15 percent.) 
On the flip side,  Mariucci points out, some management companies, like the Moinian Group, which owns Ocean/1 West and 90 Washington among others, are more willing to allow shares across their portfolio of buildings.
But management companies' policies can also differ from building to building, says Lang. For example, he says, Brodsky manages 420 West 42nd Street, an apartment building in Midtown that's known for shares. Other buildings they have are not as open to them.
Amenities can become "an extension of your home," says Citi Habitats' Bolger, so large buildings with gyms and lounges can provide much-needed escapes for people living with roommates.
In addition to the Financial District, the Murray Hill/Gramercy areas are among the best to find amenity-rich, roommate-friendly doorman buildings, says Lang, whose agents, like other experienced rental brokers, curate lists of management companies and buildings amenable to shares. 
3. Finding the right layout—and figuring out the "wall thing"
Some layouts are more flex-friendly than others, so it's important to understand the differences. A junior-one-bedroom is a studio with a sleeping alcove. A junior-4 is a one-bedroom plus a dining area that can be converted into a makeshift bedroom with a temporary wall. A flex- or "convertible"-two-bedroom has enough space somewhere to carve out an extra bedroom with a temporary wall—usually in the living room.  A 'true' two-bedroom has two distinct separate bedrooms that require no temporary wall alchemy.  
As for old-fashioned "railroad" style apartments, which can be among the most affordable as they're typically found in modest tenement-style walk-up buildings, keep in mind that you typically have to walk through one of the bedrooms to get to the bathroom so privacy isn't great.
Once you've found the flex or convertible space you want, the rules and policies governing how you can subdivide have gotten trickier ever since the city began aggressively enforcing a rule requiring approval from the buildings department for temporary walls. As a result, temporary walls (also known as "pressurized" walls) that stretch from floor to ceiling and side to side and include a door (or even fancy French doors and/or windows) may not be permitted.
Instead, you may find that the dividing "wall" can only go up to within one foot of the ceiling, or that you may need to use a bookcase or piece of furniture as a divider. Many pressurized wall companies now make bookshelf walls too. 
Keep in mind that only the management company can give permission for a true floor-to-ceiling wall, so do not rely simply on your broker's word for this; your agent may be misinformed or, if he or she is unscrupulous, intentionally misleading you. Rules vary from building to building.
"Some of the older high-rise buildings are more amenable to walls," says TripleMint's Lang. "These buildings need to do things to compete with the newer buildings that are filled with incredible amenities, and allowing shares is one way to compete."
4. Income requirements and guarantors
Most landlords require that renters earn an annual income of at least 40 times the monthly rent. On a $3,000/month apartment, for instance, your total annual income will need to be in the $120,000 range. Usually, roommates are allowed to combine their incomes to satisfy the requirement.
Here's the rub: If you fall short, most landlords will accept only one guarantor to be responsible for the timely payment of the rent. So if there are four roommates, a single guarantor (who lives in the tri-state area) must be found who is willing to guarantee the rent payments of all roommates—and whose annual income is 80 times the monthly rent.  
If you can't find a guarantor willing or able to do that, you may be able to offer a larger security deposit of around four to six months' rent instead. Alternatively, nearly 4,000 buildings across the five boroughs accept institutional guarantors like Insurent.com, an institutional guarantor (and, full disclosure, Brick Underground sponsor) who can guarantee the entire lease for a fee of approximately 67 to 90 percent for U.S. citizens, and 100 to 110 percent of one month's rent for non-U.S. persons without U.S. credit. The better your credit score, the lower your fee. 
Finally, note that some landlords will only accept a maximum of two names on the lease. That will affect your ability to combine incomes to meet the income requirement. Also, since legally speaking only the two lease signers are responsible for paying the rent, all roommates should separately sign an agreement that binds them to the terms of the lease and sets out the the portion of the rent for which each person is responsible.
5. The application, credit check, broker's fee, and security deposit
Landlords or managing agents are going to run a credit check for every roommate—even if your name is not going to be on the lease. Generally, they require a credit score of at least 700.
Sometimes one person's bad credit will hurt everyone. This happens often, particularly to would-be renters with student loans to pay off, so you would be wise to run your own credit report well in advance of your search in order to clear up any hiccups. (Note: You're entitled to a free credit report each year from one of the major bureaus—Equifax, Transunion, or Experian, so to be safe and prepared for your search, check yours out before you start looking.)
Occasionally, a landlord/manager will be willing to work around the problem of bad credit by asking for a larger security deposit than usual or a prepayment of rent—up to six months extra is a possibility, according to Mariucci. 
Most roommates divide the security deposit and broker's fee equally, no matter how they are divvying up the rent. The security fee is paid in one check or money order. If one of the original roommates leaves, the person who takes the spot should "buy out" the original roomie's security deposit to be most fair (and note: landlords often ask for additional security deposits when it's time to renew a lease).  Finally, for a sensible guide to how to divide up the rent, take a look at these suggestions and check out these apps, which do the work for you.
Brick Underground articles occasionally include the expertise of, or information about, advertising partners when relevant to the story. We will never promote an advertiser's product without making the relationship clear to our readers.