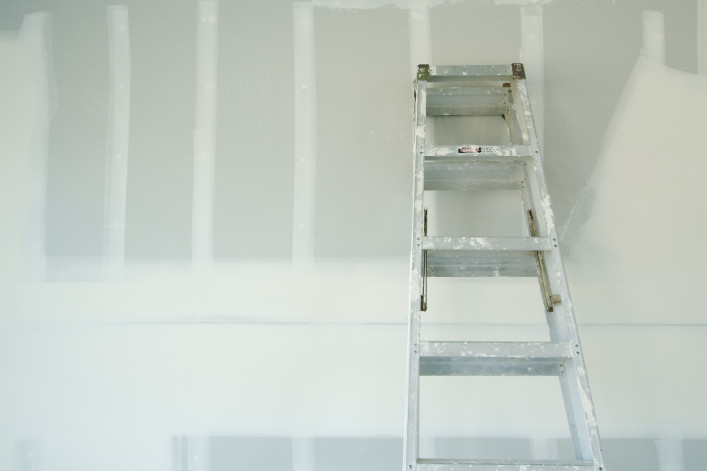 Temporary, or so-called "pressurized," walls—once a staple of NYC apartment living—had gone sort of out of style in recent years. That's because after a deadly fire made worse by the presence of illegal walls, the Department of Buildings began to crack down on temporary walls (in other words, those that don't mess with the building's structure and can be put up, and taken down, fairly quickly.).
In fact, over the last couple of years we'd heard from management companies that they wanted nothing to do with the practice of allowing pressurized walls in apartments, and the handful of companies around the city specializing in these things were hesitant to talk to us on the record about their business. Bookshelf walls—not actually walls at all, but rather room dividers with no doors or windows that don't reach completely to the ceiling—became more popular as a result.
But, now, according to DNAInfo, those walls are making a comeback, provided that they meet DOB building requirements—namely that they don't create a bedroom without a window and make any given room less than 150 square feet.
Brokers tell us it's just a sign of the times. 
"The softening of the market means that landlords need to make their apartments more attractive to renters," says Kobi Lahav of Mdrn. Residential. "Adding a wall is way to do that and to create more value. Suddenly, a $4,000 two-bedroom becomes a three-bedroom and the renters appreciate that," he explains.
There are several ways that it's done, says Lahav. Sometimes, walls are "grandfathered in," meaning they don't need to be taken down when someone moves out and another person moves in. Sometimes, bookshelf walls are quietly replaced with more permanent walls, and other times, the management company will even build the temporary wall themselves, he says.
Aviv Zumin of FirstService Realty adds that this willingness to accept temporary walls is just one product of the rental market turning in favor of the renter. "Concessions are back overall. Landlords are feeling the pressure, and asking what they can do for their renters," he says, adding that now, landlords are considering other perks, like "upgrading appliances, sanding, and buffing floors." It's because they realize that apartment-hunters have more options these days, and they're fighting for tenants.
"I wouldn't say putting in walls is the main change, but it's part of an understanding right now that the landlord needs the renter more than the other way around, and that hasn't been the case in the last few years," he says.
Brick Underground articles occasionally include the expertise of, or information about, advertising partners when relevant to the story. We will never promote an advertiser's product without making the relationship clear to our readers.