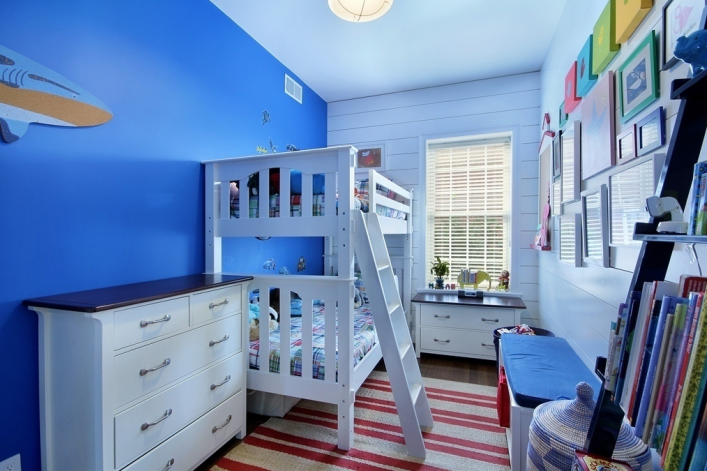 I've lived in New York City for most of my 30-plus years, and it seems like I'll always be in an apartment that's one room short.
I grew up in a two-bedroom, one-bath rental on the Upper West Side with my mother, father and sister. My parents divided our large bedroom with desks and dressers that acted like a wall between us, and I really didn't mind sharing the space. I'm 6 years younger, and by the time I needed more privacy, she had moved away to college. Where we really felt pinched was in the lack of another bathroom. Four people getting ready at the same time each morning can be tricky.
When I had a daughter four years ago, my husband and I decided to stay in our one-bedroom rental in a large doorman building on the Upper East Side. We had a temporary wall built in our living room, carving out a nursery big enough to hold a crib, changing table, several bookshelves and toys. Believe it or not, we stayed in that apartment, which I'd say was about 650 square feet, until our daughter was three-and-a-half. We never thought we'd live there that long—we figured our daughter would outgrow her little bedroom—but the rent was (relatively) inexpensive, we loved the building and our neighbors, and we weren't motivated to brave moving. Until it started to feel like we were bursting at the seams, with toys everywhere, and the tiny living room seeming to shrink with every passing day.
Then, last winter our family of three finally packed up (well, our movers did) and decamped for a 1,200-plus-square-foot two-bedroom, two-bath rental in Yorkville with space for everyone. And then... just one month ago, I had a son, and—poof—we became a family of four. See what I mean? Always one room short, and in this case it's a bedroom. 
Like any good New Yorker, one of the first things I thought when I found out that my baby was a boy (we didn't learn the gender until he was born), was "Oh no, we're going to need a three-bedroom one day." But this time, we intend to make this rental work for as long as possible, ideally at least until my daughter hits puberty. (Remember this article? New Yorkers make it work longer than suburbanites.)
Here's how we're doing it so far, as well as a couple of plans we've got for the coming months (and years):
Since I grew up in the city, I understand how it goes: No big toys come in unless the same number goes out (and usually into storage—we have a unit in Harlem). Collecting every piece of artwork is simply not allowed: choose the special ones, toss the rest. And furniture that serves two purposes is best—think footrests with storage space and changing tables with dressers underneath.
Any piece of furniture that folds or collapses—​like my son's infant bathtub, which hangs on the bathroom wall when not in use—is your friend. In New York, it's easy to find these at places like Buy Buy Baby, Albee, and, of course, online.
Sharing is caring: My month-old son is sleeping in our bedroom (hooray for a room big enough to fit the crib!) and his tiny clothes fit in my closet. But soon enough—in the next four months or so, when he's sleep-trained—he and his crib and toys and clothes will move in with his big sister. 
We'll need to move some items around (or out of) her princess-themed room—her bed, for example, will go into the corner of the room to make space for his crib, and some of her larger toys may have to go into storage until he's ready for them—but we're also going to install some shelves on the walls (it's all about using vertical space!).
At some point, we'll probably replace my son's crib and daughter's bed with bunk beds (she's already called dibs on the bottom bunk). 
Related:
The parent's guide to buying and renting in NYC
The buyer's and renter's guide to the NYC elementary school game
To raise a family in NYC, you need a master's in real estate
NYC kids want a doorman too, but not for the reason you think
Can you raise a family in Manhattan on $400k a year?
How to find a family friendly building
Brick Underground articles occasionally include the expertise of, or information about, advertising partners when relevant to the story. We will never promote an advertiser's product without making the relationship clear to our readers.