Roommates + Landlords
Temporary bookshelf walls you can live with legally: A guide for NYC renters
Unlike temporary pressurized walls, freestanding bookcase walls do not require DOB permitting
Pricing starts at around $1,000 for basic models and run upward of $2,000 when adding doors or closets
Removal is usually free during the contract with proper notice; otherwise, you may get stuck paying a fee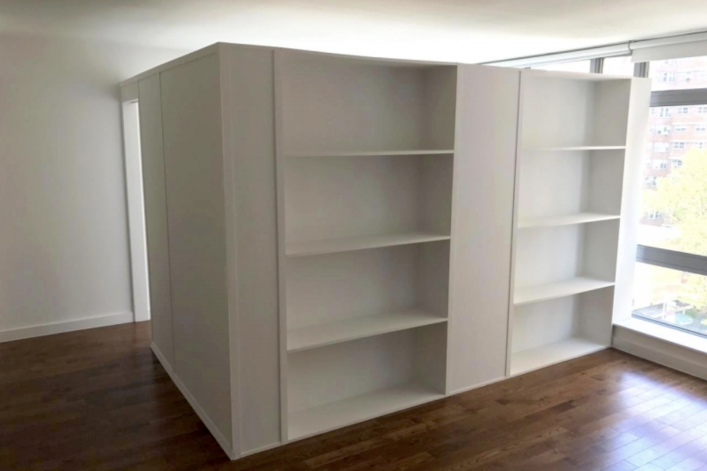 Courtesy of Wall 2 Wall NY
For countless budget-conscious renters in New York City, temporary walls have long offered a way to subdivide an apartment and create an additional bedroom in order to split the rent with a roommate. After all, it can be hard to meet the stringent income requirements that landlords have for living here if you're shouldering the rent alone. 
Roomies or not, these nifty partitions also allow you to avoid having to find a larger apartment when baby makes three—or if you are working from home and need a designated office space. 
Pressurized temporary walls are often preferred by renters since they offer the most privacy, but these are not allowed in many NYC rental buildings. However, freestanding bookshelf-style walls that are not permanently attached to the ceiling, walls, or even the floor, can be an acceptable alternative. They are also more popular and customizable than ever.
---
[Editor's note: An earlier version of this article was published in July 2022. We are presenting it again with updated information for June 2023.]
---
How do bookshelf walls make renting affordable?
Moving, even two blocks away (or two floors up), can cost a small fortune in NYC. There's usually a broker's fee, a security deposit (now capped at one month's rent) plus the cost of a moving company, if you don't plan on doing the schlepping yourself. 
That's why temporary bookshelf walls can make the difference between being able to afford and being priced out of your current or target apartment. Even basic partitions will allow you to carve out more space from your existing square footage, whether that means splitting a bedroom or sectioning off part of the living room (such as for a nursery).
And in addition to at least some semblance of privacy, bookshelf walls offer something else NYC renters are forever short on: vertical storage that doesn't swallow your floor plan.
What kind of approvals do you need for bookshelf walls?
It helps to know the potential pitfalls of using this type of room divider. Even well-established management companies can be confused by what constitutes a temporary wall that will pass muster with the Department of Buildings. Pressurized walls may require permitting and landlords can be reluctant to go through the process—and being compliant with the DOB is of the utmost concern.
That's because dividing up apartments with pressurized walls to create illegal bedrooms—rooms that are too small and lack windows and two means of egress, for example—has led to tragic consequences in the past. (There are, however, ways to install a pressurized wall safely. For information on how to do this, check out Brick's "From 1 room to 2: The insider's guide to temporary pressurized walls.")
According to Adam Stone, a real estate attorney at The Stone Law Firm who also manages rental buildings through Stone Realty Management, "Assuming they are truly freestanding, bookshelf 'walls' are not actually walls but rather bookcases used to divide space and you do not need permission from a management company to furnish your apartment."
But even though bookshelf walls are technically furniture, you should always check with your building's property manager to see if they are allowed. 
Pro Tip:
If you exhaust the DIY method—or just feel exhausted—sign up here to take advantage of the corporate relocation rate offered by Brick Underground partner The Agency. A tech-savvy real estate brokerage founded by a pair of Yale grads in response to the frustrating apartment searches of classmates and colleagues, The Agency will charge a broker's fee of 10 percent of a year's rent versus the usual 12 to 15 percent if the apartment is an "open" listing (versus an "exclusive" listing where the fee is split with the broker holding the listing.) Bonus: The agents at The Agency are a delight to deal with.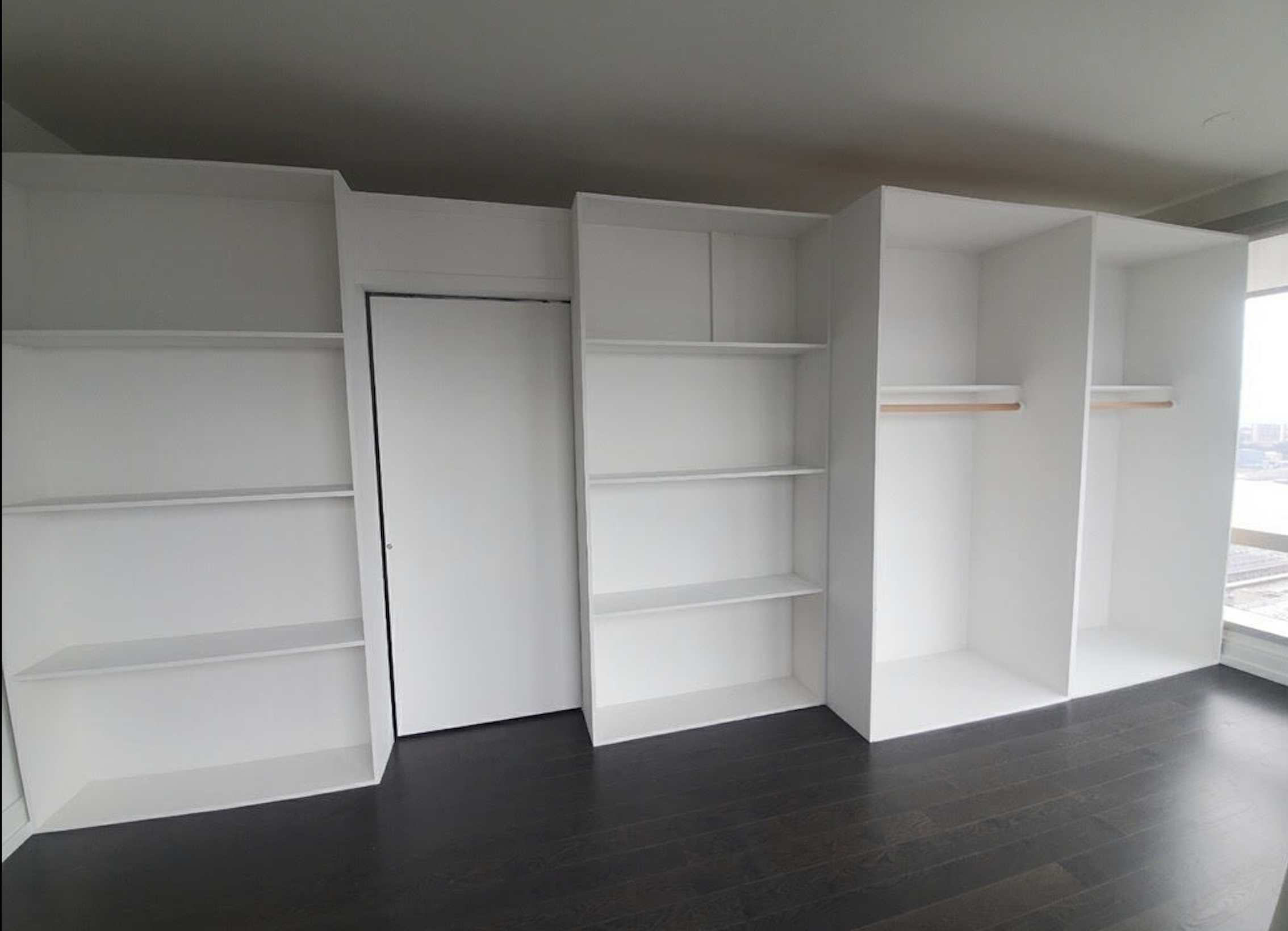 What kinds of bookshelf walls are allowed in NYC?
Based on responses from the management companies contacted by Brick Underground, the requirements can run the gamut, and approval is often decided on a case-by-case basis. 
Among those who typically allow bookshelf walls, for example, most require 12 inches of clearance below the ceiling and 36 inches between the partition and a permanent wall; if doors are permitted, sliding or pocket doors are often the only allowable options. 
"I'd say 75 percent of buildings do not allow any door, just an opening," says Eddie Sapienza, owner of Wall 2 Wall NY, named Best of New York 2019 in its category by New York Magazine. 
It's important to contact your landlord before you reach out to a wall company. "I've worked with most of the management companies and generally know what is and is not allowed at their buildings, though the landscape changes all the time," Sapienza says. 
And if he doesn't know a landlord, he makes sure to send over the specs before constructing anything; in at least a few instances, the landlord has required Sapienza to build a model before granting approval for the real deal.
Such are the vagaries of NYC rentals; better to be safe than spend money on something that's not going to be allowed. Ask the property manager before signing a new lease and before installing a bookshelf wall in your existing apartment. Preserving the landlord-tenant relationship is always the best course of action.
How much does a bookshelf wall cost?
Once you know the landlord's parameters you can begin exploring the different options. Prices range from $1,000 to $2,000 for basic models—by far the more popular and economical choice—and in excess of $2,000 for custom configurations.
Like all things related to construction, the cost of materials fluctuates—and by a lot, Sapienza says. "We are still trying to keep it within $1,200 to $1,300 for a basic wall, plus more for doors, plexiglass, closet, and other additions."
If your building allows doors, know that sliding or pocket doors allow you to put furniture against the bookshelf on either side. Same for the "floating" door offered by Wall 2 Wall, which Sapienza created for the most conservative buildings where nothing is allowed above or below a door in the 36-inch clearance instead of a transom, it works by special hinges. (Note that the higher cost of the special door hinges makes this option more expensive now, too.) Bi-fold doors require a 20-inch clearance, swing doors 36 inches.
Be sure to ask about any fee for removing the bookshelf wall; most wall companies will do this free of charge within a specified period of time, usually two to three years. After that, you will need to have it removed on your own.
Read on for Brick Underground's roundup of bookshelf walls for NYC apartments.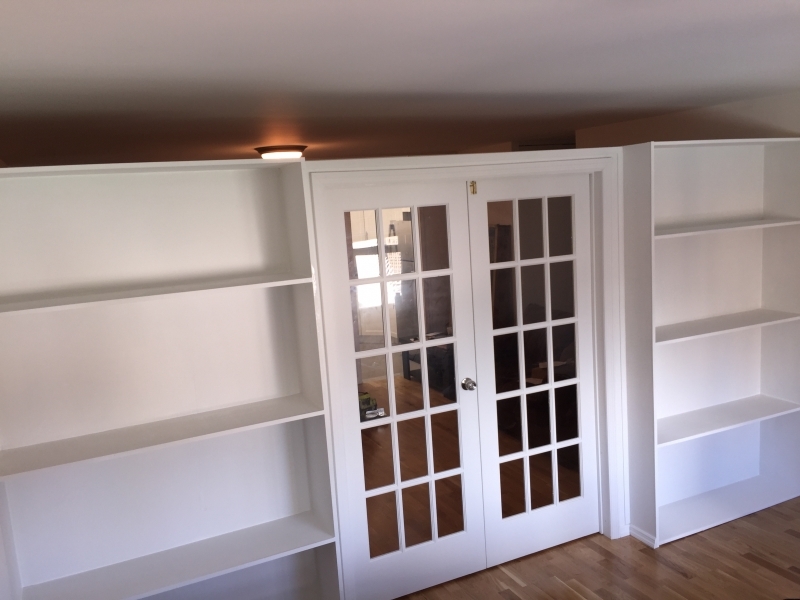 1) Wall 2 Wall NY
Wall 2 Wall only makes walls with open shelving (along with optional closets or doors) that are 12 inches deep.
"Even tenants who initially balk at the depth and shelving end up thanking me, saying how much they appreciate having all that extra storage, and vertical storage at that," Sapienza says. "We can also make pretty much anything anyone wants and can afford, completely out of wood."
For example, the unit shown above has double French doors flanked by bookshelves on either side and costs around $1,980.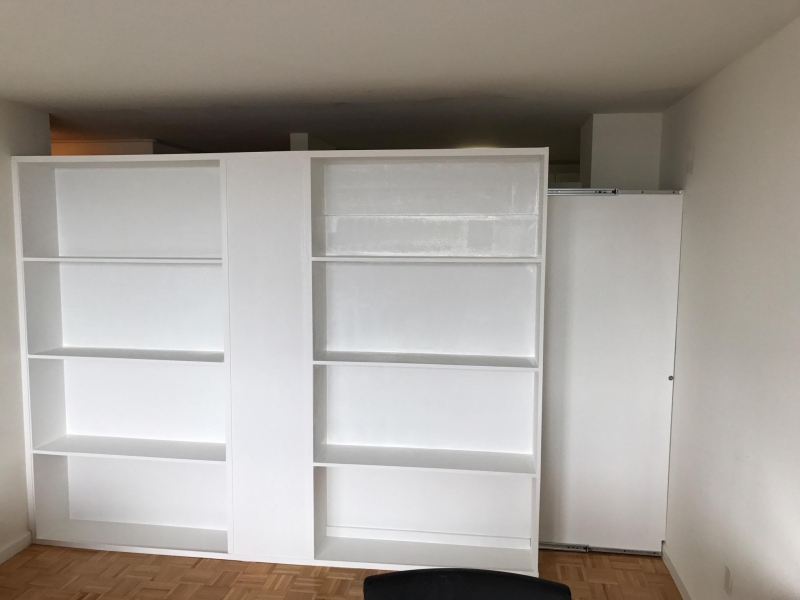 If your landlord does not allow doors, see about getting approved for Wall 2 Wall's freestanding bookcase with a floating door that's pulled from behind and has nothing above or below it. This typically runs upward of $2,000 given the higher cost of the special hinges right now, but might be worth it for the added privacy.
Removal is free during the contract with at least 30-days notice.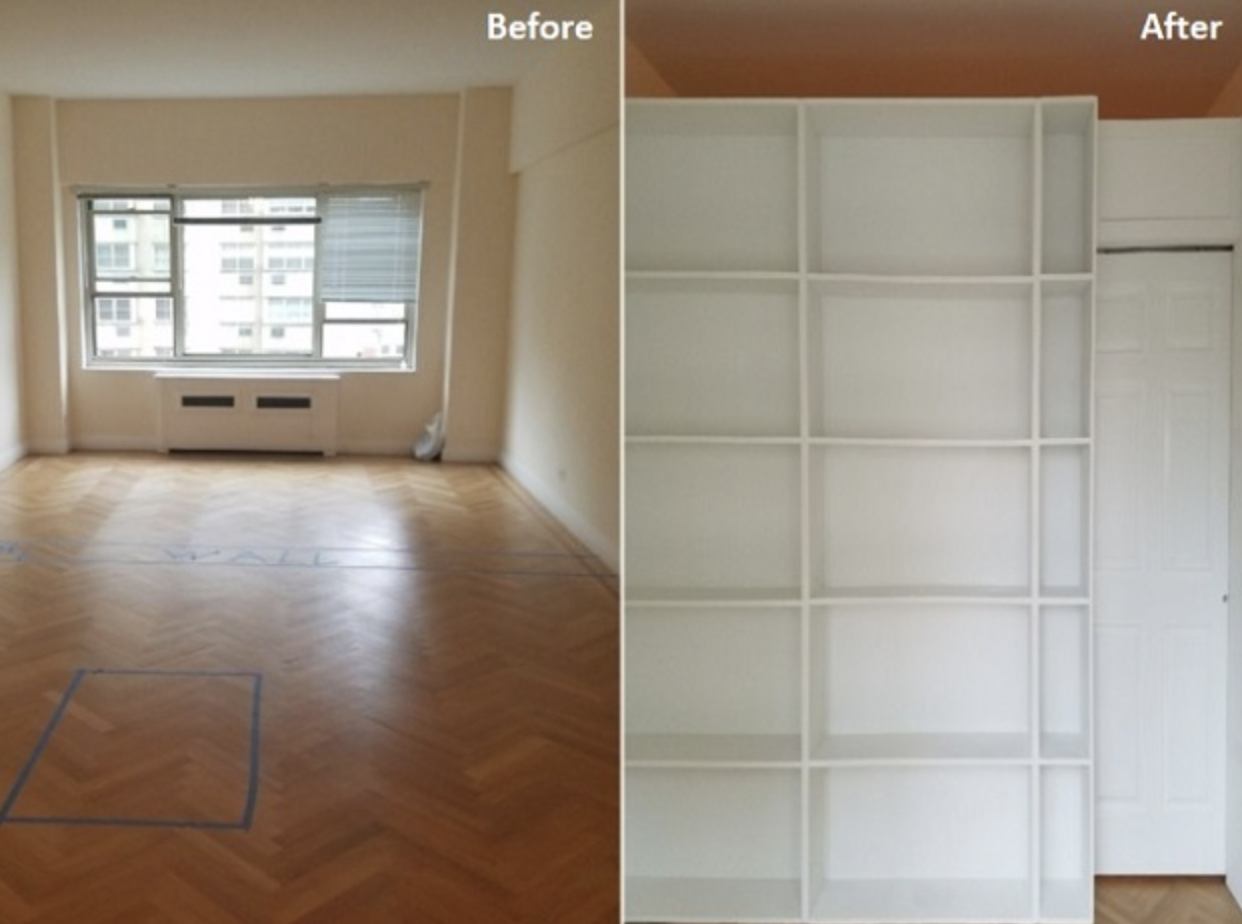 Having started in 2013 with mostly interior remodeling and renovations, 1DayWall changed their business model in 2019 to temporary wall installations. Prices for an installation range from about $1,100 to $3,500. The standard wall is 4.75 inches thick; upon request, you can get a three-inch-thick wall (which is helpful in especially tight spaces). One of the things that's unique is the factory style glass windows that they incorporate into their installations.
The company's bookcase walls come with shelves and optional doors in many styles, including a standard door with a lock. The unit above, which has a sliding door, costs around $1,200 for a 12-foot-long version.
The wall can be removed for a one-time fee of $350 plus tax. The company only accepts a certified check.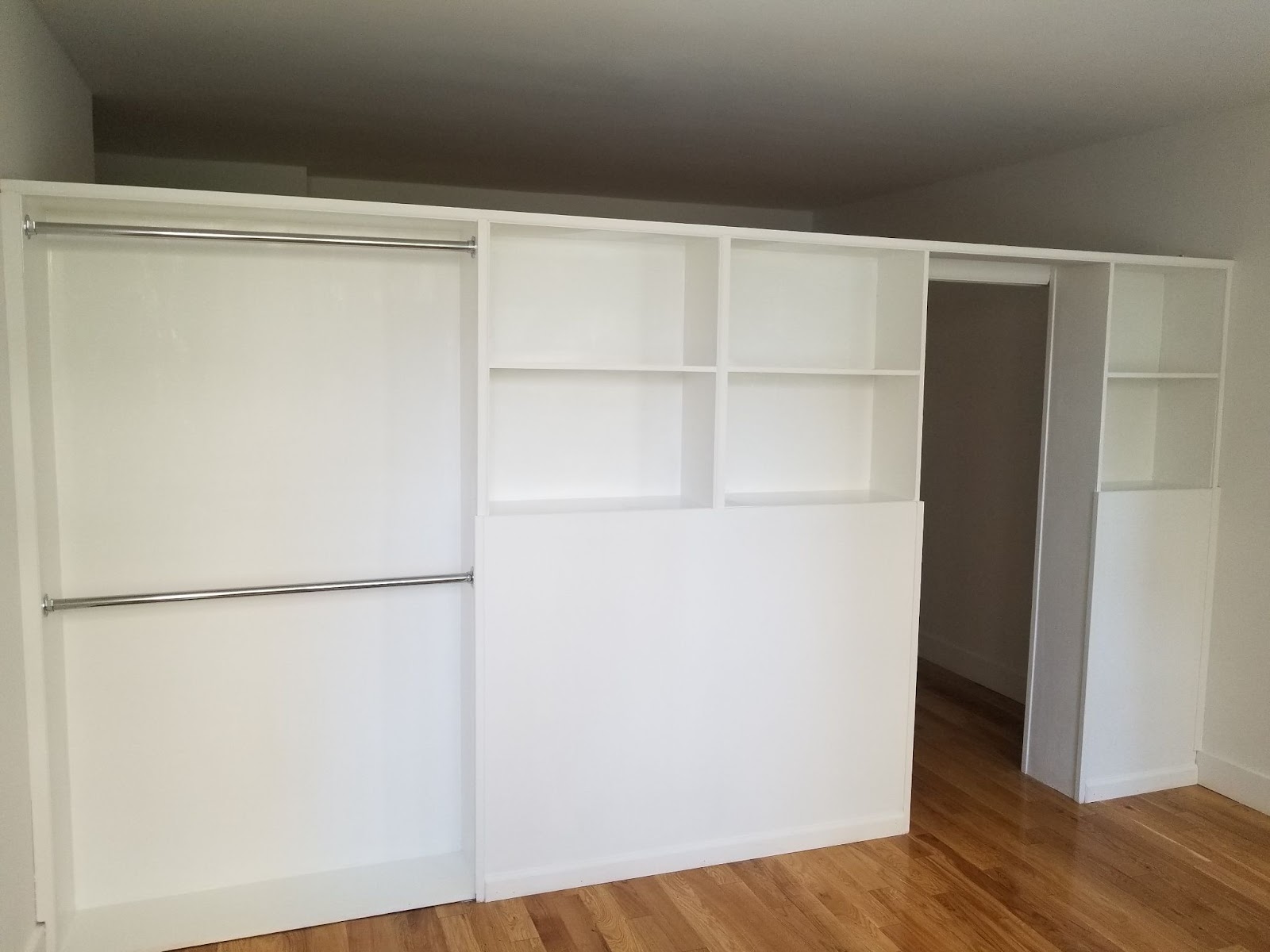 If you are particular about the color matching your apartment walls, Manhattan Pressurized Walls lets you choose between Benjamin Moore White or any other custom color or finish for an additional price. 
Pricing on standard bookcase dividers with two rows of shelves and a sliding door is about $1,200 with tax included. The 12-inch-deep unit shown above, which comes with deeper shelves and chrome rods, starts at $2,100.
Customization is also possible, including the one shown here, which has two separate dividers—a 12-inch bookshelf divider on the left and a triple sliding French door system on the left—connected by a structural column. 
Removal is free with four weeks notice as per the contract; otherwise, there's a removal fee of $420.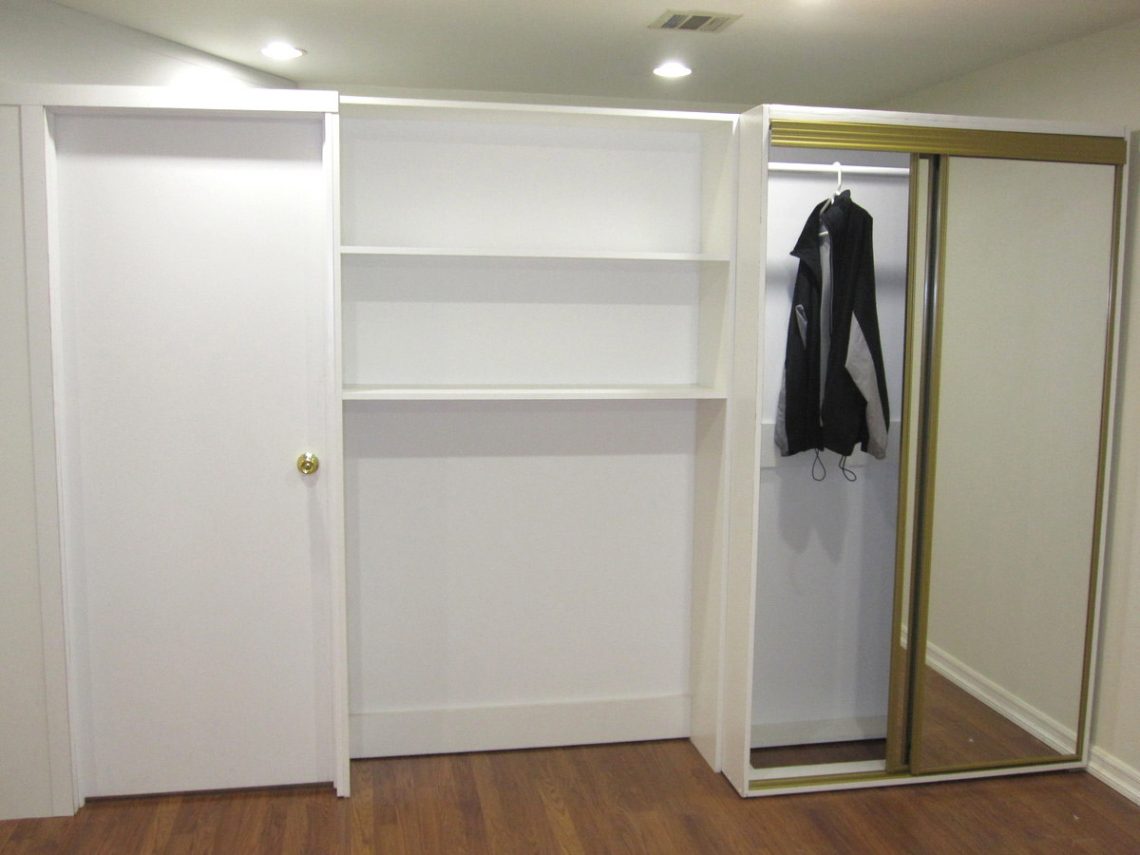 The company's Bookcase Partition comes in two basic options: a 12-inch-deep wall with shelving or six-inch-deep units when storage isn't required. Options include different door types, closet rods, and a wardrobe with a sliding mirror front (shown above).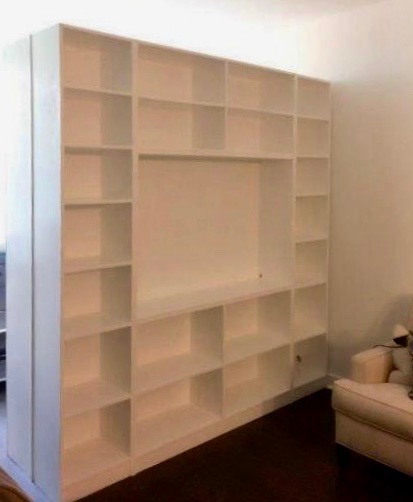 The system can be modified according to the requirements of the room. You can even have two units stand back to back with different shelving or other components facing each side (such as in this entertainment center). The bottom portion is generally left without shelves to free up floor space, though that's up to you. 
Removal is free of charge within three years of purchase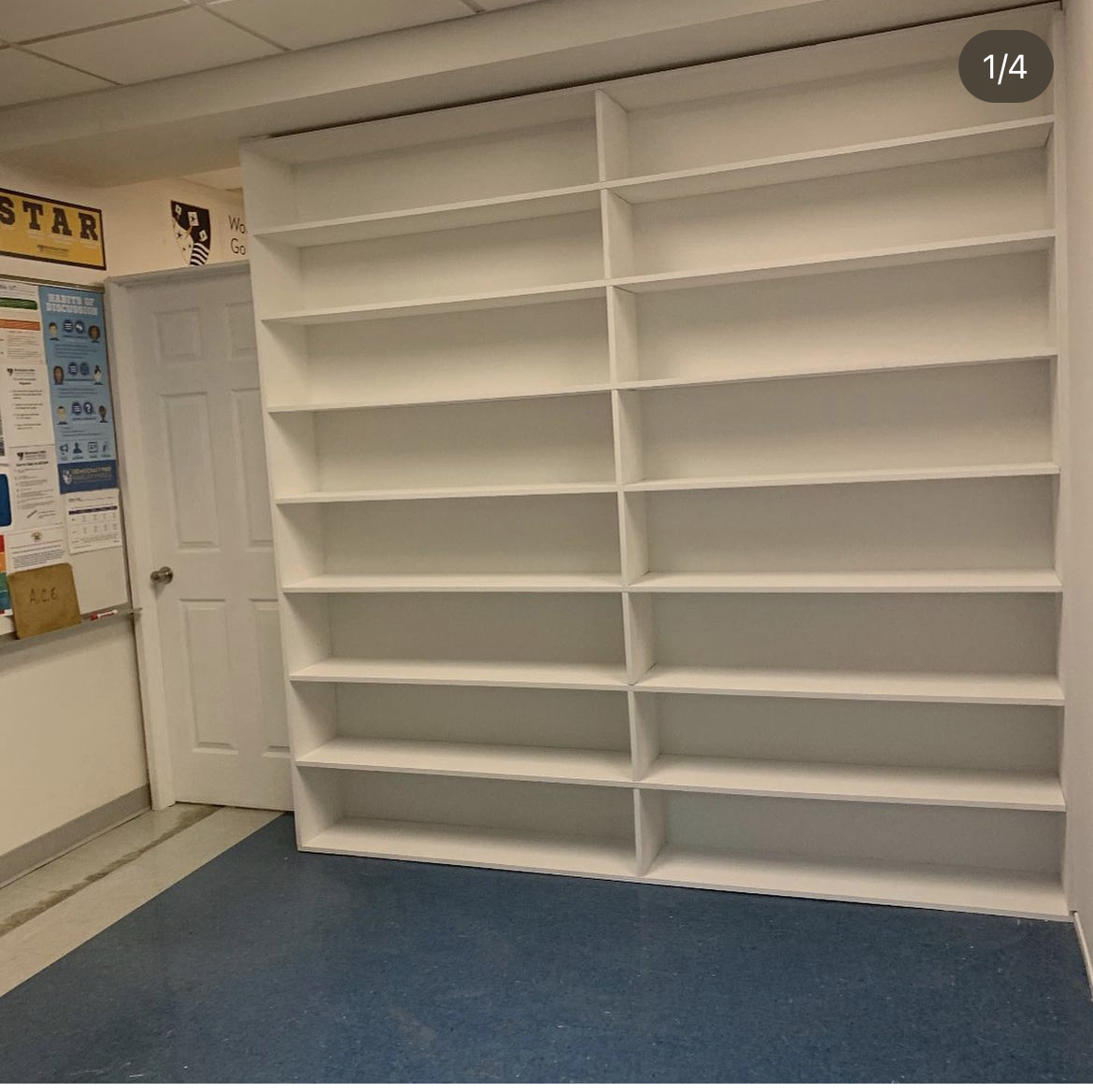 Pricing for the company's "free standing walls" starts at $1,800 and can be customized to match your needs and room dimensions. They will inspect the space and help you come up with a solution that fits the footprint. The installation takes a few hours. You can paint or otherwise finish the wall as you like. 
Brick Underground articles occasionally include the expertise of, or information about, advertising partners when relevant to the story. We will never promote an advertiser's product without making the relationship clear to our readers.