For years, renters have used temporary walls to subdivide apartments into affordable slices for roommates. But due to a fire-safety-related crackdown by the city, many management companies and landlords no longer permit walls that reach the ceiling.
Enter the bookshelf wall, like those pictured above. They don't reach the ceiling--typically topping out about a foot below--so they are technically considered furniture.
"These are not actually walls—just bookcases used to divide space," says Adam Stone, a real estate attorney at Regosin, Edwards, Stone and Feder who also manages rental buildings. "There's no need to change the certificate of occupancy or even tell the management company about merely bringing in new furniture."
That said, while many management companies contacted by BrickUnderground confirmed that they allow bookshelf walls, some had stipulations, such as that the wall can't be affixed to the floor.
Other management companies told us they allow them in certain buildings on a case-by-case basis, weighing the likelihood of damage to the particular apartment. Still others don't allow any walls to be added, regardless of the type, for "fire safety reasons" or potential subletting issues. Since management companies are so cautious about any type of temporary wall, we suggest you check with your particular management company before signing a lease (if you know you'll want a partition) or constructing a wall in your apartment.
Bookshelf walls, which range in price from around $850 to $1,475 installed, are gaining popularity. About five years ago, for instance, bookshelf walls represented only about two percent of temporary wall installer Wall 2 Wall's business, the company's owner told BrickUnderground. Nowadays, these not-quite-ceiling-height walls represent at least 50 percent of business, a number the company expects to hit 70% by year end.
Wall 2 Wall says its standard bookcase is the most popular model, since at $850, it's the most economical option. The second most popular is the shelf with one closet, with a price tag of $1,225. 
For more helpful hints about bookshelf and other temporary walls, check out our Insider's Guide to Temporary Walls.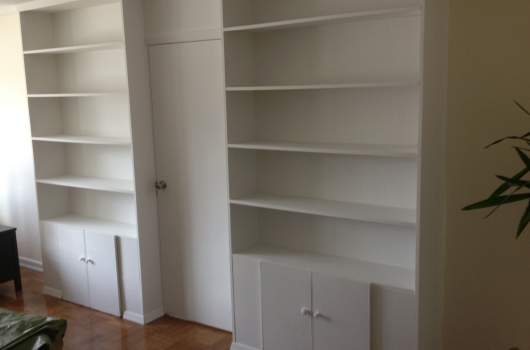 Wall 2 Wall NY's double bookcase wall with a center door has cabinets at the bottom for private storage space, and some added style. Cost: $1,450.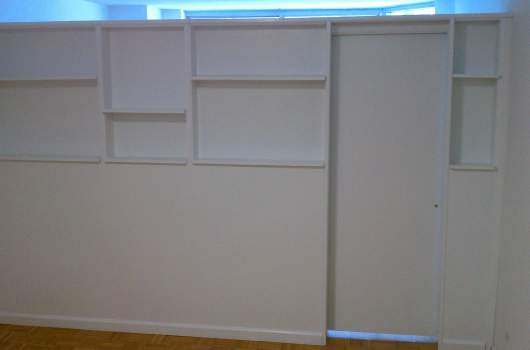 For those who aren't interested in top-to-bottom shelving, this bookshelf wall from Manhattan Pressurized Walls could be a good option. The shelves are easily accessible, and the rest of the partition offers wall space to decorate or not as you please. Cost: $995.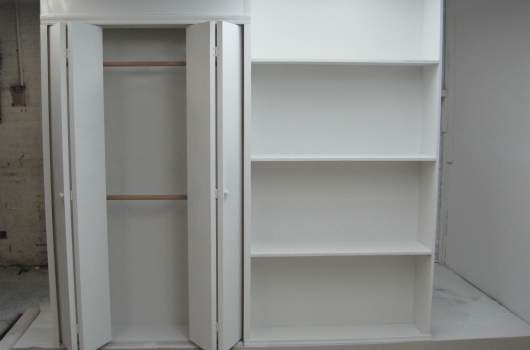 This bookcase wall/closet combo from Wall 2 Wall NY is extra versatile. Cost: $1,225.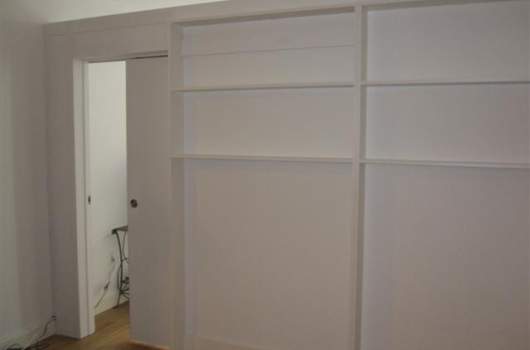 This six-inch thick bookcase wall from Room Dividers NY features two sets of shelves and a sliding door. Cost: $1,000.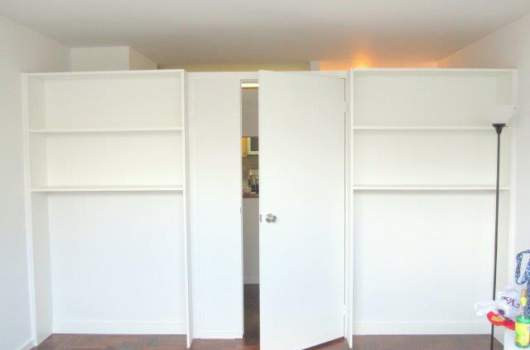 Another variation from Room Dividers NY features shelves on either side of a center door, offering a balanced look that may feel more like a real wall (in spite of the fact that it doesn't reach the ceiling). Cost: $1,000.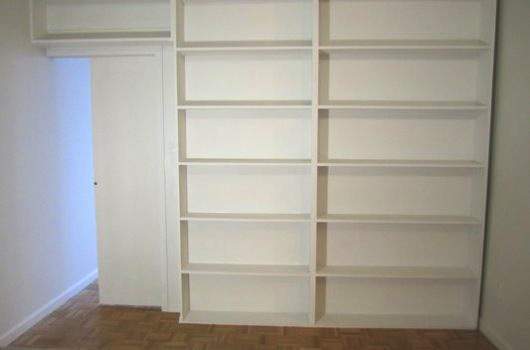 This wall from Wall 2 Wall NY sports two sections of shelves with a pocket door and can be customized to the required distabnce from the ceiling. Cost: $950.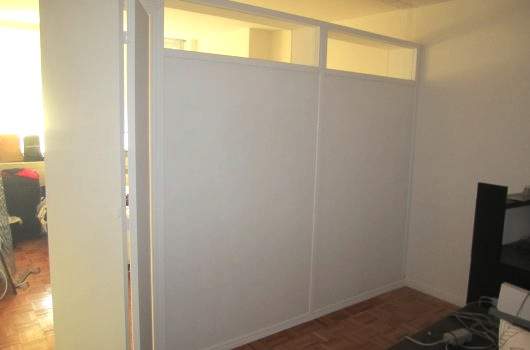 The built-in transom windows in this bookshelf wall from Wall 2 Wall NY are a great feature to allow light flow from one room to the next. Cost: $1,050.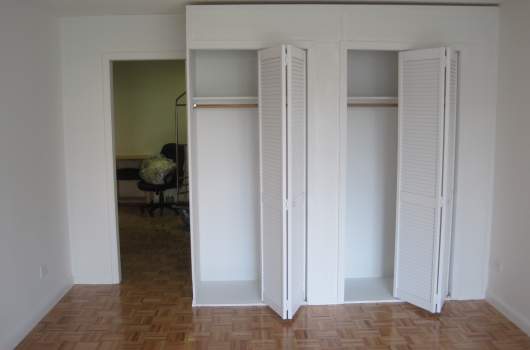 If it's storage space you're looking for as an added bonus to partitioning rooms, Wall 2 Wall NY offers a double closet option as well, which can be customized to stop the appropriate distance from the ceiling. Cost: $1,475.
Related posts:
BrickUnderground's 6-step guide to renting a NYC apartment with roommates
How to find a room/roommate on Craigslist (and avoid the freaks)
10 things to ask before renting that luxury apartment in NYC
Can't afford/find a two-bedroom apartment? The right one-bedroom just might work
All Week Walls: Never take bedroom number at face value again
Dear Ms. Demeanor: Who pays for the temporary wall?
Find a roommate online: Six websites that do the heavy lifting for you
The Insider's Guide to 'Speed Roommating'