Rent
10 tips for saving money when you hire movers in NYC
DIY packing is one way to chip away at the cost of moving
Peak pricing is always around the first and last day of each month
Winter is the slow season for movers and when you'll find the lowest rates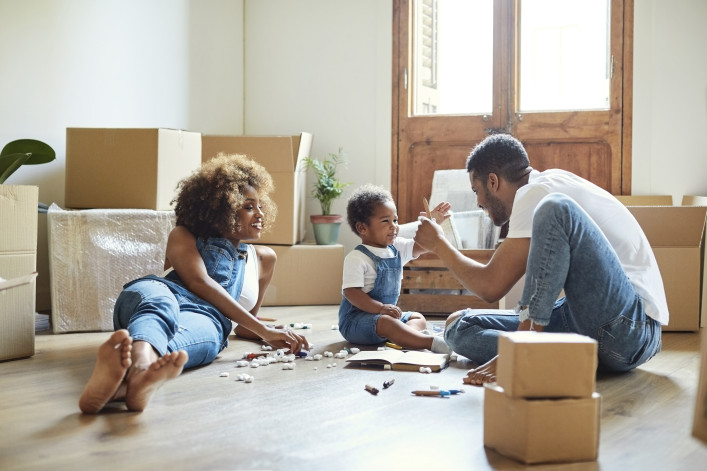 Morsa Images via Getty Images
Moving in New York City is never easy. Whether it's across the street or the country, there are lots of moving (!) parts that make moving within the five boroughs more difficult, like congested streets with opposite-side-of-the-street parking rules and buildings with strict rules for service elevators (or no elevators at all). All that means the cost of moving can cause major sticker shock.
That's especially true in a co-op or condo: "Even a simple move in the city requires a substantial insurance policy [for the mover], and the shareholder or owner is required to pay a deposit and move-in fee to a building in case any damage ensues to the building or elevator. Don't forget parking tickets, as city parking spaces big enough for moving trucks are scarce," says Gerard Splendore, a broker at Coldwell Banker Warburg. 
---
[Editor's note: A previous version of this post was published in November 2012. We are presenting it again with updated information for March 2023.]
---
But even a renter faces additional costs like tipping the moving crew along with the building staff. And beware of upcharges. 
On the bright side, Matt Graber, who founded Cool Hand Movers with his wife Ashley Graber in 2010, says having so many different things that go into a move means there are lots of ways to lower the moving company's price tag.
So do yourself a favor and read the following tips from those in the know—and save yourself some bucks while you're at it. That "extra" dough will come in handy when setting up your new home. 
1. Look for reputable movers
Every single person Brick spoke to emphasized the need to do your homework—you're entrusting your prized possessions to a total stranger.
Only consider movers who are properly licensed (check with the New York State Department of Transportation), fully insured, and have a physical address (not just an online presence). 
You should also go with a company that has a solid track record and favorable reviews on Google, Yelp, Facebook, or other go-to resources. 
Kimberly Jay, a broker at Compass, suggests asking your own broker for recommendations. "We have first-hand knowledge of worthwhile movers. Sometimes agents can even help with a discount for their customers and clients." 
But Splendore cautions that some movers offer incentives to real estate agents to recommend their services. "My experience has been that it is best to supply referrals for high-end moving companies with impeccable records; otherwise, I am jeopardizing my reputation, as well as that of my firm," he says.
How does this step save you money? Well, bad movers might scam you, take or break your possessions, or damage your new apartment. Ouch. 
And the last thing you want is to start off on a bad foot in your new building in case the movers are jerks to the staff. 
Lou DeFabrizio, founder of highly rated, husband-and-wife-owned Lou Moves You, recounted a story when movers from another company got into fisticuffs with the doorman of a building where he was doing another job. "They were so angry they started throwing the furniture on the ground and putting it on cars outside—it was like Mad Max!" he recalls. 
Graber (who is friendly with "Sweet Lou"), agrees. "One thing that's gotten increasingly interesting is dealing with building staff because they've gotten more strict. They are expecting the worst for the most part and we have to win them over," he says. (He warns his staff that they will encounter difficult people in this job where you have to be the adult in the room and trains them in conflict de-escalation.)
2. Get multiple bids
It's hard to know if you are paying a reasonable rate without comparisons. 
Josh Tepper, an agent at Coldwell Banker Warburg, says it's always a good idea to get several bids before signing a contract. "It is also very important to have the quote in writing with explicit confirmation of the maximum cost and what it includes. Some less reputable movers may not include the actual packing or packing materials in the quoted price," he says.
In addition, "be wary of anyone who seems to significantly underprice their competitors. Remember, you get what you pay for," Jay says.
And these days it's easy enough to fill out the online form to get a customized quote in short order. If you have special circumstances that are hard to explain in writing, pick up the phone and speak to a live person. (If you can't do that, head somewhere else.)
There are also sites like Moveline where you submit the details of your job and get up to four quotes from certified companies competing for the job. 
As for trying to get a company to price match a lower bid, this method may or may not work—there are lots of hidden fees in moving, so one company's quote might not reflect that. Be prepared to provide proof of the competing quote in writing
Know, too, that some companies (like Lou Moves You) use an hourly rate while a flat rate is much more typical. Do the math and weigh which option works best in your situation. 
3. Book in advance
Just like in the travel industry, early bookings can save money. Avoiding a last-minute rush may give you some leverage.
According to Graber, the vast majority of bookings happen within the month, so if you can book two or three months out, he would consider a rate reduction for that "because pricing does have to do with capacity and demand." 
Just be aware that you'll most often need to put down a deposit to reserve a date and pay a cancellation fee—especially for a peak date, which is different for every company. (For Cool Hand Movers that's the 27th through the 2nd of every month.)
4. Time the move during the 'slow' season
Not surprisingly, movers do most of their business between Memorial Day and Labor Day when schools are out, and people have more time to search for a new home. The weather is also more conducive to schlepping your stuff. 
Indeed, Splendore says the worst moving day of the year is Labor Day, as colleges and schools commence in early September. 
And according to Jay, the winter months are slow for sales and rentals; hence this is also a slower time for movers. 
"The best time to move to NYC is the worst time for me," DeFabrizio says. "No one is looking to come here in January, so you'll get a better deal from moving companies who are not as busy and can slash prices to keep your crew working, or at least that's what I do."
5. Be flexible about moving day
It's unanimous: The busiest moving days are the beginning and end of the month.
If possible, avoid scheduling a move during this time, when you'll be paying peak rates. 
And because many buildings prohibit Sunday move-ins, companies are often free that day, giving you a negotiating advantage—assuming your own building allows it. 
DeFabrizio says many co-ops are still super strict. "But newer developments understand that more people are working from home and that people's work schedules have changed and are being much more lenient," he says.
Graber adds, there's "plenty of money to be saved if you can move in the middle of the month." 
6. Take on some of the labor yourself
If you are open to doing your own packing, that will greatly reduce the cost of time and labor. DeFabrizio says making moves affordable is behind his DIY business model—Lou Moves You doesn't even offer packing services. 
Packing is also optional at full-service companies. At Cool Hand Movers, for instance, Graber says they start with a high-end flat rate quote that includes everything and then suggests ways for customers to chip away at that in the initial quote, such as packing some or all of the bins yourself (at a $10/per bin deduction), disassembling bed frames and other furniture (IKEA being ubiquitous), which could knock another $100 to $200 off, and moving your own plants and/or art, mirrors, and folding screens. Though rare, he says some people have offered to bring everything to the ground floor of a house before the move—and then he's reduced the rate because we don't have to carry things down a flight of stairs. 
7. Look for special discounts
Some companies offer promotions on their websites, especially during the slower months.
For example, Cool Hand Movers offers a new discount each month, such as $100 off when renting bins as part of a move, following their Facebook page, or booking at least 30 days in advance. They also offer discounts if you come to them through certain community organizations like Ruth's Refuge, Park Slope Parents, or the Brooklyn Chamber of Commerce. They also have a Make it a Home discount in partnership with Covenant House. 
They and others tend to have returning customer discounts as well as referral discounts (for the person receiving it). So it's always worth saying how you found them.
8. Negotiate on supplies
Here's where movers have the most wiggle room. As one moving company rep said, moving is a low-margin service for companie and can't necessarily cut the price too far before losing money or underpaying crews. They can, however, offer extras like free wardrobe boxes or delivering the boxes to your home before the move for free.  
Cool Hand Movers has a standing 10 percent discount off rentals (they use reusable plastic bins) when you also book a move. 
DeFabrizio says if the company won't budge on supply costs, shop around for chapter materials—and always get more than you think you 'll need to avoid upcharges (and then you can return anything you don't use). (He recommends Gorilla Bins.)
9. Take advantage of new, customizable services
Moving companies, which are owned and operated by real New Yorkers, feel your pain! Dumbo Moving and Storage for one has launched two new options, PriceByTruck and Curb2Curb, to lower costs and save customers time—and let you customize your move more easily, including choosing the size of the truck or bringing your boxes to the curb yourself.
10. Negotiate when it's an easy move
If the move is less than a mile, requires no more than one flight of stairs, or has no furniture that needs to be taken apart and then put back together, you just might have some bargaining power to ask for a discount. 
Brick Underground articles occasionally include the expertise of, or information about, advertising partners when relevant to the story. We will never promote an advertiser's product without making the relationship clear to our readers.