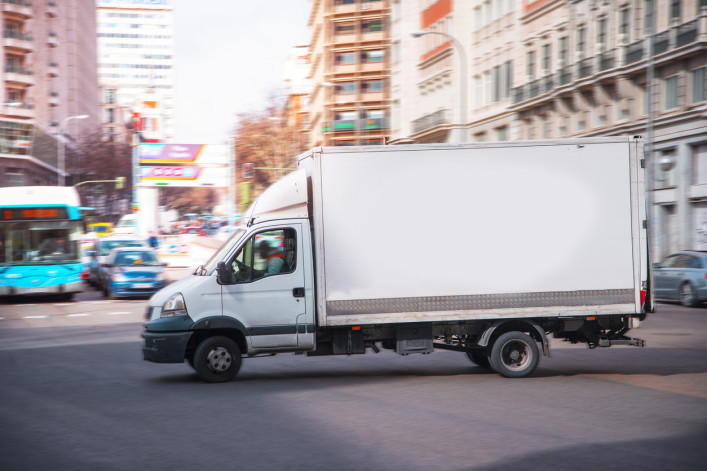 Moving sucks. Moving in New York City sucks the most. Moving to New York? Let's just say it's a singular experience. To make it less painful, you need to make sure your moving company, if they're not from New York, is really well briefed on the unique challenges of parking, tight spaces, and other headaches that typically accompany a move here.
"Prepared movers are better movers," says Yuval Kravitz, owner of Om Moving. "Customers should help prepare movers." 
So, if you are moving from out of state, what should you do? We talked to New York City movers to find out the most common mistakes movers without NYC knowhow make that can end up costing you time and money—two things that tend to be in short supply on moving day. 
You can't bring that truck in here
"First and foremost, you can't bring an 18-wheeler into New York City 99 percent of the time," says Kravitz.
Some companies drive a large truck to city limits, and transfer to a smaller truck to navigate the five boroughs. You are then charged for what's known as a "shuttle fee." "Make sure the shuttle fee is included in [your quote]," says Kravitz. 
Do you have the proper certifications and insurance?
"Each state has its own requirements that movers need to adhere to when first forming their company. A moving company formed in Florida will not be regulated as severely as a moving company in New York," says Daniel Norber, owner of Imperial Movers. 
"On top of that, almost every elevator building in Manhattan requires proof of insurance from the hired moving company prior to the authorization to perform work in the building. So if an out-of-state client hires an out-of-state moving company to relocate them to their new home in NYC, they will probably be blocked from doing the drop off at the building. So [people] need to shop around for an additional moving company with the sufficient requirements."
How are you with spatial relations?
Narrow hallways and tight stairways are the hallmarks of a NYC move.
"Only the best of movers can move in New York," says Lior Rachmany, CEO and founder of Dumbo Moving + Storage. "Most moves taking place in New York will be moves in and out of apartments. It's very hard to turn and move couches and dressers in hallways and staircases. Think of the pivot scene in Friends." So make sure your movers have experience navigating these narrow and challenging spaces.
Can you break that down? 
Even the most skilled of movers can't bend the laws of physics.
"People who move in an NYC walk up should try and assess if their furniture will need to be disassembled to fit in the staircase—or the elevator, for that matter," says Nimrod Sheinberg, vice president of sales for Oz Moving.
NYC movers typically break down furniture to its components. Make sure you discuss what your mover will do with your furniture before it gets loaded on the truck.
Can you work within these rules and timeframes? 
If you are moving into an apartment building, condo, or co-op, there are very likely rules about when people can move in, what elevators can be used, how things should be protected. You should make your moving company aware of these policies. 
"Customers and movers need to be very aware of the building's rules and restrictions before the actual move...and need to plan accordingly," says Sharone Ben-Harosh, founder and CEO of FlatRate Moving. 
"For example, for a large and complicated move (two or more bedrooms) we advise not to move on a Friday or before a holiday as most freight elevators close at 5:00 p.m. and are likely closed during weekends and holidays."
So if the move isn't completed by Friday at 5:00 p.m., you may have to wait for following business day to finish, a huge headache for all involved. 
It's crowded here, and so are the moves
Lots of people move at certain times of the year, like the spring and early summer. You might have two moves taking place on the same block or even in the same building—at the same time. Make sure the company you hire is used to this kind of thing.
"Protecting items is something non-New York movers have trouble with," says Rachmany. "Moves done in New York are conducted in high traffic areas, there will always be people on the street and in the building. So movers have to make sure that items don't get stolen, damaged—the more people there are around a move taking place, the more likely something can lost. Losing items can be common in New York, because...there is usually more than one move going on in a building. That means if the movers aren't careful, their items can get mixed up with another in lobby or loading area."
Parking? Fuggehdaboutit
Yuval makes sure his clients know there's a possibility of a parking ticket or two. Let your company know they probably won't be able to roll right up and start unloading.
"Parking in difficult," says Yuval. "Sometimes there's construction, sometimes it's a small street. You can't block the street." Companies may add on extra fees associated with tickets and fines; just make sure you know what you're agreeing to pay, and what additional charges you could incur. 
The city's scarce parking can also result in another additional charge when trucks have to park at a distance.
"Watch out for extra fees related to parking their moving trucks," advises Rachmany. "Moving companies may charge you something called 'long push' or 'long pull.' If the parking space is far from the entrance to your home, the move will cost extra."
Brick Underground articles occasionally include the expertise of, or information about, advertising partners when relevant to the story. We will never promote an advertiser's product without making the relationship clear to our readers.