The Market
Planning a move in NYC? Here are 10 strategies to avoid being a victim of a scam
Beware of bait-and-switch movers who give you a lowball estimate and then hit you with upcharges
It's wise to get multiple bids—and to demand that estimates be detailed and transparent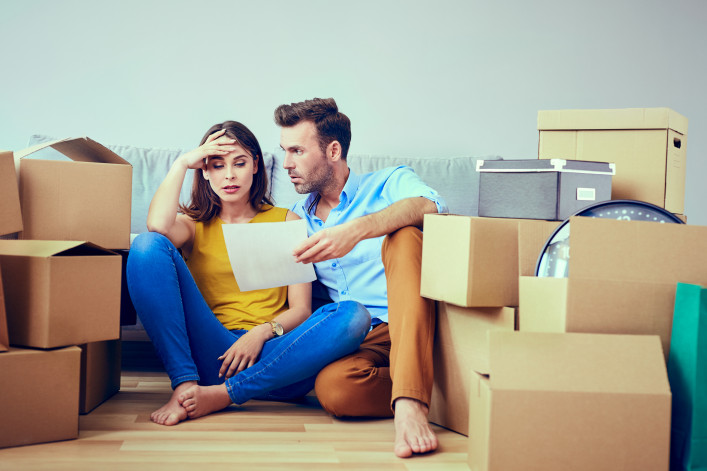 BartekSzewczyk via Getty Images
Moving is for sure one of life's biggest stressors, and even the "simplest" moves in New York City (i.e., within your own building) can cause anxiety: So many boxes! So much stuff to pack! Where is it all going to fit once you're in?!!
As if having your home upended wasn't concerning enough. You also need to beware of shady operators. The last thing you need is to have the proverbial rug pulled out from beneath you by a moving company that preys on your nervous state and bilks you for hundreds of dollars—or worse, absconds with your belongings. 
---
[Editor's note: A previous version of this post was published in May 2012. We are presenting it again with updated information for April 2023.]
---
Rest assured: Plenty of reputable movers in NYC put a premium on fair prices and solid customer service. (Read "10 tips for saving money when you move" before you get started.) What's more, it's easier than ever before to sniff out a rat by reading online reviews and learning from the horror stories of others. 
That's what Brick did in digging up the dirt on some of the most common moving scams in the city—and devising a checklist of ways to avoid falling victim yourself.  Above all, keep your wits about you and trust your instincts in making sure move-in day goes off without a hitch—or make that a bait and switch. 
What are the most common scams to look out for?
Hands down, the most classic moving scam is the bait-and-switch, which is when a mover gives you an amazing quote and then ups the price when it is too late to back out (like moving day). Red flag number one: If the price seems too good to be true, it usually is. Magical thinking is not going to change that reality.
"Most companies know you have no idea what you'll be moving when you book them two weeks before you move," says Lou DeFabrizio, co-founder (with his wife) of Lou Moves You. "So you send them an inventory list and they send you a rate—and when they show up they say the list is wrong and upcharge you for every single additional thing, or say you need a mattress bag and sell you one out of their truck for 30 bucks when they only cost $10." 
He goes on to paint these real-story pictures: The hired workers claim if they go by the book and call the office, the upcharges will be over $300, but they will only charge you $150 if you pay them directly and then pocket the money. Or they say it's way more stuff than you said you had (which always happens) and that they are going to have to upcharge you $500. Then they pull out an iPad and offer to waive the charges if you sign off on a five-star review they themselves write on the spot. 
Think this is just one competitor dissing the others? Think again. Jared Antin, an agent and managing director at Elegran Forbes Global Properties has seen this occur on more than one occasion, typically with flat-rate movers: Sometimes movers arrive and say, "There's more here than we saw on the video call," and then immediately try to charge a higher price, Antin says. "We are also seeing moving companies tack on additional "junk fees" including a per-step charge (for stairs) and mileage/fuel surcharges." His advice: "Always ask for clarification and a full explanation of any and all fees and how they are calculated." 
Relatedly, Gerard Splendore, a broker at Coldwell Banker Warburg, shared a personal experience with a mover sending a truck that wasn't large enough for everything to be moved, despite the movers coming to see everything in advance. "I was once left with piles of stuff in my old apartment," he says. In another instance, the movers said they would meet me at the new address, a mere four blocks away, and they went to lunch for over an hour. "I thought they had disappeared."
Know that this kind of thing happens with established companies as well as what the Better Business Bureau refers to as "rogue operators," which place fake ads online and make-believe reviews on their seemingly legitimate websites, provide a free estimate over the phone or email, and come in with a lowball offer. Then, after processing the down payment, the company outsources the work to another operation that often uses unskilled workers (something DeFabrizio warns about, too). So at best, you end up paying serious money for shoddy movers who don't know the first thing about moving. 
More likely, however, once the goods are on the truck, the driver holds them hostage (scam number two) until you fork over a ransom. Sometimes this con is pulled in conjunction with the bait and switch—they can threaten to keep your things in their truck until you pay more money than you agreed to. 
Or much worse: They never show up at the new address, and you never see them, or your prized possessions, again. Let's call this the phantom mover (scam number three).
Just like with anything else, the key is to do some advance legwork. There's no shortcut to sureness—the following strategies take a little extra time and effort but can save you bigtime in the end. 
1. Get word-of-mouth referrals
The best way to land a good mover is through a recommendation from someone you know—friends, neighbors, co-workers, dog walker, hairstylist— who can speak from a recent first-hand experience. Ask your broker or super, too. They often know of good and bad apples, and ruling companies out is also helpful. 
2. Study the reviews
Yelp, Google, and Facebook are a goldmine of customer complaints—though you should read both the pros and cons for balanced feedback. You can also call the Federal Motor Carrier Safety Administration's Safety Violation and Consumer Complaints hotline (888-368-7238) to find out if any complaints have been filed against the moving company. Beware of "customer testimonials" on the company's own website.
3. Evaluate the website
According to MovingScam.com, a consumer advocacy group, "nearly all of the victims that contact us found their moving company on the Internet." Their advice is to make sure the website includes a physical address (and go ahead and confirm that on Google Maps), phone number, and email address. If any of these items is missing, move on. You're looking for transparency. 
4. Make sure the company is an authorized mover
For moves within NYC, check to see if they are licensed to operate by the New York State Department of Transportation (for verification, call 800-786-5368). Again, every reputable moving company will be licensed, and by law, should provide up-to-date license information on its website. Per Dumbo Moving & Storage's website: A top moving company will have something called a USDOT number, which you will be able to verify on the FMSCA search tool. No such luck? Find another mover. 
5. Get multiple bids
Once you've gathered referrals and screened them as described above, have two or preferably three different companies provide an estimate so you can compare costs. Be sure to clarify whether they charge a flat rate or by the hour. Find out what triggers an upcharge, too, and what those extra fees will be. The idea is not to go with the lowest offer, which can be misleading.
"Be sure to compare the fine print. Moving is one of those times when the cheapest option is rarely the best option," Antin of Elegran Forbes Global Properties says. "It's worth paying a bit more for reputable movers and to have peace of mind."
Can't muster up enough recs? Consider submitting the details of your job to matchmaking sites like Unpakt, Moveline, and CityMoves and get quotes from certified companies.
6. Require at-home estimates
Alas, during Covid, many companies pivoted to doing virtual rather than in-person visits to price a move and give a quote, Antin says.
7. Find out who is actually doing the moving
You have every right to ask if the company hires subcontractors to do the heavy lifting, in which case you should strike them off your list. And if you only find out too late when another company shows up on moving day, fire them on the spot (advises MovingScam.com). 
8. Think twice (better yet, thrice) before signing the dotted line
It may seem too obvious to even say, but NEVER sign a blank document—MovingScam.com includes this as a common ploy. The same can be said for a scribbled "estimate" where you can't even decipher the details. Common sense prevails.
9. Get everything in writing 
At loading time, your mover should give you a copy of the estimate, an order for service (an unofficial contract listing of all the services the mover will perform, including the dates your stuff will be picked up and delivered), and the bill of lading (an official contract between you and the mover that explains, among other things, the mover's responsibility for damages). All movers are also required to provide you with a copy of the FMSCA's booklet outlining your rights and the mover's responsibilities. (It's all about transparency, folks!)
10. Understand what's covered by insurance
 The minimum coverage required by New York State law is $.30 per pound per article. For example, if a 20-pound flat screen TV, valued at $2,000, were lost or damaged, the mover would only be liable for a measly six bucks (20 pounds times .30 cents). Interstate moves, which are federally regulated, must offer two types of coverage—full value protection or release value (both explained here). 
Ask your mover to explain the cost and various coverage options available for your particular type of move. Be sure to read your bill of lading (which sets forth the liability of the mover for loss and damage) and check off the option you prefer. 
You'd be wise to obtain moving insurance on your own, too, since losses in transit aren't generally covered by a homeowner's or renter's insurance policy. Safe is 100 percent better than sorry.
—Earlier versions of this article contained reporting and writing by Hong Le.
Brick Underground articles occasionally include the expertise of, or information about, advertising partners when relevant to the story. We will never promote an advertiser's product without making the relationship clear to our readers.