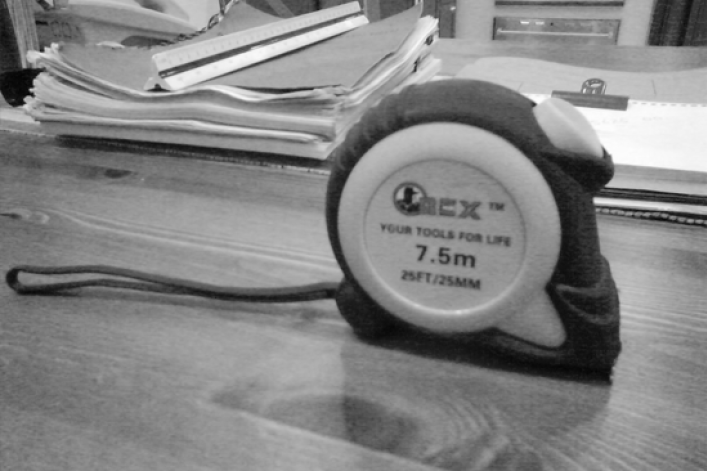 We here at BrickUnderground get how stressful (and expensive) moving day can be. That's why we've covered myriad issues, including how to negotiate with a mover, high-tech ways to make a move easier, tips on moving without getting bedbugs, keeping things stress-free on moving day, avoiding moving scams and the ins and outs of building temporary walls.
When embarking on a move —just like packing for a trip—you always seem to forget something. And in NYC (surprise!) everything's just a bit more complicated (thanks to small apartments and big furniture, lots of walk-ups and more).
Until you've done it a few times, some of the nuances of a NYC move may elude you. So, we asked some real New Yorkers to offer their real-life advice. Here's where hindsight is 20/20: 
1. Measure all furniture, rooms, stairwells, hallways, doorways, elevators, etc., ahead of time.
"I watched in horror and relief as the movers hacked my new couch's little legs off and handed them to me," Molly told us. And it's safe to say she will never, ever forget to measure her stairwells and doorway opening before planning on moving. After having to saw off the legs of her couch to get it in her door, she has learned to never guesstimate.  
That said, if your furniture won't fit, you don't have to cut it in half or abandon it. There is an entire cottage industry in NYC of companies that will dissassemble your stuff and put it back together again in a situation like this (they'll come in an emergency, though it's better to plan ahead).
Of course, there's not much you can do about a mattress that's too big for its intended room.

Lily, who moved into a second floor walkup in Hell's Kitchen had eyeballed her new bedroom and it seemed to be the same size as her old one. But when her queen-sized frame and mattress arrived it would not fit in the room. She tried squeezing and bending (also cursing!) and finally had to haul it down three flights of stairs herself and sleep on the floor until she could order a new one.

2. Leave plenty of time for temporary wall removal.
Having moved nearly every year since graduating college, one would think Briana's recent move would be stress-free.  But this was the first time she was leaving behind an apartment with a temporary wall. She didn't know she had to schedule her wall removal 30 days in advance or suffer a $350 "expediting fee."
When put on the spot, the de-installation man said he could get to her within two weeks and waive the fee, but it'd have to be on a Monday during the day. Luckily she had a flexible schedule, and could be there at that time, but others might not be so lucky.
3. Plan to dispose of unwanted furniture in advance
If you're selling furniture, advertise a good week or two before you have to move, so you have plenty of time to get rid of it. The last thing you want to be doing is packing/moving and selling furniture at the same time.

If you're not planning on selling furniture, but just want to dispose of it, figure out which day of the week furniture pick-ups are scheduled.

If you don't dispose of your mattress and other furniture properly (which in the case of a mattress, requires being sealed in plastic) you risk getting fined $100 by the city if they trace it back to you. (You can wrap your mattress in plastic, or buy a mattress disposal bag for less than $5.)

4. If you're using mini-storage between moves, watch out for "upper" units
"When I moved from Chelsea to Brooklyn Heights, I had to store my furniture in a storage unit for a month," says Briana. "Since I rented my moving truck from UHaul, I stored my stuff there too.  It was a decent price, and they gave me a month free because I rented a truck.  But what I didn't realize at the time what an 'upper' storage unit meant.  This means your unit is on top of another and they have to bring your stuff up a metal, mobile staircase.  It takes a much longer time, so beware."


5. Stay alert
Moving can be very stressful, and you can find yourself forgetting things when harried.
During her most recent move, Briana locked the keys inside the U-Haul truck. U-Haul said they didn't have a spare, and she had to call a locksmith. This cost her $150 (negotiated down from $220).

6. Read your next lease carefully.
Rob—who'd moved countless times in NYC—skimmed his lease quickly thinking it was standard, and signed on the dotted line.

However, once he moved in, he found out that air conditioners above 5000BTUs were not allowed in the old tenement. And only one unit per household was allowed. Not only did he sweat all summer but there were also power outages in the building constantly.
If you are counting on using anything beyond your four walls--say, a roof deck or backyard--make sure use of said area is mentioned in the lease. Otherwise, you'll have no recourse if you lose access for some reason (say, the deck was illegally built to begin with or the board of the building you're subletting in decides the space doesn't actually belong to the apartment).
Related posts:
Relocating to New York City--or know someone who is? FAQs brokers can (and can't) answer
Moving to NYC? Here's a crash course in finding an apartment here
16 tips for an (almost) stress-free moving day
From 1 room to 2: The insider's guide to temporary walls
Updater.com: Alerting EVERYONE who needs to know about your new address (plus, help setting up the cable)
3 high-tech ways to make your moving process easier (and cheaper)
How to negotiate with a NYC mover: 7 tips that may save you bigtime
3 moving scams you should know about-- and 10 ways to avoid getting duped
Brick Underground articles occasionally include the expertise of, or information about, advertising partners when relevant to the story. We will never promote an advertiser's product without making the relationship clear to our readers.