The Market
Getting the NYC rental you want may require thinking like a buyer
The increasingly competitive rental market mimics some aspects of the sales market
About one in five new leases in Manhattan and Brooklyn involved a bidding war last month
Preparing your financial documents and guarding your credit score are key strategies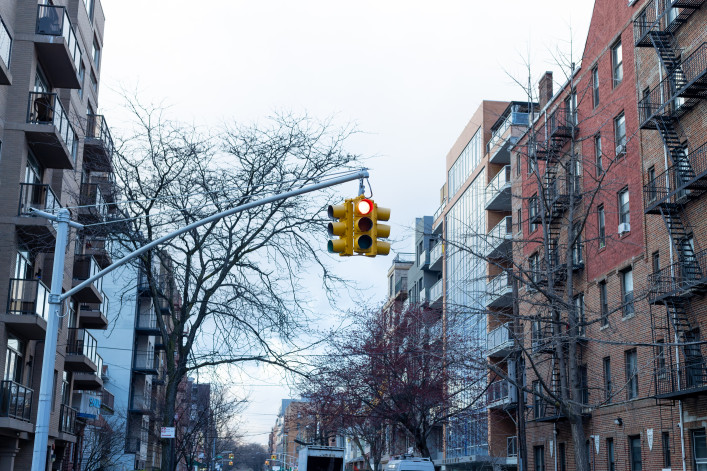 Aziz Shamuratov/iStock/Getty Images Plus via Getty Images
The good news: You found a New York City rental apartment you adore. The bad news: So did the 20 other people milling around the open house and now your excitement has fizzled.
It's a maddening experience—enough to make you want to tear your hair out. What do you have to do to beat out the competition and land an apartment in NYC? Here's something you can do: Try thinking like a buyer.
There are many aspects of renting in NYC that mimic the sales market, namely the sticker shock and the competitiveness. For that reason, brokers say, it pays to bring the same sort of A-game to the hunt that a buyer would. This entails being prepared with your paperwork—instead of a mortgage preapproval you would have your employment letter and bank statements in hand (more on the documents you need below) so you could apply on the spot.
It also means zealously guarding your credit score and gathering your recommendations to make sure you look good on paper, both financially and personally. And it may involve offering more than what the landlord is asking—or going into a bidding war.
All of this can be pretty daunting, says Nicole Beauchamp, a broker at Engel & Völkers.
"People who are new to NYC don't understand all that you need to do to rent an apartment here. They think you just walk into the management office and get the apartment," Beauchamp says. Renting in NYC is far more involved than that.
And these days, it is more crucial than ever to up your game because listings are scarcer. Why? Many buyers are parked in rentals temporarily while they wait for mortgage rates to come down. Then there is the phenomenon of warehousing: Landlords who can't afford to fix up apartments as a result of changes to the rent laws are keeping them vacant instead.
With that pressure in mind, here are ways you can borrow from a buyer's mindset to land that rental apartment you really want.
Pull all your paperwork in advance
In a competitive rental market, it is essential to gather all the documents you need to rent an apartment before you start looking. The goal is to have the option to apply on the spot—or very soon after—if you see a place you like.
"If pieces of your application are missing, your application goes to the bottom of the pile, or maybe it doesn't get into the pile at all," Beauchamp says.
The list of what you need is extensive—and can be off-putting to someone who hasn't rented here before—in fact first-time NYC renters feel like they are being asked to show the same financial information as buyers. You need, for example: Your last two pay stubs, three months of bank statements, photo identification, tax returns, a letter of employment, and reference letters.
But if you're thinking like a buyer, you can consider it an opportunity to show you have excellent credit and make smart financial decisions.
Unfortunately, you can't take your time pulling your documents together. Desirable apartments move fast, says Arezu Sohn, an agent at Corcoran.
"You have to be prepared because anything that is priced well moves really quickly," she says. If you're still pulling together the paperwork after you see an apartment, it can be gone before you are done.
When to make a higher offer on a rental
Bidding wars for rental apartments became a widespread phenomenon in NYC in the summer of 2021—and have not gone away since. In fact, about one in five new leases for a Manhattan and Brooklyn rental involved a bidding war in February—typically a slow month for rental activity, according to the Elliman Report.
Being asked to submit a "best and final" offer as if you are a buyer can be head-spinning, so you need a good strategy. Your options are to offer a incrementally higher monthly rent—say an additional $100 or $200 more each month, or a percentage of the total rent, like 2 to 5 percent of the advertised annual rent.
Andy Feiwel, an agent at Compass, recently took a client to see an apartment in the West Village, where there were 20 other people at the open house. They bid $150 over the asking rent and were the second-highest offer. The top offer came from a renter who offered $500.
It was for the best for Feiwel's client. The apartment wasn't worth overpaying for, he says
Of course not every rental is going to require bidding war—you'll know if you're facing competition if you see a crowd at an open house. If you're not sure there's competition, you can ask if the owner is taking higher offers, but this can be a bit tricky. After all, you don't want to start the bidding war by tipping your hand and indicating you're willing to pay more.
While you don't necessarily need an agent to rent an apartment in NYC—this is when one can come in handy. Sohn points out that agents have the relationships to ask questions and find out what's going on your behalf.
Another important lesson: "Don't offer more than you're comfortable paying in rent," Sohn says. "If something goes wrong—and something always goes wrong with a rental—you don't want to be angry and feel like you overpaid."
And don't make an offer and then renege or make an offer and disappear. Not only does it waste time (and time is money) but you may find yourself wanting to see an apartment that—whoops—is represented by the agent you ghosted.
"NYC sometimes feels smaller than it is," Sohn says.
Guard your credit score like a buyer
Even before you embark on your apartment search, it pays to shore up your finances by paying attention to your credit score.
Just as a buyer needs a good credit score to get the best mortgage rates, a renter needs a good credit score to qualify for an apartment, so don't make this an afterthought.
Most landlords want to see a credit score of 675 to 700. If your score is on the low side but you're otherwise a good candidate, some landlords will check your credit report to see what brought your score down. (Here are some ways to fix your credit score.)
But not all will do that. Instead, they'll just move on to the next renter. In a competitive market, "landlords have a choice," David Schlamm, the founder and principal broker of City Connections Realty, previously told Brick.
For that reason, you need to be on time with all your credit card and other payments—and make sure there is nothing outstanding—like a missed telephone bill that got sent to a collections agency.
That's why you should monitor your credit report. Federal law allows you to get a free copy of your credit report every 12 months from each credit reporting company: Equifax, Experian, and TransUnion.
Some other advice from brokers: Don't max-out your credit card. This will show up on your credit report as well. A landlord may think you are careless with money and not want to take a chance with you. Don't take out a new credit card or buy a big ticket item right before you submit a rental application either. These trigger hard credit inquiries that can ding your score.
As Schlamm puts it: "People who have good credit protect their credit. People who have bad credit don't care," he says.
Get co-op or condo board approval
Renting in a co-op or condo is arguably the closest a renter gets to approximating the buying experience.
"It is kind of like purchasing—the process is very similar because you go in front of board," Feiwel says.
That's right—renters go before a board, but it is typically just a formality in a condo, if there is a board interview at all. In a co-op, a renter might face a little more scrutiny, but not the same amount as a co-op buyer.
Feiwel says because renting in a co-op or condo requires board approval, the process can take longer, something that can be reflected with a lower rent. He says getting top dollar is not the same priority for the owner as it is for a landlord of larger building.
Owners "want someone who will take care of the property," he says. Plus they need someone who will pass the board.
Renters in co-op buildings should be aware they may face some stringent rules, for example regarding pets. Shareholders are often restricted in how long they can rent out their apartments (two years out of a five-year period is standard). This is done to promote owner-occupancy (co-op buyers can have a hard time getting a loan if a high percentage of units in the building are sublet.)
But sometimes, thinking like a buyer can in fact lead to buying. Feiwel was renting in a co-op building in the Financial District and had the opportunity to buy the unit (so did this writer).
He later become the president of its board. Like a lot of co-op buildings in recent years, his building relaxed its restrictions on subletting.
"We eased it when I was president. We allowed unlimited subletting but raised the fee and stepped it up every year," he says.
Brick Underground articles occasionally include the expertise of, or information about, advertising partners when relevant to the story. We will never promote an advertiser's product without making the relationship clear to our readers.