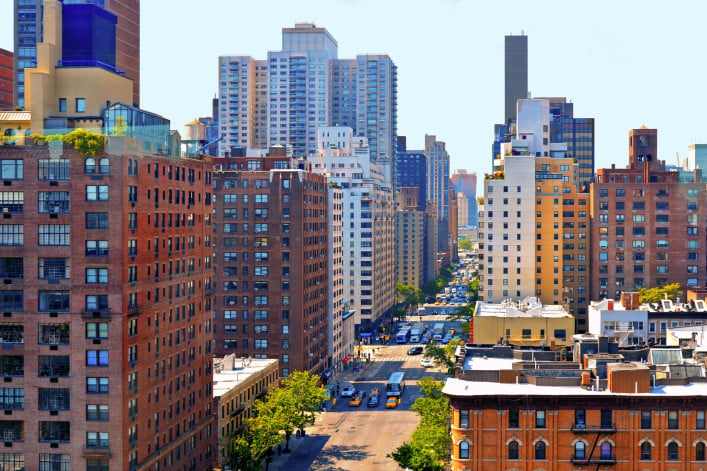 If you're on the hunt for a New York City apartment right now you may be asked for your best and final offer, and the winning bid could be a couple hundred or even a thousand more each month than what the landlord is asking. Landlord? Yes, that's right—we're talking about NYC rentals.
Even though NYC landlords in general have an excess of vacant apartments, some particular areas are behaving like they're in a hot sales market. Brokers tell Brick that renters who have very specific wish lists in very hot neighborhoods are facing bidding wars—a surprising shift from just a few months ago.
Hal D. Gavzie, executive manager of leasing for Douglas Elliman, tells Brick some brokers are reporting there are bidding wars for new rental listings in Tribeca, Soho, Greenwich Village, and the West Village. Some agents report the same is happening on the Upper East and Upper West Side, and other downtown Manhattan neighborhoods, as well as parts of Brooklyn—in and around Park Slope, for example. And instead of bidding wars, other landlords are clawing back concessions or raising the rent after receiving multiple applications.
---
[Editor's Note: A previous version of the article ran in June 2021. We are presenting it again here as part of our summer Best of Brick week.]
---
One explanation for this sudden, intense competition: New York families who left during the pandemic are now very eager to return to where they used to live—and they are returning en masse. So they're being savvy—or aggressive, depending on your perspective—and offering to pay more to win an apartment. In some cases, renters are signing leases early even though they don't need to be back in the city until school starts in September, brokers tell Brick, or they're offering to pay the broker fee for apartments that are listed as owner paid—just to up the ante.
Another group facing bidding wars are young renters who are renting in NYC for the first time—drawn by rents that are still lower than they were pre-pandemic—and finding themselves battling it out for apartments with amenities in desirable areas.
The frustration is intense
A renter who left NYC with her family when her lease was up during the pandemic is trying to get back to her Windsor Terrace neighborhood—or in a neighborhood nearby (we'll call her Sara, but that's not her real name).
Sara is on the hunt for a three-bedroom, pet-friendly townhouse—and not seeing much inventory. When listings do come on the market, she's finding the rents are much higher than they were before the pandemic—and the competition for them is fierce.
She saw a brand-new listing for a Brooklyn townhouse rental—a hot commodity these days—and within a day and a half there were multiple offers above ask. It's almost as if it was a sales listing, she says: She was told to make her "best offer."
"I felt like I was buying," she says. She didn't get the place, much to her disappointment. The same thing happened with the next listing.
"It's very frustrating. Having rented multiple apartments in Brooklyn, I know the neighborhood, and I know what things cost," she says. Bidding wars are raising Brooklyn townhouse rents that appear to be $1,000 more each month than they were just a few months ago," Sara says.
Have your paperwork ready to roll
Families with the resources to rent a place outside the city started to return pretty much at the same time, says Steven Gottlieb, an agent at Warburg Realty. Once the city announced public schools would be back in person and the vaccine rollout appeared successful, suddenly the three-bedroom rental, "which was kind of dead," saw demand skyrocket, he says.
He had a client lose out on a bidding war for a rental. In general, when this happens to renters, it serves to tighten their resolve.
"They come to the next one with guns blazing," he says, prepared to make aggressive moves, like offering to cover the broker's fee even when they don't have to.
Gottlieb (and other brokers Brick spoke to) says having your paperwork ready to go before you look at apartments is an absolute must. That means you should have your financial statements with you "so you are ready to roll."
Being prepared is an easy way to help you seal the deal.
"If someone has the same bid as you and you have all your documentation—that proves you might be a good tenant who is easy to work with," he says.
Keep quiet at showings
Nicole Beauchamp, an agent at Engel & Völkers, says trying to get into a showing for a hot apartment these days is like "trying to get into a club." Renters are lined up—sometimes 15 people are waiting to see a place, like one Midtown West rental she recently took a client to: By the time they arrived the apartment had been snapped up, even though her client's appointment had been made that same day.
Apartments are going within a day of being listed, and Beauchamp says winning offers can be $400 to $550 over the asking rent.
"The market has come back very quickly, catching some renters off guard," she says. Some renters think they're going to be able to take their time—as if it were still the same market as February and March. But in fact the current market is very reminiscent of early 2000s, she says, when you would meet a broker who'd then say the place you're interested in has been taken and offer to show you something else.
That might seem like a bait and switch—but Beauchamp says the current dearth of inventory in certain areas is real. "It hasn't been this busy in a good 10 or 15 years," she says.
She's usually a sales broker and advises renters to think like buyers and look at apartments slightly below budget so they have room to offer more. Other advice from the sales side: Keep quiet during open houses (so you don't tip off the competition about your budget), arrive a little early and stay a little later for appointment-only showings so you can size up the competition coming and going.
At one open house for an apartment listed for $3,600, she and her client could overhear conversations from other interested renters. "For many of them $3,600 was really their ceiling," she says, indicating that her client should offer more to land the apartment.
For renters who want to be in the East Village, Devin Someck, co-founder and principal of Living New York, has seen apartments go for "10 to 15 percent over asking."
He attributes this to an influx of post-grads from other cities attracted to NYC's relatively lower rents. But just like the families who are looking for something particular, post grads with wish lists are also facing bidding wars. There's not a lot of inventory if you want, for example a two bedroom in the East Village that's been renovated and has a washer and dryer. So when something like this comes up—renters are met with bidding wars—and landlords might do away with their original offer to cover the broker fee.
"So it becomes: Who can offer highest rent and pay the broker?" he says. "Frustration is at an all-time high."
Speed and outdoor space are where it's at
To Melissa Leifer, an agent at KWNYC, it's the speed at which the rental market is moving that's most surprising. For example, she knows of a one-bedroom apartment in Williamsburg that was listed for one day and had 37 showings and 10 applications.
So you need to get your game up to speed. "If you want your guarantor or your Mom to come see it, you're not going to land the apartment," she says.
She's aware of townhouse owners getting offers that are $1,000 above ask—for example a Brooklyn townhouse "with a nice backyard" was listed for $5,000 a month and went to a renter offering $6,000.
"Outdoor space is the hottest commodity you can have," she says. Lots of renters have been staying outside of the city in places with yards and don't want to go back to living without it. Some are nervous the pandemic will get worse again, and there will be another shutdown—and know how important it is to have some outdoor space of your own, she says.
"I've never seen apartments go for more than $1,000 over ask," she says. Her not so tongue-in-cheek advice? "Don't rent, just buy something."
A rent increase before lease signing
Becki Danchik, a broker at Warburg Realty, hasn't seen rental apartments go to bidding wars—but she's seen something else that's just as indicative of the feeding frenzy: Landlords who raise the asking rent after getting a few applications.
She showed an apartment that was $3,000 a month and while the renter was in the process of getting their application in, the landlord raised the rent.
It's not just prices that are going higher, she says some landlords are cutting incentives. "They may have been offering two months free but after a big open house it's one month, Danchik says.
As a renter, you also need to be aware that some of your competition isn't even in NYC. You may be outbid by someone who isn't even in NYC at the moment.
Doug Wagner, director of brokerage services at BOND New York, says plenty of renters are touring listings virtually and are prepared to handle the transaction completely online. The pandemic ushered New York City real estate into the 21st century with 3D tours and online document signing, he says, tools that are here to stay.
"We're still doing a lot of virtual transactions. The first time these renters see the apartment is when they move in," he says.
That's because many renters are looking to move from other parts of the U.S. and don't have the time or money to come to NYC for a week and do a search in person.
His tip? Make it easy for the landlord to choose you. "Think of things you can do make the decision easy. Can you take it right away? Is there something that needs fixing or cleaning? Offer to do it yourself," he says.
Brick Underground articles occasionally include the expertise of, or information about, advertising partners when relevant to the story. We will never promote an advertiser's product without making the relationship clear to our readers.