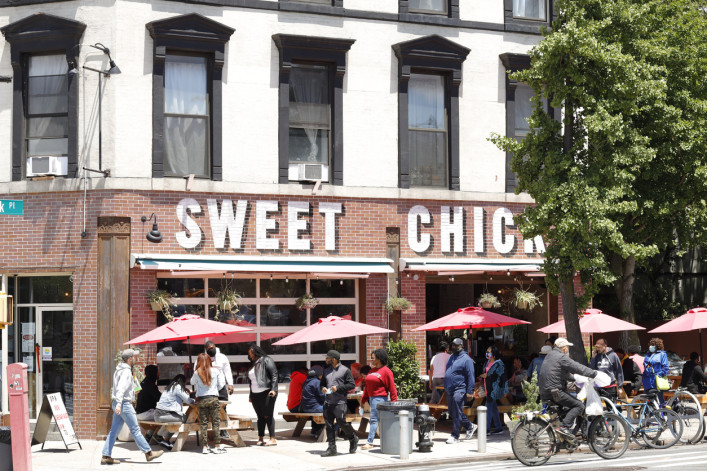 You earn credit card points for shopping and dining out, and miles for taking a trip, but what kind of direct rewards do you earn for making rent payments? You know the answer: Zilch.
It's a painful reality about life in New York City. Rent here is exorbitant: The average Manhattan apartment rent hit $4,078 in May, according to The Elliman Report. Longtime NYC renters easily put hundreds of thousands of dollars toward rent, making it very difficult to save up for a down payment.
That's something a new rewards program and credit card brand is aiming to take on. Bilt Rewards and Bilt Mastercard, two different products from Kairos, a portfolio of brands, help tenants earn points for paying their rent—and they don't charge renters or landlords any fees for rent payments, the company's founder says. The points can be applied to future rent payments—or even put toward a down payment.
Typically, landlords who accept credit card payments pay a processing fee, which can range from 2.5 to 2.9 percent, according to Experian, and then those fees are tacked on to your rent. You can also use third-party services, like Plastiq, RentTrack, PlacePay, or Venmo—renters can use these to convert credit card payments into payments to landlords, but they charge renters steep fees as well—ranging from 2.5 to 3 percent.
Some renters use ACH transfers to move funds electronically from their bank to the landlord's—they are usually free, but you always need to have the funds accessible—there's no credit if you're low on cash one month.
Earning points for rental payments
Whatever your rent payment method, Ankur Jain, founder and CEO of Kairos, says it's not working hard enough for you.
Housing is the single-biggest expense for most renters, "yet you get nothing back for it. I get more for buying dinner," he says. (Jain has tackled other renter pain points as well. His company founded Rhino, which offers a security deposit alternative.)
Kairos is launching two products. There's Bilt Rewards, a network of landlords that includes some of the biggest owners in NYC, like Related, Moinian, Cushman & Wakefield, and Avalon Bay. If you're renting in one of these properties, you can use the Bilt app and earn points on paying rent, signing, or renewing a lease. Renters here start with a base of 250 points per month.
The other is the Bilt Mastercard—it has no fees on rent payments, and you can earn from one to two points on rent (you have to make certain levels of non-rent purchases to get the higher redemption rate) and one point on other purchases. There is no annual fee and a cap of 4,000 points per month on the amount you can earn from rent payments. New cardholders can take advantage of an introductory offer that allows you to earn three times the number of points with your first rent payment, up to a maximum of 10,000 points.
The points earned through either the network or the credit card can be redeemed and applied toward travel on American Airlines and other airlines, hotel stays, exercise classes, home décor from select partners—or even cover your next month's rent payment.
Home ownership is the plan
Earning and redeeming points through the rental process is just part of Bilt's real estate vision. Helping renters become owners is the goal, Jain says. By putting your rent on your credit card and reporting your on-time payments to the credit bureaus, you boost your credit score over time and a higher score translates into a better rate for borrowers, he explains. For example, you can boost a score by 50 to 100 points over 12 months, shaving off basis points and tens of thousands of dollars.
In addition, the company worked with the federal government to make rewards eligible to be applied toward down payments on mortgages with Fannie Mae and the U.S. Department of Housing and Urban Development.
Dave Grossman, founder and editor of MilesTalk, a website that helps people travel more using credit card rewards and loyalty points, says he thinks Bilt has come up with a very strong rewards program.
The company didn't create the concept of boosting your credit score by putting rent payments on your credit card, but it is a strong selling point, he says, along with waiving fees for rent payments. (Bilt says credit card payments are typically left out of reports to credit bureaus.)
It can be dangerous, he points out, for some renters who could max out their credit cards with rent payments. So Grossman says those renters should use a protection feature that turns the Bilt credit card into a debit card and directly taps funds from a bank account.
What's the incentive for landlords?
At first glance, there doesn't appear to be an incentive or deterrent for landlords to accept the Bilt Mastercard. Still, Adam Frisch, senior managing director of leasing at Lee & Associates, says lots of New Yorkers already use credit cards to pay their rent and "they don't mind the fees because they're planning on flying somewhere and want the points," he says.
As for whether small landlords will embrace a new credit card aimed at renters, Frisch was neutral. "A credit card is only as good as the tenant who holds it and the funds they have in the bank," he says.
Brick Underground articles occasionally include the expertise of, or information about, advertising partners when relevant to the story. We will never promote an advertiser's product without making the relationship clear to our readers.