Buy
Need help buying a place in New York City? This new company co-funds the down payment on a condo or brownstone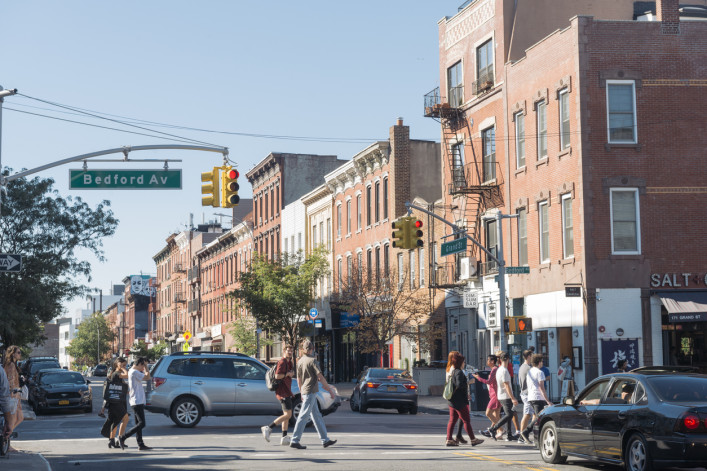 New York City's hefty down payment requirements make it hard for many to get the funding in place to buy an apartment.  One new option takes a page out of the sharing-economy playbook.
If you're familiar with co-working and co-living, you can grasp the model behind co-investment. It's a shared-equity model and Unison, headquartered in the San Francisco Bay Area, is the largest firm offering this kind of purchasing option, and recently helped buyers in Brooklyn and Harlem get on the property ladder. Unison spokesperson, Ayesha Dillon says the company's deals in NYC have increased by 115 percent year over year. 
Using money for a down payment on an apartment that doesn't come from your own portfolio is going to mean giving up something. Bank loans require you pay monthly interest on the money you borrow. Even interest-free loans are usually only for a limited time. Co-investment doesn't require monthly payments, instead, you give up a percentage of the property.
"It's a complex product but a very cool one," says buyer Phill Rosen. He recently bought a three-bedroom condo in Williamsburg using Unison funds. Rosen is CEO of Even Financial, a technology company focused on alternative loans, credit and savings products so his background means he is well positioned to take advantage of this kind of venture. He acknowledges how complicated it is to buy in New York City—it's a competitive process that involves lawyers, lenders, fees, and taxes.
"You have to make sure you are using it for the right reasons—you are giving up a percentage of the home. It's not a very high percentage but it's meaningful," he says.
How it works
The shared equity model works like this: The company will contribute between 5 and 20 percent of the purchase price as part of the down payment, up to a threshold, which in Unison's case is $500,000. In return, they get a financial interest in the property and a share of its appreciation in value. They also take a hit if the property depreciates, so they share in that inherent risk of ownership. 
"You don't want to be in a situation where you are buying at the top of the market and at a competitively high price because it will handicap your ability to exit in a way that gives you the upside later," says Rosen. He says, "Williamsburg is going to do really well" for Unison but he was strategic about his partnership with them. He had the required 20 percent down payment and was looking at two-bedroom units of 1,500 square feet but with Unison's help, he was able to buy a 2,300-square-feet, three-bedroom condo. 
"I said, ok, I can get something that costs 24 percent less and not use Unison, and put 20 percent down or I can get something that's 20 percent more and much nicer and use Unison and give up 30 percent. So my net cost is not the full 30 percent, it's the differential," says Rosen. 
Making sure it's right for you
This kind of partnership would also allow buyers to reach the 20 percent down-payment threshold and avoid the additional cost of private mortgage insurance. Regardless, you want to make sure the program is a responsible choice from a financial planning perspective.
"For me, I used it to go over 20 percent down, which enabled me to buy more house. I was giving up a percentage of something but that percentage was larger because of Unison, they weren't getting a piece of what I was starting with, so the impact of their ownership on my exit from an absolute dollar value is mitigated," says Rosen. 
Randy Breidbart, a financial planner with Park Avenue Financial Advisors, says this kind of arrangement isn't without risk. "You'd have to ask yourself, is it worth giving up that equity?"
Rosen crunched the numbers to provide possible outcomes for himself and recommends buyers do the same, asking how long you intend to stay in the property, what you expect your return to be, and what the alternative is. Unison tell us they "do not invest in co-ops at the moment," which makes sense because of the more complicated financial scrutiny involved in a co-op purchase. 
Fees and penalties
Unison wants to partner with owner-occupiers who are going to look after the properties.
"We work with buyers who are looking for their primary home and could use our down payment cash to create flexibility with their home purchase, whether it's reserving cash for a rainy day or keeping their monthly payment low by not paying PMI," says Dillon. Rosen points out the company's "downside is capped and there are restrictions on when [he] can sell." He says it's not meant for those wanting to flip an apartment. 
"If you sell in under three years, they have a guaranteed minimum return but if you materially improve the property then that accrues to the balance that you own. You have the ability to buy out early if you want to." 
Dillon says the buy-out option is available after three years and requires an independent appraisal to determine the fair market value of the property at the time.
Separately, the company charges an "origination fee" of 2.5 percent and you'll also have to cover expenses like lawyer and broker fees as normal, plus any credit reporting charges.
Closing the deal
In order to do a deal with Unison, you will have to work with one of their lenders. The company tells us they always looking to work with new partners.
Rosen used Valley National Bank and says while they were "somewhat antiquated in terms of their digital lending capabilities" he found them to be "a very good bank with very competitive rates and very supportive loan officers."
According to Rosen, the legal process was surprisingly straightforward, requiring "a couple dozen extra pages of paperwork," which, in the context of a mortgage, he says, isn't that significant. Unison did an apartment inspection, which Rosen says was "easy" and he says the complexity was really in "modeling" whether co-financing would work for him.
Unison has been investing in homes since 2006. Their real estate risk is packaged up for investors. "We provide institutional investors, efficient, diversified access to residential real estate," says Dillon. She adds a " big part of our business is working with real estate agents, who we utilize to get the word out to their buyers." 
Brick Underground articles occasionally include the expertise of, or information about, advertising partners when relevant to the story. We will never promote an advertiser's product without making the relationship clear to our readers.