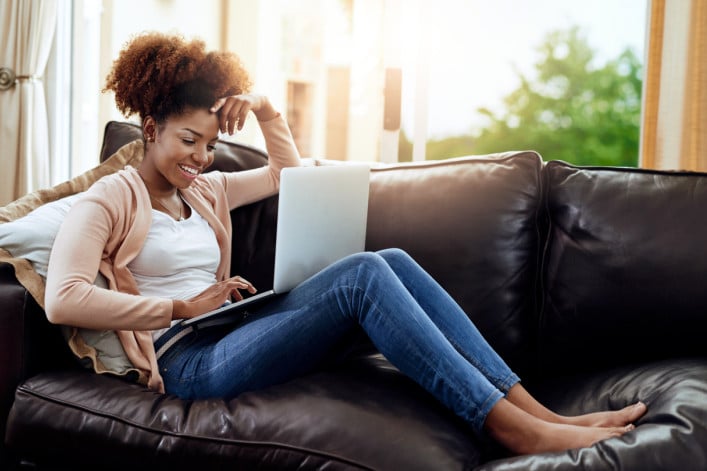 We're so used to online banking it seems obvious to make the Internet the first stop when shopping for a mortgage. Buying a mortgage online is often fast and you can do it from your couch, which is a lot more pleasant than scheduling a meeting with a loan officer. In most cases, once the lender has the paperwork, the application can be completed in a matter of minutes. After the pre-approval is issued it's often just a matter of issuing disclosures, getting an appraisal and obtaining a title report so the deal can close.
But while online mortgages are fast and easy, there are some important considerations, most importantly security and accuracy. There's also the risk of lowering your credit score if you shop at multiple sites, plus the additional approvals needed if you are buying into a co-op.
1) Make sure your information is secure
When you are applying for a mortgage you'll be asked for W2s, pay stubs and bank statements, all of which are sensitive documents. Patrick Lavell, senior loan originator at Hudson United, says sending unsecured documents by email is a terrible idea.
"The documents should always be either password-protected or uploaded into a secure system when they are being submitted to the lender," he says.
If an in-person handoff of documents is too old-school for you, many file-sharing services offer encryption options. "If you are not comfortable using a scanner or can't password protect the documents, then meeting with someone absolutely makes sense," Lavell says.
2) Double check your details
"Online pre-approvals are not always accurate," says Lavell, "as they are based on input from the consumer, not a loan officer."  He says the best example of this is a self-employed person who makes the mistake of using gross income instead of net income.
"We've seen many examples of borrowers in contract who find out that they aren't qualified only once the application goes 'live' and a loan officer gets involved," he says.
3) Know your intentions long-term
If you intend on holding onto the property for a long time you may want a lower rate, if your purchase is more short-term you might want lower closing costs. Rates are very often quoted differently with or without points, making it harder to compare offers.
Lavell says "some online lenders quote rates that are with 2 points so that the APR appears to be really low, or they can require a 40 percent down payment, or they don't allow the borrower to lock the rate beyond 30 days. All of these items can lead to higher rates or higher closing costs." Make sure you know what your financial priorities are so you can pick the best mortgage to suit you. 
4) Make sure you can lock in the rate through to the closing 
It may be a buyers' market in New York City but it's still important to be able to lock in your rate through to the closing date. Lavell says, "in the craziness of the current stock and bond markets, we've been seeing huge swings in rates, so I believe the ability to lock in a rate early in the loan process is vitally important."
5) Be aware multiple searches can affect your credit score
Shopping around for the lowest mortgage rate is sensible but can come at a price. This rookie buyer Michelle Castillo found that each time a bank looked through her financials, it made a dent in her credit score. That can have an impact on the rate you're offered. Castillo was told all the mortgage credit checks over a certain period would be counted as one "soft" credit check, but she still had to provide a written explanation for every time someone looked at her credit.
6) Remember online services are only as good as the staff behind them
The service you get from an online mortgage company will likely only be as good as the person who happens to answer the request for mortgage information.
"Unfortunately, a lot of the bigger companies staff the online sales centers with people who are new to the industry, so it's not uncommon to have people sell a product to a buyer that they simply don't qualify for," Lavell says.
7) Co-ops need special attention
Mortgage rules are different if you are buying into a co-op. National Cooperative Bank (a Brick Underground sponsor) offers online applications, but Robbie Gendels, NCB's senior loan officer, says, when it comes to co-ops, it's hard to beat a face to face conversation.
"It is important to talk to a lender who understands co-ops—as the building as well as the buyer need to be approved," she says.
So while the buyer might get approval, the building may have issues that the lender can't work around. Gendels says she's seen situations where a buyer went to an online broker only to find out they do not do co-op loans.
"Being able to speak with a lender that specializes with co-ops will allow you to be able to prepare yourself for the board approval processes when other lenders may not know additional steps needed to purchase into a cooperative," she says.
Brick Underground articles occasionally include the expertise of, or information about, advertising partners when relevant to the story. We will never promote an advertiser's product without making the relationship clear to our readers.