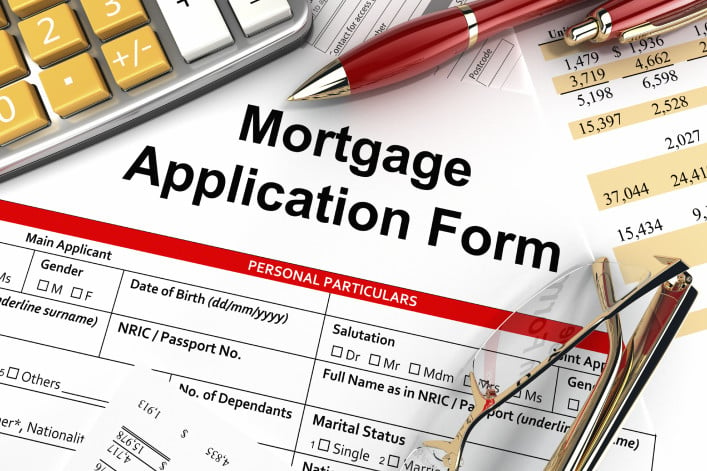 If you're a first-time homebuyer who's also tech-savvy—or just looking to avoid in-person interactions—it's becoming easier to go the online route when seeking a mortgage. The Wall Street Journal reports that an increasing amount of lenders now offer digital portals that manage every aspect of getting a mortgage, from analyzing credit histories to approving loans.
Given the stresses of purchasing property for the first time, many find it a consolation that they can complete at least one aspect of the process from the comfort of their couches—and lenders attuned to this are offering far more extensive online services than they have in the past.
For example, Quicken Loans, one of the largest lenders in the country, now has a feature called Rocket Mortgage that aims to streamline the application process and eliminate paperwork. To use the service, prospective buyers enter information about where they currently live and want to own; whether they have co-applicants; and what their salary and assets comprise. Rocket Mortgage then pulls their credit histories, assesses the home prices they can afford, and offers several loan options. (This reporter tried the service, and found the application process quick and intuitive—though my resulting choices left something to be desired. The price listed for the home I could afford was incredibly low; it might get me a place in rural Georgia, but surely not anywhere within the five boroughs. This didn't exactly come as a surprise, but it was a bit startling to see the figure rendered on my computer screen in black and white.)
Straightforward and simple as they can be, online mortgages don't necessarily render real life mortgage brokers obsolete. Joseph Leffe, a loan officer with TD Bank, says that he's not concerned about the rise of such services, because buyers often have many questions about mortgages they prefer to discuss in person before they go through with the application process. (Based on my experience trying out the site for this article, the anonymity and speed with which my numbers were crunched, according to a mysterious algorithm on the other side of the screen, was a bit disconcerting and opaque. Should I ever buy a home and make such a significant financial commitment, I'd rather deal with a human.)
Other borrowers may also have special circumstances that require in-person help. "Maybe they're self-employed, retired on a fixed income, don't have a big down payment, or their credit score might be damaged," Leffe says. "They want to talk to someone and get the skinny on what they can realistically accomplish." 
Plus, clients who drag their feet when it comes to preparing to purchase a home will find that the longer they delay, the more assistance they'll need from professionals. "I have been doing this a long time, and I can tell you one thing," Leffe says. "Procrastination will take a simple mortgage application and turn it into a Russian novel."
Online lenders insist that staff is always nearby should complications arise. SoFi, a company that also provides student and personal loans, says that it gives borrowers 24/7 access to live customer support; Rocket Mortgage, too, offers clients the ability to talk with brokers online or by phone for loans that are in-process or closed. Because getting an online mortgage involves sending social security and bank account numbers over the Internet, confidentiality may also be a concern. To that end, SoFi says that all submitted data is encrypted, but given the nature of cybercrime, it's the prospective buyer's call whether such privacy policies are sufficient. 
And as the Journal article notes, online mortgages are not always the best match for buyers who need jumbo loans. In NYC, jumbo loans are those over $625,500, a price point that many New York apartment mortgages easily exceed. Because these are considered higher risk—with reason, due to the amount of borrowers that defaulted on jumbo loans during the 2009 financial crisis—additional paperwork and vetting from experts is required.
Leffe agrees: "Relationships between realtors, lawyers, and mortgage loan officers will always exist." On the other hand, he says that for the savviest of first-time homeowners—that is, those who do thorough research and understand how banks interpret income—"an online mortgage is a no-brainer." 
Brick Underground articles occasionally include the expertise of, or information about, advertising partners when relevant to the story. We will never promote an advertiser's product without making the relationship clear to our readers.