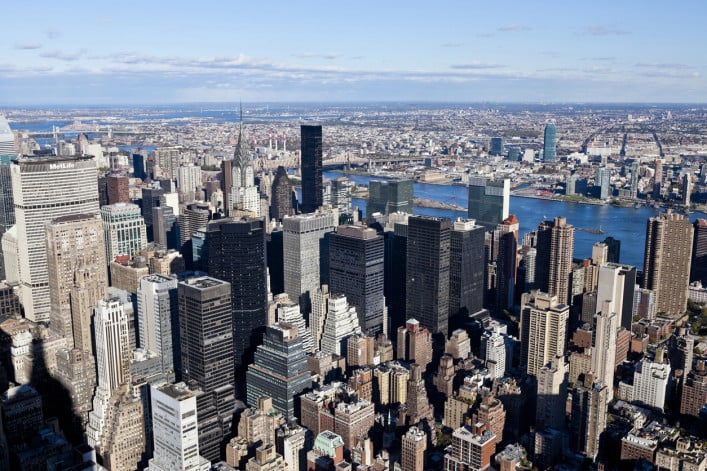 If you're looking to get a mortgage, you've probably heard the term, "jumbo loan." While it may sound scary—as in, you'll be paying it off for a jumbo amount of time—in pricey real estate markets like New York City, even mortgages for average apartments fall under this banner. In fact, any loan here bigger than $726,525 qualifies, so if you're buying a $1 million apartment and putting down 20 percent, or $200,000, you'll be getting a jumbo loan.
Why are they different? Technically speaking, a jumbo loan is too big to qualify under guidelines set by Fannie Mae and Freddie Mac, the quasi-governmental entities that guarantee loans for banks. Fannie and Freddie will only back mortgages that are up to $726,525 in New York City (or up to $484,350 in most other parts of the country), so banks treat them differently than your run-of-the-mill loan. 
For the average apartment buyer, they're a bit different too. Here's what you need to know:
1) You'll probably get a lower rate 
Traditionally, jumbo loans came with higher rates—about 0.25 percent higher, generally speaking—because banks considered them a riskier investment. But in the last couple of years, that's changed.
These days, rates for jumbo loans are equal to and sometimes even less than for regular mortgages, known as "conforming loans," says Greg McBride, an analyst for the financial publication Bankrate. 
A few things factor into this trend. On the one hand, interest rates on conforming loans have gone up, as the federal government imposed higher fees on banks to discourage buyers from borrowing money for real estate they can't afford. Second, banks have come to think of jumbo loans as safer investments because the typical borrower—a high net-worth individual buying in a stable real estate market, usually with excellent credit and solid assets—is seen as a solid bet. Banks are competing for these clients, translating to lower rates.
"They want these types of borrowers in their banks," McBride says, explaining that it's not just about offering them a mortgage. "They want to be the go-to institution for their future financial business."
So what does that mean for the average apartment buyer in New York City?
In the past, you may have opted to save up a bigger down payment to avoid taking out a jumbo loan and paying a higher interest rate. But with rates the way they are now, you may not have to do that. It's at least worth checking out your options. 
That said, applying for a jumbo loan—from the time it takes to get approved to the documentation required—is similar, but can be more involved than applying for a conforming loan, says McBride. 
Pro Tip:
Looking to buy a co-op apartment?  National Cooperative Bank offers competitive rates and easy pre-qualification. With 40 years of lending to buyers in New York City, NCB is the bank for co-ops. After all, Cooperative is our middle name! Call us at (202) 349-7455 or email Ryan Greer [email protected] #507534. Equal Housing Lender.
2) But you'll have to save up a bigger down payment
When it comes to jumbo loans, the amount you can borrow against the value of the home—known as the loan-to-value ratio, or LTV—is lower than for a typical mortgage. In other words, while you could borrow up to 95 percent of the cost of an apartment on a conforming loan (with mortgage insurance), with a jumbo, you'll likely only be able to borrow up to 80 percent. That means you'll have to come up with more cash up front. 
For a $1 million apartment, putting down 20 percent is standard; for $1.5 million, it's 25 percent; and for $1.5 million, plan to save 30 percent, says Brittney Baldwin, vice president of National Cooperative Bank.
Also, "most banks will require at least six months of the mortgage payment, interest, taxes and insurance" in your bank account, versus the typical two months' worth for a conforming loan, before they lock in a rate, she adds. 
You'll also need a higher credit score, likely around 700. Anywhere from there to 749 is considered a "good" score, while anything higher is considered "excellent."
3) It pays to shop around
The rule of thumb when looking for a mortgage is to shop around to get the best rate. That's true with jumbo loans as well.
If you have a high-paying job, with a high value of assets and little debt, and you're looking to buy in a stable market like New York, you'll likely have your pick of lenders willing to offer you competitive rates. "You're in the driver's seat," says McBride.
Even if you're not the most desirable borrower, approach your own bank about a rate, as well as three other lenders, recommends McBride. 
"Use that as leverage with your bank," he says. "Ask them what they can do for you that the other lenders can't. They may give you 'relationship pricing,' meaning some kind of incentive to stay with them. Maybe a slightly better rate than the competition, or lower fees, or services for future investments."
Related:
Buying, renovating or refinancing next year? 5 mortgage trends to watch in 2014 (sponsored)
4 ways to screw up your mortgage application—and how to avoid them (sponsored)
Ready, set, buy: an apartment-hunter's guide to the spring season
The 3 percent down mortgage you've never heard of that's available in NYC
Brick Underground articles occasionally include the expertise of, or information about, advertising partners when relevant to the story. We will never promote an advertiser's product without making the relationship clear to our readers.