Best of Brick
Brick Underground's 2021 guide to co-living spaces in NYC: How to tell the communal disruptors apart
You would think that co-living, which essentially puts strangers together in apartments, would have been decimated by the Covid-19 pandemic, but that has not been the case, at least not for most of the companies that were in Brick Underground's last survey of this phenomenon that is disrupting the New York City rental market.
It's true that a few companies are no longer operating in NYC: The largest is Quarters, which filed for bankruptcy in January after a $300 million expansion in the U.S. (Quarters still operates co-living locations in Berlin, Amsterdam, and The Hague.) Tribe, a smaller company founded and still operating in San Francisco, also pulled out of the New York market. 
However, a surprising number of co-living companies remain, and there are even new players in the field. That's not to say that the pandemic didn't have an impact on the industry; it experienced a downturn like the rest of the NYC rental market, a result of New Yorkers leaving the city because of job losses or school closure, or other reasons.
Brick Underground has been tracking co-living companies, and counts 15 companies currently operating in New York City—the same headcount from two years ago. (Our guide presents the companies in order of minimum stay, starting with the shortest; companies with the same minimum stay are in alphabetical order.) It should also be noted that several co-living companies are now also offering more traditional rentals, where you can live alone or with roommates you find yourself.
Our guide breaks down the different niches targeted by these co-living brands, what they offer, how much they cost, and where the newest buildings are located. We also include links to interviews with co-living renters who describe what it's like to live in this type of communal housing.
---
[Editor's Note: A previous version of the article ran in April 2021. We are presenting it again here as part of our summer Best of Brick week.]
---
The Covid impact
Faced with a slowdown, co-living companies reduced rents by as much as 30 percent to entice renters. Some made temporary pivots, like Outpost Club, which housed medical workers helping fight the pandemic in NYC. (In April, Outpost Club brought what was going to be Quarters' 160-bed Williamsburg flagship into its fold.)  
The reduced rates not only enabled current co-livers to "trade up" (why live in remote Bushwick when you can be in Williamsburg?), it also resulted in some nice improvements to co-living apartments in a bid for companies to stay competitive, such as upgraded Internet service and a desk in most rooms—two things that became essential as more New Yorkers started working from home. (Understandably, cleaning became more frequent as well.) 
And in another shift: At least one co-living company is looking to capitalize on the continued blurring of work and living space now that the five-day, in-office work week is pretty much a memory for most. Common raised $50 million from investors last September in hopes of developing housing for remote workers. (This sounds like what WeWork's WeLive attempted to do. The offshoot of the beleaguered co-working company is still around, with locations on Wall Street and in D.C., but appears to have abandoned expansion plans and its future appears uncertain.)
Still, the co-living playing field is getting more, not less crowded in 2021.
More companies are entering the market, and others are adding locations. Some are rolling out new houses in the coming months, and UK-based co-living company The Collective is unveiling a massive 224-unit project in Williamsburg in the first quarter of 2022 and another in Bed-Stuy later that year.  
The field is crowded enough that there's now an aggregator, Coliving.com, where you can peruse all the options in cities worldwide. CEO Daniel Beck describes the site as the "Airbnb for communities," and it works exclusively with co-living companies—481 at last count. 
"The co-living market is growing exponentially at the moment," he says, acknowledging a dip in traffic of a few months to the site in the early days of the pandemic. But now visits to the site have surpassed pre-Covid numbers. "Our traffic has doubled since February 2020," Beck says.  
What is co-living?
New to the co-living craze? Detractors like to refer to co-living spaces as "adult dorms," and there's some truth there. Essentially, co-living is living with strangers. However, instead of all piling onto one lease after meeting through Craigslist, you are only responsible for your room. (Exactly how legal all of this is in New York City is a question for another article.)
What's the attraction then? For renters, especially newcomers to NYC, it offers a turn-key experience. As anyone who has endured finding an apartment and/or roommates in New York City can tell you, the process can be one headache after another. Co-living seeks to eliminate some of the common hurdles while charging a premium for individual rooms.
Jeff Holzmann, COO of iintoo, a global commercial real estate investment firm, says co-living is an ideal fit for millennials. "Students, young people, are a lot more willing to consider an arrangement like co-living. The demand is driving the supply," he says. 
Finding a room in a co-living situation is facilitated by tech, which co-living's key audience loves and depends on to navigate life in a way that previous apartment hunters did not.
"People can download an app and find co-living quicker and easier than finding an apartment [the traditional way]. New York City is going to accommodate that," he says. "The gig economy has allowed that to happen."
Most significantly for some new renters, some co-living spaces do not have stringent income requirements or require guarantors. Co-living also removes the politics and annoyance of splitting bills, keeping common spaces clean, and furnishing an apartment. Many will also ensure there are always basic staples on hand, like salt and pepper, cleaning products, and toilet paper. Everything is typically included in the monthly rent.
Proponents will tell you that when you factor in all the costs of day-to-day needs and conveniences, co-living is actually cheaper than conventional renting, but that's up for debate. The arrangement does offer a flexibility that standard rental agreements do not. Some buildings offer minimum stays as short as 30 days, or even a single night, and many allow residents to hop from property to property. 
What are the differences between co-living companies?
Co-living offerings can roughly be sorted into three categories: full-service/large scale, boutique, and budget. Many co-living buildings also offer residents opportunities to socialize, events, and outings so newcomers and the interpersonally lazy can meet people without too much effort. (This aspect of co-living was obviously affected by Covid-19. Companies either paused events or, like everyone else, migrated gatherings online, but in-person gatherings are slowly coming back.) Some co-living companies foster a "let's-explore-this-crazy-city-together" vibe, while others are more community and service-oriented, or personal development-focused.
Not everyone needs or wants a community or social element, and a co-living model with little to no social component has also emerged.  
When looking for the best co-living space for you, be sure to read what is included in your monthly rent. In addition, be sure to check out reviews online to get an inside look behind the pretty pictures on many companies' web sites, and a sense of real renters' experiences.
Here is Brick Underground's guide to 15 co-living options in New York City, and what each of them has to offer.
Tagline: "Work anywhere. Live differently." 
Cost: Previously, Outsite locations were open to members and non-members alike, with members getting discounted rates and perks. Now, membership is required, with a lifetime payment of $249 or annual fee of $149. Membership benefits include access to exclusive community properties, select deals and flexibility when booking.) In New York City, monthly rates start at $2,100; daily rates start at $100.  
Residents get fast wifi; linens and toiletries; a fully-equipped, shared kitchen; laundry; weekly cleaning; and coffee.
Aesthetic: Outsite operates two NYC-area buildings. The original, a seven-bedroom, three-bathroom loft in East Williamsburg features rustic brick walls, hardwood floors, beamed ceilings, and a communal roof deck. Its Manhattan location is in Murray Hill. The classic five-story brownstone has nine bedrooms, seven bathrooms and a separate studio for rent as well. Most bedrooms have a work area in the room and a balcony. This location is brand new and only offers monthly stays at this time, starting at $2,310. 
Personal space: Basic, but comfortable, with a private desk in addition to a bed. (Outsite is serious about being a place where people can get work done; the wifi speed is specified for each location. Brooklyn's is 230 Mbps.)
Minimum stay: Stays are generally from one to three months, but there is some flexibility at the Brooklyn location. And members can book very short stays, such as a few nights. (One review noted that the Williamsburg Outsite felt more like a place that people passed through for short stays rather than a co-living experience.)
Who's there: Digital natives and location-independent workers, according to the company. Guests range from 25 to 55, a spread that the company says continues to expand. The ratio of Americans to international residents is about 60 to 40. Expect a mix of entrepreneurs, freelancers, and full-time remote workers in a variety of industries, from creative to business and beyond.
"Co" factor: Both locations are staffed by a community manager, although events are more virtual than IRL thanks to Covid-19. Pre-pandemic weekly events included in-house dinners or breakfasts, as well as off-site events. The company is also unveiling a new platform so members can connect online easily. 
How are people vetted: Prospective members submit their application online, and Outsite reviews to ensure they'll be the right fit for the community.
Covid-19: A verbal pre-screening is conducted to ensure guests do not have Covid symptoms, and management strategies are in place should a guest become infected. Guests are not permitted in the houses, and there is contact-less check-in. 
Company history: The roster of locations has evolved and includes U.S. cities such as Los Angeles, San Francisco, Austin, and Oahu. International Outsite spots in Tahoe, the Swiss Alps and Santiago are no more, but new locations in Tulum, Los Cabos, Todos Santos, Mexico City, the Canary Islands, and the Basque Country are now open.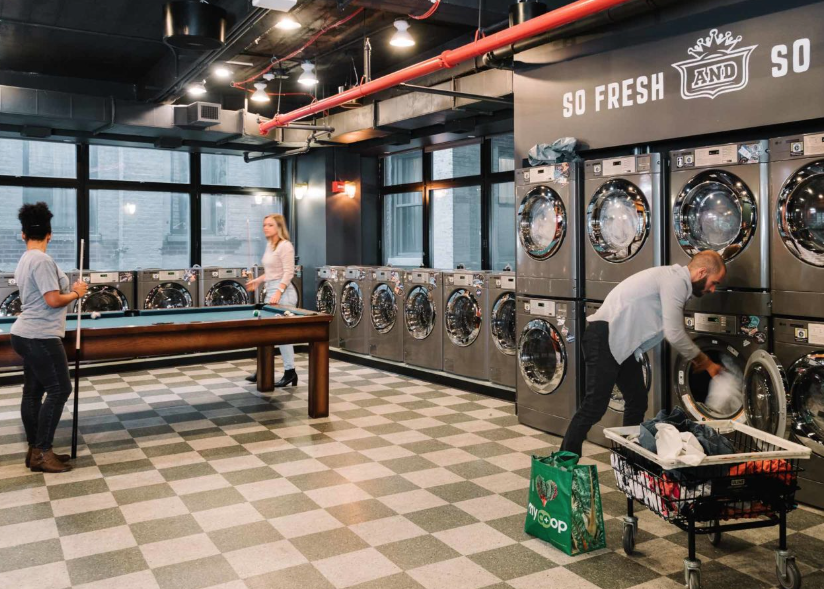 Tagline: "Your stay. Your way."
Cost: Studios start at $3,091, and renters get access to a chef's kitchen; towels and bedding; wall-mounted, flat-screen TVs; monthly cleanings; a front desk to receive mail and packages; and an on-site community manager.
Aesthetic: Common spaces: college campus. Apartments: dorm-like and institutional.
Personal space: WeLive offers furnished studios, and rooms in two-, three-, and four-bedroom apartments, which are bare bones and largely charmless. You can rent something called a "studio triple" or a "one-bedroom triple," which have beds behind curtains (i.e., not separate bedrooms) and big kitchen/dining areas. The decorating effort is focused on the common spaces, which are decked out in oversized art, velvet chairs, fuzzy pillows, and a mishmash of mid-century and industrial accents.
Minimum stay: One night. 
Who's there: WeLive describes its appeal as broad, with members including the expected young professionals new to the city as well as new parents with small children, professionals, retirees, and empty nesters.
"Co" factor: WeLive offers lounges, a bar, and three on-site restaurants. Pre-pandemic, there were regularly-scheduled events and mixers. Gatherings included happy hours, cooking classes, and health and fitness classes. There is also a laundry/arcade room, reading lounges, media lounges equipped with Apple TV, premium cable, an exercise and screening room, and communal kitchens with brewed coffee, tea, and citrus-y water. 
How people are vetted: Prospective members fill out an application and set up a tour. WeLive runs credit and criminal background checks on all applicants.
Company history: Founded in 2016 by the now-ousted (and controversial) CEO Adam Neumann, WeLive is, of course, an offshoot of the beleaguered co-working company WeWork.
It was one of several expansions of the brand that included daycares and fitness centers (those are now defunct). Its sole NYC location is at 110 Wall St., and there is another in the Washington, D.C. area. Plans for a Seattle location were abandoned, and as reported by The Real Deal last June, current CEO Sandeep Mathrani may be keen to exit the co-living business altogether.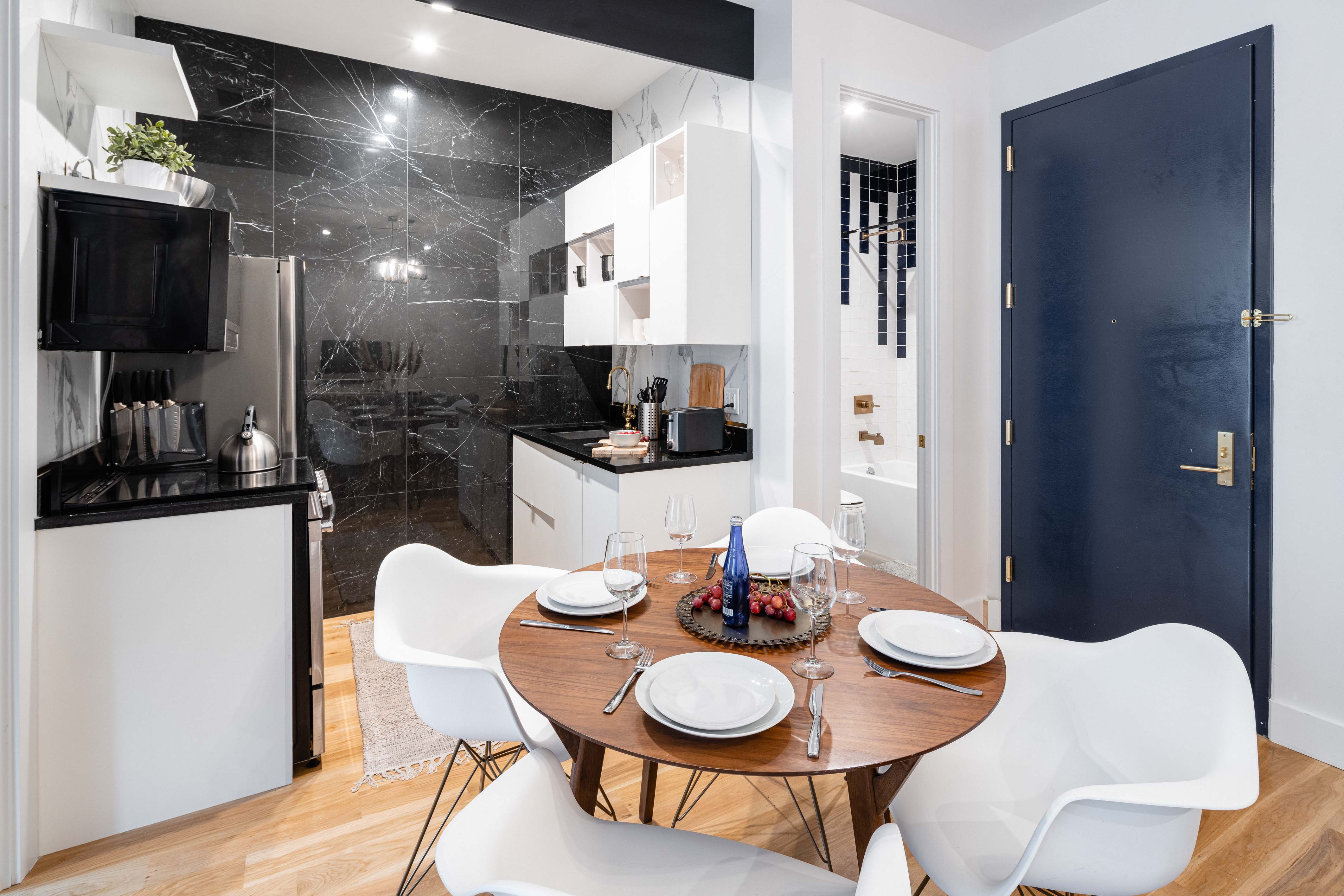 Tagline: "Live together"
Cost: Starting at $800 per month plus $100 for utilities (Internet, water, electric, gas, TV and cleaning). 
Aesthetic: Basic co-living: Nothing too flashy or offensive, neutral colors, clean. 
Personal space: Bedrooms typically have a desk, chair and bedside table, sometimes even a dresser. Some bedrooms, if large enough may even have a small couch or TV, but we saw more than one listing that noted, "this bedroom does not have a window." Legally, this means it can't be considered a bedroom—it's unsafe to sleep in a room that lacks a second way out. 
Minimum stay: One month
Who's there: Young professionals, students, creatives.
"Co" factor: You're living with roommates. Aya doesn't plan activities or outings. 
How people are vetted: The application process can be done entirely online. Applicants must submit credit score, proof of income and rental history. Ideally, credit scores are 650 or above and salary is three times the base rent. 
Company history: Aya was founded in 2009 with a mission "to create comfortable, spacious, and high-quality serviced living arrangements for individuals looking to live flexibly." The company offers rooms in apartments in the East Village, Midtown, Upper Manhattan, Upper West Side, Upper East Side, Williamsburg, East Williamsburg, Bushwick, and Bed-Stuy.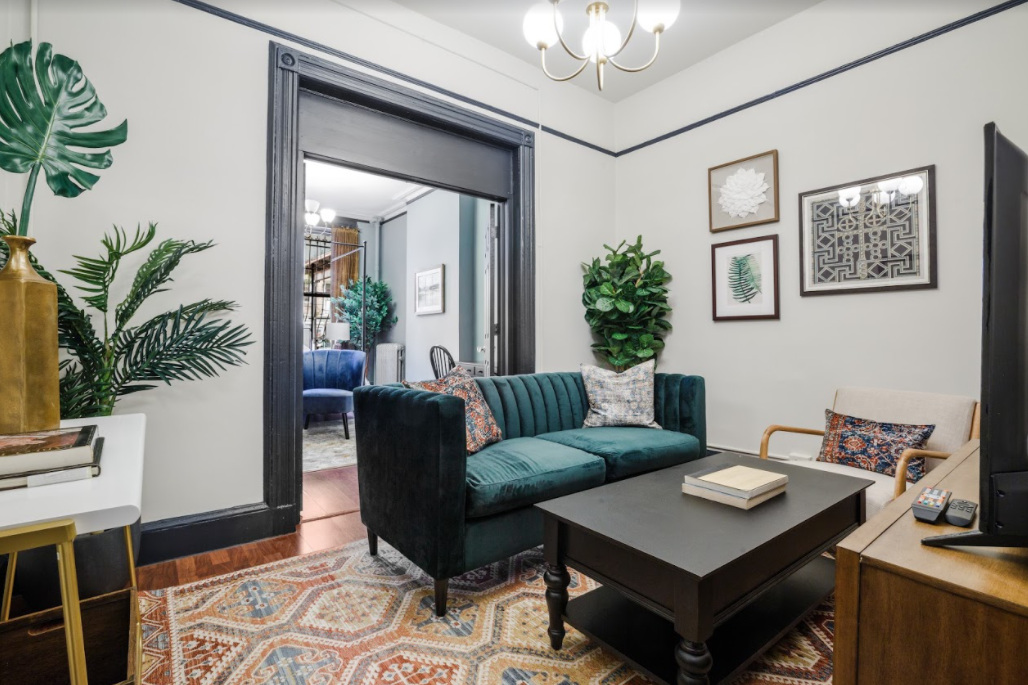 4.

June Homes (formerly Residenz)

Tagline: "Rentals redefined." 

Cost: June Homes rents both full apartments and single rooms in apartments, with rates starting at $800 per month and going all the way up to $4,000 per month. The monthly fee covers utilities, cable and Netflix, bedding, and a monthly shipment of supplies. If you want any part of the apartment cleaned for you, you can arrange it with a vetted, third-party service. 

Aesthetic: It varies: Some apartments are more on-trend minimalist in a neutral palette, others have a bolder, richer feel, with velvet in jewel tones. In general there's less of a "cookie-cutter" feel to the design. June offers the option to rent apartments furnished or unfurnished and you can even customize your decor. 

Before opening a space, June Homes typically renovates bathrooms and kitchens, replaces appliances, repaints the walls and deep cleans the common areas. (It employs a 250-point checklist to ensure an apartment meets the company's standards.)

Personal space: Bedrooms have in-room storage in the form of built-in closets, under bed storage and dressers. Most rooms have a desk of some kind, and in some cases, a large one if the space permits. Things get granular in the kitchen with dedicated fridge space for each member labeled with their name. 

Minimum stay: One month. Long term leases are available up to 18 months, and the longer you stay, the lower the rent. 

Who's there: Young professionals and students, with two-thirds of members from within New York State. The majority of renters are NYC residents who have opted for the flexibility of June Homes over a standard rental agreement. 

"Co" factor: June Homes is less focused on building a community within apartments or across its network. Instead, energy is put towards offering the most privacy and comfort for residents, and vetting roommates. To help manage noise complaints (perhaps a recurring issue?) it offers a 24/7 chat-based roommate support center that will reach out to your roommate so you don't have to.  

How people are vetted: Prospective renters are interviewed, and background and credit checks are conducted on applicants. References are also required. If a new member doesn't like their apartment or roommates, they can relocate to any other June property for free at the beginning of their stay.

Company history: June Homes was founded in 2018 and currently operates approximately 900 units in five cities: New York, Washington, D.C., Boston, San Francisco, and Los Angeles. Apparently, Covid-19 did not slow it down; the company reports it grew business by more than 50 percent during the pandemic. 

"Many of our existing owner-partners who had very high vacancies during Covid-19 asked us to help them," says Daniel Mishin, CEO of June Homes. The company has plans to expand into even more markets in the coming year, with sights set on Miami, Chicago, Austin, and Denver.

Tagline: "Easy move-in. Easy Living."
Cost: Rates range from $930 to $1,850 per room, depending on the length of stay, type of room, and availability. Rent includes utilities, wifi, keyless entry, Nest thermostats and security, as well as bi-weekly cleaning and household essentials like toilet paper, paper towels, and soap. "Skip-the-security-deposit" is an option as well for qualified individuals.
Aesthetic: It varies from house to house. Some are more minimalist, while others, such as the newest houses in Williamsburg and Bushwick, are more upscale, with a West Elm-influenced design.
Personal space: For the lowest rate, you can share a bedroom in an Outpost Club apartment. Bedrooms come with a memory foam mattress, desk, lamp, in-room organizing system, hooks, and shelves. 
Minimum stay: One month.  
Who's there: Residents tend to range in age from 21 to 35. It's a mix of students and professionals, digital nomads, healthcare workers, with professionals making up the majority.
"Co" factor: Outpost Club offers multiple events per month that are free to members (subject to Covid-19 limitations). The current plan is to reopen events in June. Houses often have a co-living room in the building (in addition to a small living room area in an apartment), which include a co-working space and screening room. Some houses have a roof deck or yard as well. 
How people are vetted: Interested renters fill out an extensive application and submit relevant documents to get approved. 
Company history: Outpost Club was created in 2016 by three Ukrainian expats after they experienced the challenges of finding housing in New York City, including scams, steep agent commissions, and having to pay first and last month's rent plus security deposit. (Landlords are no longer allowed to ask for last month's rent after the rent reforms of 2019.)
Outpost Club's network of NYC apartments grew considerably after the company took over properties from co-living companies that went out of business, such as Stoop, Bedly, and Quarters. During that process, it worked to elevate and streamline the amenities, design, and operations of all Outpost Club apartments.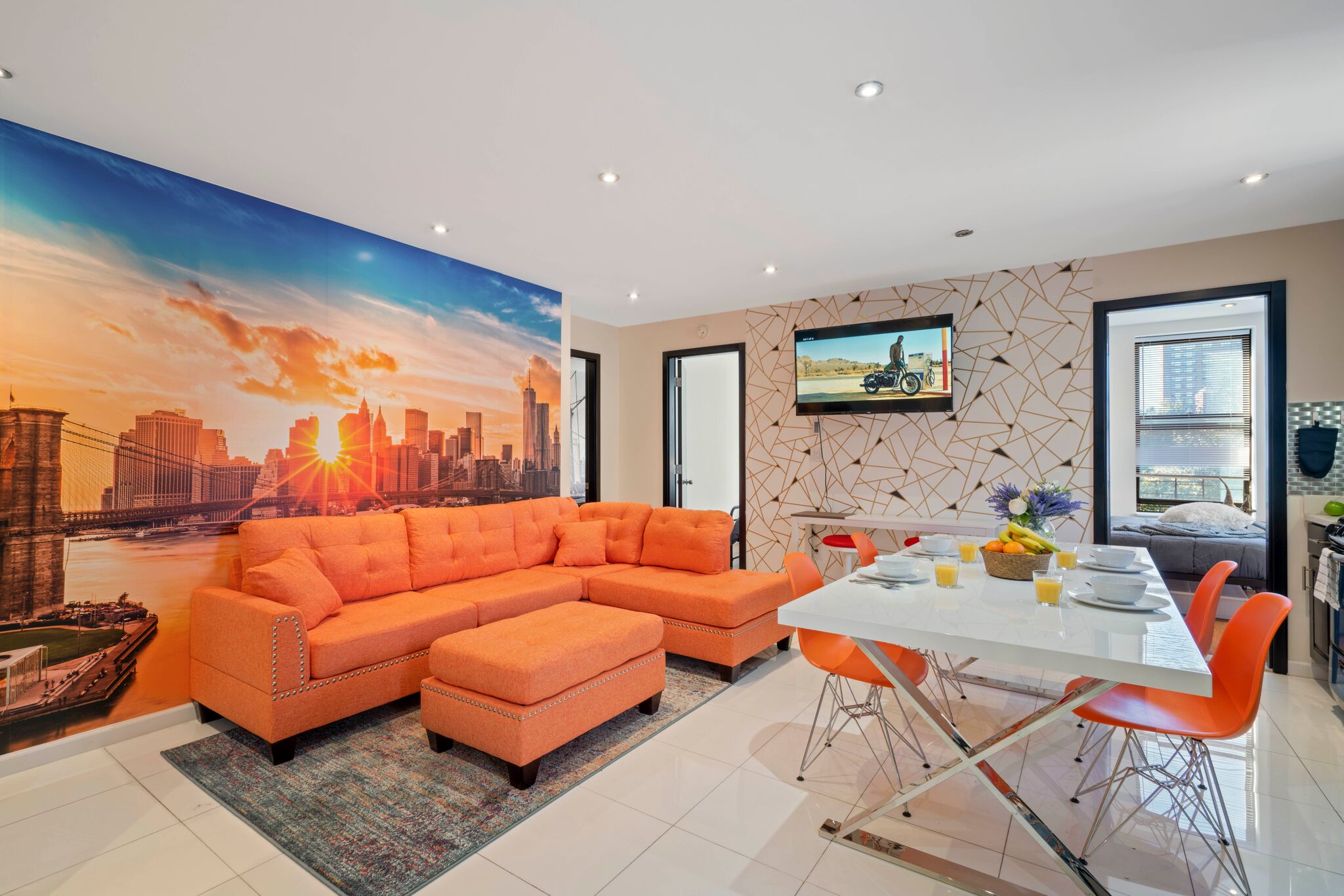 Tagline: "Friendly shared housing"
Cost: Private rooms start at $1,300. SharedEasy also offers shared rooms with one, or even two other roommates starting at $500. (You'll have a twin-size bed in those.) Rent includes a furnished apartment, wifi, Internet, utilities, bedding, and Roku. 
Aesthetic: Elevated hostel. Apartments often have large photo murals of NYC scenes on the walls. 
Personal space: Private rooms come with a bed, desk and lamp. Shared rooms don't have much space to spare. 
Minimum stay: 30 days; no maximum stay.
Who's there: Millennials, newcomers, students, interns, actors, entrepreneurs, start-up founders, expats, digital nomads.
"Co" factor: Some SharedEasy homes have basement and lounge areas, and the company provides unlimited access to a network of partner gyms and co-working spaces around NYC. It also sponsors free networking and social events to boost community. March 2021 saw some outdoor comedy shows. 
How are people vetted: SharedEasy has a tenant approval system that does not require proof of income or a credit score. Prospective renters are subject to a background check, and interviews can take place in person or online. 
Company history: SharedEasy was founded in 2019 and operates 14 co-living locations with a total of 210 beds in New York City. Apartments can be found in Manhattan, Brooklyn and Queens and the company hopes to grow its inventory to more than 500 beds over the next year.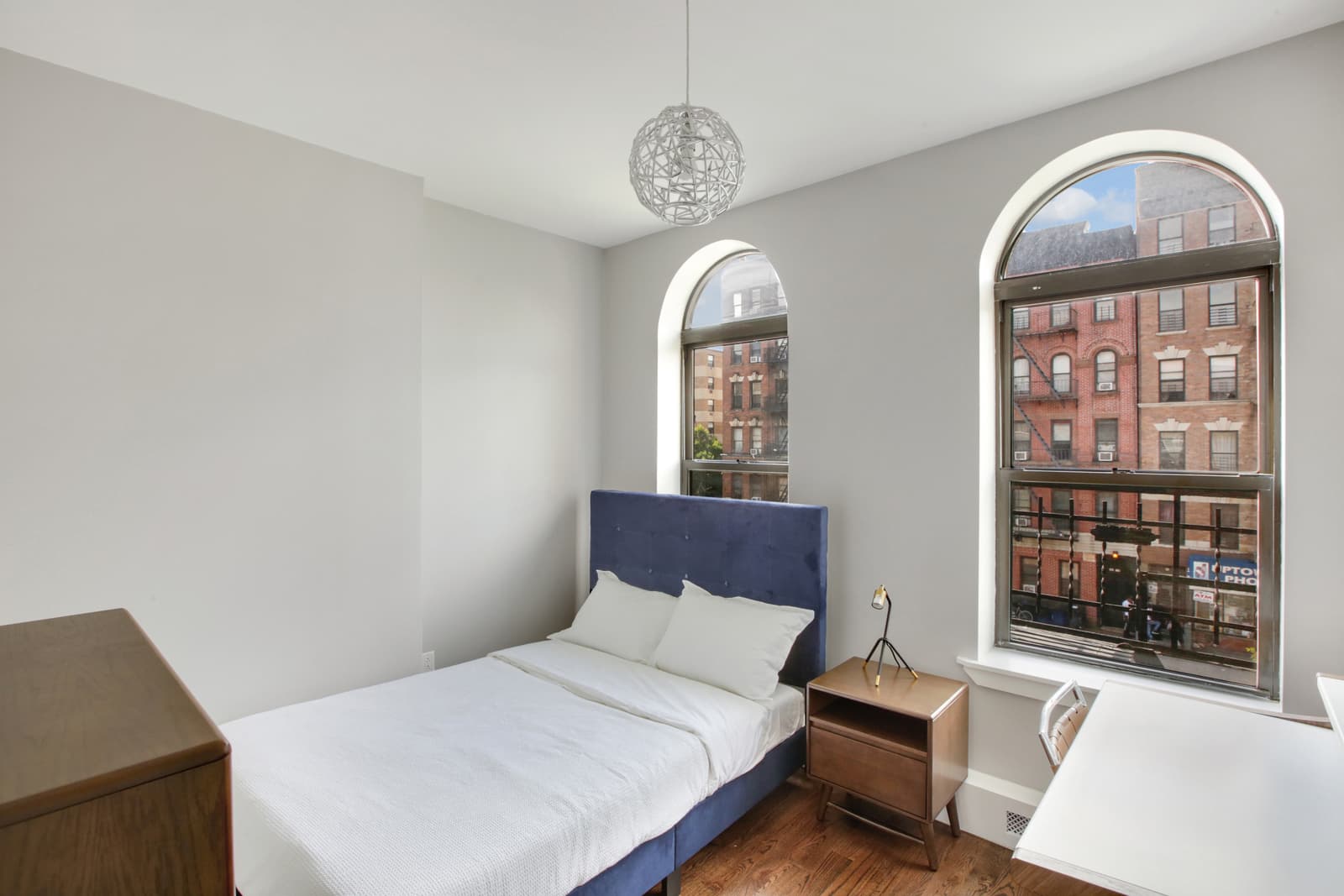 Tagline: "Welcome home"
Cost: The least expensive space we found was a room in a three-bedroom apartment in Harlem for $1,200. Membership includes furnished apartment, utilities, high-speed wifi, an equipped kitchen, cleaning, toilet paper, and maintenance.
Aesthetic: Brooklyn co-living 2021: Wood floors, neutral tones, globe lights, chrome and brass accents.
Personal space: The bedrooms are a nice size and include a dresser, bedside table, a few knick knack shelves, and curtains.
Minimum stay: Three months 
Who's there: Young professionals, students, artists, essential workers and others.  
"Co" factor: Aleph used to have community managers and planned events (such as wine and cheese night and volunteering activities) but that seems to have been phased out. Residents sign house rules with their lease, which specify quiet hours and contain strict guidelines regarding harassment. 
How people are vetted: Prospective members fill out an application, and are screened via credit and background check. A credit score of 600 or higher and an income 40 times the monthly rent are preferred. 
Company history: Aleph was founded in 2018. It operates locations in the Brooklyn neighborhoods of Williamsburg, Bedford-Stuyvesant, East Williamsburg, Bushwick, Crown Heights and Park Slope. Manhattan locations are Harlem and Sugar Hill.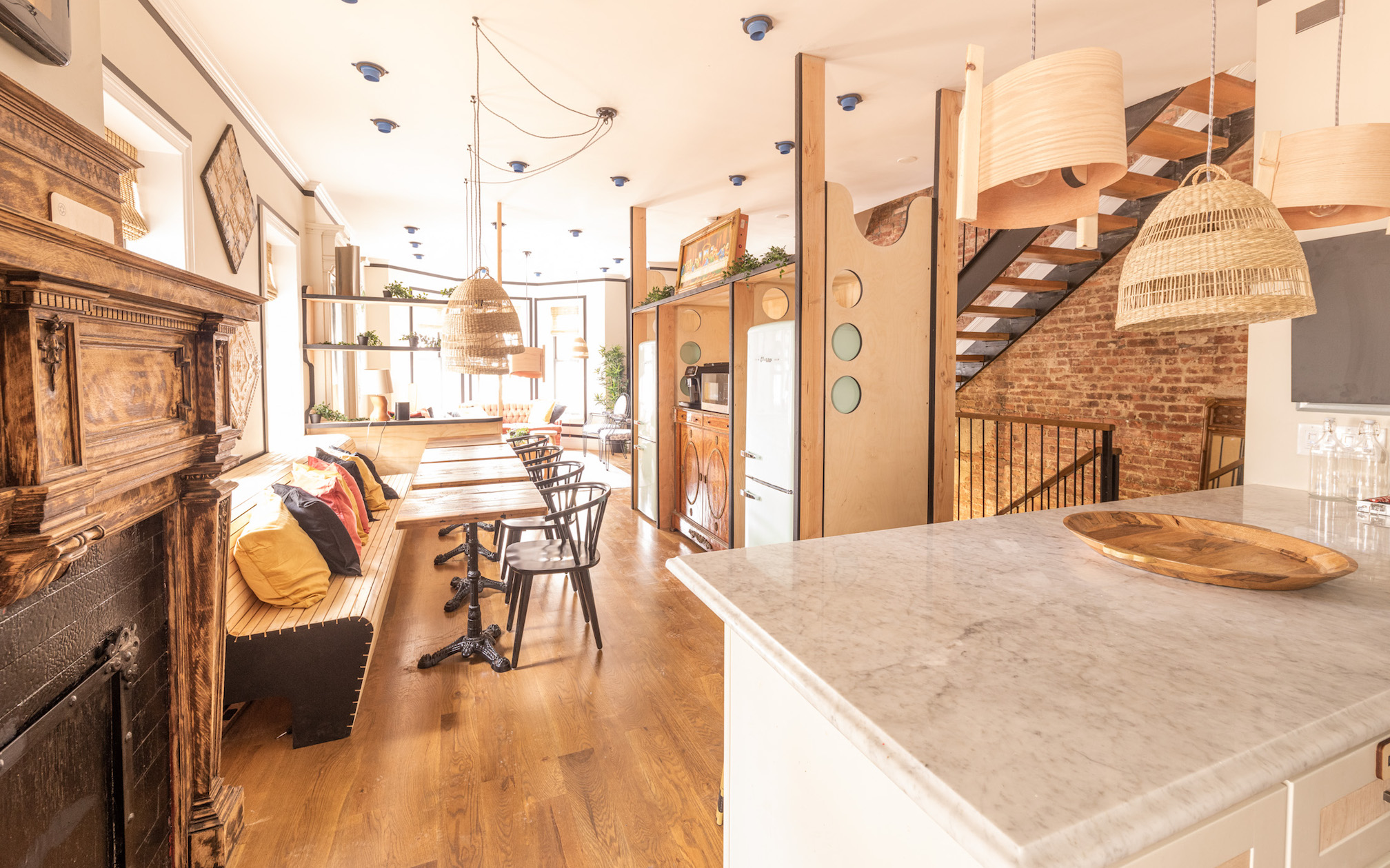 Tagline: "Rethinking how people live together"
Cost: $1300 to $1550, which includes wifi and Netflix, weekly cleaning of common space, utilities, basic cleaning supplies, and even a monthly breakfast. Members have the options to move between cities—Paris, New York and Brussels—or buildings in the same city.
Aesthetic: Eclectic Boho Euro. Cohabs' houses have an almost boutique hotel feel, and the company's European roots (its headquarters is in Belgium) can be felt in the interior design. Living areas are large and open and lean heavy on the rattan/wicker trend. Local artists are recruited for murals in common and outdoor spaces, and the bedroom furniture—beds, desks, closets—are custom-made from recycled materials. 
Personal space: All members get a room with a queen-size bed, memory foam mattress, desk, chair, two lamps made from bamboo, a closet with a lock and a safe built into it and a nightstand. Cohabs is the only company we found that states that there are no locks on doors as per a New York City Department of Buildings prohibition against renting out separate bedrooms. We're guessing this is why you get a safe. 
Minimum stay: Three months, although shorter-term leases are available if needed. 
Who's there: An international mix of people in a wide age range. The New York location currently hosts people from eight different countries and several locals. The age range is 20 to 49. 
"Co" factor: Cohabs is big into creating community. In addition to holding dinners, parties and events (adjusted for Covid-19), the company has an app which connects all members worldwide. (The app can also be used for practical applications like scheduling services and checking your bill.) Houses are renovated and designed to foster community, with large common spaces like viewing rooms, workout spaces, and outdoor decks or yards. 
Covid-19 safety precautions include regular cleanings, improved air filtration, a complimentary facemask and even a doctor support hotline for info and help diagnosing. 
How people are vetted: Members are interviewed on the phone, and background checks are performed on prospective residents. Potential residents can get in-person tours of homes, and incoming roommates are put in touch with current housemembers. 
Company history: Cohabs was founded by serial Belgian entrepreneurs Youri Dauber, Malik Dauber, and François Samyn in 2016. The trio retains 75 percent ownership of the company (AG Real Estate is one of Cohab's backers). Cohabs operates several houses in Brussels (many of which are large, elaborate homes with more than 20 residents); two in Crown Heights, Brooklyn, with a third to open in Harlem this summer, and another in Paris, also coming soon.
Tagline: "Co-living and apartments for today's renter"
Cost: The lowest rate we found was $875 for a bedroom in the company's Albany building, located in Crown Heights. The rent includes utilities, cable, weekly common space cleaning, wifi, pots and pans, and basic supplies such as toilet paper, paper towels, cleaning products, and garbage bags. 
Aesthetic: Clean and minimal with a neutral palette, and updated. Living room spaces are furnished with items from brands such as Floyd, Hem and Article. Almost all buildings have a common shared space like an outdoor patio, rooftop, or co-working lounge. 
Personal space: Residents get a room with a bed, nightstand, lamp, a closet or dresser, as well as a bare hook for art of their choosing.
Minimum stay: Three months, although this varies by building. Most tenants are on a nine-month or year-long lease. (One young woman told us she FaceTimed her Crown Heights apartment and rented it online because she was in a rush to secure an apartment in NYC.) The company allows residents to move between buildings, and is flexible with move-in dates for roommates, allowing residents to move in on different days, with rooms taken on a first-come, first-served basis. 
Who's there: Examples of Common renters include recent college grads, young professionals, and couples. The average age of a Common member is 30.
"Co" factor: Common does organize events, but it also lets residents take charge, and helps fund the outings they organize. (Currently, all events are virtual, although the company expects to open in-person events in accordance with city and CDC guidelines in the future.) The Common app lets residents of all Common buildings nationwide communicate; it also enables community members to view and sign up for events organized by Common (museum trips, yoga classes, etc.), or create their own and invite members of the community.
How people are vetted: Applicants apply online and must pass financial and background checks. Prospective members are then briefly interviewed by phone.
Company history: Common was founded in 2015 by Brad Hargreaves, who previously created the computer education hub General Assembly. Common operates 26 co-living spaces in New York City, across Crown Heights, Williamsburg, Boerum Hill, Park Slope, Bedford-Stuyvesant, Prospect Lefferts Gardens, Ridgewood in Queens, and Hamilton Heights in Manhattan. Its newest spaces are The Heritage in Harlem and Common Gates in Bushwick.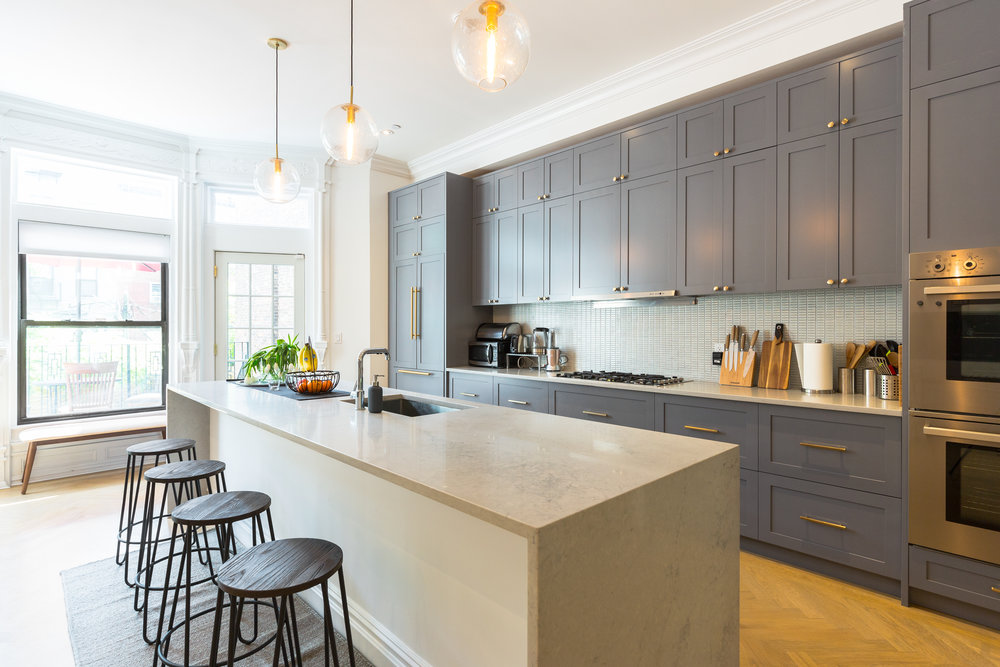 Tagline: "Comfortable homes for community living"
Cost: Rooms start at $1,250. The company estimates its residents get $400 worth of amenities with their all-inclusive rent. Those include: wifi and utilities, Netflix and Hulu, an Amazon Echo, and weekly cleaning service, as well as bread, eggs, juice, olive oil, snacks, and breakfast.
Aesthetic: Crown Heights Pacific: Homey Brooklyn with a dash of Architectural Digest. Crown Heights St. Marks: Chic Brooklyn mansion with al fresco living.
Minimum stay: Three months; flexible lease terms available.
Personal space: Bedrooms are furnished, and some are massive, with a private bath. (Dwell recommends those for couples.)
Who's there: Artists, entrepreneurs, recent college grads, couples, and professionals. 
"Co" factor: Each building has a live-in house manager who gets input on event planning and how to spend a provided discretionary budget. Residents play an active role in developing programming. In addition to common living and kitchen spaces, both Dwells have outdoor spaces. This is another company where community is a big factor, with stated values like being "engaged," "kind and respectful," "proactive," and "open minded and flexible." 
How people are vetted: In keeping with the idea that residents should have a say in who lives with them, the application process is a little more personal and involved. Prospective residents write a few paragraphs about why they think they would be a good fit, and then tour the house and meet current residents.
"On-demand booking is great for Uber, but we think that people still want some agency in choosing who to live with," says Noah Avidan, a Dwell membership coordinator.
Company history: Dwell operates two co-living spaces. The original Dwell co-living space is in a restored brownstone in Crown Heights. Dwell St. Marks is a fully-furnished mansion in Crown Heights. Both are single-family houses because "we want people to feel like they are living in a home instead of an adult dorm," Avidan says.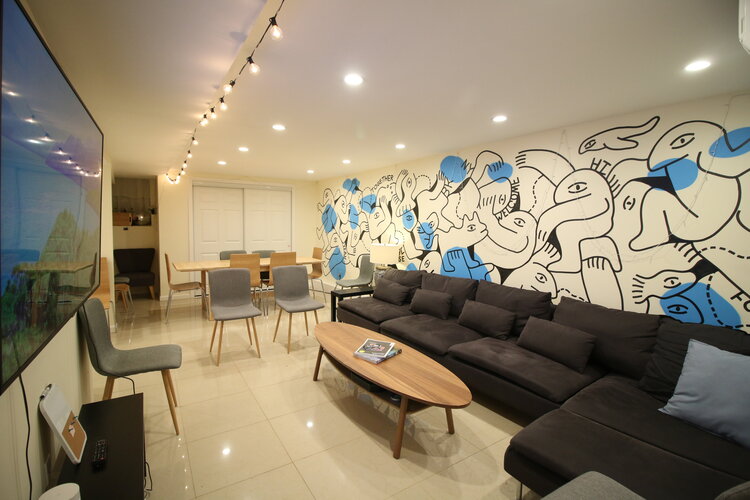 Tagline: "Goal-oriented community + Communal House = Goal House"
Cost: Rates start at $1,150 for a private bedroom; a shared room starts at $700 a month.
Aesthetic: Bare bones with a big TV—it's not about the decor here, it's about achieving your full potential. ("Just bring your positive attitude.")
Personal space: Bedrooms and common areas are equipped with the basics, including a memory foam mattress, kitchen supplies, toilet paper, a washer/dryer, and a cleaning service.
Minimum stay: Three months.
Who's there: Working professionals, entrepreneurs, creatives, and musicians with a healthy international element as well. 
"Co" factor: Community plays a big part here, both for accountability and support but also inspiration and connection. In addition to goal-setting sessions (a whiteboard is involved) and networking events, there are monthly dinners, social events, game nights, etc. 
How are people vetted: Aspiring Goal House residents submit an application form with basic info, as well as more about their stated goal or project; do a five-minute interview, and undergo a credit and background check.
Company history: Founder Ben Smith (who also started Tribe co-living, sort of Goal House-lite) started the company to create a tight-knit community where people could support each other in their goals and hold each other accountable. 
"Whether someone is working on improving their fitness routine, learning a new language, starting a business, or mastering their salsa dance technique, we believe that being a part of the right community can help," Smith says. Goal House is a five-floor townhouse in Prospect Lefferts Gardens.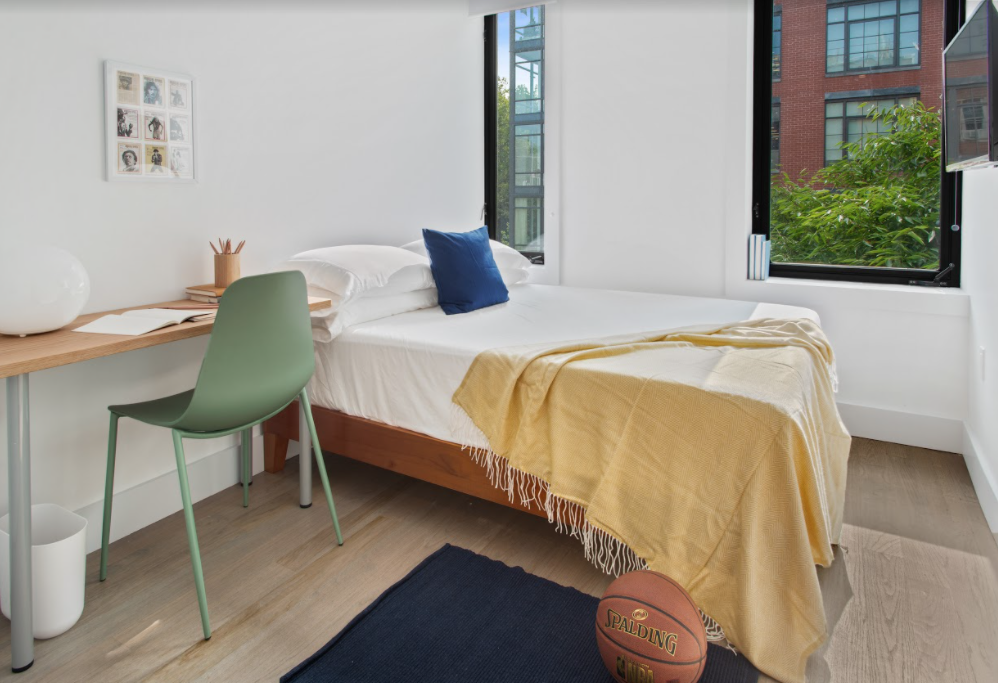 Tagline: "Be at home." 
Cost: Rents range from $1,000 to $4,000 a month. Average rent is $1,500 a month. Furnishings, Wifi, utilities, bedding and towels, kitchen utensils, and monthly common area housekeeping are included, and most units have washers and dryers and dishwashers. All buildings are equipped with smart technology such as keyless entry and "smart mattresses," which monitor and collect data on the quality of your sleep 
Aesthetic: IKEA meets West Elm.
Personal space: Residents get a furnished room in a two-, three-, or four-bedroom apartment. (Studios are also available.) 
Minimum stay: Three months.
Who's there: Young people (ages 18-35) from all over, with the majority students and young professionals, although "digital nomads'' and people in town temporarily for internships also stay at Roomrs. (We went to the opening of a Roomrs building in Williamsburg, met some residents, and had some new experiences, like oil pulling. It made us feel old.)
"Co" factor: Aside from shared kitchens, bathrooms, and living spaces, some buildings have communal spaces such as rooftop decks and furnished basements.
How people are vetted: Applicants apply online and submit documents for both a credit check and thorough background check. Prospective residents can receive approval and move in as quickly as 24 hours after applying. Note that there is an application fee and an enrollment fee, the latter of which enables you to transfer to another Roomrs location at the end of your lease. 
Company history: Roomrs was founded in 2017 by CEO Or Goldschmidt after he spent several years of working in New York real estate. Goldschmidt doesn't think millennials and Generation Z are suited to the traditional renting process, so he set out to create an alternative that's less confusing and offers an easier way for newcomers to meet people. Roomrs apartments can be found in Greenpoint, Williamsburg, Crown Heights, Bed-Stuy, East Harlem, and the Upper East Side. 
The company had planned an expansion in the NYC area, hoping to offer as many as 1,000 rooms by the end of 2019. But it looks like things have been scaled back, as pre-pandemic Roomrs locations in Queens are no longer operating.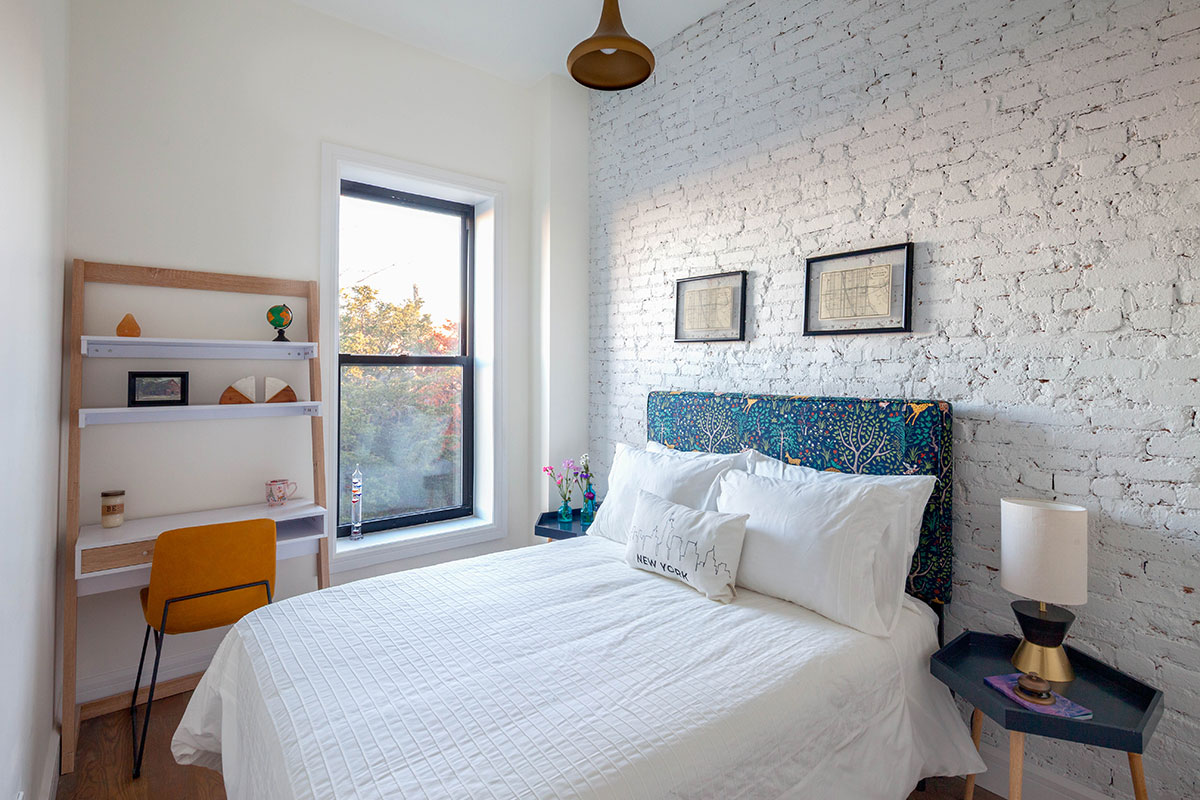 Tagline: "Curated apartments in a global co-living community."
Cost: Node's New York City apartments are located in one of five renovated 1900s townhouses in Bushwick. The least expensive room we found was one in a four-bedroom apartment for $1,100. Included in the monthly fee is laundry, wifi, smart-home features, SMEG refrigerators and access to outdoor space with a grill and a fire pit. You can rent a one-bedroom apartment for $2,250, which doesn't exactly sound like co-living to us, although whoever lives there can partake in Node community events.
Aesthetic: Youthful, sophisticated and chic. (Node's site offers some pretty cool video walk-throughs.)
Personal space: The apartments are furnished, and you can rent a room and be matched with other people, or come in with a group of preselected roommates. They'll also help you score some locally-curated art.
Who's there: "Globally-minded, creative people who want to connect with residents, both locally and globally." Examples: Brooklyn's youngest sommelier, a biotech startup CEO (who is maybe in her late 20s).
"Co" factor: Node has a "community curator" for every city who plan events for tenants; the curator also provides volunteering opportunities. Check out our interview with a Node curator who is also a resident.
How people are vetted: Via website application and meeting the community curator onsite.
Minimum stay: Some apartments are available for six months. Most leases are for a year, though they are flexible with tenants who have life-changing events and need to move out earlier.
Company history: Founded in England, Node also has spaces in Los Angeles, Dublin, London, and Manchester, with Toronto and Seattle coming soon.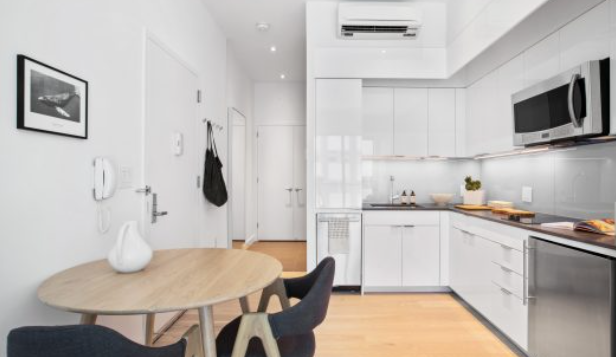 Tagline: "All inclusive co-living"
Cost: $1,300 to $2,300 a month. Bedrooms are not rented individually, instead you pay a portion of the full apartment rent. Electricity and gas are not included. A company spokesperson says that including these utilities could "unintentionally make residents less mindful of their usage, which in turn would promote waste." Bedding and pillows, wifi, premium TV, and weekly cleaning are included.
Aesthetic: New condo mixed with budget boutique hotel.
Personal space: There are studios and bedrooms in micro apartments, and all units are furnished with high-end, transformable furniture including a desk
Minimum stay: One year. When possible, the company tries to offer shorter-term leases at its projects.
Who's there: A mix of ages and demographics, weighted toward millennials and 20 percent of its inquiries are from baby boomers, according to the company. We did an interview with an Ollie resident in Long Island City.
"Co" factor: Pre-pandemic, Ollie organized lots of social events through an in-house community manager—think Sunday brunch, sunset yoga, and a night out at a comedy club. Residents of Long Island City building Alta+ can use a gym, indoor lap pool, indoor and outdoor lounges, barbecue areas, an event space, a co-working lounge, a game hall, and more.
How people are vetted: The company says it vets renters the same way standard landlords do: with criminal background checks, and credit and income qualifications. Residents can use Bedvetter, the company's roommate matching platform (which it developed), to match themselves with other roommates if they like.
Company history: The name "Ollie" is a play on "all-inclusive," and refers to the hotel-style services residents receive. The company says its focus is on scalability and affordability.
Ollie in Long Island City opened in May of 2018. It includes 169 micro-suites (495 to 941 square feet) with two and three bedrooms, and 297 standard apartments ranging from studios to three-bedrooms. The company also operates Ollie at Carmel Place in Kips Bay (opened in 2016). A Downtown Brooklyn location was planned, but appears to have fizzled out.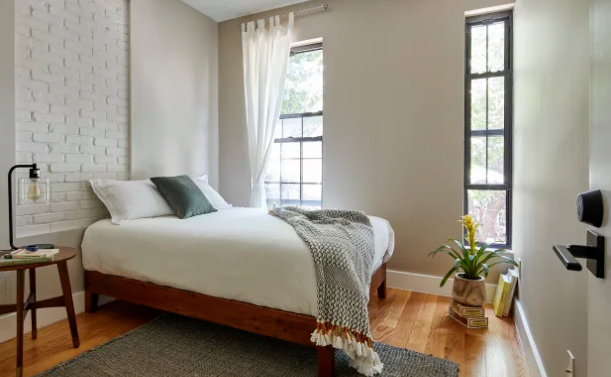 Tagline: "A new way of neighboring."
Cost: Individual rooms start at $1,175; Venn also has one-, two-, and three-bedroom apartments for rent, both furnished and unfurnished. Wifi, washer/dryers, common space cleaning twice a month, and storage are included, and many apartments have yards or rooftop decks.
Aesthetic: On-trend urban boho in a neutral palette.
Personal space: Bedrooms look comfortable, and are outfitted with basic furniture and Casper mattress. 
Minimum stay: One year.
Who's there: A company rep described the community as being made up of creators, digital nomads, tech entrepreneurs and students, "We encourage the addition of families and older professionals because we believe that a well-balanced neighborhood includes people from all backgrounds and ages," the rep says.
"Co" factor: Venn takes the "co" into the community, which in New York, is Bushwick. (Venn describes the neighborhood as an "emerging cultural center" of the borough.)
Members can use Venn satellite spaces in the area such as a co-working space, "club house," cafe, gallery and event space. (The execution of this vision is obviously hampered during Covid.) The company has apartments in eight buildings within a few blocks of each other, either on or just off the main artery of Halsey Street. The Venn concept is that residents of each will connect at apartments and recreational spaces to create genuine community.
Pre-pandemic, organized events were common and included live music, workshops, yoga, and gatherings around neighborhood happenings. An app enables members to manage apartments, order, and pay for local services, create and join local activities, and connect with each other.
How are people vetted: Venn says it spends a lot of time learning about potential members, "getting to know them like we would our friends." Potential members are met in person.
Company history: The company also operates spaces in Tel Aviv, where it was founded in 2016, and Berlin, and Venn offers the option of full apartment rentals or rooms in shared apartments.
The company's mission stresses community activism and it says its financial model reinvests revenue back into the neighborhood through "local small business support, cultural and creative projects, educational opportunities, safety initiatives, and programs to minimize displacement." 
Creating community, reducing isolation in urban areas and inclusivity are some of the company's key objectives.
Brick Underground articles occasionally include the expertise of, or information about, advertising partners when relevant to the story. We will never promote an advertiser's product without making the relationship clear to our readers.