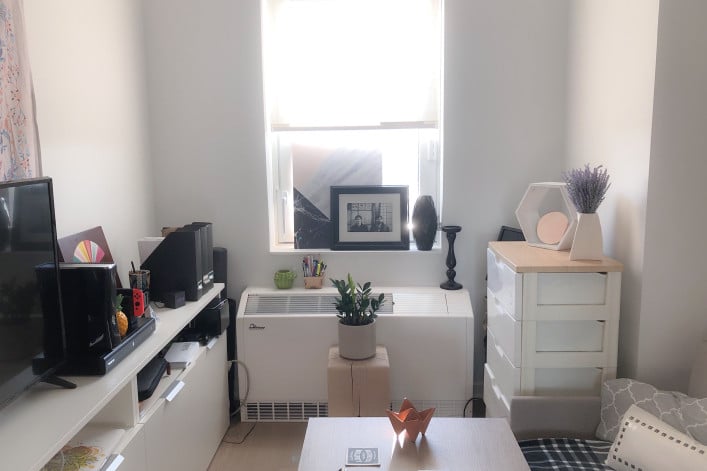 Co-living, the pay-one-price phenomenon of living with roommates in a pre-furnished apartment that's equipped with conveniences like cable, a cleaning service, and even programed social events came hard to New York City in 2018. No fewer than a dozen companies introduced their take on the disruptive alternative to the standard rental scenario. We rounded up many of the players, attended the opening of a co-living space in Williamsburg ourselves, and now, we're talking to someone who is living the co-living experience. 
Eric Tauro is a 28-year-old Los Angeles native who moved to New York City in September after finishing graduate school for architecture at Rensselaer Polytechnic Institute. He landed at Alta+ by Ollie, a co-living venture within the Alta luxury rental building in Long Island City. (There's a Ollie co-living building in Kips Bay, and one will arrive in downtown Brooklyn in early 2019.) He lives there with a roommate, and enjoys an 18-minute commute to his job at an engineering firm in Midtown. "It's been amazing," he says. "No transfers. I'm barely outside." 
Beyond that enviable commute, Tauro gets a lot for his monthly flat fee: His furnished apartment comes with high-speed Wifi, premium cable, and weekly cleaning. There are additional perks, such as use of the building's gym, pool, lounges, and rooftop deck, the Ollie Social community programming and events, and weekly linen and towel service. Plus: Malin + Goetz bath amenities, a welcome bag with a quilt from West Elm, and even an Ollie scent kit from @aroma. (Sound good? As of this writing, Alta+ by Ollie had two-bedroom apartments available with rents ranging from $3,550 to $4,796. FYI: you can also rent an apartment in Alta and not be part of Atla+ by Ollie, which occupies a small portion of the building's total 43 floors. Tauro reports there's no weird tension between co-livers and the market rate renters.)
We talked to Tauro about how he discovered co-living, his experience at Alta+ by Ollie, and any advice he has for those considering the latest answer to making living in New York City work.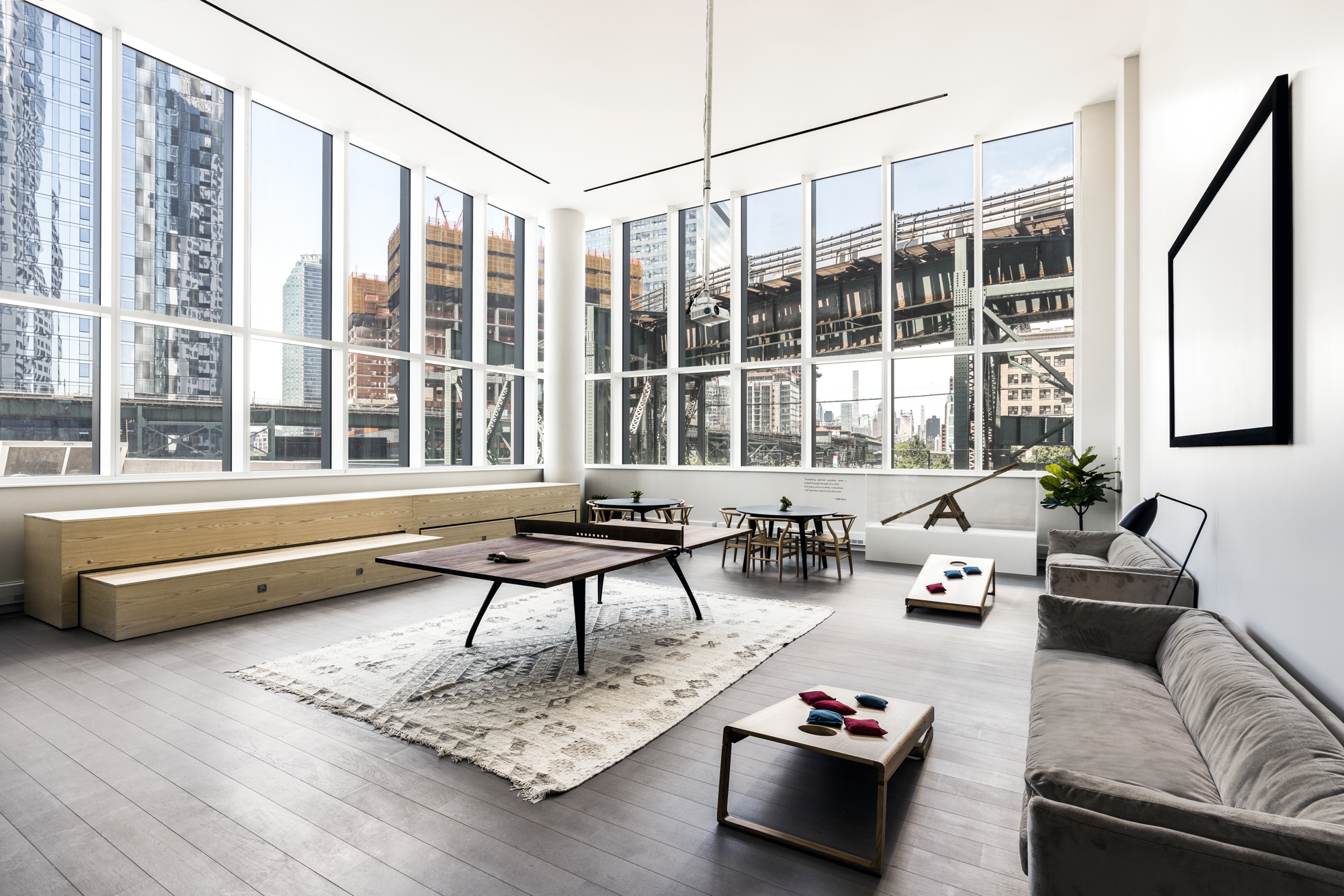 What brought you to Alta+?
I did a semester in Manhattan [in grad school], and that made me fall in love with the city. I actually lived in Long Island City. That made me want to look into Alta+ because I loved the neighborhood.
After graduating in May, I had looked into the easiest way to move to the city and I didn't want to do the whole sublet thing because it's very difficult and it usually doesn't come with furniture...so I researched and found co-living and I thought, 'Wow this sounds amazing. Already furnished, ready-to-move-in places.' Because I literally just have clothes. So it worked out for me to have something so accessible and ready for you.
Had you heard of co-living before?
I had. I saw some ads on it online because I was always looking for housing. After graduate school I kept looking at it and it felt like this is the perfect way to live—in a great building, and have all the amenities and great experiences as I start to work here in the city
Did you look at other co-living spots?
There were a bunch but a lot of them were shared rooms and being older I can't do [that] stuff anymore. So this was perfect. You have your own room and have shared space but have that privacy that you need....this one was the best by far.
What part appealed to you about Ollie?
I really love the social aspect of it. I saw that there are many group events that connect you to the community. I was able to meet a lot of people from my building. It's basically given me these new friends all of sudden and it's made things so much easier to live in the city by having different people you can share experiences with and attend events with. And you see them on a regular basis because I go to the gym and use the lounge and they're always around. And I feel like it's almost like an adult dorm, which is amazing because dorms were the social aspect [of school] that I really missed. And this is a great way to live but in a more mature setting.
How did you find your roommate?
Bedvetter [Ollie's roommate matching service] was a way that I could have easily found a roommate through but I knew this person beforehand. We were both looking to move into a place together so finding this made it even easier because it was already furnished. 
What's included in your rent? 
Our rooms, access to all the amenities, the social club, cable. We have cleaning service once a week, which is amazing. It's made it so much easier because working in New York City you're always so busy. It's not like we're messy in the first place, but having that to maintain the cleanliness really helps out. During the week we're always at work and we get home and need to just cook dinner and sleep...It's been great to have our weekends there and not worry about spending our weekends cleaning.
What do you do in the social club? 
A lot of the events they have are events that are people doing activities together. We have multiple cooking classes. Those are really fun to do. You go with a friend and you cook together. You cook together and eat together.
There are also happy hours [in the city]. Happy hours have been great because it's always after work and people are usually free then to mingle and meet up.
[They have] workout classes. I feel like it's great motivation to be active and there are always fun cycling classes, which is one thing I really love. They have fitness events out in the city like spin classes at Spin Studios but they also have events at the gym [in the building]. They have yoga every week in our building and they have body conditioning classes. So they have multiple opportunities for working out.
There are building-specific events for Ollie residents: beer tasting, we've had holiday events, they had an art show. They're having a holiday market in our building. We go to shows and too. We went to [the interactive show 'Cleopatra'] last Friday that was really fun. 
Do you know other people in your building? Who are your co-residents there?
I feel like we're like a family already. I have good friends. I have girl and guy friends that I'm hanging out with whether it be at events or hanging out on the rooftop. Some are 30, 33, 36, some are 24, 22. [People are] mostly in their 20s and a few in their 30s. I feel like we're at the age group where we can all hang out. I have a friend who's a doctor, a friend who works for Microsoft.
A good amount have just moved to the city, some are grad students right now, there are actually some undergrads in this building as well. And there's also people who have lived here but they either lived maybe in Long Island or around the area where it was inconvenient, so it was convenient for them to move closer to the city. 
What is the apartment style? 
It came furnished. [For example], a cute little stool made out of wood, almost like a tree stump. They have stuff that's modern and cute that goes with everything.
What do people think when they come visit you?  
I have friends come visit and they're like 'Wow this is amazing.' They see it. They see the amenities. They see the lobby, it's beautiful. You go to the roof and it's beautiful, the party room is also great. The gym has great amenities, it's almost Equinox-style...They think it's great. They love it.
Do you feel like you're paying a premium to live there? Is it worth it? 
For me, I like how it's just one price that I'm paying, and I get a lot from it. I get all the amenities, I get the social aspect, I get the furniture included and utilities. I think it's worth it. I'm fine with the price I'm paying because I utilize everything. Living here, I don't feel like I'm wasting money at all. I feel like I'm always involved and doing a lot of things. 
How long do you think will stay?
I have a year lease and I'm definitely staying the whole term and I may looking into staying longer. I wouldn't mind staying longer. It's been a great experience thus far and it would be cool to stay in it. 
What advice do you have for someone considering co-living?
You should want to be a social person. Because some people may move in and be overwhelmed by so many people around them. It's good to open up and try to take in everything. It gives you many options and new experiences.
Brick Underground articles occasionally include the expertise of, or information about, advertising partners when relevant to the story. We will never promote an advertiser's product without making the relationship clear to our readers.