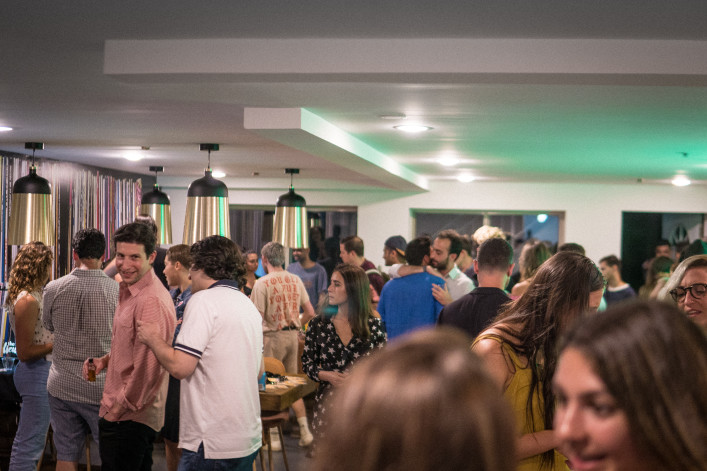 The new flagship of startup co-living company Roomrs held its grand opening at 651 Metropolitan Avenue in Williamsburg. It's the type of place where a 20-something working in the tech/music space who's just returned from an extended work assignment in London might bump into an acquaintance from back home in Vermont who works for a fledgling company that makes eco-conscious body care products such as tampons, lube, and condoms dubbed "Sustain Natural." 
I know, because I was there as the seven-floor, six-unit apartment building welcomed friends, business associates, press, as well as current and potential members of the Roomrs community to its newest, and first exclusively-occupied residence. The evening featured an open house, with an "experience" hosted by a brand partner happening in each of the themed apartments.
---
Editor's Note: An earlier version of this post was published in July 2018. We are presenting again in case you missed it.
---
For example, in one living room, mobile dental service Flossbar—"a dry bar for your face"—gave guests the opportunity to try "oil pulling" as a breath freshener. I was game, and swished the viscous, tasteless substance around in my mouth, then "gracefully" spit it into the kitchen sink as I was assured it was all the rage. (Some quick research bears this out, but I felt more coated than cleansed — and kind of wanted to brush my teeth.) 
In another, you could sample caffeine-free, healthy coffee alternative Sutra, made from ancient superfoods like turmeric, maca powder, and ginger. In others, there were kosher appetizers, small batch whiskey, or cold-pressed juices.
If you missed the memo, co-living (the residential real estate approach to the new economy phenomenon of co-working) is having a moment, as we've previously documented (see Brick Underground's guide to co-living spaces in NYC: How to tell the communal disruptors apart). Co-living businesses come in all stripes, and Roomrs launched in 2017 when real estate professional and the company's founder and CEO Or Goldschmidt determined that the traditional New York City rental process wasn't suited to millennials. In addition to offering a more flexible and move-in-ready way to find a place to live in the city (short-term leases, furnished spaces, etc.), Roomrs, as the name implies, is also about connecting people, particularly those who are new to the city.
"When you join Roomrs, you're joining a community, then finding a place to live," Robert Davidman, the company's head of marketing, said to me as assorted 20-somethings filtered through the building's stairwell, which featured an original mural of Brandon Sines' Frank Ape character. (The building does have an elevator.)
In a way, exploring the world of Roomrs was like floating through a millennial-themed fever dream, filled with smart devices, startup and wellness buzz, as well as youthful beauty and enthusiasm. Not to mention ease. With its tasteful-yet-trendy common spaces and bedrooms, floor-to-ceiling windows and smart blinds, modern kitchens, and weekly cleanings, Roomrs makes moving to New York City look positively enjoyable. (Which, you know, is not traditionally how people think of, or remember it.) 
I recall my move to New York, in a year when some of the Roomrs residents I met were not even alive as many things: enriching, exciting, unsettling, occasionally terrifying; enjoyable is not one of them.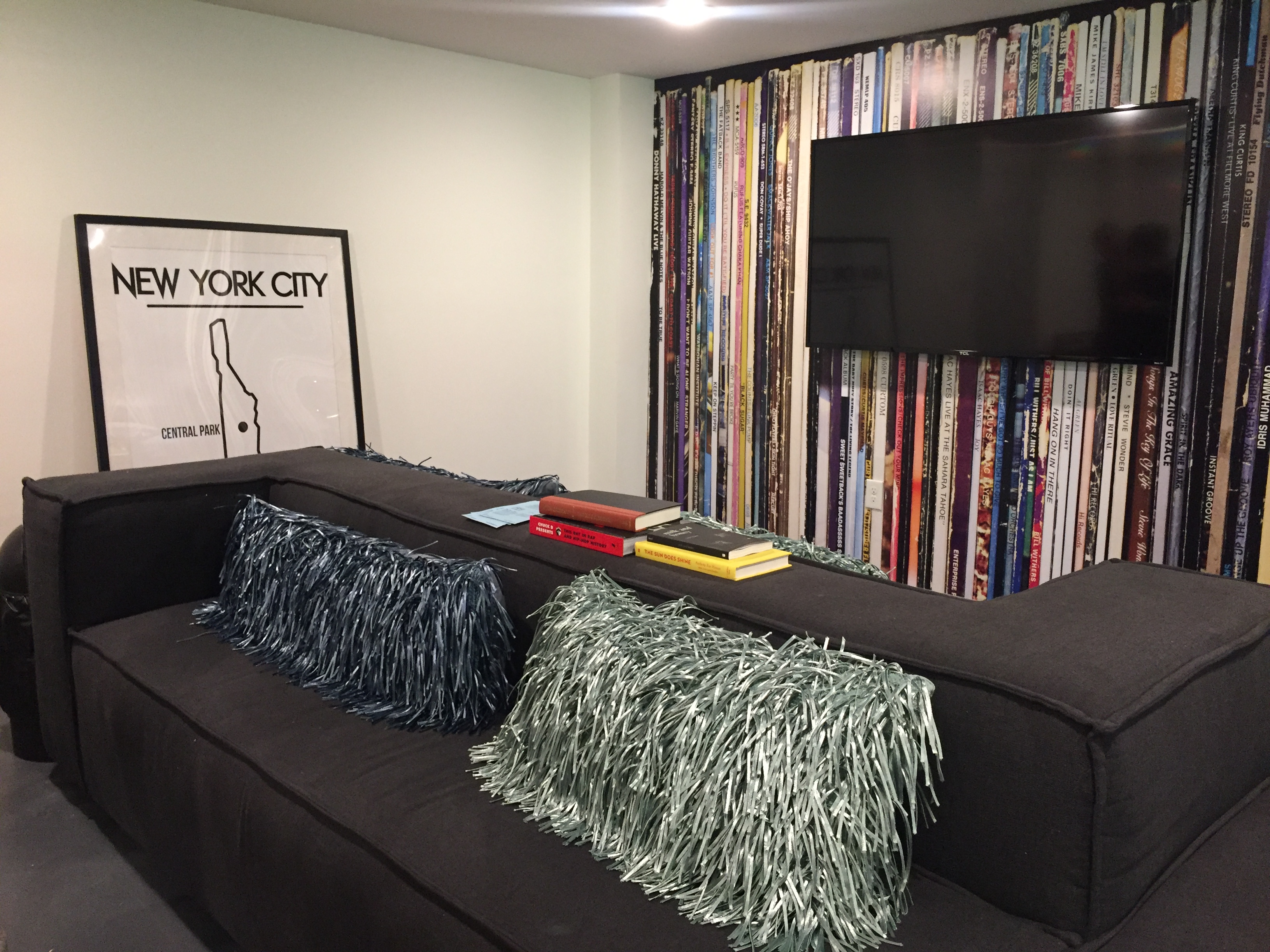 I started my evening in the building's communal space, a large but cozy basement level outfitted with a TV and some lounge seating, comfortable work area pods flanking a green neon sign proclaiming "unwind," and a pair of mid-century style chairs in front of a sleek, gas fireplace. A blown-up photo of record album spines (analog, baby!) serves as wallpaper.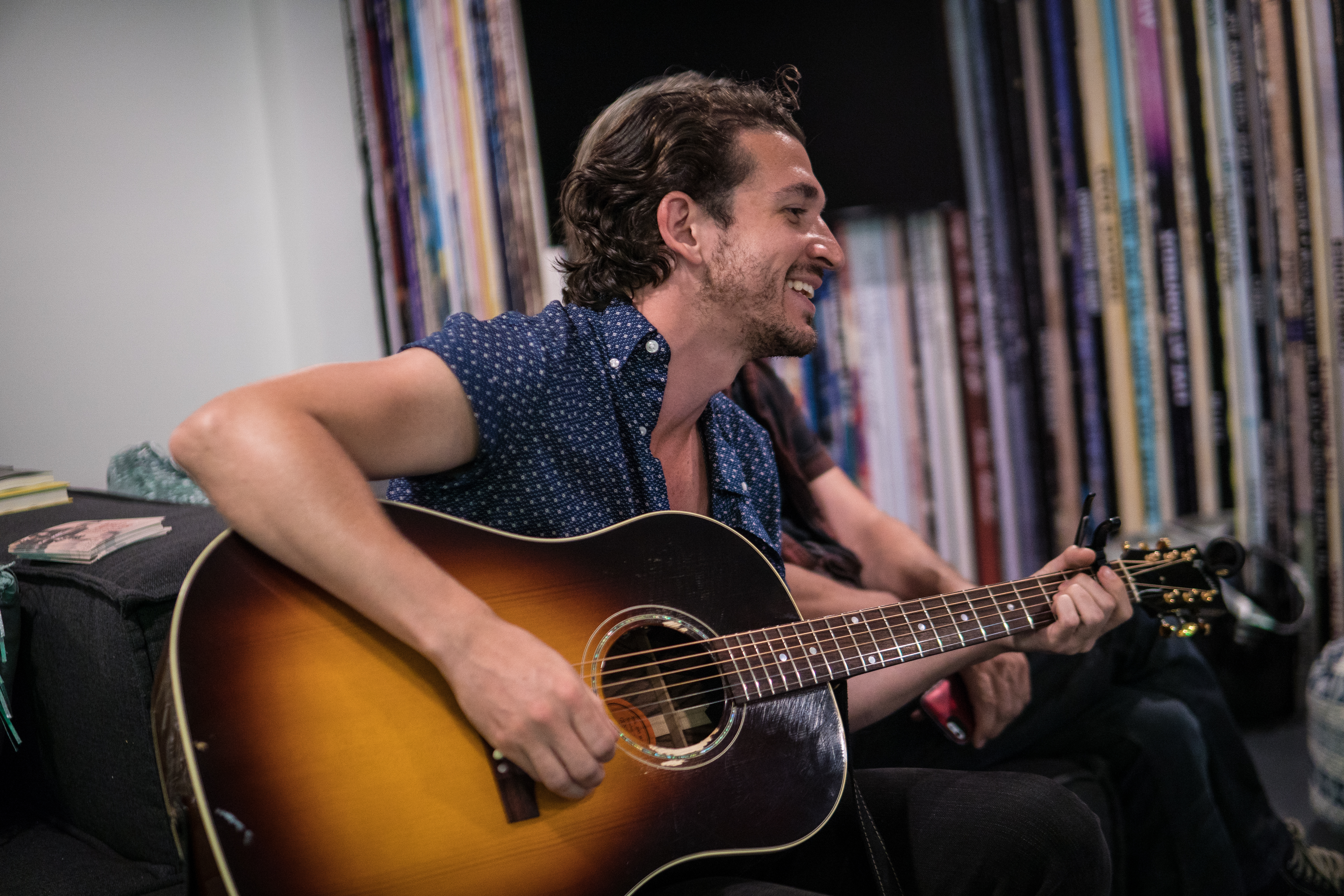 There, I met Roomrs resident and musician Matt Butler, 30, with guitar in hand, who confirmed, "I'm the guitar dude." (As in, the guy in the common area hanging out playing guitar. Butler was by far the oldest Roomrs client I meet, but he seemed to fit right in.) This is also where I met Emmett Wolberger, a jazz musician from Israel by way of Denver, and a Roomrs vet of nine months. He'd paid $1,250 a month at the 145th Street location, and was considering a move to the Williamsburg Roomrs.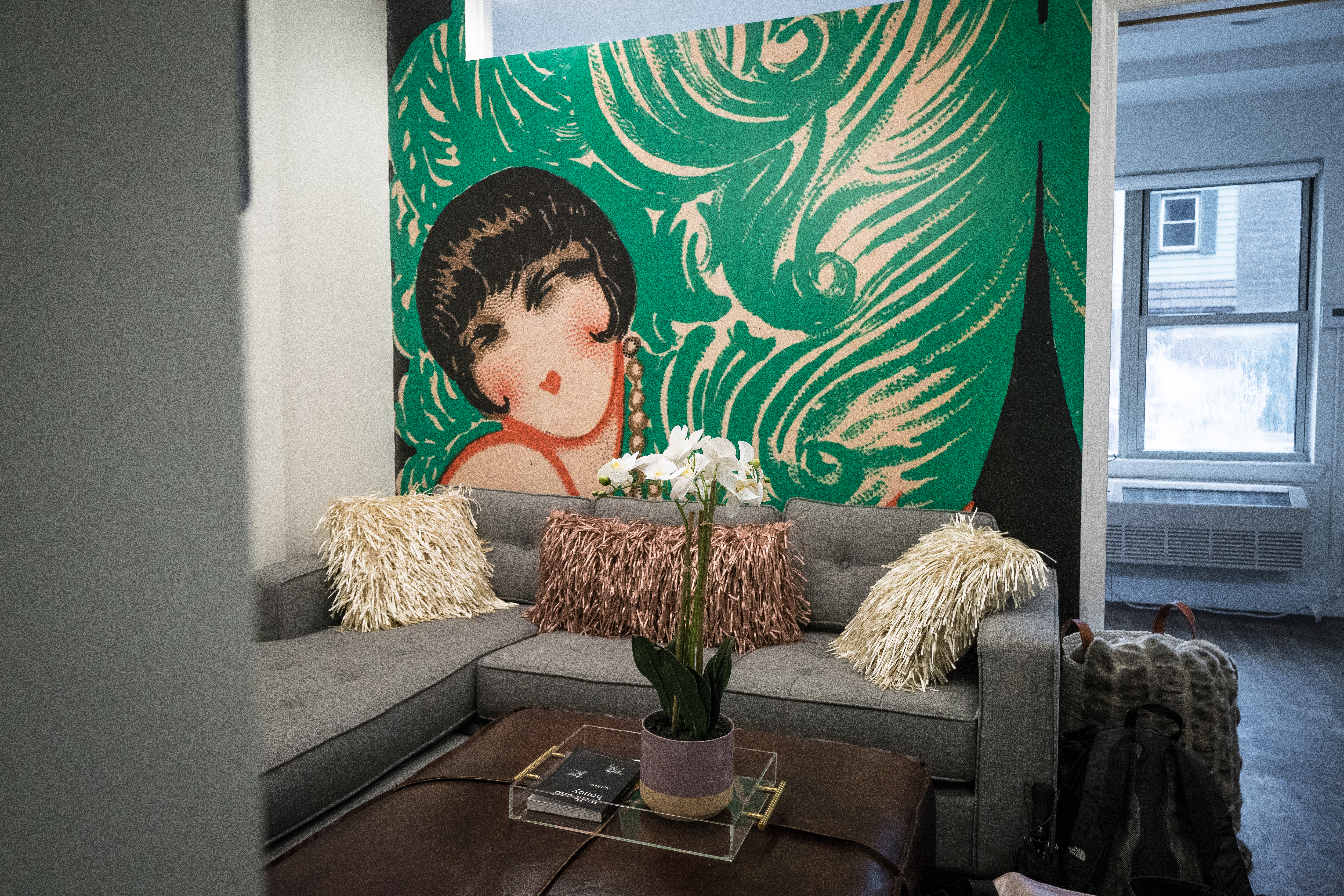 I moved on to the shared outdoor space, which featured oversized chess pieces, and then to one of the apartments, "the Lindy Hop," which has a mural of a flapper-style woman in the living room and pillows sporting lots of fringe.
There, I experienced the fully-wired nature of a Roomrs apartment: The lights turned on as I entered, Google home welcomed me (ready to hear of and report any problems, like a clogged sink), and there was even a smart Eight mattress to monitor my sleep.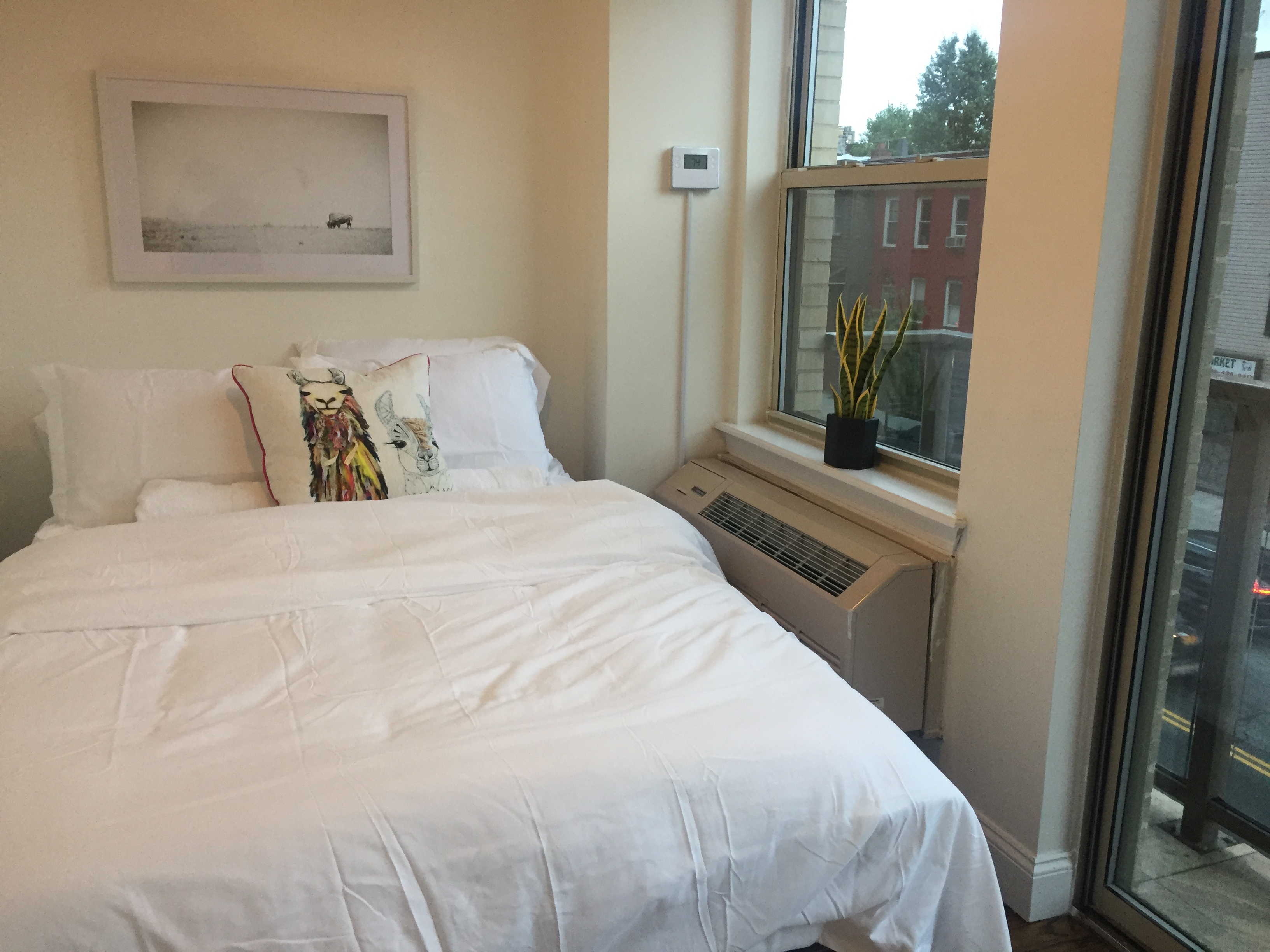 As Avi Lichtenstien, Roomrs COO and tech guru, explained to me, the mattress would keep track of all aspects of my slumber, from how long it took me to get to sleep, to total time in REM, to the number of tosses and turns—and give me a "sleep score" in the morning. He also noted that, with an eye towards enhancing a resident's experience, Roomrs might offer some suggestions based on this data. i.e., "Hey, we notice you're spending a lot of time in your room but you're not sleeping that much. How can we help?" It felt a little Big Brother to me, but perhaps that's the truly personalized service people expect these days.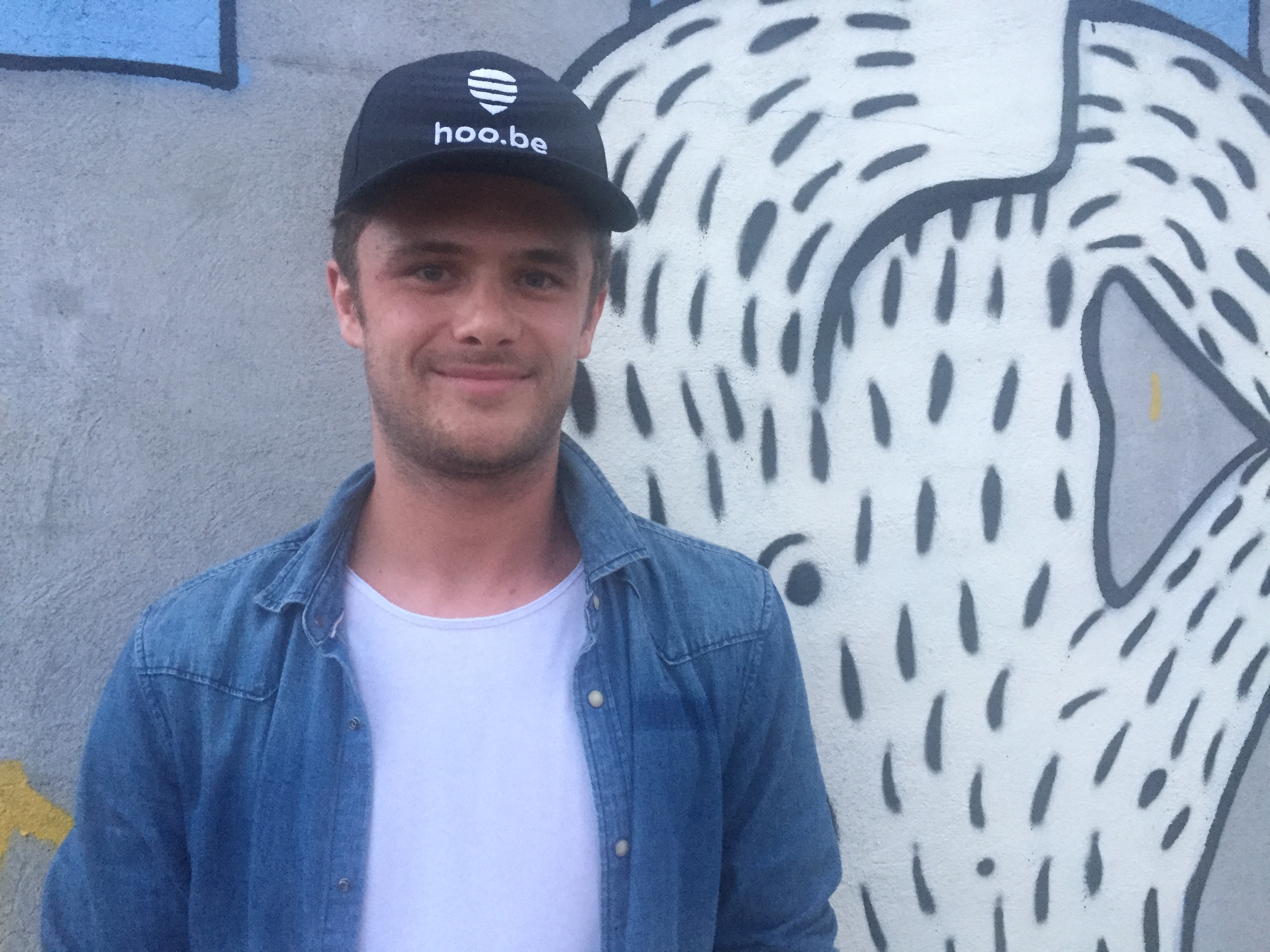 I checked out the roof deck, which offered impressive views of the surrounding area and Manhattan, and met Vermont refugee William Kiendle, 25, a veteran of the Bushwick Roomrs. When prepping to move to New York from San Francisco, he'd discovered the housing option on AngelList, a site dedicated to startup companies.
"I'm always eager to take on a risk," he said. "I thought, 'How am I going to find a place to live and start a new job?'" 
The appeal of Roomrs to Kiendle was myriad. He likes the flexibility (he signed a four-month lease and as anticipated, moved for work); the competitive pricing "hit his target," and it dovetailed nicely with an ongoing experiment with, as he called it, simple living. (He'd moved to New York in September with three suitcases, and it was working for him.)
He had nothing but good things to say about his curated roommates, such as the Saudi MBA NYU student who recently left to observe Ramadan, or other residents living in the building, like a woman from Bordeaux who worked in the wine industry. (He helped her with her suitcase when she arrived. "She had literally just gotten off the plane," he said. There's a lot of "just-blew-into-town" energy at Roomrs.)  
Kiendle's favorite perks of Roomrs? The cleaning; he even paid extra to have his personal space tidied up.
Towards the end of the evening, I found myself in the "Brooklyn" apartment—where the common space is papered in the Beastie Boys' Mike D's "Brooklyn toile"—waiting in line for the application of a semi-permanent tattoo, courtesy of Roomrs partner Inkbox.
There, I met Lauren Neidenberg, 20, from Ellsinore, Missouri, a student at the Conservatory of Recording Arts and Sciences in Arizona, who was in town for a music industry internship. She'd found Roomrs on Facebook through Gypsy housing, landed at the 350 Manhattan Aven. Roomrs in Harlem, and lived with "four girls and one guy" for $1,600 a month. (Among them: A Columbia student, a marketer, and a young woman from Italy who came to learn English.)
And though she hails from states where space isn't an issue, even she knows her NYC living room is "huge," she and her roommates watch "Friends" and laugh because, she says, they're sort of like the 90s sit-com crew.
Neidenberg doesn't want to leave when her lease is up, in part because she's made friends (including her community manager, Carly Speno, a friendly theater/yoga person). Plus, Neidenberg adds: She loves her room, with its two windows and views of a "very nice street." (The maximum stay allowed at Roomrs is one year, although you can move to another location. And, the longer you stay, the less you pay per month. The average stay is 10 months.)
Eshwar Sundararaja, 24, was in the tattoo queue as well. He landed at the Spanish Harlem Roomrs last November when he found out his lease wasn't legal and "had to get out real quick." He explored Craigslist a bit, and knew he didn't want a short-term sublet. A Google search for "easy available room" led him to Roomrs, and CEO Or himself showed him the apartment himself. (Both are Columbia alums, which added to the comfort level and appeal.)
Now Sundararaja, who works in finance, lives with a fashion intern in her 20s and a nurse in her early 30s who works at Mt. Sinai. He seemed very happy as he lists what he gets for his rent: A bed, TV, wifi, pots and pans, as well as a comfortable and clean space, and a responsive community manager. Of his move, he said, "There was no stress. I was really stressed out at the time, but I hopped in an Uber XL, moved in, and I was on my bed eating takeout that night." Paying rent ($1,500), is also no hassle: "I hit a button and it goes."
More bubbly, clear-eyed people filed into the apartment: A Columbia graduate student and an assistant to an executive at a record company based in Williamsburg. Meanwhile, it was finally time for my semi-permanent tattoo. I chose a classic pizza slice design, a nod to my old school NYC cred, but had it drawn on the inside of my wrist, because that seems to be what all the kids are doing these days.  
It looks like they might all be doing Roomrs, too. The company says it has a 93 percent occupancy rate and recently announced $2 million in funding from private investors.  
And ironically, I can see the appeal, from my been-through-the-New-York-City-real-estate-ringer vantage point: Your very own manageable, pristine room; a handyman on call via smart home; one monthly fee to cover my rent and bills, and someone to clean up after me? Plus a bedside table lamp that charges my phone? When do I move in?  
Roomrs kicks many of the hallmarks of the classic moving-to-New-York experience to the curb: The miniscule, "rough-around-the-edges" apartments; the super sketchy roommates; the cobbled-together collection of flea market, college era, and IKEA furniture; the rager that doesn't get cleaned up for weeks.
With Roomrs, residents can move to the city and "arrive" at the same time, coming home to a tastefully-appointed living room, cracking open a small batch IPA under the light of a Sputnik-style chandelier, and retiring to a bed with matching linens. It's like turn-key adulting. 
While events and socializing at Roomrs are not mandatory, they do happen, such as crafting in the common area with partner Craft Jam and or a workout in the park with Instagram influencer Adam Francisco, who documented a stint in a Roomrs apartment as well. Happenings are curated by Roomrs community managers (also young 20-somethings) who not only help place tenants with suitable roommates, but also serve as a general resource for them as they acclimate to the city. All members can communicate with each other via Slack.
Of course, you pay for this relatively frictionless existence. Bedroom start at $800, and $1,500 is the average rate for a room; rents at the new building are $1,800 and up.
Roomrs anticipates its new flagship will be fully-occupied in two to four weeks following its debut, but don't sweat it if you get shut out. Future locations in Soho and Times Square are being considered, as well as other cities in the U.S.
Brick Underground articles occasionally include the expertise of, or information about, advertising partners when relevant to the story. We will never promote an advertiser's product without making the relationship clear to our readers.