The Search
What do NYC landlords look for in a credit check?
Most only look at the credit score and want to see a minimum range of 675 to 700
Some will scan your report to see if you have late payments or maxed out credit cards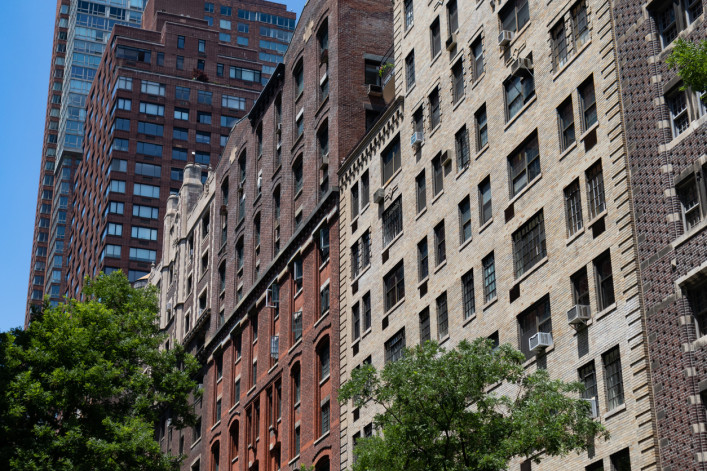 When you apply for a rental apartment, New York City landlords will typically pull your credit report, but what exactly are they looking for? What sort of red flags could get you disqualified for an apartment?
Most NYC landlords generally focus on one thing—your credit score. Their preference can vary depending on the type of apartment you are trying to rent, but most want to see a score of at least 675 to 700, according to brokers.
Some landlords will scan your credit report if they see your score is low but you're otherwise a good candidate—they will be looking to see what dinged your credit. Others may check it more thoroughly if they're deciding between multiple applicants and looking for reasons to reject one of you.
"When it's a competitive rental market, landlords have a choice," says David Schlamm, the founder and principal broker of City Connections Realty. He says that for many landlords, the credit score is all they look at in a credit report.
Read on for credit report and credit score red flags.
You completely missed a credit card payment
Schlamm says being late or worse–completely missing a payment—are the usual ways renters mess up their credit score. Often it is by accident, he explains.
It can happen with a small bill, for example a $56 balance on a medical bill or a Verizon bill for $83 that you forgot to pay.
Where you can really get into trouble is if a company tried and failed to get you to make the missed payment, then closed the account and sent the debt to collection. This is a rare, worst-case scenario (credit card companies call this a charge-off) that you definitely want to avoid. You do this by monitoring your credit report.
Because as Schlamm puts it: "People who have good credit protect their credit. People who have bad credit don't care," he says.
Federal law allows you to get a free copy of your credit report every 12 months from each credit reporting company: Equifax, Experian, and TransUnion.
You've maxed out a credit card
There's a lot of detail on a credit report about your credit cards, including your account balances, monthly payments, and credit limits.
If you're applying to rent an apartment, a maxed-out credit card could be a reason for a landlord to move on to another applicant, says Michael Lucarelli, CEO of RentSpree, an online rental application platform, which vets renters for landlords including pulling credit reports. The company does a soft credit inquiry that will not ding your credit score.
You may be in the habit of paying off your credit card bill all at once when you approach your credit limit or you may be careless with money and wildly overspend. Either way, most landlords don't really care to find out because they don't want to take a risk.
Lucarelli advises renters to monitor their credit report to mitigate anything that could be a red flag. You want to watch for inaccuracies, such as something that you believe you previously paid off showing up as a missed payment. Stay on top of your credit card payments to manage your balance, he says.
You've taken out too many loans
Beware that applying for big ticket things like taking out a loan, buying a car, and getting another credit card can trigger hard credit inquiries that can sink your credit score, Lucarelli says. Essentially this inquiry signals you're about to take on more debt. Time these things for after you qualify for an apartment, he recommends.
You've been a victim of identity theft
Phillip Salem, an agent at Compass, says he's seen a lot of things trip up renters in NYC and identity theft is one of them. It's a growing problem, he says.
Your credit score takes a hit when thieves open a credit card in your name and then not pay the bills because why would they? Having delinquent accounts on your credit report would be a big red flag.
There's a lot of advice available on what to do once you discover you've been the victim of identity theft, including placing a fraud alert on your credit reports for one year. This is free and available from the three nationwide credit bureaus. Neat fact: You only need to sign up with one and they'll tell the other two what's up.
You can get ahead of something like this and keep it from derailing your application but you have to be proactive. While you can't fix your credit overnight, you may be able to supply a letter of an explanation to a prospective landlord along with a stellar application package. Consider extra letters of recommendations from multiple landlords (if you've rented more than one time). A letter from an employer would be a must. Be sure to discuss all of this with your agent or broker.
"Landlords in NYC are tougher than any other city," Salem says. "That's why it is important to show the whole picture and have all your documentation in order."
The thinking here is, Salem explains: If someone has glowing letters of recommendations, makes over 40-times the rent, has a good income but has problems with their credit, they won't be dismissed immediately. In these scenarios, he advises renters to include a letter explaining what happened.
What you can do to boost your credit score
The economy may be slowing down but a lack of apartments is keeping the competition for rentals high. Landlords are still seeing multiple offers and bidding wars—meaning you and your credit score need to look good.
In addition to managing your debt, there are rewards apps like Bilt Rewards and Piñata that report your on-time rent payments to the credit bureaus, a new way for renters to build a credit score. And your building may have a rental payment service that reports your on-time rent payments. If it doesn't you can ask your landlord to consider offering it.
Esusu, NYC-based rental platform, is one such company. It partnered with Jonathan Rose Companies last year to rollout out its rent reporting service to low-income housing properties in Harlem and Stamford, Connecticut. In June, they found that 95 percent of renters there improved their credit scores.
"When renters with no credit score have access to Esusu's platform, we can establish a credit score for them 100 percent of the time. For folks who already do have a credit score, we see an improvement anywhere between 20 to 100 points, which is quite substantial in a city of renters like New York," says Samir Goel, co-founder and co-CEO.
He says that at first, landlords were skeptical about offering rent payment reporting. "But when people are building credit by paying rent, it encourages them to pay rent on time," Goel says.
Brick Underground articles occasionally include the expertise of, or information about, advertising partners when relevant to the story. We will never promote an advertiser's product without making the relationship clear to our readers.