The Market
What Millennial renters want: Online rent payments, credit reporting, points, and Le Creuset cookware is nice too
Millennial homeownership rate in NY is 41 percent, second-lowest in the U.S
As the largest living generation in the U.S., Millennials drive changes in renting
Millennials along with the pandemic push the process of renting online for good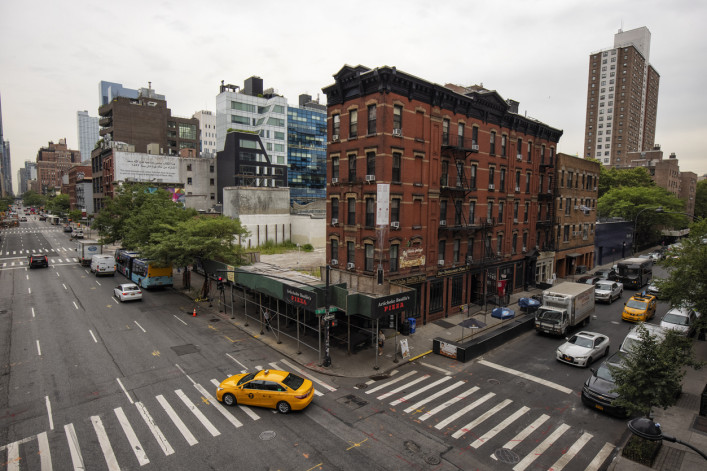 Millennials are finding it much tougher to move from renter to homeowner than previous generations, especially in expensive New York City. But as the largest living generation in the U.S., their challenges are also driving change and having a transformative impact on how you rent.
It makes sense that this generation—defined as born between 1981 and 1996, making them 26 to 41 years old and who came of age alongside market disruptors Airbnb and Uber—want to rent differently. They want technology (video tours and the ability to apply for apartments and pay rent online); transparency (online landlord reviews) and to get credit card-style rewards for paying rent. They also want to leverage those rent payments to become owners.
So if you're a struggling millennial renter or someone who rents to or caters to millennial renters in some way, take note. A host of new companies like Bilt, Piñata, openigloo, and RentSpree (launched by Millennial disruptor types, of course) are rising to meet the needs of Millennial renters. Some report on-time rent payments to the credit bureaus, boosting credit scores and giving renters a benefit that homeownership has traditionally conferred.
In one sense, the timing couldn't be better: Major changes in the NYC rental market—once heavy on face to face contact and notoriously tech adverse—were implemented as result of the pandemic, ushering in no contact measures like video apartment tours, online apartment applications and rent payments—changes which tech-savvy Millennial renters like and so are here to stay.
Millennials are ready for the next stage in life
Allia Mohamed, CEO of rental listing and building review site openigloo, describes herself as a prototypical Millennial. Years ago, when she first moved into an apartment in NYC, she and her roommates killed 10 mice in the first two weeks. That was no big deal. "We thought it was all just part of the experience," she says.
If that happened now, forget about it. There's no way she would be willing to put up with that kind of living situation. That experience helped inspire her to create openigloo—to arm renters with insight into what specific buildings are like and spare renters from stumbling into similar bad situations. And that desire to improve the rental experience tracks with what openigloo sees in its renter surveys.
"We can see some difference in the satisfaction level of Generation Z vs. Generation Y" [aka Millennials], she says. Generation Z (born after 1996) are the post-college cohort. "They're just happy with any landlord that takes them. They're willing to live with four or five roommates, and want to be in the mix and they're more forgiving" of less-than-ideal living situations, Mohamed says. They're not ready to settle down; they're moving every year for five years in a row, she says.
Millennials, on the other hand, are ready for the next stage in life, even as they continue to rent—they're looking for comfort and a reliable space, she says. They want amenities, even a guest room for visiting parents.
And as experienced renters, they want the ease of doing transactions electronically—same goes true for Gen Y. They may not even own a checkbook—so buildings that can process payments electronically are important.
Why are Millennials having such a tough time?
The current rental market is very tough for Millennials—vacancies are near historic lows, and rents are stuck at new heights. Manhattan's median rent in Manhattan reached $4,000 this summer and has stayed there—meaning you need a minimum income of $160,000 to qualify for the average-priced apartment when the median income in New York is $67,000. 
Overall, New York State ranks 40th for Millennial housing costs, making it among the least affordable in the U.S. and the Millennial homeownership rate in New York is 41 percent—the second-lowest in the U.S., according to data from WalletHub. 
And it seems as though this group always gets the short end of the stick.
"Millennials have been unlucky to graduate into a recession and just have been buffeted by financial hardship ever since, from student debt to gig jobs to the Covid pandemic," says Lily Liu, CEO of Piñata, a rewards and credit-building app for renters.
She points out that Millennials are "a huge group that is postponing key milestones from marriage to car buying and certainly home buying." Owning "seems far out of reach, and the more financially viable renting lifestyle is not being validated or supported," she adds. Liu points to a 2022 Apartment List survey that found almost a quarter of millennials plan to always rent rather than buy a home.
But contrary to traditional thinking, Millennials view renting as a choice, as opposed to a stepping stone.
Many renters do so because of cost, Liu says, however "remote work has led many to embrace the flexibility of renting, and we expect to see a steady segment of the population remain renters by choice." In response, she says, "We are seeing a new market pop up with renter rewards apps, credit cards, and opportunities for renters to get the benefits homeowners have always received."
Getting something back for paying your rent
Credit rewards programs for renters offer perks in exchange for on-time rent payments via credit cards or apps, streamlining the ability for renters to pay without fees for renters or landlords and have the payments reported to the credit bureaus.
As an incentive, renters get points that can be converted into products or services. These companies say recording rent payments can help renters lift their credit scores, which can ultimately help them qualify for a lower mortgage if they decide to buy.
Piñata is one of these apps that helps renters get something back for paying rent. Through the rewards program, renters get Piñata Cash for on-time rent payments that they can spend on gift cards that reduce their monthly expenses, like gas, groceries, dining out or on aspirational home items like big screen TVs, Roombas, tablets, and Le Creuset cookware, Liu says.
Through Piñata's rent reporting program, "we let the credit bureaus know when renters pay on time. A quarter of these rent payment reports can increase credit scores by 40 to 60 points, which makes a huge difference to anyone getting a cellphone or job, or applying for an apartment or loan including a mortgage," she says.
Bilt Rewards, a new company that launched last year, also aims to help renters get more out of paying rent. With Bilt, you earn points by paying rent and can put those points toward your next month's payment if you want or save your points for a down payment. Or you can shop with your points or use them for travel.
"Millennials are eager to get something back from their rent payments," says Ankur Jain, founder and CEO of Bilt Rewards (the company also offers Bilt Mastercard, which has no fees on rent payments, and gives you points for paying rent and making purchases.) Points can be applied toward travel, exercise classes, home décor—or even cover your next month's rent payment. "This is a generation that is used to getting something back," he says.
One misconception about Millennials is that they don't want to own, Jain says. It's more accurate to say that this cohort doesn't view ownership as "the only answer." But they do have a harder time getting to this milestone than previous generations. Bilt also helps renters improve their credit scores in order to get better loans as buyers by reporting rent payments—something that is not done automatically.
Jain previously explained to Brick that boosting your credit score over time means you can get a better rate as a borrower. For example, you can boost a score by 50 to 100 points over 12 months, shaving off basis points and tens of thousands of dollars.
To help first-time buyers, Bilt recently launched Bilt Homes, a platform that helps renters figure out what they can afford to buy using real listings. Renters plug in what they are paying in rent, and other financial data and are shown properties that meet their budget and how much financing they could get.
Eliminating paper and fax machines from the application process
At 31 years old, Michael Lucarelli, CEO of RentSpree, an online rental application platform, is in the middle of the Millennial cohort. His company, which vets renters for landlords, was also founded out of frustration with the rental process.
Years ago, when he was apartment hunting and found a place, a landlord "threw down a stack of paper. I filled it out and was told to fax it back," Lucarelli recalls. "I had to find a fax machine in 2014." (He had never seen or used one before.) "I was taken aback by how antiquated the process was," he says. That was the inspiration for RentSpree.
In addition to online applications, RentSpree does a soft credit inquiry for TransUnion's screening reports, which will not ding your credit score.
"A hard credit inquiry can damage your credit score by 5 points, Lucarelli explains. And once your credit is pulled by a landlord, you can request your credit score in order to apply for other apartments owned by landlords on the RentSpree platform (over 3,000 properties in New York, the company says).
In New York, the rent laws limit apartment application fees to $20 and also enables renters to take their credit score from the initial inquiry and submit it for subsequent apartment applications. Lucarelli says this process is not as reliable as having your score sent from a third party and can doom your application if a landlord suspects your financial numbers have been altered.
Lucarelli sees Millennials as steering the rent process into the digital age. For them, technology is expected, it is no longer seen as a luxury. 
Owners were able to get away with not using tech-enabled processes prior to the pandemic, but no longer. First Covid, then a market that was on fire necessitated change. Even as the market creeps toward a recession "landlords still want to attract qualified renters who are going to pay the rent on time," he says. In other words, there is no going backwards, only forward.
Brick Underground articles occasionally include the expertise of, or information about, advertising partners when relevant to the story. We will never promote an advertiser's product without making the relationship clear to our readers.