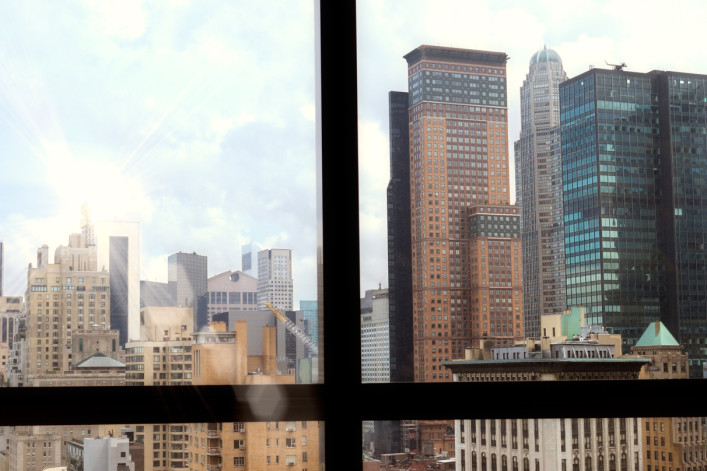 Real estate transactions often involve face to face contact—but with most New Yorkers practicing "social distancing" and working from home to avoid the spread of the coronavirus, this presents problems. If you are mid-way through a purchase or apartment sale you are likely considering virtual workarounds and may want to avoid the risk of being in close quarters at a closing or co-op board interview amid a pandemic. 
Some deals are already folding as a result of the coronavirus and its economic impacts. Elise Kessler, an attorney at Braverman Greenspun, was asked to represent a seller of a co-op and says the buyer pulled out because of the virus, saying he would revisit the deal in 60 days. Jed Lewin a broker at Triplemint, says he's had several deals fall apart prior to contract signing. "I've had accepted offers where my buyer's offer was accepted and they've had to rescind based on the current climate and the financial markets," he says. 
For deals that still progressing, the coronavirus may usher in a new way of transacting business.
In-person closings are the norm in NYC where the buyer, and seller, as well as their attorneys, gather with the bank attorney (if there's financing), the title insurer and agents as paperwork is passed between everyone. Lewin says the city is "well behind the rest of the country" on switching to online platforms. Virtual closings, where everything is done electronically, aren't yet happening, but the coronavirus may force a major overhaul of the process. 
---
Editor's note: Click here for more of Brick Underground's coronavirus coverage.
---
Using power of attorney to skip the closing
Right now, Kessler says sellers and buyers are giving their attorneys power of attorney to reduce the number of people who need to attend the closing. "There may also be a discussion about closing in someone's apartment and limiting the attendees to just the parties and no guests or brokers," she says.
How it's done in other parts of the U.S. 
Another option is closing by escrow. Lewin says he just closed a deal in this way. "It's closer to how commercial transactions occur in NYC and how residential transactions happen around the rest of the country," he says.
In an escrow closing, the buyer and seller designate a third party to be the agent for the deal—this might be the title company representative as the escrow agent. Funds need to be wired to the escrow agent and paperwork would have to be signed in advance or signed digitally. An escrow closing might only involve the agent and an attorney. However, Lewin says this is much easier on a cash deal in a condo rather than a financed deal for a co-op where there would be an exchange of share certificates. 
Provided all the documents can be signed electronically, scanned in and all the paperwork and funds can be wired electronically, Lewin says change to the way closings are done in NYC is long overdue. "Without the coronavirus, we needed to do this 50 years ago and with the coronavirus, it is imperative for the future of the industry and the safety of everyone involved—every seller, buyer, every attorney, managing agent, every agent, title person, and lender's counsel—we need it to change and we need to do it quick."
Kessler says she's "not sure we are ready for virtual closings yet," but she does think the crisis will result in different closing formats.
Boards need to get with the times
Boards have, until now, resisted doing application interviews via video but Daniele Kurzweil, a salesperson with Compass, says she is working on a deal where the board has requested an interview over Skype "just to keep everyone safe." 
Boards realize it is a "very tricky time," Kurzweil says, but if the stock market plunge does not affect your downpayment, co-op boards will be keen to get to a deal.
"Any building that gets a sales package in the next month or two will be very eager to interview and review. They are just as worried as everyone buying and they will be happy to see that even in an uncertain economic climate their building is still viewed as a safe investment," she says. 
In some of the more traditional buildings, physical hard copies of board packages are still required but that may be another area where we will see change. Kurzweil just received notice that one managing agent is no longer accepting paper applications and they all must be either in PDF format or submitted on BoardPackager. "We should make all applications digital as they are more secure and there is nothing to dispose of once the process is over," she says. 
Remote notarizations may be needed
In order to close a property deal some paperwork, like certain affidavits, and agreements, will need to be notarized. In NYC this is usually done in-person. Charles Segure, a New York public notary, says "there's a trend towards remote notarizations," which use video calls to verify identity. However, the New York State Professional Notary Association says remote online notarizations are not currently allowed. [UPDATE: Governor Andrew Cuomo signed an executive order allowing the temporary virtual notarization of documents during the coronavirus crisis. The temporary order is effective March 20 through April 18, 2020.]
Lewin says, "If we go to a shelter-in-place scenario people aren't going to get documents notarized in person so the simple solution would be sign documents in the virtual presence of a notary."
Brick Underground articles occasionally include the expertise of, or information about, advertising partners when relevant to the story. We will never promote an advertiser's product without making the relationship clear to our readers.