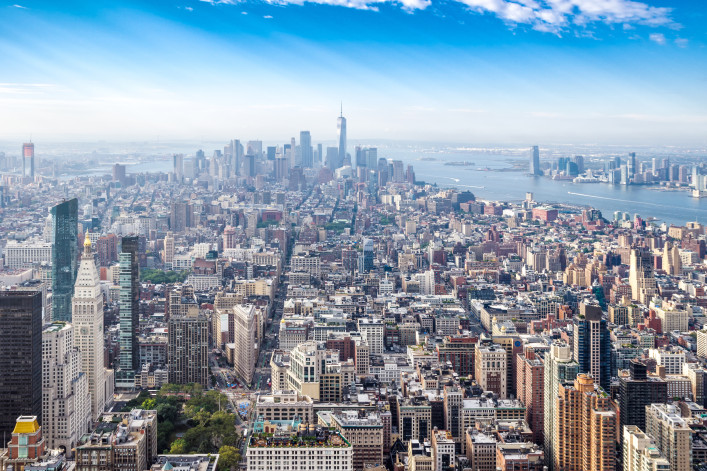 Fears about the novel coronavirus and a volatile stock market are poised to slow the real estate market, but there's one sliver of good news if you have a mortgage or are thinking of buying—the Federal Reserve dropped interest rates by half a point, which pushed mortgage rates to a near 50-year low. This makes borrowing more affordable than it has been in decades. And there are widespread expectations that another similar cut may come as soon as next week.
Open house numbers are down in an already sluggish sales market and some real estate agents are working from home to prevent contagion, adding up to a market in an "absolute state of flux," says Ami Rosen, a mortgage banker with Wells Fargo. However, low rates are prompting many New Yorkers to ask whether it's a good time to refinance or buy. 
The average 30-year fixed mortgage rate has fallen to 3.29 percent and the 15-year fixed mortgage rate is now 2.79 percent, according to Freddie Mac.
Refinancing inquiries are coming in at an "unprecedented rate," Rosen says. In addition, more New Yorkers are looking to buy and rates make a big impact on your monthly carrying costs. Wells Fargo offers a "floatdown" loan option allowing borrowers to lock in a ceiling and still take advantage of lower rates during the process, should the rate drop further. 
---
Editor's note: Click here for more of Brick Underground's coronavirus coverage.
---
Brittney Baldwin, vice president of National Cooperative Bank (a Brick Underground sponsor), says it's a great time to look to refinance or buy right now. "Even if you refinanced in the last two years, it may still be a time to look to refinance now and to consider taking a shorter-term loan if you are considering staying in your home for five years or more," she says.  
Your decision to buy or refinance will depend on your personal circumstances but a good starting point is to get estimates of both the value of your home and the costs of a potential renovation (as well as budget overruns).
Pro Tip:
Your home is your emotional and physical sanctuary, and right now, it's probably doing double or even triple duty. With Zoom meetings, home schooling, virtual happy hours, and other distractions, accidents can happen, like cooking fires, sink overflows, floods from broken dishwashers and other mishaps that could cost you thousands. Now more than ever, protecting your home, possessions and finances with insurance is an affordable necessity, not a luxury. Click here for a quick quote from the apartment insurance experts at Gotham Brokerage. >>
"If you have the funds for a down payment it may be the time to consider purchasing," Baldwin says. Factor in closing costs if this is the case. Keep in mind that the way owners can take advantage of the down market and low rates is to buy again within the same cycle, particularly if you are trading up—where the market is currently softest. 
Speaking on the Brick Underground Podcast, Jonathan Miller, president and CEO of appraisal firm, Miller Samuel, points out record low mortgage rates mean a bank's margins are thinner, and their risk-aversion increases. Rosen says bank underwriting capacity is being tested with the current flood of applications. "As flow eases up, rates may continue to drop," he says. 
Covid-19 is yet another item in a growing list of uncertainties for New Yorkers including trade negotiations and the 2020 presidential election which continues to tip the market in favor of buyers as sales slow.
Miller says since the 2008 financial crisis he's noticed, especially in Manhattan, a "pull back" from sales in election years that begins in the spring and doesn't let up until after election day (regardless of who takes office). It remains to be seen whether lower mortgage rates will affect this pattern. 
Brick Underground articles occasionally include the expertise of, or information about, advertising partners when relevant to the story. We will never promote an advertiser's product without making the relationship clear to our readers.