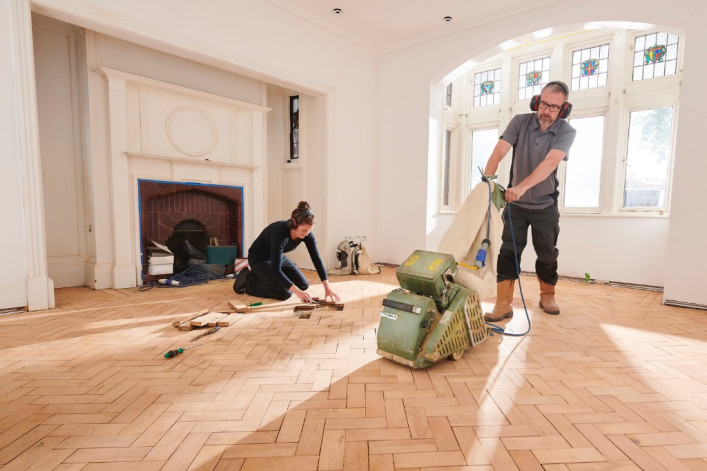 Just as many would-be buyers are deciding to ride out their market jitters by continuing to rent, potential sellers are faced with a similar fish-or-cut bait decision: A choice between taking the time to renovate or selling as-is in the current down market. If you sell now, you face being out of sync with what buyers are currently prepared to pay. If you renovate, you end up with an apartment that's better suited for you, albeit with the same size and location.
But if your plan is to upgrade your apartment to make it more competitive with what's on the market—in other words, to do both—you may have trouble recouping the cost of your investment.
There's no algorithm to work out what is the best choice for your circumstances, but there are several questions you can ask to help you make the decision.
If I sell, am I prepared to buy again quickly?
If you decide to sell, you should keep in mind that to maximize your spending power, you are better off buying again in the same market cycle. 
Daniele Kurzweil, a broker with Compass, says, "A lot of people get very skittish in a down market—they want to renovate because they don't want to lose money on their sale. What they are forgetting is they are dropping money into their apartment and it might continue to go down." Kurzweil says it's often better to buy something in a down market and invest the money in something bigger if you need the next step.
Likewise, Lisa K. Lippman, a broker with Brown Harris Stevens, says, "While the market feels soft for sellers, it is also a really good time to buy."
Having said that, in a slower market, you want your apartment to beat out the competition when you come to sell, so it's not uncommon for owners to "prep to sell," says Aaron Popowsky, the founder of NYC design-and-build company Gallery Kitchen & Bath (also a Brick Underground sponsor).
Brokers agree that it makes more sense to sell if you are also buying in the same market. "This is particularly true if you are upgrading," says Teresa Stephenson, president of Platinum Properties. She points out the market is "softer the higher that you go" so if you're looking to upgrade you may find your negotiating power increases as you look for something larger.
As an example, Stephenson says the owner of a one bedroom in the $600,000 to $700,000 range that's at or below the median will likely find lots of buyers, but if you're using the sale to buy something more expensive, the market conditions will be in your favor.
"Most people in this position would likely do well to sell in this environment," she says. 
If I renovate, do the numbers work out? 
It is generally less expensive to renovate rather than purchase a new apartment, but the costs are not insignificant. In addition, change orders or unexpected defects behind the walls can spike the costs, so before you make the ultimate decision, it is important to have a full understanding of the budget for the work.
Renovations are also inconvenient and you'll need to establish whether you can live in the apartment while the work is done. Anyone who has been through a NYC renovation will tell you remodels often take longer and cost more than you originally budgeted for. Sales might be slow with prices going sideways, but the rental market is highly competitive with landlords doling out fewer concessions, a sign that finding a short-term rental while the work is done might be both challenging and costly. 
You'll also want to determine whether the cost of a renovation will be reflected in a future sale price. Stephenson says renovations "rarely result in an in-kind return when you go to sell, especially if they are two to five years old. They might end up being more costly than the appreciation you would see over two to five years." 
What kind of unit do you own and what is your time frame?
For those who can wait out the market, and aren't in need of more square footage, Popowsky says it makes sense to renovate.
Once you've installed the new kitchen or bath you may well be in a better position to sell because the apartment or townhouse will be in the best possible condition. "People are more mindful of that now and if there's an option to wait out the market, we are seeing that," he says.  
Popowsky's client base is in the mid- to upper-mid-market in Manhattan, where he says there's a strong appetite for renovation. His company just experienced their busiest month in the last six years. 
A newly renovated apartment is generally an easier sell than a shabby, outdated one. Nadine Adamson, a broker with Brown Harris Stevens, says her team would always advise an owner to renovate before selling in this market, especially if the unit is in bad shape.
"We always say a kitchen can be $10,000 or $300,000 depending on your taste level, but you can't pin your wildest design expectations on the seller and expect them to reduce the price to account for that. If the apartment had gotten a simple kitchen renovation before listing, a buyer wouldn't have been able to pull that trick," she says.
High-end sales have slowed in the past year due to an oversupply of luxury development. For those who already have a more expensive apartment, the advice is to stay put a bit longer or renovate an apartment to rent out while seeing if the market improves.  
Stephenson agrees a renovation might be the best option if your apartment is in one of the softer sectors of the market and it will allow you more comfort over the next two to five years.
Brick Underground articles occasionally include the expertise of, or information about, advertising partners when relevant to the story. We will never promote an advertiser's product without making the relationship clear to our readers.