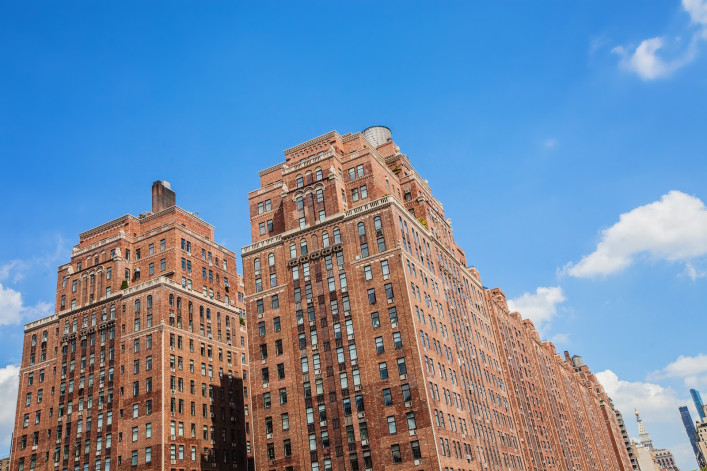 When you are deciding between a 15- and a 30-year mortgage to buy a New York City apartment, it's important to know what your financial priorities are so you can pick the one that best suits your needs. 
A 30-year loan will have a higher rate but lower monthly payments. A 15-year mortgage means higher monthly payments but paying less overall because you pay it back more quickly. 
"Everyone's situation is different," says Ace Watanasuparp of Citizens Bank. "The benefit of a 30-year fixed rate is that you have flexibility because it's amortized on a 30-year schedule, therefore, your payment will be less than a shorter-term loan. But some people love the 15-year fixed because there's a big difference in terms of interest rates." 
---
[Editor's note: An earlier version of this post was published in September 2017. We are presenting it again with updated information for October 2019.]
---
When making a decision about which loan is right for you, you'll want to consider how much you can afford to repay monthly, how long you intend to own the place and whether your financial or personal situation might change in those years. 
Calculating your interest payments
The current rate on a 30-year fixed mortgage is 3.78 percent, according to Bankrate. The rate increases to 4.11 percent for a 30-year jumbo loan. For New York City, a jumbo loan is one where the financing amount exceeds $726,525. For a 15-year mortgage, the rate is 3.19 percent, and if you get a 15-year jumbo loan, the rate is 3.91 percent. 
"The gap between the two can change over time depending on trends in the financial markets, but in most cases, there's a 0.25 percent to 0.5 percent difference between a 30-year fixed loan and a 15-year fixed loan," says Mark Maimon, a vice president at Freedom Mortgage. 
If you want a more conservative repayment schedule, a 30-year fixed mortgage will give you lower monthly payments. However, the longer timeframe affects your total payment sum.
"When you calculate the amount of interest you'll be paying on a 30-year, it's quite significant—almost as much as the principal payments if you decide to hold on to the loan for the whole 30-year term," says Watanasuparp. 
Factoring in your future plans 
A 15-year mortgage requires higher monthly payments, so Watanasuparp says, "if you go this route, you want to be confident that your cash flow won't change significantly, as you'll be responsible for keeping up with a much higher monthly housing expense." 
Robbie Gendels, a senior loan officer at National Cooperative Bank (a Brick Underground sponsor), says it is important to think about whether you are you planning to stay in your place for more than three to five years, what stage of life you're at and, whether you are going to grow your family.
A 15-year mortgage allows you to more quickly pay off your principal and therefore build more equity. However, Gendels says it's also possible to make additional payments on a 30-year financing option. "This would result in getting rid of the loan in under 30 years," she says.
If your financial situation changes for the better, Watanasuparp says some banks allow programs where borrowers to pay large one-off payments to slash the amount they owe. Monthly payments are then recalculated based on the lowered principal, which reduces the interest. To do this, buyers have to pay a fee of a few hundred dollars, which may be worth it to avoid the hassle and expense of refinancing. 
30-year mortgage can be good for first-time buyers
Depending on your stage of life, one mortgage may be more appropriate than another. Maimon says 30-year loans are a common product for first-time buyers. For someone who is nearing retirement and perhaps has a lot of equity, Maimon says a 15-year loan may be more appropriate. "This helps them accelerate the reduction of principal and puts them in a better position to enjoy their retirement without having to worry about paying a mortgage," he says. 
If you are refinancing out of a loan at a very high rate, Maimon says a 15-year mortgage might be the right product, especially if the repayments match the previous loan payments. 
"While the monthly payment will remain more or less the same, you'll still get the added benefit of significant interest savings by having a 15-year loan that amortizes faster than a 30-year loan," he says.  
Buying a co-op or condo
It's worth keeping in mind that co-ops generally require at least a 20 percent down payment but sometimes as much as 50 percent, whereas condos, which cost more overall, can sometimes be bought with a 10 percent down payment. 
You'll have more of the principal paid off more quickly if you get a 15-year mortgage on a co-op, but this option obviously involves having more money upfront and the need for a higher income throughout the duration of the mortgage.
Brick Underground articles occasionally include the expertise of, or information about, advertising partners when relevant to the story. We will never promote an advertiser's product without making the relationship clear to our readers.