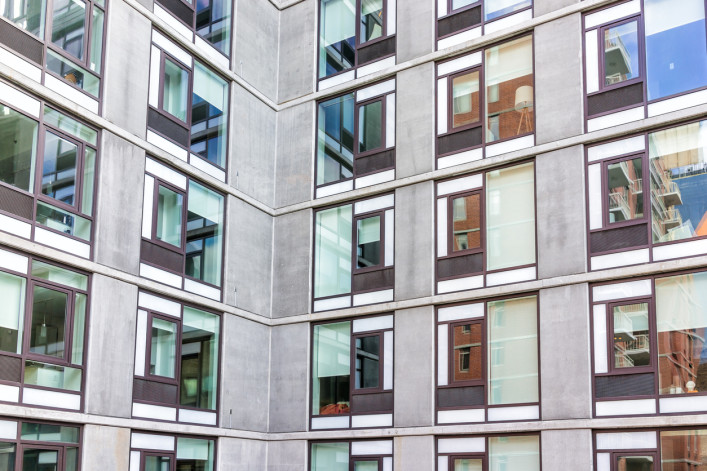 As cases of Covid-19 rise in New York City, you may be worried about what happens if you are unable to pay your rent if you can't work because you're sick or need to be quarantined, or if your job has closed down to limit infections. Many gig-economy workers lack sick-pay and will be hurt the hardest by having to take time off.
As the pandemic widens, and the city struggles to keep pace, there are efforts to help New Yorkers who will suffer economic hardship because of the coronavirus outbreak, which can make paying the rent easier. The protections are greater for tenants in public housing—rent-stabilized and market-rate tenants can likely expect to have to pay their landlords—who in turn need to pay their own bills. However, the city, state, and federal government are ushering in significant relief efforts that will support New York City renters, such as Governor Andrew Cuomo's announcement that New York State is waiving the seven-day waiting period for unemployment insurance for New Yorkers laid off by the efforts to contain the virus.
UPDATE: U.S. Representative Alexandria Ocasio-Cortez and State Senate Deputy Leader Michael Gianaris are calling for a freeze on rents and mortgage payments in New York, and Emily Gallagher, a candidate for State Assembly in the 50th District, launched a petition asking Mayor de Blasio and Governor Cuomo to halt rent collection during the coronavirus crisis.
---
Editor's note: Click here for more of Brick Underground's coronavirus coverage. This post was updated on March 20th, 2020.
---
The city's health commissioner, Dr. Oxaris Barbot, has said it could be six months before we are back to some kind of normality. "We have a long tough battle ahead," says Mayor Bill de Blasio who issued a state of emergency to ensure red tape doesn't hamper the city's response efforts. Two-thirds of residents in NYC are tenants, and as rents have risen to record levels, income uncertainty will inevitably have impacts on rent payments.
Read on to find out about the efforts that can help you if your ability to pay your rent is in jeopardy.
Pro Tip:
Do you need help renegotiating your lease, getting your lease renewed at a rent you can afford, or terminating your lease early?  The experienced tenants-rights attorneys at Himmelstein, McConnell, Gribben, Donoghue & Joseph can advocate on your behalf. Call 212-349-3000 or email to schedule a consultation.
New eviction ban from REBNY members
On Friday, building owners and management companies representing more than 150,000 rental apartments in the city and the Real Estate Board of New York said they are instituting a voluntary, 90-day moratorium on evictions in response to the coronavirus crisis. Committing to the pledge are major companies like The Brodsky Organization, The Douglaston Companies, Extell Development Company, Gotham Organization, LeFrak, Related Companies, Tishman Speyer, and others.
"We are voluntarily pledging that we will not execute any warrant of eviction for the next 90 days unless it is for criminal or negligent behavior," according to a statement from REBNY. "With all the stress, health risk, and economic suffering going on now, no one should have to worry about losing their place to live during this crisis."
Effective 5pm Monday 16th, all eviction proceedings, and pending eviction orders have been suspended statewide until further notice. 
Protections for public housing tenants
For residents in public housing, the declaration of a state of emergency means NYCHA is banning all residential evictions and its rent hardship program will be extended to affected households. Rent hardship applies if your income before taxes is down 5 percent, your rent is more than 30 percent of your take-home pay, and your income is down for more than two months in a row.
NYCHA's hearing office has also adjourned all cases for at least two weeks.
Most tenants will likely be evaluated individually
For all other tenants, both market-rate and rent-stabilized, hardship relief will depend on the flexibility of your landlord or building management company. Several building owners have told Brick Underground it is too early to tell what might happen in the months ahead.
It may come down to a case-by-case basis. Arik Lifshitz, CEO of DSA Property Group, owns and runs apartment buildings in Manhattan, Brooklyn, and Queens and says there are "no plans to create a blanket policy or excuse anyone from the payment of rent." Lifshitz says during the financial crises of 2008 and 9/11, the company did make deals with some tenants.
"Our policy then was to approach each case individually," he says and the same arrangement would likely happen if someone was affected by Covid-19. 
[Editor's note: For more on negotiating with your landlord now, see Brick Underground's "What happens if your lease is up during the coronavirus pandemic?"]
Relief from Washington
The National Multifamily Housing Council (NMHC), which is based in Washington, D.C., says it is working with Congress to secure federal support for people who are negatively affected by the outbreak, including direct rental payment assistance for those who lose their income during the crisis.
Pro Tip:
Your home is your emotional and physical sanctuary, and right now, it's probably doing double or even triple duty. With Zoom meetings, home schooling, virtual happy hours, and other distractions, accidents can happen, like cooking fires, sink overflows, floods from broken dishwashers and other mishaps that could cost you thousands. Now more than ever, protecting your home, possessions and finances with insurance is an affordable necessity, not a luxury. Click here for a quick quote from the apartment insurance experts at Gotham Brokerage. >>
The organization says this is a more effective approach than banning evictions, pointing to Brookings Institution Metropolitan Policy program fellow Jenny Schuetz who says, "Short-term financial assistance would help poor families continue paying rent and buying food until the broader economy stabilizes. It would be more effective than a temporary moratorium on evictions (as some jurisdictions have enacted) since landlords also need money to pay their mortgages, property taxes, and utilities."
Borrowers struggling to meet their loan commitments because of the virus do have options. Mark Calabria, director of the Federal Housing Finance Agency, says, "Fannie Mae and Freddie Mac [remind] mortgage servicers that hardship forbearance is an option for borrowers who are unable to make their monthly mortgage payment."
In other news, an economic relief bill passed the House Saturday and heads to the Senate. The bill dedicates tens of billions of dollars for paid sick leave, unemployment insurance, and free coronavirus testing. President Trump has signaled his support, which assures the bill's passing.
And the Federal Reserve took action on Sunday and said it would cut its target interest rate to near zero to prop up the economy. The U.S. stock market fell into a bear market last week.
Utility shutoffs suspended
Tenants experiencing hardship during the coronavirus outbreak also got some assurance that power will remain on. Con Edison suspended service shutoffs to its entire service area of New York City and Westchester County. 
Brick Underground articles occasionally include the expertise of, or information about, advertising partners when relevant to the story. We will never promote an advertiser's product without making the relationship clear to our readers.