Troubleshooting
Considering identity theft insurance? Here's what NYC renters and owners need to know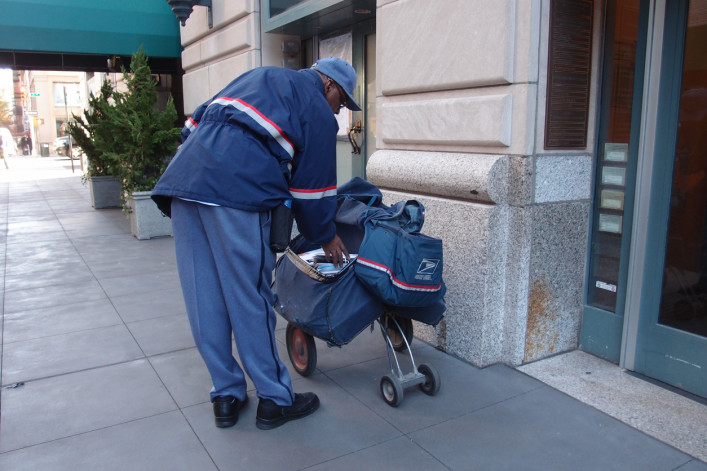 Identity theft, which can spring your bank accounts wide open to thieves, is terrifyingly common and on the rise in the U.S. The attacks can originate online, via phishing or other cyber scams, or in the real world, in some cases by stealing debit cards or checks.
In New York City, thanks to building mailrooms, it can be almost too easy for thieves to gain access to hundreds of mailboxes at once.
In July, Brooklyn residents shared on nextdoor photos of a man seen on security footage entering their buildings at 1 a.m. with a mail key and stealing from their mailboxes. And earlier this year, a thief with a United States Postal Service jacket and key to a mail storage box was repeatedly caught on video stealing the entire bag of mail for six buildings in Prospect Heights, Brooklyn.
The potential for identity theft can be even more worrisome if you're a prospective real estate buyer with a down payment sitting in your bank account.
How to prevent identity theft
There's lots of advice for how to guard against identity theft. New York City police recommend removing your mail promptly from your mailbox, never giving out personal information over the phone unless you initiated the call, and being cautious about unsolicited emails and text messages with requests to confirm personal information.
And for extra peace of mind, you may want to consider identity fraud insurance, also known as cyber fraud coverage.
Getting financial help for fighting fraud
There are essentially two types of identity fraud insurance, explains Jeffrey Schneider, president of Gotham Brokerage (FYI, a Brick sponsor). "There's one that reimburses you for expenses incurred in clearing an identity theft—and another which covers money taken from your account due to hacking or impersonation."
With the first type of identity theft coverage, which can be added on to your apartment insurance, you get reimbursed for expenses that result—usually in the range of $15,000 to $25,000 (some even higher) and the cost generally runs $25-$50 a year.
This type of coverage, according to Policygenius, repays things like cost of a consumer fraud specialist, replacing government-issued identification, attorney's fees if you take the hacker to court, and a few more. For example, State Farm has an identity restoration insurance add on for renters and owners with State Farm policies—it also covers your spouse, relatives, and dependents. Other companies with similar types of plans include Allstate, Nationwide, and Geico. (When searching for identity theft coverage for yourself, be sure to search for personal, not business insurance.)
Coverage that reimburses you for financial losses
The other, more robust type of coverage will reimburse you, for example, if you've been hacked and your bank accounts are wiped out, and the bank declines to reimburse you (more on that in a moment). This type of personal coverage, sometimes called cyber liability, is significantly more expensive; it can run about $250 to $350 a year, Schneider says. Gotham offers this type of protection on its higher-end apartment policies, he says.
Some insurance companies let you customize your coverage. LifeLock offers three levels of coverage, providing $25,000, $100,000, or $1,000,000 in stolen funds reimbursement. Costs range from $9 a month to $24 a month.
These types of comprehensive policies come with lots of bells and whistles. Victims of identity theft can experience different types of financial loss, and these broader insurance policies take that into consideration.
Another example is Chubb's Masterpiece Cyber Protection policy available for owners and renters that provides insurance protection for claims relating to cyber financial loss, ransomware demands, cyber bullying, and cyber breaches of privacy for up to $100,000—the cost is approximately $320 annually for consumers in New York, according to Carolyn Boris, vice president and product development manager at Chubb Personal Risk Services. Options for additional coverage for claims up to $500,000 are also available.
Boris says with this type of coverage you have the potential to be reimbursed for "funds paid because of a ransomware demand or as the result of funds stolen from an account, repair or replacement of digital equipment, professional services in the form of digital forensic analysis, legal guidance or public relations assistance, psychiatric care and lost salary."
A bank's responsibility when you're a victim
NYC attorney Bart J. Eagle specializes in commercial transactions and litigation and has successfully recovered funds for people who have been victims of identity fraud. He says broad coverage for identity theft is something for New Yorkers to consider, especially since scam artists are very good at making fraudulent withdrawals appear legitimate.
People who use Zelle and Venmo have been victimized this way, according to a recent New York Times report, and face resistance obtaining compensation from their banks.
Even though federal law requires banks to repay "unauthorized" transactions, a bank's first response to you, if you're a victim of identity fraud and your bank account is wiped out, will often be that they see nothing wrong with the transactions, he says.
Eagle says that this sort of stonewalling can deter people from pursuing recovery of their funds.
Many don't know their rights and don't end up speaking with an attorney, he explains, when in fact the law is very favorable to customers and requires a bank to replenish a customer's funds unless they've been complicit or negligent—for example, if a bank statement shows funds were removed and they never notified the bank, or if a customer was somehow involved in the scheme.
"If you notify the bank quickly, the bank has to respond quickly," Eagle says, and that response involves doing an investigation into the fraud. The law also has some teeth in it: If the bank fails to do a good faith investigation, they could be on the hook for treble damages.
Why cyber theft coverage is useful
So why get this robust insurance if banks have a duty to compensate? Eagle says the coverage goes beyond what a bank could do for you—such as cover a ransomware demand.
But more significant is the ability to recover your funds a lot faster.
"If someone has money stolen, an insurance company will pay it back a lot faster," he says. "Some people can't go without the money"—or have the stomach—for a fight with a bank, he says.
And having cyber theft insurance doesn't preclude you from going to the bank later for compensation—especially if the claim doesn't cover the entire amount. (Of course you cannot be paid twice—if you receive funds from your insurance company and then your bank, any surpluses will have to be credited back.)
Eagle advises anyone obtaining this type of insurance to be clear about the impact of making a claim—these types of policies generally have deductibles, so this would only make sense for someone concerned about larger losses. It's also important to find out whether a claim will result in higher costs to you.
"You want to be made whole," Eagle says. "You would rather it not come from an insurance claim that results in increased premium," he says. But in the event a bank says no, at least you won't be left empty handed.
Brick Underground articles occasionally include the expertise of, or information about, advertising partners when relevant to the story. We will never promote an advertiser's product without making the relationship clear to our readers.