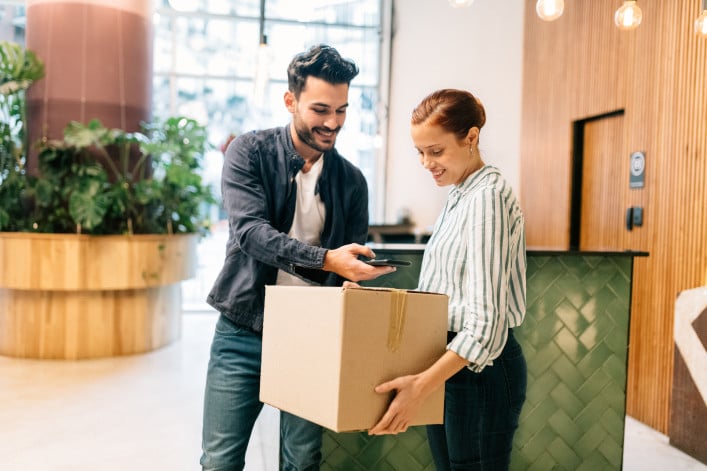 I have had several packages stolen from my apartment building's lobby. What can I do? What are my landlord's responsibilities to prevent theft?
You are far from alone when it comes to dealing with delivery theft: Thousands of packages are stolen every day in the U.S.—and the issue has grown worse with the explosive growth in online shopping.
Before you report a missing delivery to your landlord, make sure it was indeed dropped off. Sometimes a delivery person might indicate an order has been "delivered" in the system before it arrives, so wait a few minutes before reporting it (This has happened to me a few times). Look around your lobby, hall, and package room to make sure it wasn't put in the wrong place. And check the tracking and reach out to customer support if possible. 
Is the delivery still missing? It's time to report it to your landlord or building management—especially if it's an ongoing issue. Your landlord should be willing to look at security camera footage to figure out who the culprit is, says Robert Nelson, president of Nelson Management, a NYC property management company. But face masks make it hard to identify people on camera, he says, noting that his buildings have seen an increase in delivery theft in recent months. 
---
[Editor's Note: Realty Bites tackles your NYC rental questions. Have a query for our experts? Drop us an email. We respect all requests for anonymity.]
---
What can your landlord do to thwart the thieves? It really depends on what kind of building you live in. For buildings with doormen, your landlord should make sure the doormen collect deliveries, keep them in a secure area, and alert you when they arrive, Nelson says. 
Package lockers can also help. Nelson says they have placed these lockers in several of their buildings. But even with these lockers, problems still exist. For example, some couriers will still drop off deliveries at your door, or in the lobby, because it's faster than dealing with the lockers. Nelson says he recently saw this happen in one of his buildings. 
If you live in a smaller apartment building without a doorman or staff, dealing with theft is a bit trickier. Arik Lifshitz, CEO of DSA Property Group, says his team has updated front door locks, installed security cameras, and placed security gates and package lockers in lobbies, but none of it has completely stopped theft. 
Liftshitz says that when his team looks at security footage of these incidents, thieves are often undeterred by locks. They have been recorded breaking locks and rummaging through packages. "They act like they own the place," he says. 
So what can you do to prevent this issue? Your best option is to meet the delivery person at the door if possible, Lifshitz says. You should also not let anyone into the building if you do not know them and are not expecting a delivery. If you have an intercom system without video, confirm who it is before buzzing them in. And if you see someone in your building who you don't recognize, you have every right to question them and call 911, he says. 
You can also schedule a delivery for when you are home, add signature requirements to your order, or request it to be left at a drop-off location like a UPS Access Point or Amazon Hub.
Brick Underground articles occasionally include the expertise of, or information about, advertising partners when relevant to the story. We will never promote an advertiser's product without making the relationship clear to our readers.