Roommates + Landlords
The roommate hack for beating NYC's high rents: Move in with someone who already has a lease
Signing a lease with roommates gets you a cheaper rent but you can take this to the next level
Search for renters and owners who need a roommate to split the rent or share expenses
But without the protection of being on a lease you will need to choose your place carefully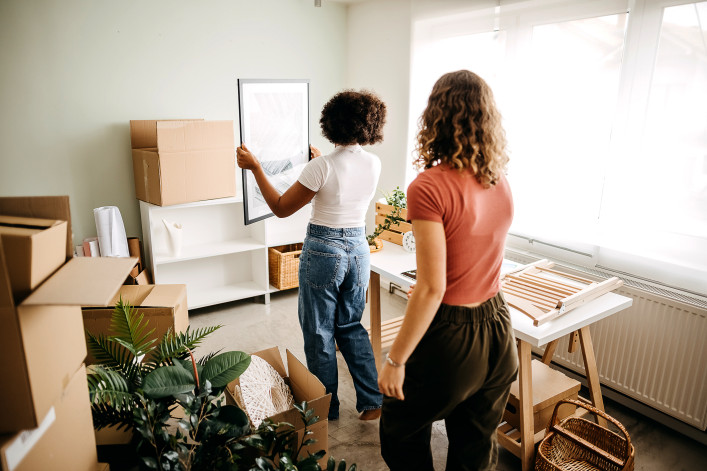 StefaNikolic via Getty Images
Want a workaround for New York City's super high rents? Search for someone who has a place and needs a roommate.
To be clear: We're not talking about signing a new lease with roommates, although that is always a cheaper route than renting a one bedroom or studio by yourself. Even so, new leases are very expensive, especially in Manhattan, where the median rent hit a new record in March. With five more months of peak rental season to go, rents likely to stay high.
No, what we're talking about takes some bravery: Looking for someone who already has a lease and for whatever reason—maybe their roommate left, or maybe they never had a roommate before—they now they need someone who will split the rent.
What makes this a good deal? It a way to benefit from a lease signed when rents were lower and avoid paying a broker's fee and a security deposit—all of which represents significant savings.
Where do you look for people who need roommates?
Start with Brick's best websites for finding a roommate. Some of these are like matchmaking sites—you create a profile and the site matches you with someone who has similar preferences. Other sites offer listings that you can search directly. Many of these vet the listings in an effort to block scammers. You may also come across listings from owners who want a roommate to help with expenses.
As plans go, becoming someone's roommate may not work for everyone: For starters, you won't be on the lease, so you will lack some important protections (be sure to read up on NYC's roommate law and what you need to tell a landlord when you move in). And since you will be living with someone you don't know, which can seem pretty daunting, be sure to ask these questions to determine if you are a good fit.
Even if there's only a few months left on the lease and the rent goes up at renewal time, the cost savings may very well outweigh the rent increase. Plus, if you're not on the lease and can't afford the rent increase, it will be relatively easy to leave (just don't be a jerk about it.) On the flip side: You can also be kicked out easily. You may be asked to sign a roommate agreement so read it carefully.
What a roommate share costs in NYC
Of course, rising rents in NYC have also made the cost of sharing an apartment more expensive compared to last year.
Roommate matching site SpareRoom's latest rental data finds the average rent paid by NYC roommates in the first quarter of 2023 was $1,525, an increase of 24 percent from the first quarter of 2022 ($1,229).
Of the 50 most popular NYC neighborhoods, SpareRoom finds there are now just two with average roommate rents of under $1,000 per month; both are in Queens: Elmhurst ($933) and Woodside ($990). And 12 of the top 50 neighborhoods now have average roommate rents of $2,000 a month or more, according to the report.
SpareRoom's report predicts that by the end of 2023 there will be no neighborhoods left in the top 50 with an average roommate rent of under $1,000 per month.
"New York remains the most expensive place to rent in the U.S., with average roommate rents over $200 more per month than Los Angeles, its nearest rival. That in itself is worrying for renters, but the real issue is that the affordable pockets of the city are starting to vanish," says Matt Hutchinson, director of SpareRoom. 
Hutchinson points out that rents previously hit an all-time high at the end of 2022.
"In the space of just 12 months, the average New York roommate rent jumped by 24 percent. With rents rising so fast, living with roommates not only helps spread the load, it also means you can often benefit from an existing lease, which hasn't been subject to recent rent hikes," he says.
10 cheapest places to rent across NYC's 50 most popular neighborhoods
| | | |
| --- | --- | --- |
| Borough | Neighborhood | Average monthly roommate rent |
| Queens | Elmhurst | $933 |
| Queens | Woodside | $990 |
| Brooklyn | East Flatbush | $1,030 |
| Queens | Jamaica | $1,044 |
| Queens | Sunnyside | $1,055 |
| Queens | Far Rockaway | $1,059 |
| Brooklyn | Canarsie | $1,097 |
| Manhattan | Manhattanville | $1,104 |
| Queens | Ridgewood | $1,128 |
| Bronx | Wakefield | $1,141 |
Source: SpareRoom
10 most expensive places to rent across NYC's 50 most popular neighborhoods:
| | | |
| --- | --- | --- |
| Borough | Neighborhood | Average monthly roommate rent |
| Manhattan | West Village | $2,860 |
| Manhattan | Midtown East | $2,365 |
| Manhattan | Midtown | $2,342 |
| Manhattan | Hell's Kitchen | $2,335 |
| Manhattan | SoHo | $2,306 |
| Manhattan | Murray Hill | $2,280 |
| Manhattan | Gramercy Park | $2,279 |
| Manhattan | Financial District | $2,206 |
| Manhattan | Kips Bay | $2,183 |
| Manhattan | Stuyvesant Town | $2,061 |
Source: SpareRoom
SpareRoom's data is a combination of listings from existing roommates looking to fill a room, new leases being advertised and homeowners looking for a roommate to help with the cost of living.
How apartment shares stack up to new leases
If you compare what it cost roommates who signed new leases in March to roommate shares in the first quarter—rents for roommate shares are generally more affordable (while this is not a straight apples-to-apples comparison it provides a good estimate.)
In March, the median rent for a Manhattan two bedroom was $5,680, according to the Elliman Report. A three bedroom was $7,000—so splitting those rents equally by bedroom would cost $2,840 and $2,333.
In Brooklyn, the median rent for a two bedroom was $3,700 and a three bedroom was $3,800, as per the Elliman Report, so roommates sharing those rents could pay $1,850 and $1,266,
And in Queens, the median rent for a two bedroom was $3,853 and three bedroom was $3,650, as per the report. Splitting those rents would cost $1,927 and $1,216.
Consider a leasebreak
Getting a roommate with an existing lease may be cheaper than signing a new lease with roommates, but there are some other pitfalls to be aware of, says Phil Horigan, founder of Leasebreak, a website where you can find renters to take over an unwanted lease. (This is also called assigning a lease; you can find out more by reading "What's the difference between a sublet and assigning a lease.")
"When someone is renting out a room, they're likely to keep the primary bedroom and rent out the cheaper, smaller bedroom," he says. "And maybe they are charging more than they should," he adds. It's hard to know.
You're also coming into someone else's space. "They'll have it set up the way they want it," he adds.
For those reasons, he recommends checking what's on the market to see if you can stretch your budget to sign a new lease with roommates. This way you will all be on the lease, he adds.
And he suggests renters check out Leasebreak, where renters list their apartments because they need to leave—the reasons can vary, but generally it is because they are moving for work, or lost a job, or have some other major life event taking place.
In addition, because of changes to the rent laws in 2019 that require landlords to make an effort to replace a tenant who needs to be let out of a lease, his site has seen an influx of listings, Horigan says. "That's why there are deals on Leasebreak," he adds.
These days when you take over a lease you also benefit from a lease that was signed when rents were cheaper in addition to avoiding a broker fee.
Brick Underground articles occasionally include the expertise of, or information about, advertising partners when relevant to the story. We will never promote an advertiser's product without making the relationship clear to our readers.