The Market
The roommate dilemma: It's much more expensive to rent an apartment in NYC all by yourself now
A one bedroom rents for an average of $3,950 while a two bedroom averages $5,295, or $2,648 per person
By having a roommate renters can save as much as $1,303 per month according to a new report from RentHop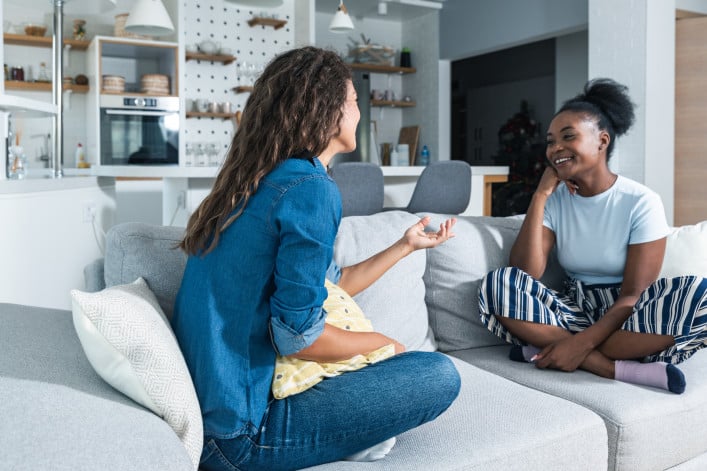 It is much pricier on average to rent a NYC studio or a one bedroom than it is to split the rent for an apartment with two bedrooms or more.
If you've sworn off renting an apartment with a roommate, you may want to think again. New York City rents are at (or near) record heights in many areas—demand for smaller apartments is keeping those rents high—and it is much pricier to rent a studio or a one bedroom than it is to split the rent for an apartment with two bedrooms or more.
We'll get to the math in a minute. First we want to acknowledge how hard it can be to live with roommates—Brick has lots of advice on how to make this work. Maybe you don't have someone to live with or are dealing with a break up and need to strike out on your own. We've got some tips for you as well. Maybe your plan is to rent a studio or one bedroom—and get a roommate to share that smaller pad. We can tell you how to do that too.
Read on for how renting with a roommate makes NYC more affordable—and ways to make living with a roommate more bearable, even fun.
What you save living with a roommate
A new study from RentHop, a rental listings site, found that out of the top 100 U.S. cities, renters in NYC save the most when moving from a one bedroom to a two-bedroom with a roommate.
Thanks to skyrocketing rents in NYC, a one-bedroom unit now rents for an average of $3,950 while a two bedroom averages $5,295, which works out to be $2,648 per person. (One- and two-bedroom rents were calculated based on RentHop listings from August 2022 through January 2023.)
"By having a roommate, renters can save $1,303 per month. That's more than a month's worth of Sweetgreen lunches," says Shane Lee, a data scientist at RentHop.
Why is it more expensive to live alone in NYC now?
You want to live alone? So do a lot of other NYC renters: Jonathan Miller, president and CEO of appraisal firm Miller Samuel, told Curbed the number of one-bedroom listings fell 86 percent year over year from March 2021 to April 2022.
And that demand is a contributing factor in driving rents up.
"We're seeing much more competition at the studio level, as well as for one bedrooms," says Tom Smith, CRO of REZI, a rental listings site. "All the typical signs that we use to forecast market dynamics—such as rent [increases] and days on market—are all pointing to more demand and restricted supply," Smith says.
Of course, a couple can share a one bedroom, or even a studio—so individuals are not necessarily the only ones gravitating toward smaller apartments. But it is much harder to share a small space these days when one or both members of a couple are working from home. In fact, WFH is likely contributing to an increasing number of break ups in NYC—which in turn sends renters back on the market for new a rental.
Smith finds NYC renters willing to pay a large premium to rent one bedrooms over studios: 19 percent on average, which varies by borough and neighborhood, he says.
Keep in mind you get what you pay for. If you're making a jump from a studio to a two or three bedroom with roommates, you may find yourself looking at listings in older buildings or in places without amenities, he says.
That said, "renters who make that jump are getting hefty discounts — such as 25 percent less for a two bedroom when compared to studios," he says. 
NYC renters lose the winter advantage
Traditionally, winter is a good time to get a deal on an apartment in NYC, although you may have to be flexible on where you live because listings are also scarcer at this time. But this year, the NYC rental market didn't follow the usual pattern: In fact, January rents hit new records.
That was the situation facing Eric Zollinger, principal at Elegran Real Estate, who recently moved back to NYC after living in Chicago and Houston. He lived in NYC for 25 years and previously did well renting apartments in NYC during the colder months, he tells Brick.
This time around his goal was a one bedroom for himself and his pets. ("Roommates are for younger people," he says with a laugh.) But with rents at or near record levels throughout the city, landlords are not under pressure to offer deals. "No one is offering concessions," he says.
Based on a video and floorplan, he signed a lease for a one bedroom at River Place, a luxury development at 650 West 42nd St., which overlooks the Hudson. One bedrooms currently start at $4,070 a month. "I put in a lower offer and they came back at full price," he says. But he did score a two-year lease as a hedge against rising rents. You don't get what you don't ask for," he notes.
Managing your expectations as a renter
Renters who have never lived in NYC are often shocked by how little they get for their money here, says Arezu Sohn, an agent at Corcoran. "They think they know what they want," she says, until they are confronted with NYC's expensive and competitive market.
What they could spend on a one bedroom or even a studio "would be a lot of money somewhere else," Sohn says.
She recently worked with a client who had a monthly budget of $3,000. "We ended up with a one bedroom walkup on the Lower East Side, but it wasn't even a real one bedroom if you measured it, Sohn says.
"I don't think that was where they thought they would end up," she adds.
Sometimes it takes living here to figure things out, for example, two friends who realize they're paying more for their studios than they would splitting a two bedroom.
Or they'll do what Sohn sees a lot of renters here do: Rent a one bedroom and put up a flex wall to turn the living room into a bedroom. (But be sure to do this the right way ensure your space is safe and livable.)
Others will venture to farther-flung, less expensive neighborhoods for renters like Inwood or Washington Heights, "where for $1,800 you can rent a real one bedroom," Sohn points out.
Nevertheless, she says, "there will always be people willing to rent in a shoebox in the West Village."
So want to save some coin and rent with a roommate—and not lose your mind? Here's Brick's reading list for making life with roommates bearable and maybe even enjoyable.
Brick Underground articles occasionally include the expertise of, or information about, advertising partners when relevant to the story. We will never promote an advertiser's product without making the relationship clear to our readers.