Troubleshooting
Unhappy Valentine's Day! Covid couples are splitting up and moving out
Couples who rushed to move in together can get a wake up call when lease ends
Thanks to a spike in pandemic cohabitation there are more break ups this year
Dumbo Moving has 200 moves scheduled in February for NYers calling it quits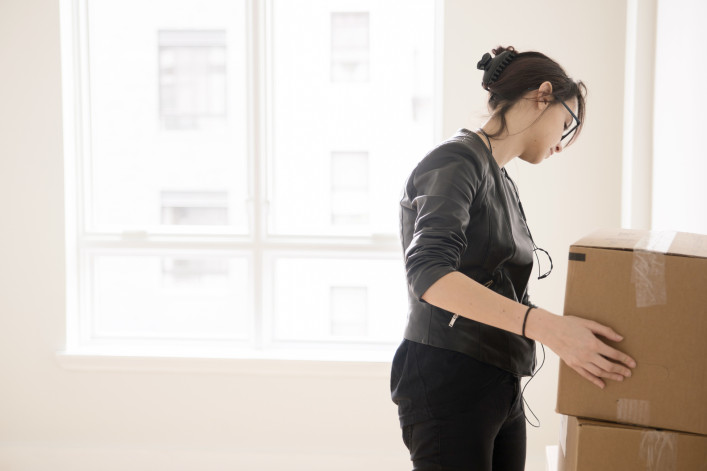 Alex Potemkin/E+/via Getty Images
Two years ago, during the week of Valentine's Day, Gary (a pseudonym) and his partner of five years moved into a three-bedroom condo in Dyker Heights they had bought together. Now, sadly, the relationship is ending: Over an early Valentine's Day dinner they decided to split up. He will stay put and his partner moved to her own place in Bushwick.
"We had a heart-to-heart talk about how we should move on," Gary explains. The split was prompted by Valentine's Day coming up, which "just reminded us we didn't love each other."
You could call it the V-Day phenomenon—lots of couples who move in together around Valentine's Day (romantic!) to take the next step in their relationship also end up moving out around this time of the year (record scratch).
That's especially true for renters, who get a wake-up call exactly one or two years later when their lease ends, prompting them to reevaluate their romantic and living situation, says Lior Rachmany, CEO of Dumbo Moving. Many decide not to renew and say goodbye to the place and to each other. (Dumbo Moving helped Gary and his partner move in and helped move her out.)
And now it seems NYC is breakup city, with more splits than ever.
"In 2020 and 2021 we saw about 2,500 moves scheduled related to couples moving in together," Rachmany says. "This February we have already organized moves for over 200 couples who report they are moving because of a breakup, many of whom are the same couples we initially moved in during the pandemic."
Rachmany also says, "January and February will mark a 150 percent increase in moves that clients report to be caused by romantic breakups."
Pandemic pressure on relationships
That uptick is likely the result of the pandemic, which played a big role in accelerating relationships from dating to cohabitating. Many took advantage of pandemic discounts to trade up to a larger space to share. For others, it made sense to move in together to pool resources, or if they were living far apart, or if one had lost a job.
Later, soaring rents at lease renewal time also prompted young couples living separately to move in together in order to cut housing costs, rushing the relationship prematurely.
According to a RentHop report, NYC ranks number one out of 50 in terms of unaffordability. A single person has to allocate nearly 44 percent of their annual income to afford a studio—making sharing an apartment economically appealing. Median rent for a studio apartment increased 23.1 percent in 2022 to a staggering $3,016, according to the report.
But WFH is murder on couples
With many now working from home, being home all the time in an apartment can take its toll on any relationship. That was the issue for Gary and his partner.
"She and I ended up working together and just got sick of each other, so ultimately we just wanted our own separate spaces," he says.  
His partner was lucky in finding her own place, others have not been so fortunate due to a lack of one bedrooms. Jonathan Miller, president and CEO of appraisal firm Miller Samuel, told Curbed the number of one-bedroom listings fell 86 percent year over year from March 2021 to April 2022.
The break up calendar
V-day may be D-day, but trouble starts earlier in the year.
"There are a lot of splits in January," says Susan Trombetti, CEO of Exclusive Matchmaking.
"Divorce lawyers are very busy this time of year, but marriages aren't the only thing breaking up. Relationships of all sorts hit the bricks," Trombetti explains. "If couples were on the fence before, Valentine's Day will usually do it. Whether it's just not receiving a thoughtful gift, or the romantic holiday reminds them they aren't feeling it, they split."
There's even a name for this phenomenon. "The Tuesday before Valentine's Day is known as 'Red Tuesday' due to all the breakups," Trombetti says. "The highest amount of breaks up occur right after Valentine's Day." 
Andrea Syrtash, relationship expert and author, says most people break up around Thanksgiving, before all of the winter holidays and celebrations.
"But we see another spike before Valentine's Day because that's the ultimate day to focus on your relationship with your partner and your love and if you don't feel it, it's uncomfortable to celebrate it," she says.
Because rents in NYC are so high, some New Yorkers "rush to cohabitate before they've established key ingredients you need to have whether you're looking for a long-term roommate or a long-term partner: trust, financial stability, open communication and mutual respect," Syrtash says.
Take heart, she says. "NYC has so many singles. If you are looking for a roommate to share costs, you'll have options!"
As for Gary, he is trying to move on but finding it difficult. "I bought my partner out but it's been hard to live alone to be honest," he says.
That's because "the memories and intentions of what our apartment was going to be—a home to start a family—remind me of something I may not have," he says. He is currently looking to sell the condo and move to a new state.
Brick Underground articles occasionally include the expertise of, or information about, advertising partners when relevant to the story. We will never promote an advertiser's product without making the relationship clear to our readers.