The Market
Searching for a cheap NYC rental? Here are the city's most affordable neighborhoods for renters
Inwood is the cheapest place to rent in Manhattan
Brooklyn's most affordable neighborhood is Gravesend
Allerton in the Bronx has the lowest median rent for a one bedroom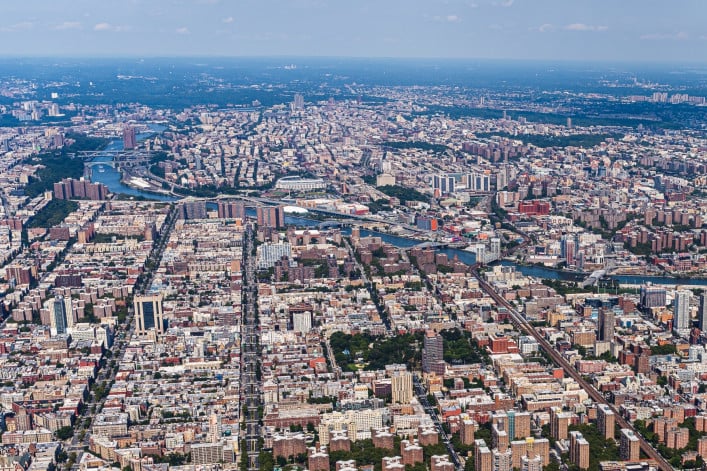 If you're trying to find a cheap rental, you know there's intense competition for apartments and high rents in every borough in New York City. Some neighborhoods, however, are more affordable than others. If you have some flexibility, you may be able to move to a less expensive neighborhood—one that's not even on your radar yet. 
So where is that exactly? To find out, we asked the data scientists at listings site RentHop to pull median rents for one-bedroom apartments in Manhattan, Brooklyn, Queens, and the Bronx (Staten Island was excluded because there isn't enough rental inventory) to find the three most affordable areas in each borough for renters. 
Read on to find you where you can get a deal on a rental in NYC.
Pro Tip:
Have you considered applying for an affordable housing lottery? You might be surprised to learn that many middle-income households qualify for these programs. And if you're looking for a comfortable and convenient home in the heart of Brooklyn, you won't want to miss the chance to apply for 595 Dean St - the newest luxury rental building in Prospect Heights. Simply sign up to be notified of the launch and take the first step towards securing an affordable and stylish place to call home.
The most affordable neighborhoods in Manhattan for renters
If you don't want to head to the outer boroughs, Inwood offers the most affordability in Manhattan. The median rent for a one bedroom there is $1,950. 
The gap between the priciest and cheapest neighborhoods is steepest in Manhattan and Brooklyn. In NoMad the median rent for a one bedroom is $5,575. (Tribeca is a close second with a median rent of $5,400 for a one bedroom) and that's nearly $3,600 more expensive than Inwood. In Washington Heights, the median rent for a one bedroom is $2,275, and in West Harlem it is $2,565.  
Rents depend on how far you are from the heart of Manhattan. Inwood and Washington Heights both offer easy transportation options with the 1 and A trains. West Harlem is the most southerly neighborhood of the three.
Inwood is predominantly Dominican. The three main shopping strips—Dyckman and West 207th streets, and Broadway—are lively and lined with mom-and-pop businesses. There aren't many chain stores in the neighborhood and the area has a lot of parkland—Inwood Hill Park and Fort Tryon Park, plus cultural sites like the Cloisters and Dyckman Farmhouse. For more, read: "​​Inwood: The insider's guide to Manhattan's northernmost neighborhood."
Similarly, Washington Heights has access to Highbridge Park, Riverside Park, and Riverbank State Park. (For more intel on these neighborhoods, check out Brick's "Washington Heights vs. Inwood: Which neighborhood is for you?")
The housing in these neighborhoods largely consists of prewar co-ops, typically with six stories. As a renter, you need to jump through more hoops when applying to rent a co-op—you'll be required to show your financials and seek board approval. Carl Ekroth, an agent at Douglas Elliman, says this either means renters stay away from the area or landlords need to offer a deal. 
You won't see that many large rental buildings with amenities, which are the types of buildings that push up the median rent. Ekroth says Washington Heights "is a working-class neighborhood and the community board is very involved so it's very difficult for developers to build big rental buildings" in the area.
West Harlem—also known as Manhattanville—is roughly located between West 122nd and West 134th streets and has a few rental buildings that are above six stories, including the Riverside Park Community Complex, a group of six high-rise buildings completed in 1975. For transportation, the 125th Street and 137th Street stations provide access to the 1 train and you need to head east to St. Nicholas Ave for the A, B, C, and D trains.
Fordham and Columbia University are here, so you'll have competition from students who are hunting for three- or four-bedroom shares with leases starting in the summer. So if you want a bigger place, looking in the off season is when you'll typically find less competition.
The most affordable neighborhoods in Brooklyn for renters
Like Manhattan, the gap between the most affordable neighborhood and the least affordable in Brooklyn is wide—around $3,600. Brooklyn's most affordable neighborhood is Gravesend, a small area neighboring Bensonhurst in the south with a diverse population. It's bordered by Avenue P to the north, Ocean Parkway to the east, Shore Parkway to the south, and Stillwell Avenue to the west. The median rent for a one bedroom in Gravesend is $1,695.
The borough's second most affordable area is Bath Beach ($1,699) and Sheepshead Bay comes in third ($1,800). 
Bath Beach is close to the water and nearby Dyker Beach Park. In terms of transportation, the F, D and N lines run through Gravesend. Bath Beach is served by the D train. Sheepshead Bay is east of Gravesend, bounded by Midwood in the north, Gerritsen Beach on the east, and Brighton Beach and Homecrest on the west. It is served by the B and Q trains. If you're curious about buying there, read "What to know about buying in Sheepshead Bay, Brooklyn."
You won't find elevator buildings or buildings with laundry rooms in these areas, which is makes them more affordable.
One plus for these neighborhoods is the parking—it's notoriously difficult to find in Brooklyn but you can find on-street parking more readily here than in other parts of the borough, as Brick notes in "The best Manhattan and Brooklyn neighborhoods for buyers or renters who own a car." South Brooklyn areas have more suburban-style houses with driveways and even garages.
The most affordable neighborhoods in Queens for renters
In Queens, the most affordable neighborhood is Woodhaven, where a median one-bedroom rent is $1,700.
Woodhaven is close to major roads and highways—Atlantic Avenue, Jamaica Avenue, Woodhaven Boulevard, Jackie Robinson, and the Van Wyck. There are also the A and J trains and express buses to Manhattan. The area is very walkable and outdoor spaces including Forest Park and Ridgewood Reservoir is also a big plus for the area—as one recent transplant can testify. 
North of Woodhaven, Middle Village is the second-most affordable neighborhood with median rents for a one bedroom of $1,720. South of Woodhaven, South Ozone Park is the third-most affordable area—the median one-bedroom rent is $1,750. Woodhaven is fairly accessible, but you need to get a bus and train to get to most places from Middle Village. "It's off the beaten path unless you are very close to Woodhaven Boulevard," says Regina Santoro, a broker at Parkside Realty. 
Change is part of the landscape in these neighborhoods. Woodhaven saw an influx of inventors buying multi-family buildings during the pandemic. "Woodhaven has a lot of detached and semi-detached two- and three- family buildings, so buyers often live in one unit and rent out the others," Santoro says. 
Middle Village is mostly two-family brick homes and Santoro says a lot of recent buyers in both Middle Village and South Ozone Park are using the properties either as a primary residence with a rental or using it exclusively as an investment property with both units rented out. There's little brand new rental construction in these areas. 
A word of warning about illegal apartments: Santoro is seeing more of these across the borough. For example she recently saw a three-bedroom, first-floor duplex with a basement for rent in Woodhaven listed for $3,500. The basement unit had two bedrooms
While some basement apartments be converted into safe and liveable apartments, not all of them are. Basement flooding can be deadly. Make sure you do your homework to ensure the apartment is legal before you rent it out. 
You won't find landlords offering concessions like a month free in these areas—you're more likely to get those at more expensive places like Long Island City. There's also very little new rental building construction in these areas. 
The most affordable neighborhoods in the Bronx for renters
The Bronx neighborhood of Allerton has the lowest median rent in the city—$1,595 for a one bedroom. Allerton—previously featured as one of the eight best neighborhoods in the Bronx—is the area north of Waring Avenue, east of Bronx Park East and south of Gun Hill Road and is also known as Bronxdate or Laconia. Brick row houses line the streets as well as multi-family houses and some single family homes. 
Parkchester is the second-most affordable neighborhood in the Bronx—the median rent for a one bedroom is $1,600—and Wakefield is the third-most affordable with a median rent of $1,700. 
In the Bronx, the gap between the most affordable and least affordable neighborhood is the smallest in the city but it has still grown over the past year. The median price for a one bedroom in Mott Haven, the borough's most expensive area, is $2,946. That's a difference of $1,351 when compared to Allerton. (Last year the gap between the most affordable and most expensive neighborhoods in the borough was closer to $800.) 
Parkchester, a 129-acre planned community in the eastern Bronx, is dominated by large condo developments—Parkchester North and South—with apartments that can be sublet. There are also rentals in the area's multi-family buildings. The 6 train is one of the best ways to get into Manhattan from Parkchester. 
Wakefield—the third-most affordable neighborhood—is north of Allerton at the end of the line for the 2 train. The buildings are typically small, multi-family buildings although there are several prewar rental buildings with 30 to 80 apartments.
Brick Underground articles occasionally include the expertise of, or information about, advertising partners when relevant to the story. We will never promote an advertiser's product without making the relationship clear to our readers.