The Market
How to find an apartment to rent in NYC: FAQs for first-time renters
Skip amenities like a doorman and elevator to get a lower rent
Learn how broker fees work to avoid an unwelcome surprise
Prepare your documents in advance so you can apply at the showing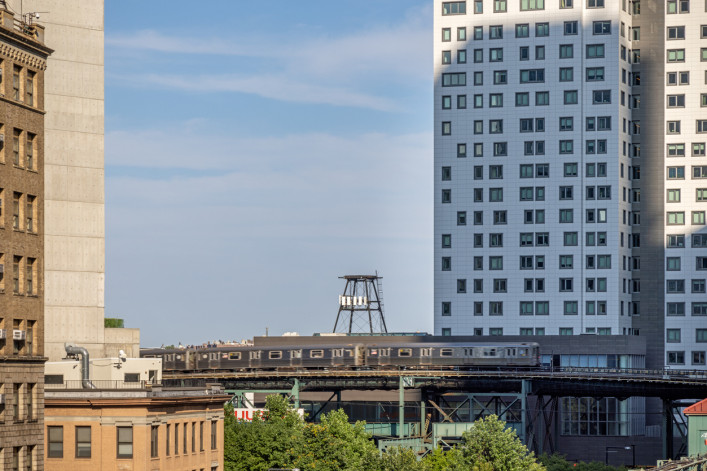 Finding your first rental apartment in New York City is without a doubt a nerve-wracking experience because it's just so expensive and competitive here. Great apartments get grabbed fast—so you may see a place and have to put in an application on the spot, and these days you may even need to offer more than the landlord is asking—or risk losing it.
Preparation is key. Arming yourself with an understanding of where to look for apartments, what they typically rent for, and how broker fees work will eliminate some of the surprise factor, empowering you to spot a good deal—and pounce on it!
Read on for answers to FAQs for first-time renters.
Pro Tip:
Want to stress less about your NYC living situation? Staying in a Blueground apartment means no worrying about buying appliances, furniture, or linens — but that's just the beginning. We carefully curate each of our move-in-ready homes to make sure that our guests have everything they need to feel at home and free to roam. Even better, all of our apartments are located in sought-after, central neighborhoods where you can stay for 30 days, a year, or longer. Click here to check out our available apartments in Manhattan, Brooklyn, and Long Island City.
Is it hard to find an apartment to rent in NYC?
First-time renters often have one or two NYC neighborhoods in mind where they think they have to live. You can blame this on popular television shows and movies, of course. The problem is, scores of other first-time renters have seen the same shows and want to be in the same areas—this herd mentality makes it difficult to find an available rental.
But despite what you may have heard, "location, location, location" is not a winning strategy for a first-time renter's apartment search.
"I think people have their dream neighborhoods in mind, like the West Village, Chelsea, or Soho," Allia Mohamed, CEO of rental listing and building review site openigloo, recently told Brick. "Then they dig deeper into the apartment search and realize vacancy in these neighborhoods is less than 1 percent, and maybe they have to bid over asking to land the apartment." In these popular neighborhoods, renters face bidding wars—meaning you'll be competing with other renters to offer more than the landlord is asking.
How can I find a cheap apartment to rent in NYC?
Finding a cheaper apartment means making compromises—like living several blocks from the subway or on a busy avenue—and skipping a doorman, elevator, and gym. Giving up amenities when you search for an apartment can help you find a less expensive place.
Heading to the fringes of the outer boroughs—not popular, pricey neighborhoods like Williamsburg or Long Island City, but places less served by mass transit and retail, will also help you find lower rents. Here's a tip: Talk to friends who have already made the move and you will likely find that these areas are not as far away from the center of NYC as they seem. 
Once you're comfortable getting around, you'll realize you can expand your search to a longer list of neighborhoods, Mohamed says. (Plus, cheaper rent means more money for late night car service.) To get started, check out Brick's list of the most affordable neighborhoods for renters in Manhattan, Brooklyn, and Queens.
Balance your online research with some real life reconnaissance to see if the neighborhood you are considering is a good fit—visit during the daytime and nighttime, if possible, and consider this list of things real New Yorkers look for when they're making a move.
What are the best websites for apartment hunters?
As you do your research on different neighborhoods, you'll want to plug them into listings sites like StreetEasy, RentHop, and Openigloo to see if there are apartments available in your budget—after all you don't want to waste time and energy falling in love with a neighborhood you can't afford. Searching on websites that specialize in no-fee apartments will help you save money on the dreaded broker fee, typically 12-15 percent of a year's total rent (more on that below).
Make sure you understand how to read listings, know the difference between gross and net rent, and can spot an illegal listing or a scam—because if the rent seems too good (read cheap) to be true, it probably is. Keep an eye out for the holy grail of NYC rentals, a rent-stabilized apartment—where rent increases are capped and lease renewals are automatic. Renters tend to hold onto these coveted apartments, but they do come on the market. Another way to score a rent-stabilized apartment is to enter the NYC Housing Lottery, but you need patience and perseverance to win one.
Do I need a broker to rent an apartment in NYC?
You don't necessarily need a broker to rent an apartment. This is especially true if you know the city well, have a good idea of where you want to rent, and possess the time and energy to do your own search. 
Working with an agent is generally recommended when you are coming from outside NYC and don't know the city well, or have some kind of tricky search: Maybe you're on a tight time frame, or have a very particular need in mind, such as a desire to be in a particular school zone. In these cases, an agent will work with you to find listings that fit your criteria, and fast track your search.
When you hire a broker to find apartments for you, you can expect to pay a broker fee, but you should also know that even if you go it alone and find an apartment yourself, you may still be on the hook for the broker's fee. How is that possible? In NYC, when a landlord hires an agent to market an apartment, the renter has responsibility for paying the fee, even for a broker who is in essence working for the owner. It may not seem fair, but that's how it is done here.
Pro Tip:
Need help finding a landlord who is flexible about guarantors, work history, rental history, or "flexing" your space with temporary walls? Place your search into the capable hands of The Agency, a tech-savvy real estate brokerage that's helped hundreds of Brick Underground readers find their ideal NYC apartments. Bonus: The agents at The Agency are not only a delight to deal with, they will charge a broker's fee of 10 percent of a year's rent on open listings instead of the usual 12 to 15 percent if you sign up here. 
How much are NYC broker's fees?
Broker fees are typically 12-15 percent of a year's total rent—and that can feel like an enormous amount on top of first month's rent and the security fee. (At least landlord's can no longer ask for "last month's rent" like they did in the past.)
It's painful, but one way to look at it is compensation for your broker's diligence in finding you a great place. And if all the broker did was unlock the door for you—then consider it the price of getting an apartment in this crazy expensive city—and that now you have something to brag about to your friends back home.
Is the broker fee negotiable?
Broker fees are negotiable—with an important caveat: Only when the market is slow, which means it pays to read market reports (on Brick Underground, naturally) to find out what is happening in the rental market. When the number of lease signings fall and there are lots of vacant apartments, a broker may be flexible on their commission. How do you know if they're willing to negotiate? Just ask—but it's best to wait until after you've made a good impression and expressed interest in the apartment.
Also bear in mind that the opposite can be true—some renters may offer larger broker fees in an attempt to land the apartment, especially rent-stabilized units. It can be tough to compete with cold, hard cash, but having a good income, quality references, and a good credit score are also important.
How do I find an apartment without a broker fee?
"No fee" apartments come in two types: Apartments you can rent directly from a management company (typically in very large buildings or complexes) and apartments where the owner pays the broker's fee for you as a concession (this typically depends on market conditions). Brick rounded up the best websites to find no-fee apartments.
A third alternative is a co-living situation—these are furnished, communal apartments run by companies that handle all the leasing, matching you with a roommate, and even provide furniture. For more intel, check out "Brick Underground's guide to co-living spaces in NYC."  
How do you qualify for an apartment in NYC?
Most landlords in NYC require renters to earn an annual salary of 40 to 45 percent of the monthly rent. To put that in perspective, to qualify for an apartment that rents for $3,000 a month, you must earn $120,000 a year and have a credit score of at least 700 (out of a possible 850). 
A credit score lower than that, and/or a history of late payments, judgments, or bankruptcies, will raise red flags for a landlord, who will be checking your credit report—and you will be asked to pay a $20 application fee to cover this—which is the maximum amount you can be charged for an application.
Want to know what else you need in order to land the apartment? Check out this (long) list of paperwork (like your government-issue ID, letter of employment, bank statements, and pay stubs) you should prepare and bring themm with you when you see apartments.
How do you get around the 40x rent rule?
What happens if you don't earn enough, meaning your salary doesn't meet a landlord's preference? Then you need a guarantor who promises to pay the rent if you fail to do so. This could be a family member, and they'll need to earn 80 to 100 times the monthly rent. Why so much? The thinking is they should be able to cover their own housing expenses in addition to yours. Often a landlord will require that the guarantor live in the tri-state area—or even in NYC, so it's easier to collect if you default.
If you don't have a family member who can support you, or one that lives nearby, you may be able to use an institutional guarantor like Insurent (FYI, a Brick sponsor) instead. With Insurent, you'll pay 65 to 85 percent of a month's rent if you have U.S. credit, and about a month's rent if you are foreign with no U.S. credit.  
Getting a roommate is a time-tested way to make living in NYC more affordable. You should know that NYC renters are entitled to have a roommate, no matter what it says on your lease. Of course, you need the space to make this happen, so think creatively. Let's say you have a one bedroom and want a roommate to help make it more affordable—if you're willing to turn your living room into a bedroom—temporary pressurized walls may work for you, just be sure to follow the rules for installing them safely.
Searching for rentals when the market is slow, such as in the winter, or seeking out so-called mom and pop landlords may offer you some negotiability. If you have stellar references as a respectful, helpful renter—you may be more appealing to a mom and pop owner who lives on the premises and values a good tenant more than anything else.
What is the average rent in NYC?
Because there are so many luxury apartments in NYC—and so much demand for apartments here, the average rent these days is very high—it surpassed $5,000 in July and has stayed there. Of course, you'll find apartments that rent for less than the average, and apartments that rent for more.
Another number that you should pay attention to is the median rent—because this tells you what the apartments in the middle of the range are actually renting for and is less skewed by luxury rents. Manhattan median rent is about $4,000. And if you see something called "median net effective rent" this tells you what rents are with concessions like free rent factored in and is another way to measure the rental market. Right now, the median rent and the median net effective rent are about the same, since landlords are offering few concessions.
Brick Underground articles occasionally include the expertise of, or information about, advertising partners when relevant to the story. We will never promote an advertiser's product without making the relationship clear to our readers.