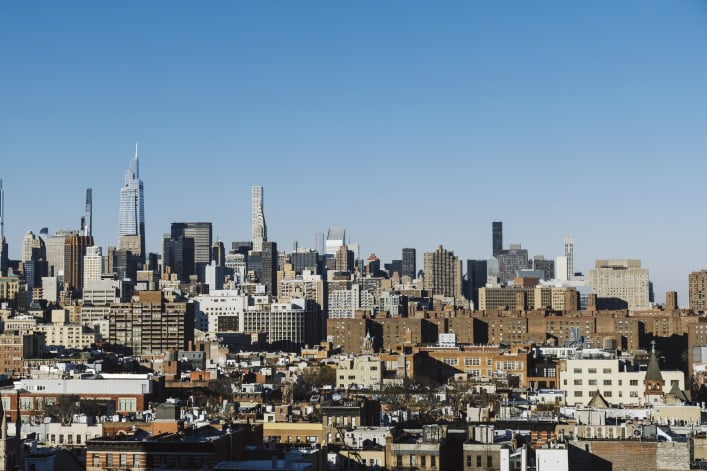 If you're a New York City renter with a lease expiring soon, you are likely facing two daunting scenarios: Renew with a big rent increase or find a new apartment in the city's competitive market—which means additional costs for movers, a broker fee, and security deposit. 
So how can you catch a break if you can't afford a rent increase? One option is to move to a neighborhood where rents are lower— places like Inwood, Bath Beach, and Jackson Heights, according to a new survey by Garrett Derderian, director of market intelligence at SERHANT, which pinpointed the most affordable neighborhoods for renters in Manhattan, Brooklyn, and Queens. To do so, he found the top 10 neighborhoods in those boroughs with the smallest median rent increase year over year.
Many of the neighborhoods that top Derderian's list also have more inventory compared to more popular areas, so you will have more options. For example, rental inventory in Manhattan is down 61 percent year over year, but in neighborhoods like Inwood, it's down just 9 percent, Derderian says. The same goes for Brooklyn, where rentals are down 40 percent year over year, but you'll find more supply in neighborhoods like Brownsville and Sheepshead Bay.
When it comes to getting a concession, they are still far and few between—even in these areas. You can find some no-fee listings (where the landlord pays the broker fee for you), Derderian says. But if you are looking to negotiate a free month or reduced fees, head to neighborhoods in Brooklyn and Queens where there are more listings, giving you more negotiating power. 
Read on for a list of the Manhattan, Brooklyn, and Queens neighborhoods where you can still find a somewhat reasonably priced rental apartment, plus the median rent for the area.
Manhattan
Neighborhoods in Upper Manhattan are your best bet for a reasonably-priced apartment in the borough. The median rent here is up 10 percent year over year compared to the borough's overall 40 percent year-over-year increase. 
Inwood tops the list with a median rent of $2,000, a 4 percent increase year over year. Affordable options outside of Upper Manhattan include Chinatown and the Upper East Side.
Inwood, $2,000 
Washington Heights, $2,280 
East Harlem, $2,470
Hamilton Heights, $2,550 
West Harlem, $2,590 
Central Harlem, $2,600 
Chinatown, $3,200
Upper East Side, $3,400 
Roosevelt Island, $3,500 
Morningside Heights, $ 3,700 
Brooklyn
Brooklyn's median rent is up 19 percent year over year with even bigger increases in North and Northwest Brooklyn, which saw a 36 percent increase compared to last year. South Brooklyn is your best option for a slightly more affordable apartment, here the median rent is up 18 percent year over year. 
Bath Beach is the most affordable area in Brooklyn, where the median rent is $1,850, a 3 percent increase year over year. And if you want to be closer to Manhattan, Red Hook is the most affordable option with a median rent of $2,950. 
Bath Beach, $1,850
Bensonhurst, $1,850
Bay Ridge, $1,900
Borough Park, $1,950
Sheepshead Bay, $1,950
Midwood, $2,000
Brighton Beach, $2,010
Sunset Park, $2,090
Brownsville, $2,100
Dyker Heights, $2,100
Queens
Queens has the most affordable options thanks to a median rent of $2,350, an 18 percent increase year over year. All of the borough's most affordable neighborhoods have a median rent of $2,100 or less. 
Jackson Heights is the most affordable neighborhood with a median rent of $1,900, a 3 percent increase year over year, and a close second is Briarwood, where the median rent is $1,950, a 13 percent increase. 
Jackson Heights, $1,900
Briarwood, $1,950
Corona, $1,990
Rego Park, $1,995
Kew Gardens, $2,000
Flushing, $2,000
Woodside, $2,000
Rockaway, $2,050
Elmhurst, $2,075
Kew Gardens Hills, $2,100
Brick Underground articles occasionally include the expertise of, or information about, advertising partners when relevant to the story. We will never promote an advertiser's product without making the relationship clear to our readers.